WELCOME
.... See What's New
Now 2317 pages (22,100+ items) on this website!
Thanks to all who contribute.
---
QUESTIONS?
If a search does not give you what you are looking for you may
Contact Us . asking more of a detailed question.
---
CORRECTIONS
Submissions and Acknowledgements
---
October 1, 2021
ARTICLES
ARCHIVES
Added GTP Construction Department Time Table
CPR London Division
Power gallery Added 2525 see what is on the tender and why!
PHOTOGRAPHS
Photograph Galleries
Trains
CP Heritage Added Royal Canadian Pacific highway coach in meet with RCP train. Not a reflection of 4107!
Locomotives
CNR steam
Consolidated 2-8-0 Added 2512.
CN Diesels
C630M Added 2034 and 2035 and subsequent owner CB&CNS
RS-18 Added 3842 and subsequent owner CB&CNS
US Subsidiaries Added (scroll down to road units) CV 3602 and 4449 showing old and new paint schemes in same photo.
CPR Steam
G2 class 4-6-2 Added 2508 and 2537 both assigned to suburban service the Montreal name for commuter trains.
Engines assigned to these trains were equipped with an extra dynamo for coach lighting. Steam HEP! See closeup 2537.
Added new down-on view after relocating HEP from A unit to B unit. This was done by RELCO over a very lengthy period of time on a "when you have time" basis. Relocating HEP engine allowed expansion of cab interior.
CP Rail diesel
F7 added 4440 B&W photo shows end detail including portable backup light.
GP30 added B&W photo of 5000 with rear angle showing details (good for modelling).
SD40 added 5522 inc. subsequent owners HLCX and NBSR photos.
S-3 added B&W of 6503 with something on the front of unit I have never seen before!
If you know what it is for Contact me
GP9 Added B&W 8819 rear angle.
Rebuilt units
GP9 Added 1515 with rear sand box modification. Small Multimark paint scheme. Subsequent owner ISLX
Subsequent owners
Added (scroll down to M) Mississippi Export Railroad a 100 year old family-owned shortline! MSE 67 nee CP 3091.
Northern Plains added NPR 8211 inc. ex CP 8211 and nee 8633 photos.
US Industrial. Added Scoular SCOX 5001 one of only two GP30's.
PGE
Diesesl Added 604 as built with high nose. One of a two RS-18 unit order. Later, both were chopped.
Shortlines
BC
Southern Ry of BC subsequent owners Started with JLCX 383
Alberta
CANDO's Athabaska Northern added ANY 5232 nee CN. Subsequent owner VLS's Prairie Rail Solutions
Also, subsequent owner ACWR 9529, 9593, 9624.
Quebec
Added (scroll down to bottom) 71 another of 3 NRE GP38-3 upgrades from GP40 inc. predecessor photos nee B&O.
New Brunswick
New gallery created for New Brunswick Southern 6401 ex NS 2659 first of several SD70M-2 units just acquired including
Eastern Maine 6404 and Maine Northern 6406 two other Irving shortlines. Also, NBSR 917 GP38-3 with long history and many ex RR photos. Plus, 2317, 2318 and 2319 all ex DEVCO units. Also, HLCX 6315 ex CP 5522 and HLCX 6319 ex QNSL 219.
Nova Scotia
Added 216, 217 and 219 Also, scroll down to subsequent owners for NBSR 2317, 2318 and 2319.
Added GP50's 5000, 5002 and ex IORY nee BN photos. Plus, many other ex roads (CN GEXR RLK BO SP) photos added for several exisiting images. Subsequent IBCX CIND, G&W. Added section for Raillink era photo RLK 4002.
Equipment dealers
J&L Consulting Added two photos of JLCX 383 nee BC Hydro SD38-2.
Industrial
BC

Added caption links to prior owners MP 1279 SP 2280, SSW 2491 and subsequent owners MET 1501, JTPX 822. .
Alberta
Gallery 2 Nova Chemicals Added (link) subsequent owner JLCX 9115 in 2015. Anyone know where it went to?
Ontario
Algoma Steel Added recent photo of DMVW 7 ex 39 a GE 80-tonner.
SCROLL DOWN FOR PRIOR MONTHS
---
SEPTEMBER 1, 2021
Happy 80th Birthday RLK
ARTICLES
CPR Ontario District
Bruce Division Hamilton Sub.
Added (scroll down below Way Freight Gallery to Road Switchers and read explanation of road switcher assignments ).
2nd Oak RS with a trio of "pups".
CNR Predecessors
Canadian Northern Added (scroll down) LINK below caption for old aerial view of Belleville Yard.
Shortlines
Added new Union Station Bus Terminal photos.
For more inter-city bus/coach history and photos see below.
PHOTOGRAPHS
Photograph Galleries
Trains
CNR old diesels 9000 the first F3A making time.
CPR
1400's on passenger trains. 1416 leads 156 The Viger bound for Quebec City.
CPR diesel The Canadian gallery. Added great photo of 7091 remarshalling the Montreal and Toronto sections.
Scroll way down to main gallery Toronto - Sudbury section to see what else was happening earlier in the day! Surprise!
Also, 1414 with an RS-10 on The Canadian (why?)
CP Rail diesel
Added (scroll down a bit) 9678 in spectacular mountain scenery on CN Directional Running with Roberts Bank coal train.
Locomotives
BCR diesel
Added 560 one of two secondhand RS-3's ex LS&I later converted to slugs. Also, 605 with slug S 402, 756.
Plus, (scroll back up) PGE 579 right side view to go with already posted photo of left side view.
Good for RS-10 modelling purposes.


BC Rail era
Added 703-730-765 in a scenic view. Plus closeup (link) of above photo.
Also 706 with detailed explanation of V switch.
Movie Narrow Margin staring Gene Hackman and featuring "VIA 757".
CNR Steam
Northern type. Added (scroll way down) 6233. See what is happening! Ooops!
CNR diesel
Added (scroll way down to GTW) GT 1000 and 1001 two of 4 Alco S-4's rebuilt with Caterpillar engines.
Added 8643 in Script lettering. Part of the biggest diesel order to date, 73 units. A grand total of 200 GP9's would come
to the roster. Although the GP38-2 was a superior model it wasn't until the SD40-2's came that this total was exceeded.
Added very old and very interesting photo of 2-10-0 57 surrounded by a yard and nearby pioneer structures.
ONR diesel
Added 1741 just days out of the diesel shop for its initial operation by ONR.
Shortlines
DEVCO Added 207 and 210 two Alco RS-1's (ex two US roads inc. photo M&StL 944)
GEXR RailAmerica era.
Added (scroll down) RLK 1401 (ex VIA nee CN photos also subsequent owner OSR 1401 photo)
Also (scroll down more) 4161 slug ex KCS GP7 photo.
GWWD Added (scroll down) 44-tonners 101 and 102 (ex Swift & Co) both sold to OSR)
Huron Central Added three photos QGRY 1501 and 2008 both ex CONRAIL (one link).
Industrial
On-Track Railway Operations. On roster ex RSSX 1003/Dow Chemical 1003 Alco S-6 with remote control.
Off roster RCM 8060 (nee Algoma Steel) new subsequent owner Standridge Color SCC 1160. Read why this road number!
Also, their reporting marks are SCBX although this unit only bears SCC the company initials. Since it arrived on a flat car and the plant has only 2 short sidings there may be no need to place this unit under federal rules. Note remote removed.
Added new listing for Koch Fertilizer (formerly J R Simplot) KNCX 2268 ex ATSF. Includes 3 aerials.
Added CREWS in Johnstown. CEFX 1569, HLCX 1445 and two Rail King car movers plus aerial of car storage yard.
Also, switching contract at Port of Johnstown formerly, Port of Prescott as well as contract for Ingredion in Cardinal.
Tourist
Pinafore Park RR Added photo of number 2 working upgrade.
Added Aquatarium Train a small train that goes through Brockville Tunnel. Includes short video history B&O.
Rolling Stock
Preserved Museums Added (scroll down to Saskatchewan) CN 79291 van at local museum.

CPR Added photo of Winnipeg Diesel Shop Training Centre an old heavyweight coach.
Facilities
Roundhouses, shops etc.
CPR Montreal scroll down to Glen roundhouse Added CNR 6214 and 6230 Pool Train power.
North Battleford, SK shop tracks 40 years ago!
US Roads in Canada
Added aerial photo of St.Thomas station and street scene c.1945. Also, Conrail era photo of Erecting shop interior.
CNR Facilities
Yards Added view over Mac Yard dual hump.
Stations
Reused Museums etc.
CPR Saskatchewan Added Oxbow, The Ralph Allen Memorial Museum
Reused Businesses
CPR Algoma Added lumber and hardware store in Warren, ON. Is this still in use?
CNR St.Mary's Jct. GTR stone station closed for decades it finally reopened as Broken Rail Brewing. GTW 79176 US van.
CNR Wicker Station (Gifts) Unknown location. Any idea? CONTACT US
CPR Toronto Division
West Toronto Added scan of 1891 newspaper photo of the first station! Beyond rare!
Discovered by David Bridge and digitally restored by Walter Pfefferle.
Peterboro Sub. Added old photo of Glen Major.
Havelock Sub. old photos of Ivanhoe and Maberly. Note that employee time tables (1936, 1964 etc.) spell it Maberley!
Added photo (scroll down to CN era) of modern International style station (street side) at North Battleford.
GTP Biggar, SK added early 1900's photo of Main Street. Photo of station just before it was destroyed.
Street Railways
St.Thomas Street Ry. Added photo two cars full on opening day June 1898.
Bus and Coach Lines
Added current day photo of Bay Street Bus Terminal recently closed due to opening of new GO Union Station Bus Terminal
next to TTR (railway) Union Station. See 5 links added in main caption for Coach Canada (Stage Coach) Megabus and old prior open lot, also, "modern" Colonial coach and the infamous Ford Hotel. Old and new. Lots to see!
Toronto Industry
Added 1910 advertisement for the locally manufactured CCM automobile. Also, photo of CCM Russell convertible!
SCROLL DOWN FOR PRIOR MONTHS
---
August 1, 2021
ARTICLES
CPR ships GLSS Great Lakes Steam Ships. Added (scroll down) photo of Carmona one of three leased ships.
CPR Ontario District
Bruce Division
Hamilton (new routing) Guelph Jct.- Black Rock
Added photo of 3 units (2270-3042-3057) pushing on rear of northbound train "up Waterford" to the Junction on old G&G.
This rerouting of trains off the CN Joint Section followed CP's decision to get off the CN Oakville Sub. apparently due to
excessive costs to operate over CN.
London Division
Added pair of GP9u's handling multis of CAMI traffic just 4 months from OSR take over.
Note: Main gallery rearranged. London 11 photos. Windsor 7 and Galt Sub. 4. Have a look.
GO Milton Service Added great scenic view of an old F59PH handling smaller traffic due to COVID-19 pandemic.
CPR Toronto Division
Added (scroll down) "The National" (Canadian National) is about to cross the diamond likely on its way to London.
Wharf area Added (scroll down) GACX 44781 covered hopper loaded by Redpath sugar.
Shortlines
OSR Power gallery Added photo of 1245 looking pretty nice in its new paint scheme!
GENERAL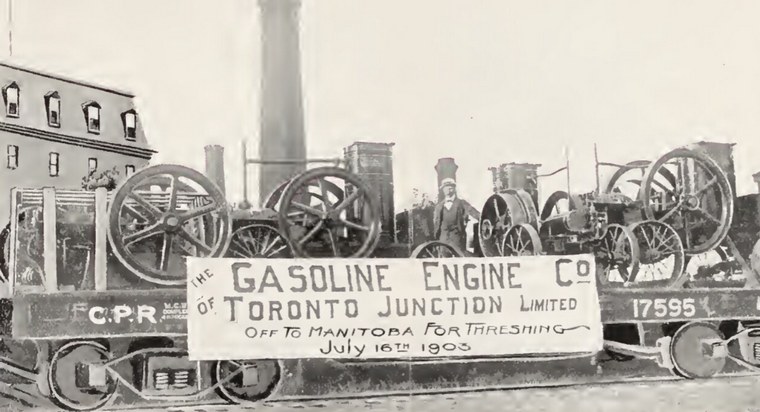 Junction and its Railways Added photo with banner for Junction industry shipping their latest product.
Stockyards in Toronto Added (scroll down) photo of CN 815093 doubledeck stock car used for small animals.
PHOTOGRAPHS
Photograph Galleries
Trains
CP Rail
GP9 Added (scroll down) 8519 switching in Revelstoke.
Added 5669 + MLW's with hotshot IMS train through Kicking Horse canyon. Also, 5800 same river, different season.
Locomotives
Self-propelled Added 9004-9002 in a great scene from the past.
BCOL Added (scroll down) 578 last RS-3.
BC Rail Added (scroll down) 606 with S 403 slug. Read reason why position of slug on nose of unit. See dark sky!
Also, (scroll way down to 1000 series) 503 and 501 re# and two paint schemes!
Plus, (scroll down some more) 3623 ex CR (one of 6 upgraded GE's) and subsequent owner (4 units) MRS in Brazil.
CNR
Steam
Added (scroll to very bottom) 1609 in deadline during the Great Depression where it likely remained until scrapped in 1941.
Diesel Added two photos of Sarnia-Port Huron ferry being switched by 8226 and also towboat Margaret Yorke
Added (scroll way down to GTW All-Time below roster) 1503 built with pre-Flexicoil trucks in two paint schemes plus (link) subsequent owner RSSX. What other RR had pre-Flexicoil trucks?
CP Rail
GP9u Added (scroll down) 1589 with a (likely local) safety slogan. Also 1600 in CPRS paint scheme.
GP9uRS Added 2nd (newer) photo of 8200 with latest paint scheme. Compare details.
RS-3 yard Added 8444 w/chop nose mod. at Winnipeg.
QNSL
Subsequent owners Added photo of 147 and 167 stored at John Street later became CCGX 1000 and NBSR 3701.
Shortines
Saskatchewan
Having retired all of their MLW units they are staying with GE road power adding 2 more newer GE Dash 8 units
(ex CSXT) 577 and 578 to their roster. Including nee ConRail photos.
Tourist
Rocky Mountaineer Added 8020 latest acquisition enroute. Inc. photos of ex BN & nee B&O
Leasers etc.
Alco Added detailed history of RS-27 units along with photo of UP 675 and 676 later MLW demo. Subsequent DEVCO.
Industrial Steam
BC Added Crows Nest Pass Coal 3 narrow gaue displayed in Calgary.
Industrial Diesel
Saskatchewan Viterra (scroll down) Added 8251 nee CP 8695. Also, HLCX 3839 and nee CR 8276.
Manitoba
HBM&S Added photo electric 1 (ex 97 nee St.L&BE) with air dump preserved at Flin Flon Station Museum.
Aditya Birla/AV Terrace Bay Added great aerial including enlarged version. Also, scroll down (link in caption) ex HB&T 41.
Algoma Steel Added 52 nee CN 1342 modified with low clearance cab
Lake Erie Works (US Steel Canada) Nanticoke Added ex STELCO Hamilton 456 (ex VIA 201) nee Inland Steel.
Lambton Diesel Added ex JLCX nee CN/GTW 1341 and 1515 several photos. Also, 456 present location unknown.
Novacor Added NCLX 417A and 417B also 40 after engine overhaul.
Inspection cars (automobiles etc.) Added (scroll down) M 300 Wickham (British maker). Displayed indoors at museum.
Rolling Stock
CNR
Added (scroll to very bottom) 815169 modified to add upper double deck for small animals. Shows end detail inc. air vents.
Service Added snow plow 55453.
Added (scroll down) one-of-a-kind travelling service to remote areas.
Details of its preservation at two locations including current one.
CNR US Subsidiaries
Cabooses Added photo of GTW 77137 at ECRM along with complete history of its preservation.
CPR
Added (scroll down) 280613 one of many express reefers downgraded to freight yet still retaining its passenger equipment including air brakes, communicating air line, steam heat Barco connections, passenger trucks with steel wheels.
Added (scroll way down) photos and floor plans 2100 lightweight coaches and 3050 lightweight Baggage-Buffet cars.
Added (scroll down) 437266 one of only 3 bay window vans that were spread around for tryouts.437267 worked an assignment on London Division Woodstock-Lambton (73 westbound from West Toronto yard late evenings.
Rule, Safety, Dental, School etc. Added (scroll to very bottom) 1946 article School Car.
ONR
Vans Added (scroll down) 106 nicely displayed. Museum includes a streetcar and a tug boat.
TH&B Vans preserved Added 63 nicely repainted at new private display.
Private ownership Added KSPX 5071 handling export potash.
Shortlines in BC SRY Added 5530 one of 100 high cube box cars part of fleet. A long way from home!
Private companies Added (scroll dwon to P) POTX 1547 painted for Nutrien.
Stations
Hooping Up orders to passing trains at stations and towers. Mostly CPR plus one CNR.
Added Extra 2802 at Bedell in 1955.
Radial Railways
South-Western Traction Added photo of car crossing trestle. This line began with dual wire AC power.
Street Railways
St.Thomas Street Ry. Added old photo of car on Forest Avenue with children posing. All long gone!
SCROLL DOWN FOR PRIOR MONTHS
---
July1, 2021
ARTICLES
GENERAL

Toronto
Yonge Street added (scroll down) another old photo in downtown looking north from Temperance Street.
PHOTOGRAPHS
Photograph Galleries
Trains
AMT EXO commuter train in an interesting telephoto scene with an extensive array of lights everywhere!
ONR Added great scenic view of train crossing the Montreal River (large version too). Check out the second unit! .
US Roads in Canada
C&O Added 5 photos over many years of ancient SW1 PM 11 (inc. Preserved) inc. C&O 8401 in 2 paint schemes.
Also, pair of GP's 5738 and 5735.
Locomotives
Added (scroll way down) 767 738 in two views plus former owner i.d. (ex Kennecott Copper)
Also, (scroll way down again) RCL 741 (ex KCC) and 642. RCL742. Also, (link) subsequent owner.
CNR Steam
Added (scroll down) 403 and 411 at opposite ends of the country! See what is happening to 411.
Two identical eng (one of 6 acquired from contractor J.D.McArthur).
Added (scroll down below first thumbnails) 2200 and 2201 first of GP20C-ECO units rebuilt from SD40-2's.
Note the unusual placement of a rear air horn and details of why.
ONR Added 1740 a diesel with a long history of ownership including those photos.
Need photos 1741 and 1810 CONTACT US if you have any.
Shortlines
Saskatchewan
Added 2 GP38-2's from CRLX in their jazzy new paint scheme along with prior RR's photos revealing their as built long-hood forward history. Also, FURX 5503 and 5529 leased c.3/2021. GP38-2's upgraded GP38, GP38AC prior RR photos.
Industrial
Richardson Pioneer Added at Estevan LTEX 1450 GP15-1 and prior owner photo.
Manitoba
INCO Added subsequent owners photos for their rare MLW RS-18/C-418 units. OSR, OHCR and AOSX.
Ontario
Timmins Glencore Canada formerly Kidd Creek Mines. Timmins. Fading ore supply has a planned closure in 2022.
Added photos (links in caption NREX 1684) BNSF 1684 and ATSF 2299.
Welland
Universal Resource Recovery Added 615. See what it was numbered after! 80-tonner nee STELCO.
New entry started for Nordic Kraft (originally Domtar) started with SVGX 1343 (ex CN) long before it came to Canada.
(In Texas 2009) Believe it was acquired from NRE (D) in 2020.
New entry (scroll down to P) for ParaChem the only manufacturer in Canada of paraxylene (PX). Owned 51% by Suncor
Contractor switched by Savage formerly Canac. SVGX 7302 (ex CN). Scroll down to Suncor Energy for photo.
Logging
BC steam Added another photo of M&B 1044 one of the last steam engines operating on VI.
Added (scroll down to Canfor see note after caption 104 (genset) sold and leased.
Also, 103 caption added links to 2 prior RR's (IRRC and MILW). .
Rolling Stock
CNR
Business cars etc. Added 15019 Rule Instruction Car.
CP Rail Business Cars Added BC Lacombe in CP Rail lettering. Spotted at Union Station in Toronto.
Station Galleries
Subsequent uses. Stations reused
CNR Added (scroll to bottom) Cape Tormentine, NB inc. tiny two-stall enginehouse, water tank etc.
CNR East in VIA era.
Added Sackville, NB. Sadly this large station was by now only handling one train a day in opposite directions.
Street Railways
Hamilton Street Ry. Added 2 great old street scenes in downtown Hamilton.
Sunnyside street scenes (scroll to bottom) added two more scenes of the famous Five Points at Sunnyside undergoing a massive rebuild in 1923 shorlty after TTC takeover. This same thing is happening right now!
SCROLL DOWN FOR PRIOR MONTHS
---
June 1, 2021
ARTICLES
CPR Algoma District
Schreiber Division Added photo overall view of yard. Includes Spans the World logo box car.
CPR Ontario District
Bruce Division
Branches
Stations 20th century gallery Added very old photo of Erin. See what else is in the photo all by itself.
London Division
Added photo of 6616 on Tillsonburg Road Switcher assignment. This was one of many yard diesels equipped for main line service. Slanted illuminated front number boards, classification lamps, chime air horn and combination pilots were all required by BTC Order.
Added Pool 559 with 1223 and read how a John Street engine wound up on an Ottawa train!
Trenton Division
History Lindsay, Bobcaygeon & Pontypool Ry.
Added photo of Mixed 605 eng. 434 at Dranoel about to depart for Lindsay and Bobcaygeon. Soon the be discontinued.
CNR
CNoR predecessors
COR Added two great old photos of Trenton station. Pretty impressive for a small railway!
OSR Added 3rd photo of Ingersoll Transload, this one loading lumber. Latest new customer loads steel
Meanwhile, a new Transload facility is being built on land next to the wye track into CAMI.
Note too the new (c.$50M) factory Element5 for Mass Timber has finally opened in St.Thomas next to Messenger.
It does not have a private siding. This timber will come from a mill in White River with private siding off CPR and most likely to move by rail. This may/may not be handled at the new transload or at Messenger.

PHOTOGRAPHS
Photograph Galleries
Trains
Park Started Quebec with two photos of small children's park train.
Locomotives
Added (scroll down) 717 first of eight unit order M-630
CP Rail
S-3 Added 6518 equipped for road service as per BTC Order.
S-2 Added 7035 modified with roller bearing trucks off retired S-3. Many units across the system received this modification as the smaller S-3 660 HP units were retired while older S-2 1000 HP units were retained. These units had been built with Blunt trucks which were very labour intensive for worn wheel changeout. Eight hours (2 men x 4 hours each).
RS-23 Added 8014 and 8018 plus another photo of SIX "Rockets" sitting on shop track. All at Prince Albert, SK
SW1200RS
Added 8113 newly painted in darker (SOO) red with updated high visibility frame stripes for improved level crossing safety.
Subsequent owners US Roads
Added (scroll down to O) new listing for Ohio Central starting with OHCR 3305 one of 5 SD40-2's acquired late 2009 mostly thru NRE (D).
---
Added (scroll down) 568 second unit of two unit order and last RSC-3.
Shortlines
Hudson Bay Added JLCX 2002 (ex CKRY) ex HBRY 2505 nee SSW.
Equipment Dealers etc.
Dealers etc. Added J&L Consulting JLCX starting with latest leased unit for GIO Rail's Trillium Ry.
Canada Industrial
Added (scroll down to F) NREX 1250 (newly arrived and nicely painted) and 1237 both at Fraser Surrey Docks.
Scroll down to last month's What's New? for photo of 1250 enroute and thanks to Luc Lanthier for locating it at destination.
Added 15702 (ex TSR) trolley once used to move riders (yardmen) Neebing Yard.
Relocated to Fort Edmonton Park for public rides by Edmonton Radial Ry. Society using various streetcars.
Logging Railways
BC Forest Products added (scroll down) photo of number 9 detouring over CPR (E&N) read why.
Also, (scroll down a bit more) CP 6611 on loan due to their unit being out of service, switching Crofthill mill.
Added (scroll way down) great scene of Crown Zellerbach 4097 crossing high bridge decades ago
Rolling Stock
CNR
Service Added 15030 Signal Instruction car, Also, 61200 Superintendent's Car newly built "deluze" van!
Work equipment Snow clearing Added 55361 steam rotary plow. 55551 snow plow, 56205 new flanger and 56453.
CPR
Snow plows etc. Added 402349 an old Jordan spreader.
Facilities
CNR Roundhouses Added (scroll down to bottom for BC) Kamloops. LINK in caption. Straight on view of turntable.
CPR
BC Only Added (scroll down to Field) scenic view also with large version. See also 1901 view.
CP Rail
Roundhouses etc
Added LINK (in caption) slightly older (B&W) photo of new Winnipeg diesel shop at different angle to colour photo 1983
Stations
Trenton Division
Peterboro Subdivision Station Gallery
Dranoel Added photo of original station. Long gone.
Street Railways
Toronto Ry. (pre-TTC) part of Canadian Northern "empire" of Mackenzie and Mann.
Added very early photo (19th Century) of TRC employees gathered outside Town Hall depot.
Toronto Suburban Ry.
Junction lines. Added photo of predecessor City and Suburban Electric Ry. 5. Check out the neighborhood!
Also, ex TSR 24 (CNR 15702) now at Fort Edmonton Park.
SCROLL DOWN FOR PRIOR MONTHS
---
May 1, 2021 . . . . . . MARKING 21 YEARS
ARTICLES
CPR Ontario District
London Division
Diesel gallery 5 Added BAR 303 leased power.
Scroll down to Car Dept. Added snow plow 402861, spreaders 402867 (two angles) and 402895.
415847 potable water flat/tank. 416387 OCS flat with load of brand new wheels from maker.
Added (scroll way down) C&O 3014 and 3561.
Canadian National
Predecessor roads. CNoR added (links) 3 page early roster of power inc. specs. and prior owners.
Brockville Westport & North-Western. Added Gold Bond certificate.
Shortlines
Added 3 photos of transload facility and 2 customers that use it for wood and steel.
Also, CAMI Ingersoll details of new $1B expansion to build electric trucks!
Added (scroll to very bottom) LCLX 7631 50 foot box car belonging to Ledcor. Later acquired by OSR for storage at GJR.
General
Added 1913 article (scroll down to link under 3rd photo caption) detailing first of its kind abattoir Toronto Municipal.
PHOTOGRAPHS
Photograph Galleries
Trains
CNR diesel
US subsidiaries Scroll down to Grand Trunk Western Added 9012-9013 in 1954 and see what is on the headend.
US Roads in Canada
BN in Manitoba Added (scroll to very bottom) BN 972509 spreader.
Locomotives
CPR steam
Preserved Added (scroll to very bottom) 6166 (nee 2166) ex Manitoba and Saskatchewan Coal 6166.
Also includes ex CP BC 9 and van 436148 display train. .
CPR diesel
Preserved units. Cranbrook BC Added 4469_4090 in rear view to complement front view of same units.
CP Rail diesel
C-424 Added (scroll down) 4243
Added (scroll down) 7083 "on the spot" railroaders term for sit still and relax! Thunder Bay
One of three units (7081-7082) modified to control Booster unit.
Rebuilt yard units 1500 's
Added 1512 first unit rebuilt. Assigned to HH-US (Heavy Haul US a.k.a. Soo Line) and no longer with Multimark.
Rebuilt 8200's Added photo of short-lived 8202 (wrecked on first trip!). Also, added 8203 and ex 8530.
Drake Street (Vancouver) Added 7069 Baldwin yard switcher and 7076 MLW.
Subsequent owners Chesapeake & Delaware 1888
Northern Plains parent company of Alberta Midland Railway Terminal.
Added 4613 newly repainted ex SOO nee MILW photos as well. Also, (scroll to very bottom) 3502 nee DRGW 3036.
Dealers
NRE New gallery started with NREX 1250 enroute to ? ... CONTACT US if you know where it is going.
ONR
Subsequent owners Added CYDZ 224 likely ex 1200 Alco S-2
Shortlines
BC Added new page for Kettle Falls International an OmniTRAX shortline primarily in US but small part in BC.
Ontario
Trillium Added 3 photos newest unit just received GP35 JLCX 3502 ex NPR 3502, nee D&RGW 3036
Dealers etc.
Added H.Broer Equipment Iinc in Aylmer, ON with several photos. Need info on other units and car movers.
Industrial
Alberta

Alberta Midland Railway Terminal A major expansion detailed. See: NEW 2021
Manitoba
Hudson Bay Mining and Smelting. Added (scroll down to bottom) 5 GE 70-tonner ex Lancaster & Chester 60.
Ontario
Sault Saint Marie Algoma Steel. Narrow gauge diesels. Subsequent owners. Added better detailed photo of EBT M-7.
Hamilton STELCO added (scroll down) photo of No.89 in early paint scheme. Compare to newer scheme same unit (above) without "No." but with high visibility safety stripes.
Sarnia VIP Rail added aerial view of massive property and details of new and expanded facilities including in Corunna.
Rolling Stock
Re-used Museums etc. Added CN 76588 van recently relocated from Wainwright to Provost, AB.
Businesses Tatamagouche Inn in Nova Scotia.
Added better photo of nee ICG Alexandra once lettered "Governor General's Car" with a long history including use by a number of Prime Ministers.
CNR Freight
Added (scroll to very bottom) 855220 old box car modified with higher roof assigned service for pulpwood chips.
Added 56385 and 70754 Communications Dept. wire inspection cars plus unknown car.
Plus, 5 cars of The Pas Auxiliary although the "Big Hook" itself is missing from these photos..
CPR
Passenger Added (scroll down to sleeping cars) old sleeper setup for daytime. Includes an enlargment.
Also, (scroll up previous item) brief magazine article 1911 describing new observation buffet parlor car interior including electric lights and air conditioning with fans! WOW!
Special thanks to Doug Phillips for detailed histories of these business cars.
Plows, spreaders etc. Added (scroll numerical order). Plow 400692. (scroll more) Spreaders 402861, 402867, 402895.
Work service Added (scroll way down) 415847 potable water flat/tank also 416387 OCS flat for new wheels from maker.
Car 25 (above) built by QMO&O to patent of Monarch Sleeping Car Co. Detailed description and interior photo.
Added 6 B&W photos. Named cars, Killarney. Numbered cars (scroll down) old CPR B&W photos, 3, 20 (double end obervation platforms), 25 also 36 and 39 (short cars 4 wheel trucks with dual open observation platforms).
Facilities
CPR British Columbia Added (scroll down to Stoney Creek) photo of a snow shed that while not really a facility it is a very necessary structure for safe train operations.
GO Added map of proposed Beach layover facility Burlington/Appleby including 14 tracks for trains.
Stations
Re-used Le-Petit-Train-du-Nord abandoned CPR line to Laurentian Mountains long a ski train meca now a long bike trail with many stations remaining. Added (scroll to bottom) late 1940's photo of big crowd on Mont Rolland platform and train.
Added (scroll down) CNR/GTR Caledonia nicely restored on original site. See what else is in the photo!
GTR Ontario Added Caledonia 1908.
Street Railways
Toronto Railway Added great old photo of horse-drawn era. Hail! Hail! The gang's all here!
SCROLL DOWN FOR PRIOR MONTHS
---
April 1, 2021
ARTICLES
CPR Bruce Division
Hamilton Sub. Passenger trains. Added (scroll down) spotless 2399 with the Buffalo eastbound to Toronto.
Stations
19th Century gallery
Added photo Mono Road. when in service.
Also, (scroll to bottom) Brampton horse carriage era caption link to Queens Hotel.
20th Century gallery
Abandoned Bolton-Melville line. Added photo former Caledon station long a residence on original site.

CPR London Division
Added a busy scene shop track scene inc. 6552 on the table in Woodstock home terminal for multiple branch jobs.
Added (scroll down) scene of overall view of Port Burwell harbour. D10 in old paint scheme dates it around 1920-30.
Also, several of Bob Sandusky's 1950's colour photos of Port Burwell mixed trains and S.S. Ashtabula car ferry complete with very detailed captions. Including 892 on the "Armstrong" (and leg strong) turntable!
CPR Lambton Yard
Added 6275 one time John Street engine which later became the last 0-6-0 on CPR. See where it is preserved.
Algoma Central
Added photo (scroll way down) of 166 leading train about to load passengesr in the Soo to begin its long run to Hearst back in the last century.
Added (scroll down to Work Equipment). Added photo 10002 ancient wooden open end observation car
used on the auxiliary. History unknow however, the trucks were something else. They were made with timber beams and metal plates! They were clearly makred Pullman Palace Car Company! Had to be from 19th century! An effort to get it preserved at John Street roundhouse mueeum failed when the CPR flatly refused to move it! Who could blame them? It did go to a mini golf on Highway 17 north of The Soo. Scrapped?
Roberval & Saguenay
Diesel roster. Added first non-Alco power 50, 51 and 52 rebuilt GE units inc. ex ATSF photos and GECX 2000 demo unit.
PHOTOGRAPHS
Photograph Galleries
Trains
Added 9811 leading a GO train of original unilevel coaches almost half a century ago! See what it is about to hit!
Tourist
Alberta
Edmonton Radial (Old Strathcona High Level Bridge). Added cars 33 and 930 the latter from Melbourne, Australia.
Ontario
Added The Big Apple mini train part of big tourist attraction featuring fresh apple products.
Tourist
Ontario
Added photo 1057 in service. Added link to The Tripleheader story of famous excursion marking end of the steam era.
US Roads in Canada
"A" One-of-a-kind shop switcher. May well have been built in this very shop! Tiny saddle tank would be sufficient as it never went anywhere far from a water supply.
Locomotives
CNR steam Added 4204 one of ten 2-10-2's acquired from Boston and Albany in 1928.
E7 2-6-0 Added 422 just before it was sold to Malagash Salt also, (scroll down) 818 and 822.
CNR diesel
GMD1 Added (scroll down) 1911 in old colours.


CPR Steam
G3 class Added Western Lines power 2310, 2311 and 2313.
Decapod Added (scroll to bottom) 5787 with footboards.
U3 class 0-6-0 Added (scroll down) 6249 under Arlington Street bridge which crosses width of entire yard. .
CP Rail diesel
F7B Added 4433 part of first order.
GP35 Added 5005 only GP35 repainted in the controversial Dual Flag scheme.
Robot Added 1007 rebuilt CLC/FM B-unit also 1017, 1024 and 1031 built new by CPR.
Subsequent Owners New page for Railway Sevice Contractors started with 5698.
DAR
Steam Added (scroll down) 999 in 1946, also 1090 and 1092
ONR
Diesel gallery Added (scroll way down) 1800 in latest paint scheme in night scene.
Shortlines
Manitoba
GWWD Added photo of station at East Braintree.
Ontario
Trillium Added (scroll down to bottom) STER 3582 passing long-abandoned coal tower on the old CNR Cayuga Sub.
Industrial
Added photo of what appears to be a brake sled itself converted from a diesel-electric car mover (re-engined from a
gas-electric) at Hamilton STELCO plant which had been converted from an old electric locomotive!
Added ALCAN photos 3 units, parent company of Roberval Saguenay. Inc. subsequent owners.
Interurban & Electric Railways
New gallery for Chicoutimi Pulp Co. (inc. ex Chicoutimi Light & Power 8) parent company of Roberval-Saguenay
Rolling Stock
Added (scroll down to Ontario) ONR 100 truck company lunch room along with motorcar (above) in Aliston
Added (scroll down to Ontario) ONR 2311 (inc. interior views) work service van relocated to Timmins from Powassan.
CNR
Added (scroll down a bit) 823012 piggyback flat with two empty truck trailers stacked up.
Added sectionmens track motor car 138-29 and trailer on a highway trailer.
PGE Added 825 a refrigerator car with underslung charcoal heater.
Private ownership Added CGTX 55211 Dow chlorine tank car. Also, Dry Ice reefer from 1930's.
Facilities
CPR
BC Added (scroll down) Field added RR YMCA
SCROLL DOWN FOR PRIOR MONTHS
---
March 1, 2021
ARTICLES
CPR Ships
Car Ferries
Bay of Fundy Added photo of S S Princess of Acadia black smoking its way across the Bay of Fundy.
CPR Ontario District
CPR Smiths Falls Division
Diesel gallery Added 4214. Eventually wound up on the NBEC.
CPR Trenton Division
Diesel gallery Added CPRS 5610_5607 in the controversial Dual Flag paint scheme with intermodal train.
CPR Toronto Yard
Yard engine galley 3.
Added 2 B&W photos of both Pulldown jobs with 7107-7108 and 7403-8118 part of the changing scene over the years.
CPR Lambton Yard
West Toronto
Added (link) 1911 article including never-before-seen photo of multi-track ashpit.
Added (link) 1921 article with photos. Car Dept. Car Frame Straightener.
CNR Predecessors
Northern Ry of Canada Added historic plaque inc. predecessor OS&H and map of Ontario lines. .
Shortlines
Ontario Southland Added (scroll down to GJR) CFS 641 and 644 finally enroute to Quebec.
Power gallery. Added (scroll down) two old photos of 378 and 383 on SOO Line long before acquired by OSR.
GENERAL Articles
GMD
Gallery of US Orders built in London following end of production in USA. Add UP 8202 SD9043MAC order 130 units.
PHOTOGRAPHS
Photograph Galleries
Trains
QNS&L passenger. Added 6203 leading 4 other RDC's stopped at a tiny point in winter.
Park trains Added Scenic Caves, Blue Mountain. Also, Appleland Station, Thorndale.
L'Amiral short-lived cruise ship train operated by Gaspesie Ry.
St. Thomas Central Added (scroll down) STCR 15000 former CN Track Geometry Car.
US Road in Canada
GN Added old photo False Creek Flats Vancouver roundhouse
Locomotives
Shortlines
Saskatchewan
GWRS Added 577 and 578 two more GE units (nee ATSF) enroute. Looks like some more MLW power could be leaving.
Industrial
Chatham Added Charron Warehousing ancient Trackmobile!
Hamilton Added (link) HOPA (Hamilton Oshawa Port Authority + Welland Canal). Many photos inc. aerials.
Rolling Stock
Car Mover Sampson made by The Dillion Mfg. Co. Oshawa,ON. This old device was used until recent decades long beofre motorized Car Movers were made such as Trackmobile which like Kleenex (tissue) and Scotch Tape (cellulose tape) became so common other makes such as Rail King are still called a track mobile.
Reused for businesses
BC
Le Railcar restaurant Gas Town Vancouver Added a very small 4-4-0.
Other scroll down to Ontario
Added Guelph Historical Railway Ass'n, Guelph. CP 436994 wooden van and CN 60337 work service tool car.
Also, CN 79144 at Pickett's Nursery for many years. Now at John Street Railway Museum.
Museums Valleyview Railroad Museum (private).WAB 2622 along with CNR station from Thorndale (xGTR)

Bytown Railway Society Added T&NV 10 45-tonner and CP 436436 both very nicely restored.
---
CPR Added 1896 article about new improved coupler.
Cabooses Added (scroll way down) wide-vision cupola 434493 with Baldwin 7075.
DAR Added photo of UCRS private car Nova Scotia after restoration.
Added Brockville Chemical TILX 83186 tank car.
Also, Sultran SULX 2227 100 ton gon for shipping sulphur via Pacific Coast Terminals,
Stations
Added Cranberry Golf Course in Collingwood features relocated GTR Stayner station originally OS&H.
CNR BC Vancouver Waterfront. Added old post card of Union Station and Canadian National Station.
CNR Ontario
Collingwood (Marine) Museum NRy/GTR station. Many photos over the deacdes. Includes 3 box cars for outdoor music events. One is ex Mc.Donald's at Cedar and First Streets in Collingwood. Photo at McD's WANTED.
Craigleith Museum and Library OS&H/NRy/GTR station formerly The Depot fine dining.
CNR Nova Scotia Added Hank Snow Home Town Museum
Street Railways
Montreal Street Ry. Added 1895 article with drawing of new headquarters building.
Winnipeg Electric Street Ry. New gallery started 1896 article. .
SCROLL DOWN FOR PRIOR MONTHS
---
CORRECTION:
Long-time PSTR conductor Tim Flynn pointed out an incorrect caption for their L4 diesel. Scroll way down.
February 1, 2021
STORIES
It has been a long time since anything has been added to Stories. The late Newt Rossiter who worked on the boiler gang at John Street roundhouse (where I also worked during the final years of steam) on midnights leaving day time for his photography! He covers history and details of various classes of power, individual engines and trains. I have not read this material in many years and hope you will enjoy it as much as I have in re-reading all of this today.
ARTICLES
CPR Ontario District
Trenton Division
Added (scroll down) 8224 and 1103 a cab control car likely on the DTS to GM Ste. Therese. Description in caption above.
Lambton Yard
Road engines gallery. Added detailed explanation of the "Cockney Pool" and the engines assigned to work it including 2228. See what is happening to it after having been "signed up". This term was used by the shop, crew clerk, operator, and dispatchers to acknowledge and confirm its ordering time. The yardmaster "ordered" the train. The shop foreman "supplied" the power (or, it was "Held for Power" if none available for that time) and the crew clerks (or, call boy) called the engine and train crew (or, "Held for Crew" if short of men). The terminal Supervisor (dispatcher) was part of this conferance call on the Company party line dispatcher's phone system. The train order Operator would get the Orders snd Clearance ready through the appropriate Train Dispatcher to prepare for the train being on their Subdivision, be it westward, north or eastbound.
And, that ain't the half of it!
PHOTOGRAPHS
Photograph Galleries
Trains
Tourist Trains
Portage Flyer Added cab interior view.
Waterloo Central
Added 2 photos of passenger car 15000 in different paint schemes. Updated various equipment roster notes/locations etc.
Locomotives
BCR diesel Added (scroll down) BCOL 566, PGE 596, BCOL 613.
Subsequent owners Added (scroll down to Mexico) FNM 723.
CNR Diesel
S2_S-4 Added (scroll to very bottom) 8168, 8170 and 8172.
"522" Redone to 19th century appearance for a 1937 movie about the building of the CPR.
Another better known engine also appeared in the movie.
Eight-Wheelers Added (scroll down) rare photo of 374 making history with what is likely the first through passenger train to Vancouver, No.1 arriving May 23, 1887.
374 (above) added floral "train" marking the 150th Anniversary of Canada 1867-2017.
Also, Added links in various captions for photos of engines in regular service.
CPR diesel
SD40 used units Added StL&H 5449 including ex DR&GW subsequent owner FURX photos.
Preserved units Added links in various captions for photos of engines in regular service.
CP Rail
Rebuilt units.
GP9u Added 8218 with TEC train.
TH&B steam Added (scroll down) 41 in Welland, 48 in Hamilton and 501 in Buffalo.
Shortline steam
Mattagami RR Added (scroll down to bottom) photo 2-6-0 100. This tiny shortline long abandoned after mill closed.
Sydney & Louisburg Added (scroll down) 85 0-8-0 ex Wabash.
Shortlines diesel
BC
Grand Forks Added GMTX 58 SW1001 enroute.
West Coast Express commuter operation. Added 905 lettered with a Memorial.
New Brunswick
NBEC Added 6904 ex CN 5021
Abitibi Pulp & Paper, Iroquois Falls. Added photo of Shay 70 in steam!
Industrial
BC
Pacific Elevators. Added scene of "B" and "C" two of their British built diesel-mechanical 0-4-0's switching.
Vancouver Wharves Added colour photo of 27 ex CN MLW S-3
Canterra (scroll way down to "C" for 4010) rare C-415 (only 26 built, none for Canada. Two in US known to still exist).
Links in caption to prior owner BN and original owner SP&S.
Rolling Stock
Added Le Railcar restaurant (later, The Chew Chew Club, later still, The Gas Town Express. in Gas Town, Vancouver.
CP Business Car 8 (ex Alberta) later to WCRA where it got an extensive restoration.
Museums etc. West to East across Canada.
BC Added CP 437115 Maple Ridge museum.
Alberta Added CP 437309 Strathmore museum etc. Painted red with current day Beaver logo!
Saskatchewan Added CP 437254 Weyburn RR museum.
Ontario Added CP 437464 center cupola. Brockville Tunnel heritage site.
BCR Rolling stock. Added photo of V-10 an Inspection Car that looks to be made by Wickham.
Facilities
CPR Added old view of Medicine Hat roundhouse and yard.
Stations
Alphabetical listing Ontario 2021
CNR Fenelon Falls (Art Gallery), CNR Haliburton (inc.2-8-0 2616 and van), CNR Kinmount.
Re-used CNR Alberta. Added CNoR Camrose. Railway museum including G scale garden railway.
Added former Bassano station (longest one I have ever seen!) relocated to Beiseker for town use. Also, CP 434952 a steel van out of its territory as noted by stencilled instruction. Including interior view. Plus, an Insul box car but alas, no locomotive!
Also, added van CP 434426 to Claresholm station.
CNR and predecessors
Scroll down to Lindsay and new link to old item posted elsewhere. Busy Time at Lindsay 1923. by James A. Brown.
Added E&NA Rothesay (1858) Note: CN 78614 van displayed there at one time but now gone. Need photo.
Interurban Railways
Added two old maps of New Westminster shops and depot as well as colour photo of interurban depot and its current use.
Re-used CPR BC
Added The Keg Steakhouse in former New Westminister station. Also, former BCER depot nearby. .
---
January 1, 2021
ARTICLES
Canadian National Miscellaneous
Added photo of St.John's station built 1903 and preserved as museum recently closed by city. Future not determined.
Canadian National Rys
Rolling Stock (including Preserved) Added Business Car Terra Nova 2nd. and subsequent owners.
GENERAL


GMD Gallery of US orders built at London, added ATSF 148 GP60M
PHOTOGRAPHS
Photograph Galleries
Trains
AMT Added photo of RBRX 18531 pushing morning commuter train.
BCR Steam excusrions. Added 2860 along Howe Sound.
Also (link) Captain James Cook Bicentennial Train a large gallery inc. interior of this special train that toured the West Coast.

Added poster for Ringling Bros. and Barnum & Bailey Combined Shows.
TH&B Added photo of short train street running on old ex H&D electric railway.
Upper Clements Theme Park New entry for this recently closed amusement park.
Centreville Amusement Park 2 foot gauge Add (scroll to bottom) scenic view of train.
Southern Prairie Ry. Added many photos of restored station and other attractions.
WANTED photos of SPRy 46 Alco T-6
US Roads
N&W Added photo of Fort Erie sanding tower clear of any units hiding details.
Locomotives
Add PGE 598 Also, (scroll way down) RCL-687 also (scroll more) BCOL 750 ex Oneida & Western a ficticious railroad!
CN diesel
S-13 Added (scroll way down) hump modified m.u. units 108 and 110
CPR steam
Preserved Added (scroll down) 453 originally preserved by O. Winston Link.
CP Rail Diesel
RS-18u Added 1824, 1828, 1838, 1842 and subsequent owners.
SD40 used Added CPRS 5483 (dual flags) nee SOU 3245 photo as well.
GO subsequent owners. Added TRWX 124 ex GO unit returning from wreck repair at CAD.
TH&B
Steam locomotives

Added 2 photos (both sides) of Pacific 15 a decade apart. One in Buffalo the other at Chatham St roundhouse in Hamilton
Diesels Added 57 with van 83. Also, link subsequent owner GMD.
Shortlines
Ontario
Ottawa Central Added caption links to several prior owners plus (scroll down to subsequent) TRRY 1859.
Trillium Major addition. Added 45, 108, 110, 1842, 1859, 3568, 3582, 6101 and 308 inc. ex owners.
Industrial
BC
Scroll down to Main Gallery Added old photo of Alcos 21 and 29 running light.
Ontario
James River-Marathon 17-102 Added link to photos of subsequent owner Trillium 7024 and of nee CP 7024.
Rolling stock
Subsequent reuse Businesses
Prestige Rocky Mountain Resort
CPR Sleeping car Naughton including several interior views of two state rooms.
Facilities
CNR and predecessors. Grand Trunk of Canada. Scroll down to bridges and click on link Trent Swng Bridges article.
CPR Added old article detailing Trent Valley swing bridge design for various new bridges on CPR and GTR. Same as CNR.
TH&B Facilities. Added great old photo with lots of real horsepower! Enlarge it twice for lots of detail.
Stations
Reused Businesses, Museums etc.
CNR predecessors
Nova Scotia

New gallery relocating two stations etc. from another galley and adding Orangedale, CB. Nee ICR (currently CB&CNS)
interior views of Agent's residence, small museum with equipment including former Newfoundland Business Car Terra Nova recently sold off to USA.
St.John's Railway Coastal Museum in original 1903 station recently closed by city. Future uncertain.
Added St. Clair Avenue on the Newmarket Sub. Sadly, long gone. Preservation effort still-born.
Added Riverton which includes van 436709.
DAR Annapolis Royal. Many photos before/after massive restoration of long-abandoned 1914 brick station.
Added CPR Company house in BC used by a Company Official. Restored and used as a B&B.
Also, CPR Station Agent's residence Echo Bay, ON after closure, reused for art gallery.
Radial Railways
South Western Traction Co. Added car 21 one of the original three-phase AC Ganz Works cars.
Street Railways
Added street car 34 on Station route.
and scroll down to St.Thomas Transit
Added GM 1979 "New Look" bus plus a newer bus. If anyone has older bus or any streetcar photos CONTACT US
Added (scroll down) TTC predecessor Toronto Civic Ry. 55 restored as such, also ex TTC nee TCR Both preserved.