Lubricants
[ Home ] [ Tips ] [ Contents ] [ Previous Page ] [ Next Page ]
---
Once you've opened up a loco using the basic tools, you'll want to lubricate it. There are literally dozens of lubricants available for model railroads. You don't need them all. Actually, you can get by fine with just four types.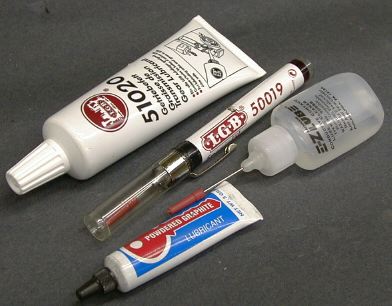 Starting at the upper left, is a tube of LGB 51020 heavy gear grease. It has also been shipped in little aluminum cans. This is the best grease that I've come across by far in that it tends to stay in place on the face of a gear. It can be used on any gear or axle.
For bearings, such as motor shafts and axle bearings, a medium oil is better. LGB 50019 oil is hard to beat. I use it anywhere that the lubricant is required to flow into a joint.
Conductive oil is used on power pickup brushes and motor brushes. This oil will materially improve the performance and lifetime of a sliding contact. The oil shown is Bachmann EZ-Lube conductive oil. When you select one, pick a container with a fine metal applicator tube so that it is easy to get just a little bit right where you want it.
Ordinary powdered graphite is necessary to lubricate surfaces where an oily residue is not desired. Examples are knuckle couplers and truck pivots. Some people like to use graphite to lubricate truck axle bearings as it is less messy and doesn't attract dirt, but it doesn't work quite as well as oil.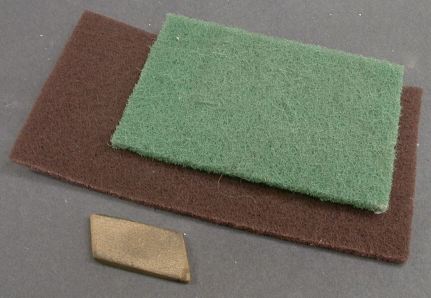 While working on a loco, you might find the need to clean the wheels. There are several tools that you can use to help you. The green pad is the 3M Scotch Brite pad. This is a common scrubbing pad available in most grocery stores. It is mildly abrasive and can be used to abrade contamination off of the wheel treads. A little stronger version is the 3M Metal Finishing Pad which can be found in some paint stores. This pad is the same base as the Scotch Brite pad, but with some additional abrasive material bonded within. The little block that looks like an eraser is a Bright Boy. This is a rubber block with abrasive material embedded. The Bright Boy has been used for many years to clean HO track and is available in many model railroad stores.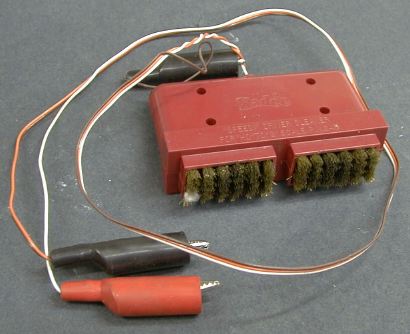 The Kadee Cleaning Brush can be used to apply power to loco wheels while the loco is cradled upside down. This allows you to check the power pickup in each wheelset and to spin the wheels while you clean them with one of the abrasive pads or a solvent soaked Q-tip.
---
[ Home ] [ Tips ] [ Contents ] [ Previous Page ] [ Next Page ]
---
© 1999 George Schreyer
Created Dec 4, 1999
Last Updated Dec 4, 1999