Measuring Tools
[ Home ] [ Tips ] [ Contents ] [ Previous Page ] [ Next Page ]
---
Anytime that you have to build anything, you will have to measure materials to cut them to the right size. You can get away with just three instruments, but one of them is expensive.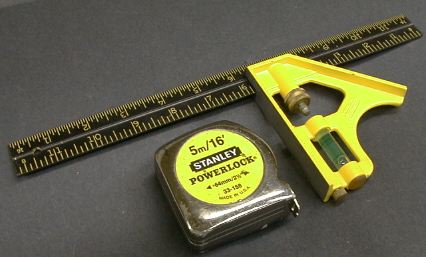 A tape measure is indispensable during layout construction. I prefer a type that has both English and metric scales. These are harder to find, I got this Stanley tape at Home Depot. A carpenter's square is also necessary. This tool allows you to draw square or 45 degree corners and to make linear measurements. The ruler portion of the square can be moved or removed to allow the square portion to also be used as a level.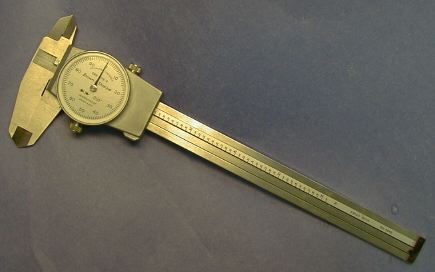 If you do any fine work, you'll need to make measurements more accurately than is possible with any kind of ruler. This dial caliper is accurate to 0.001" and can be read to 0.0005". This is an expensive instrument at more than $100 for a good one. There are much cheaper plastic versions available, but they are nearly worthless. You won't find a good caliper at every hardware store, you'll probably have to go to an industrial tool supplier.
The caliper can be used for outside, inside and depth measurements which makes it very versatile. There are versions with a vernier scale that are a little less expensive but harder to read and versions with a digital readout that are more expensive but easier to read. All three types have the same accuracy.
---
[ Home ] [ Tips ] [ Contents ] [ Previous Page ] [ Next Page ]
---
© 1999-2000 George Schreyer
Created Dec 4, 1999
Last Updated July 28, 2000