Stockton Meet
6/11/2011
Railfanning Main Page
West Coast Rails Home
---
On Saturday, June 11, 2011, Calrailfans met at Keddie Junction, Stockton, California. Here's my story:
Dave Ferreira, Di'Mario Felice Strong-Baker and I attended the Stockton Calrailfans Meet at Keddie Junction, where the Union Pacific and Burlington Northern Santa Fe Railroads crossover eachother and interchange.
Here's a photo of the wye.
Not long after we arrived, an east (southbound) bound BNSF Z train rolled by. BNSF 7590, 5510, 4176, and 7320 leading on the Stockton Subdivision (BNSF's only Transcontinental Mainline in California with the exception of the FRC.)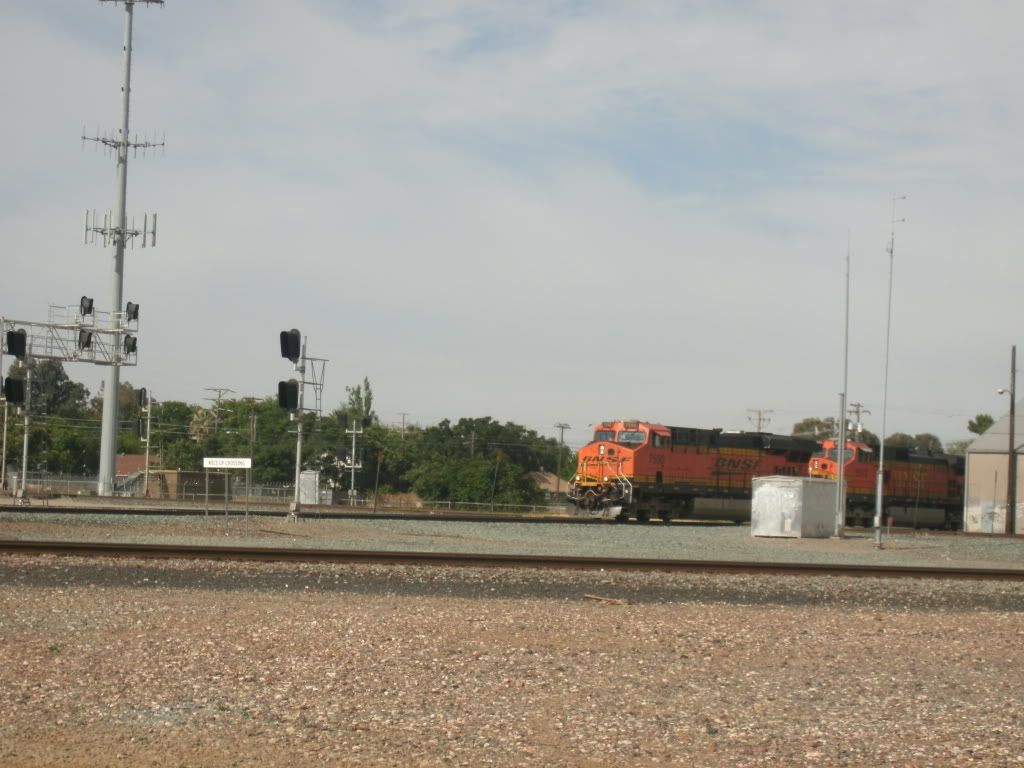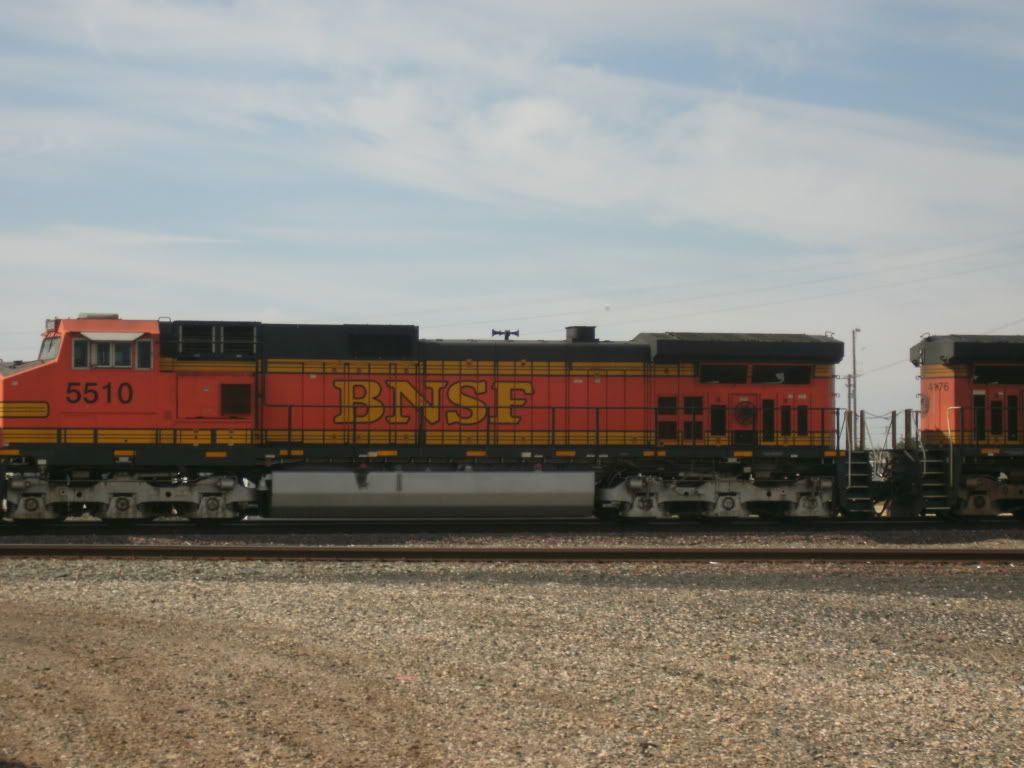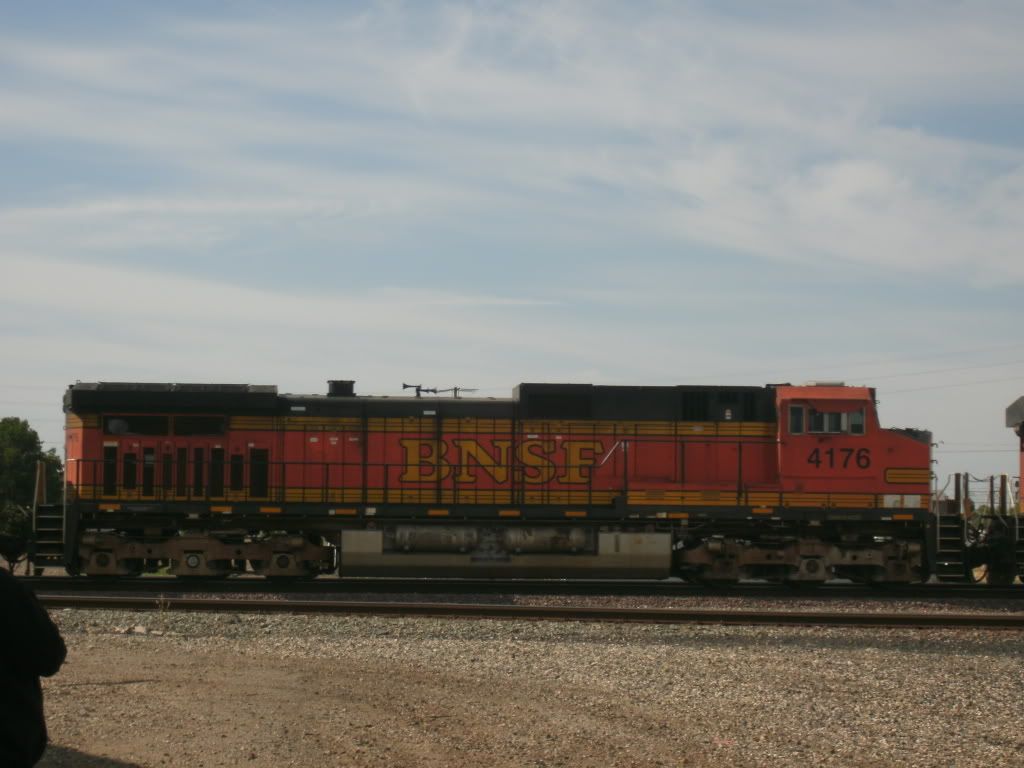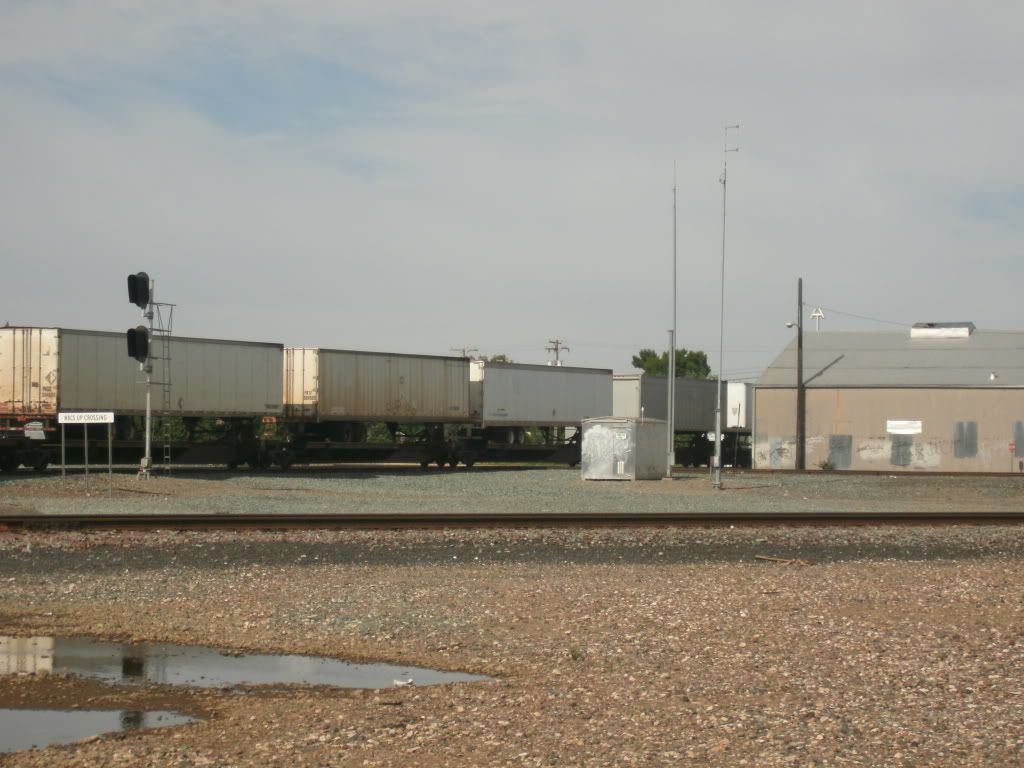 The crossing of two lines. 8 rails in total.
Not sure if this was a light power move, but here's BNSF 4646, 4592, 4472, 4672, and 4303.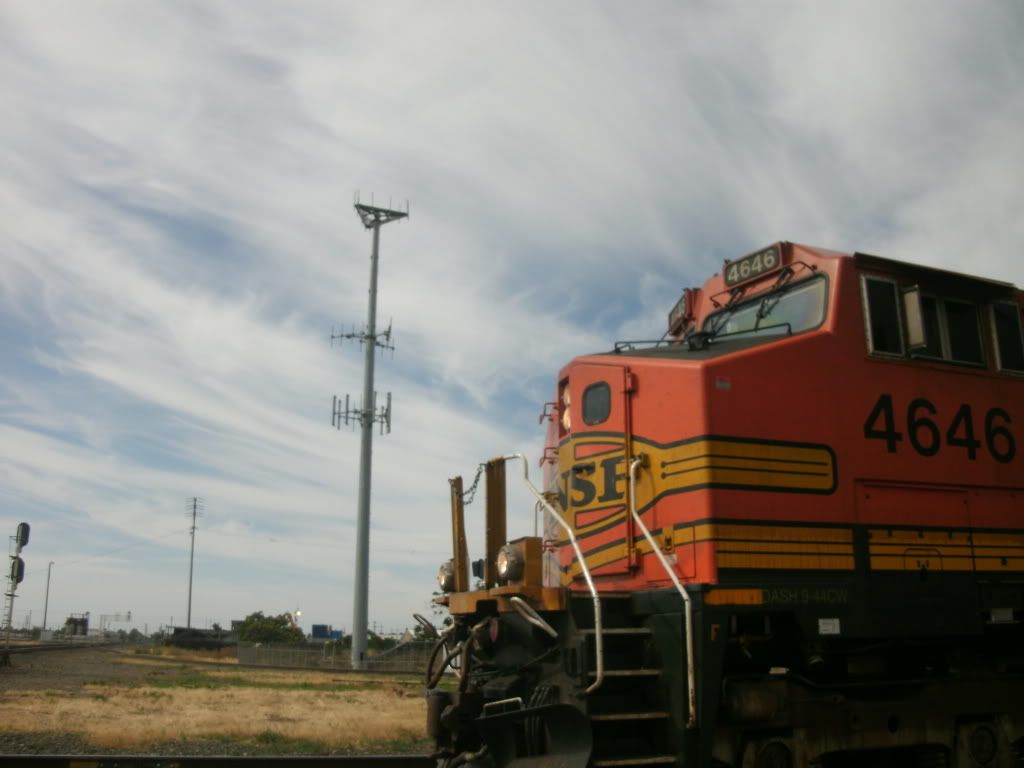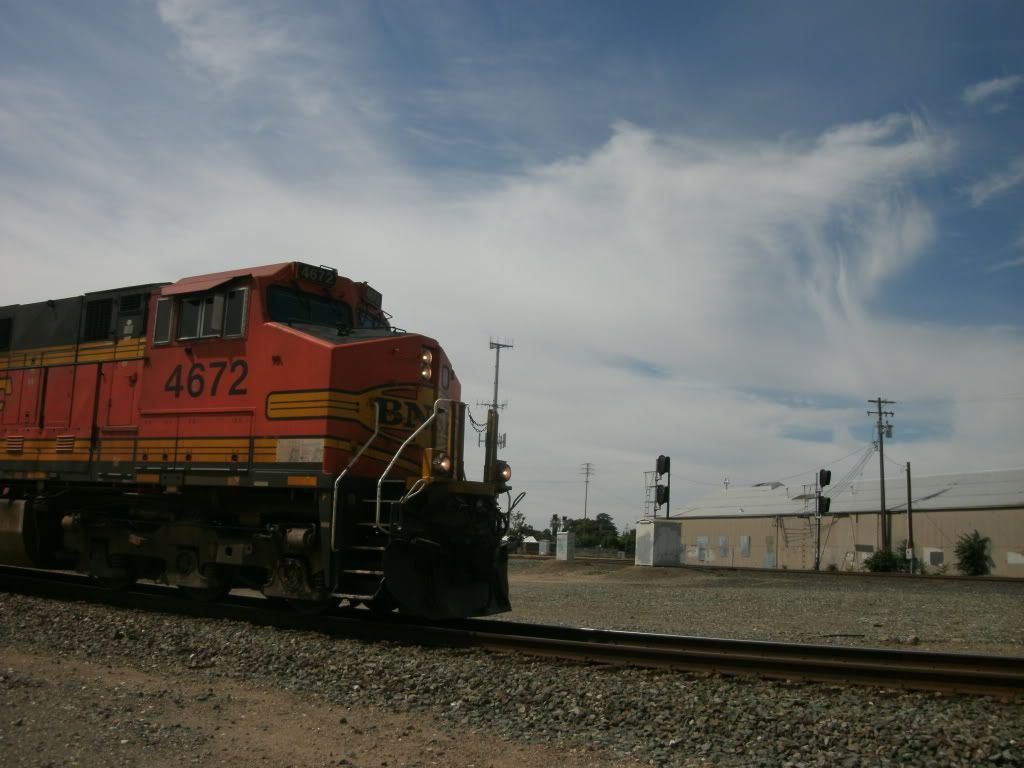 BNSF 4672, 5293, 4966, 1053, 1105, 4516 lead a manifest over the wye onto the UP's Fresno Subdivision to eventually travel north on the Sacramento Sub to Keddie Wye, in the Feather River Canyon. From oneKeddie to the other!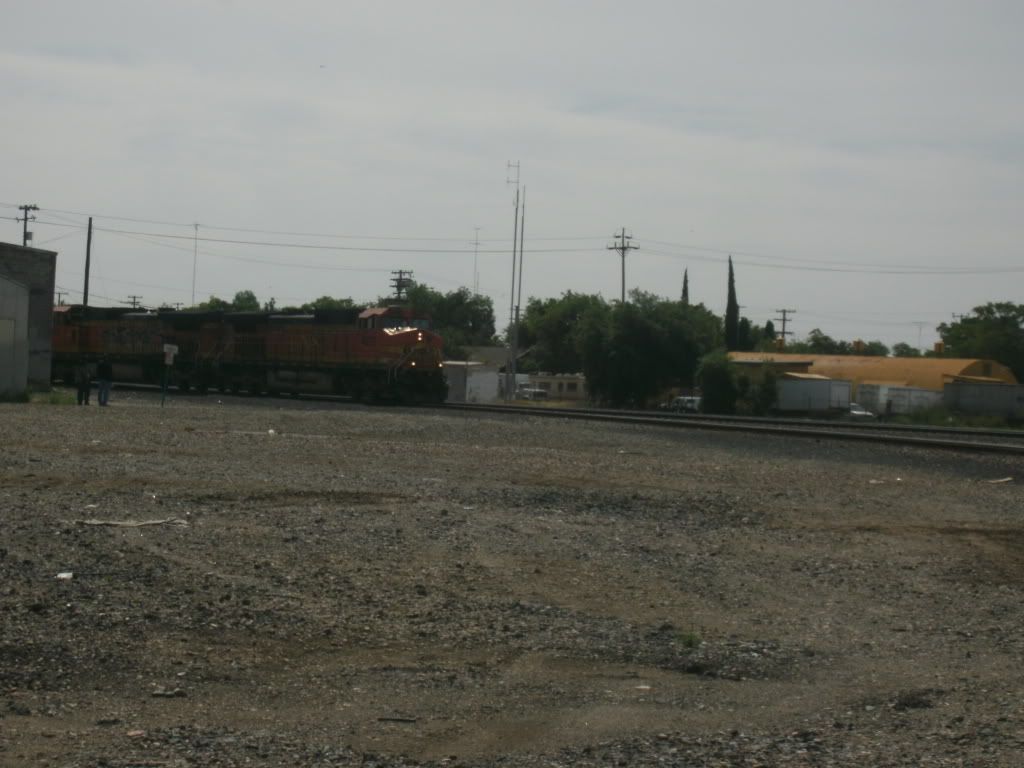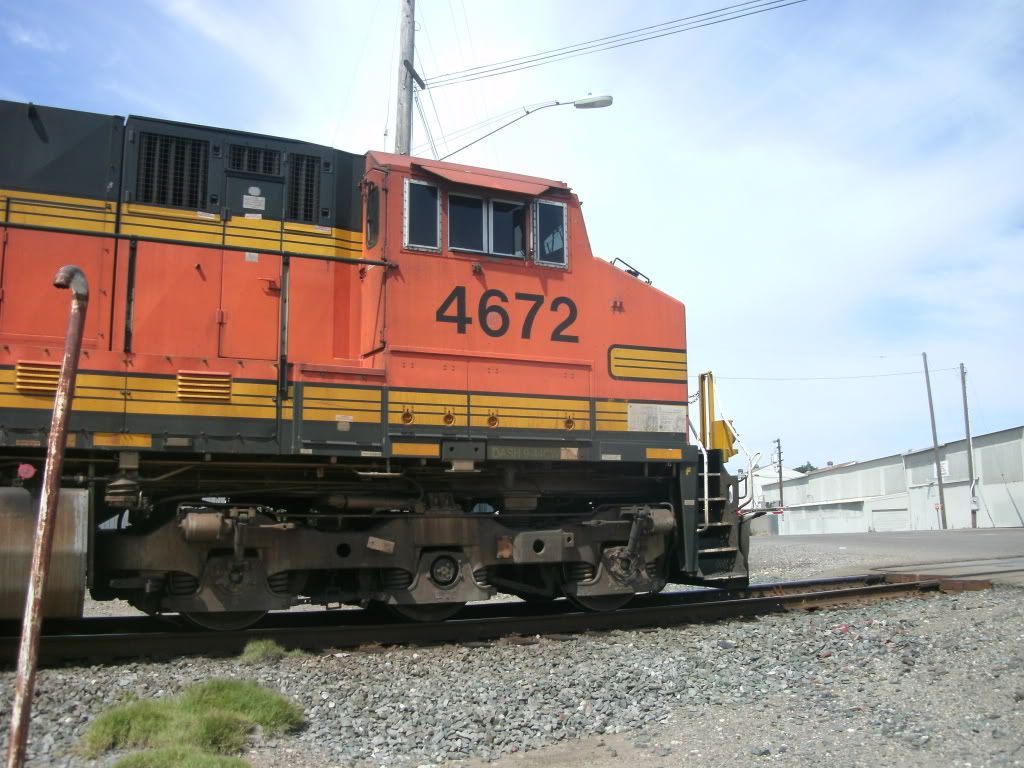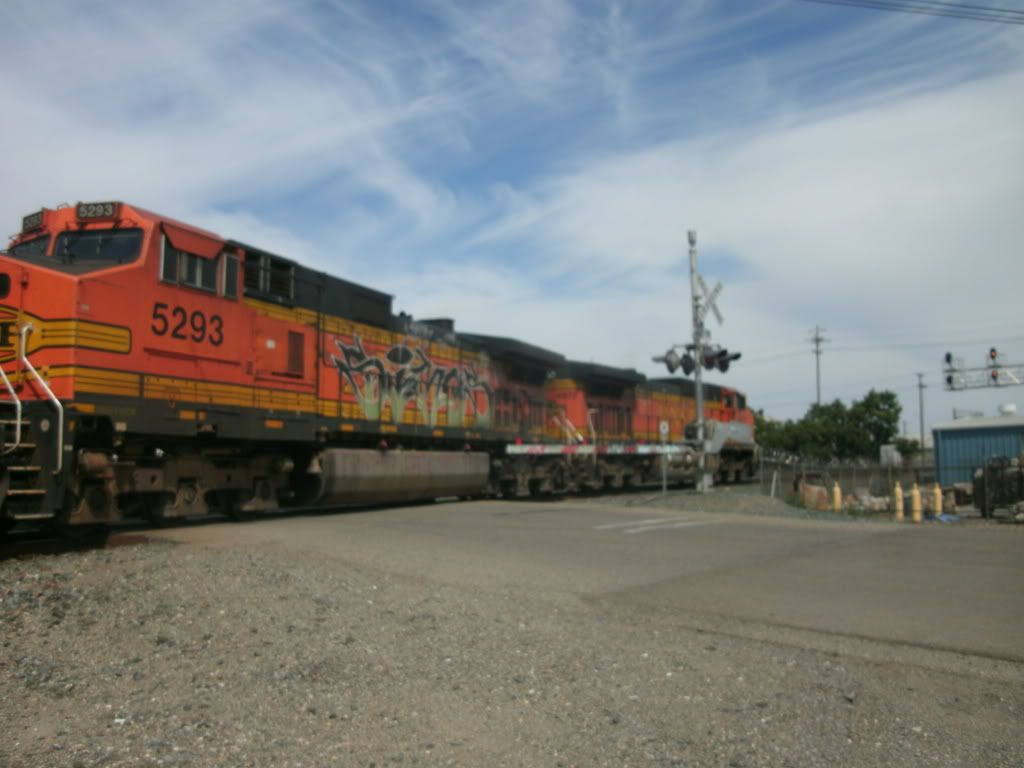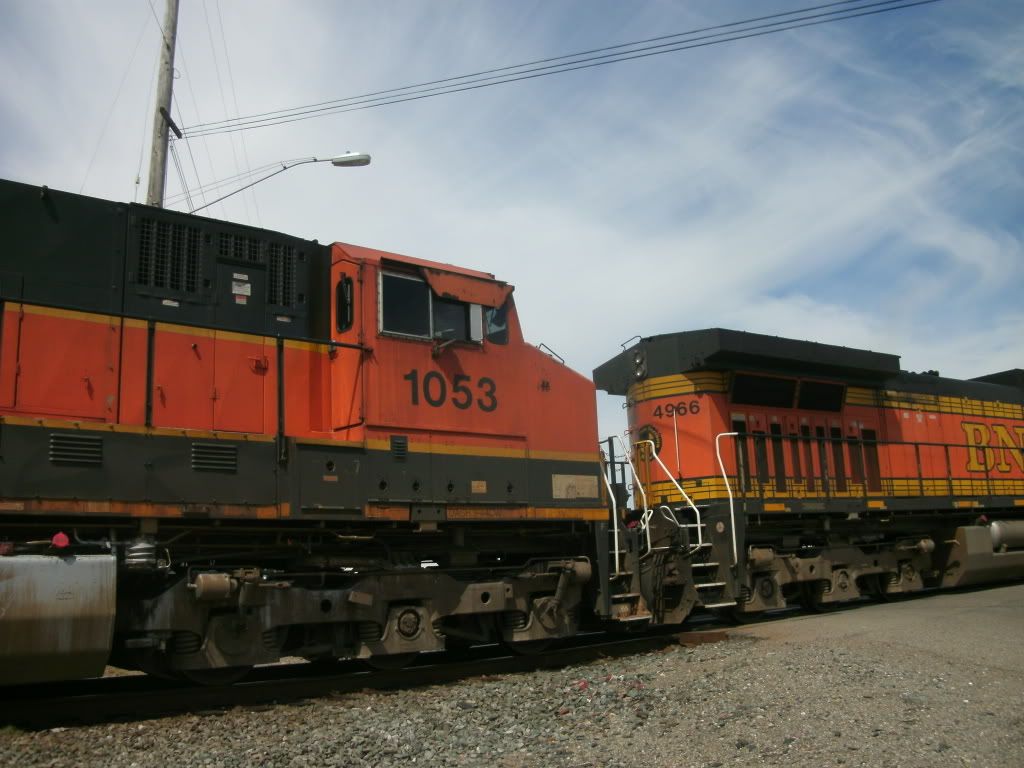 \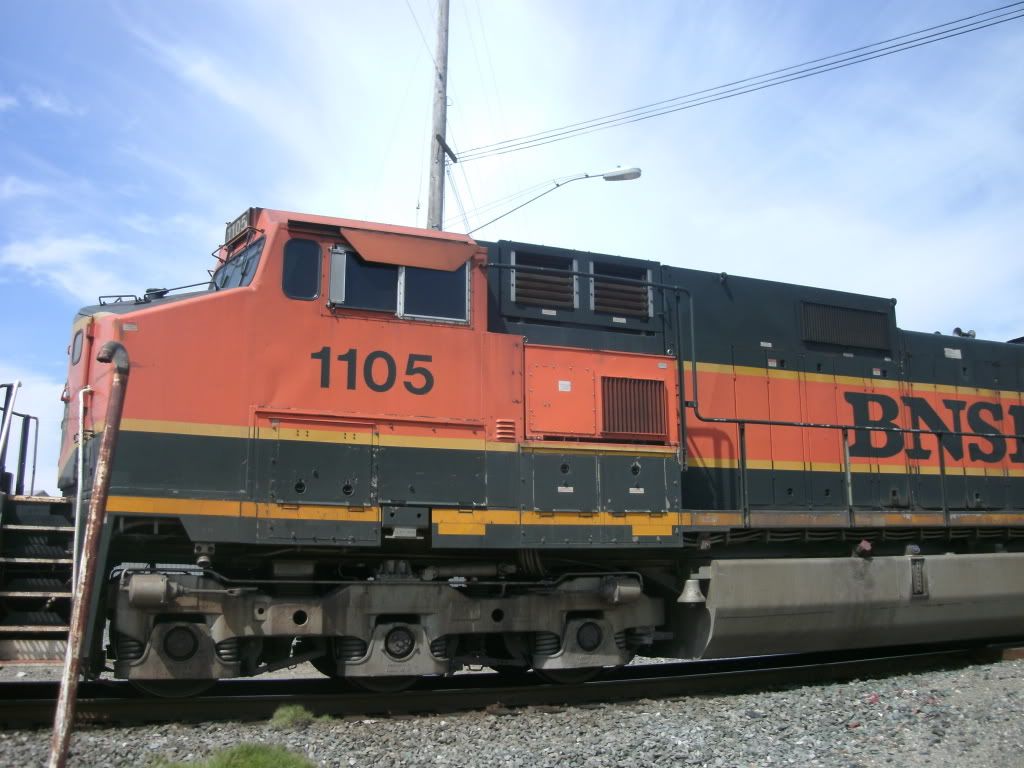 Foamer watching the rear!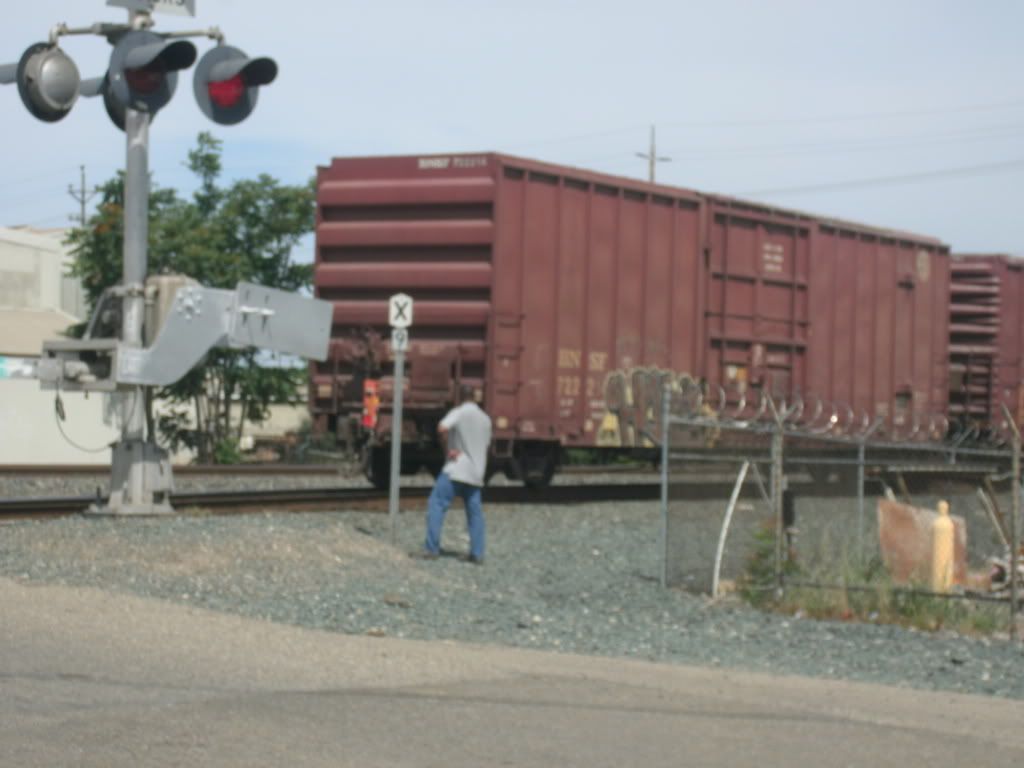 Signals, and this person had to cross my shot...oh well!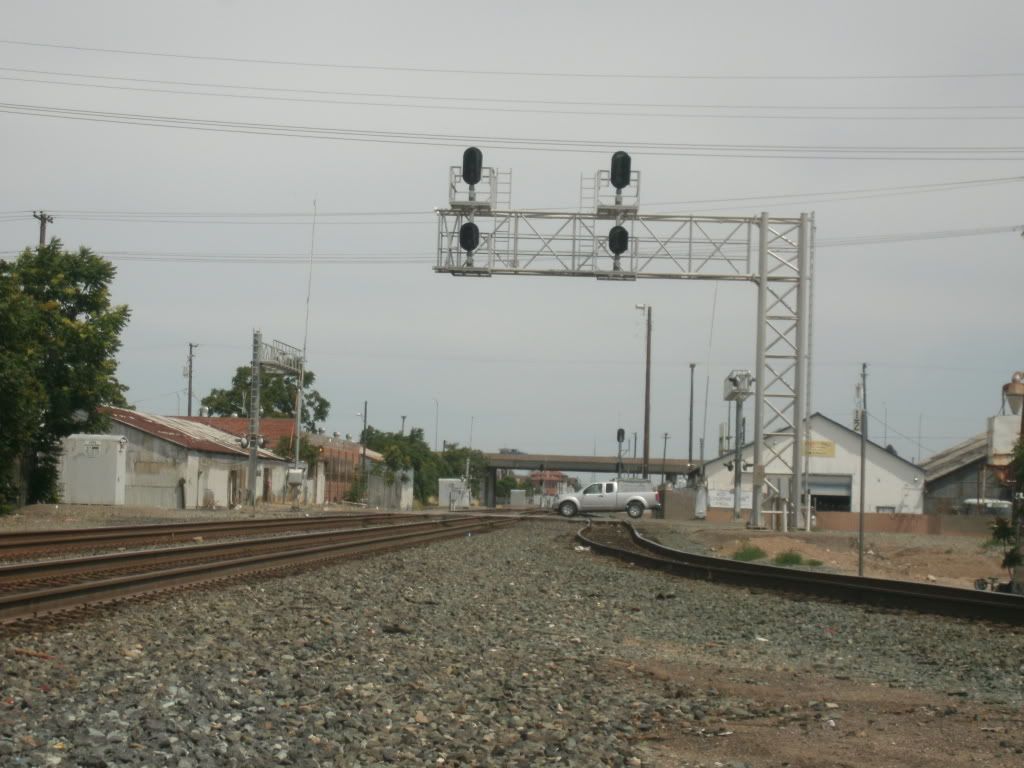 Just in time for a freight. UP 7775 (GEVO) and 4050 (SD70M) lead a baretable train south on th Fresno.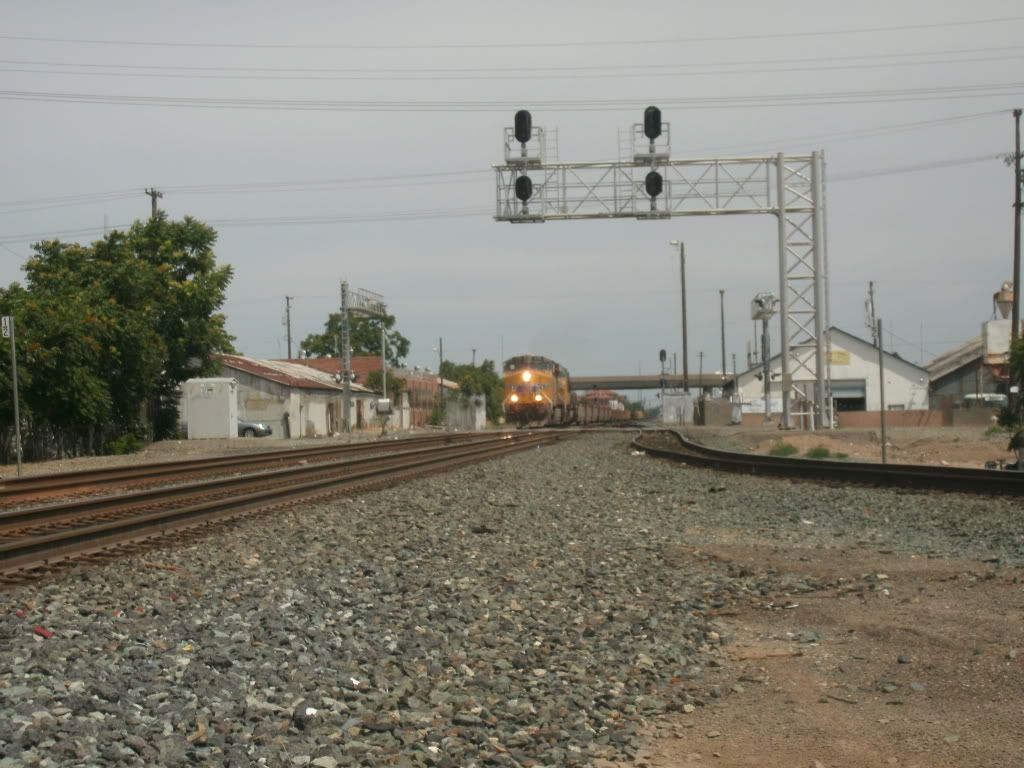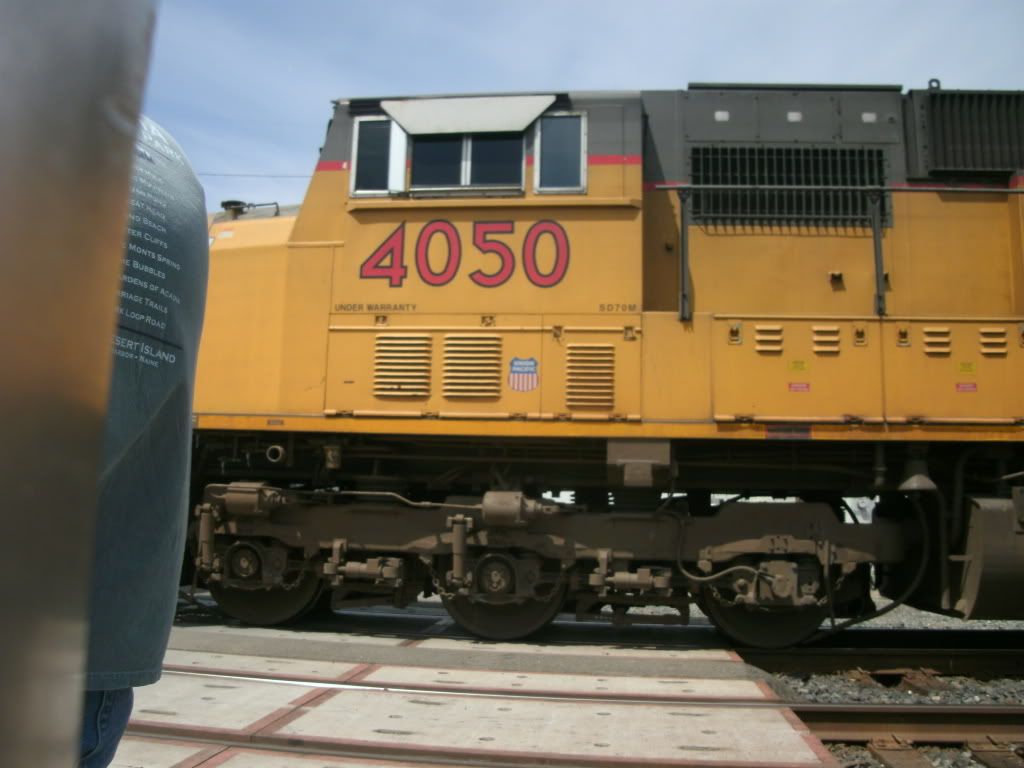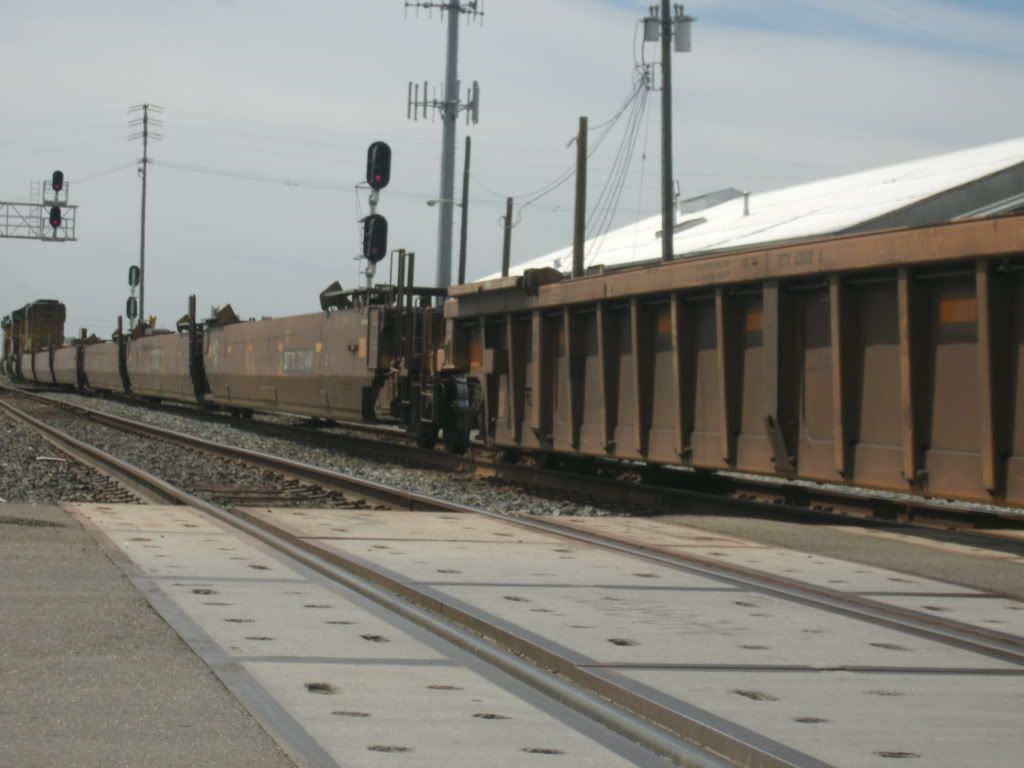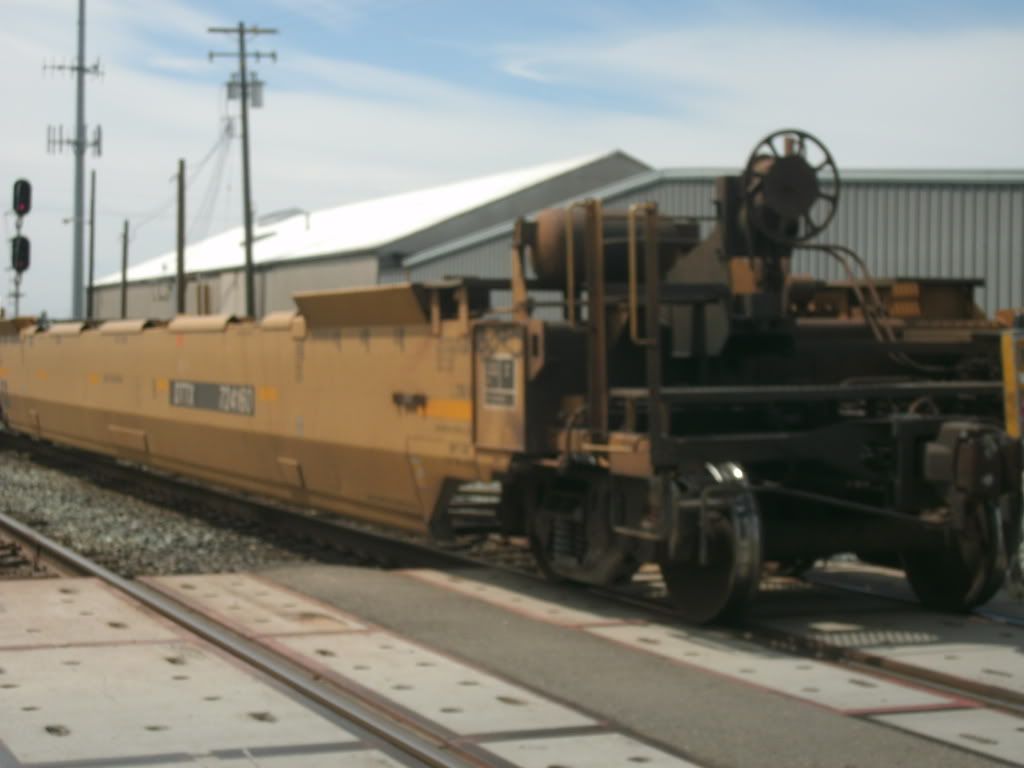 CDTX 2051 (B32-8HW) leads a San Joaquin north to terminate in Sacramento, leaving BNSF for a short jaunt to UP territory.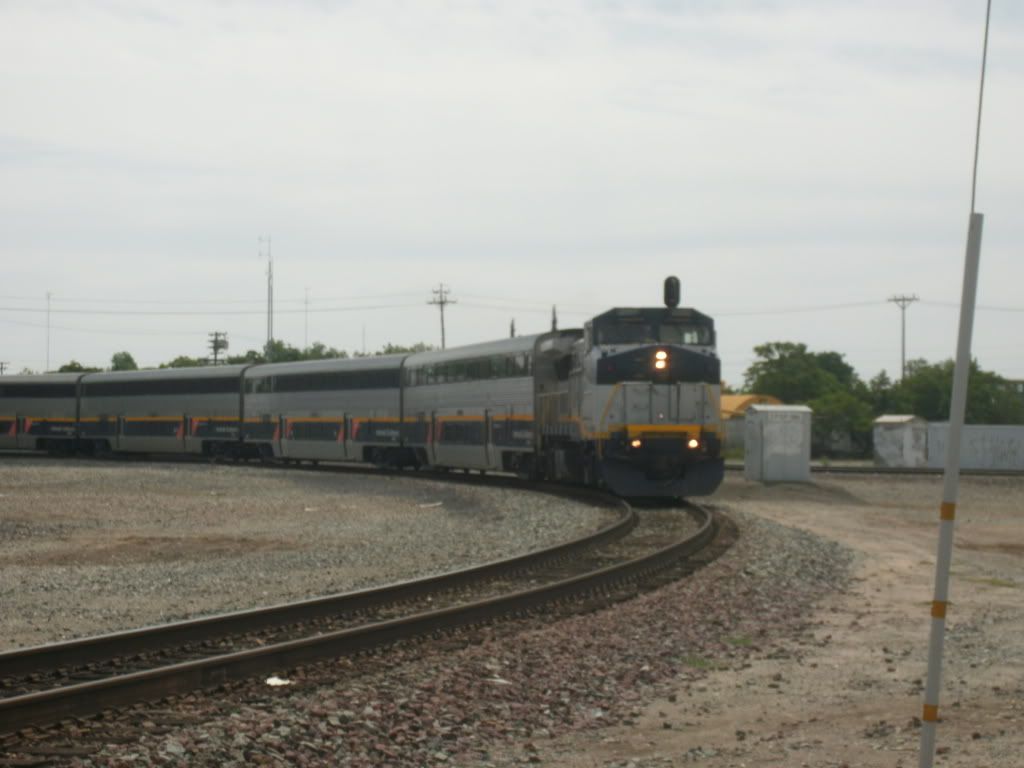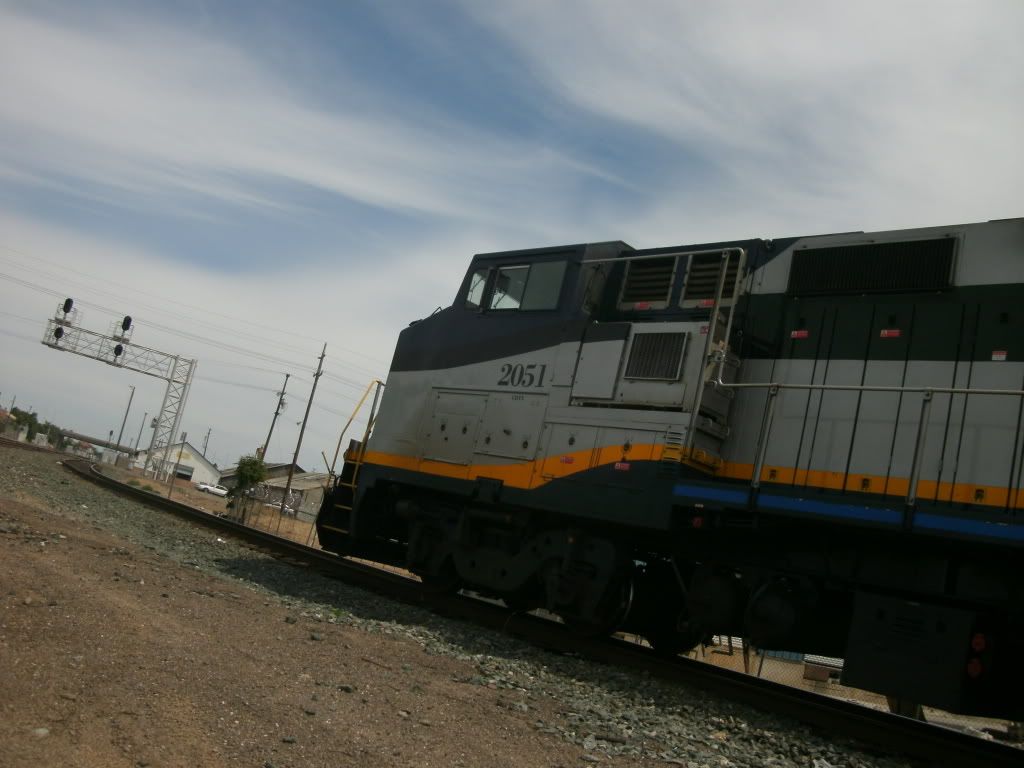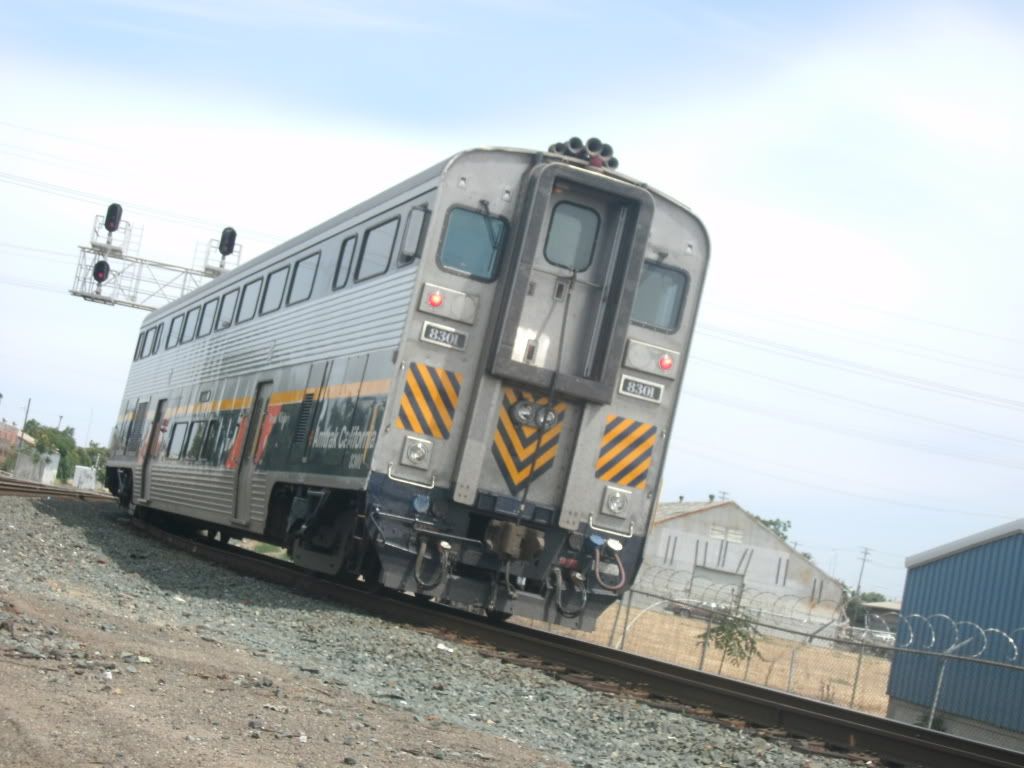 Far in the distance, a UP manifest approaches the Junction.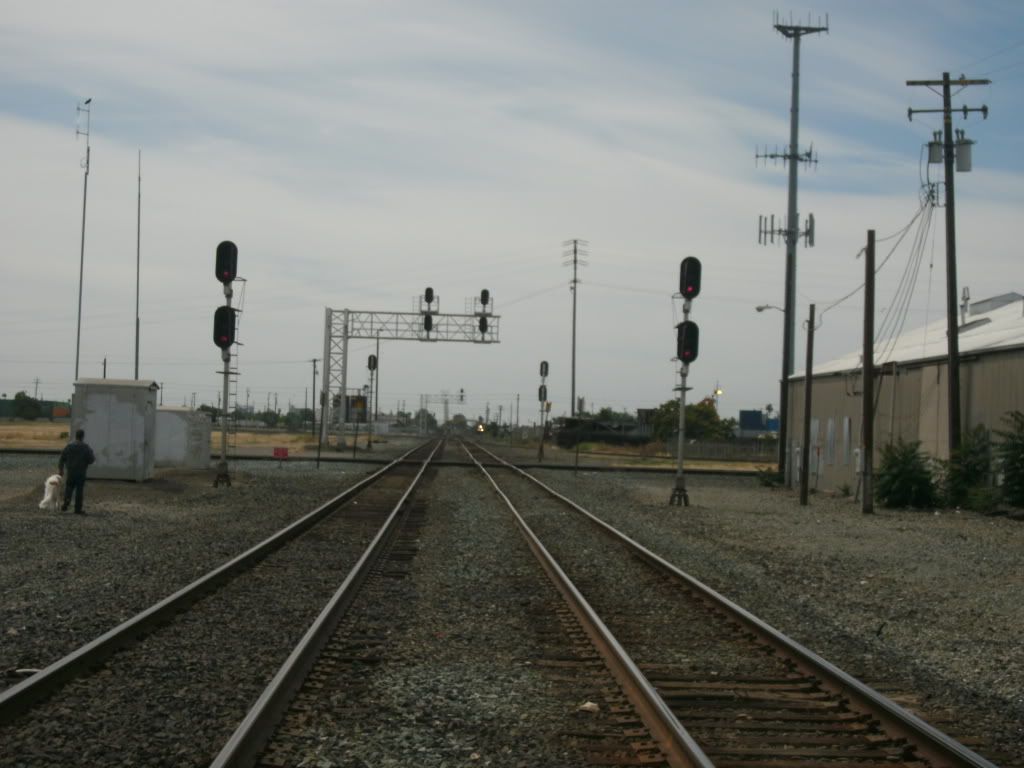 ...as a BNSF stacker rolls thru town. BSNF 7381, 5196.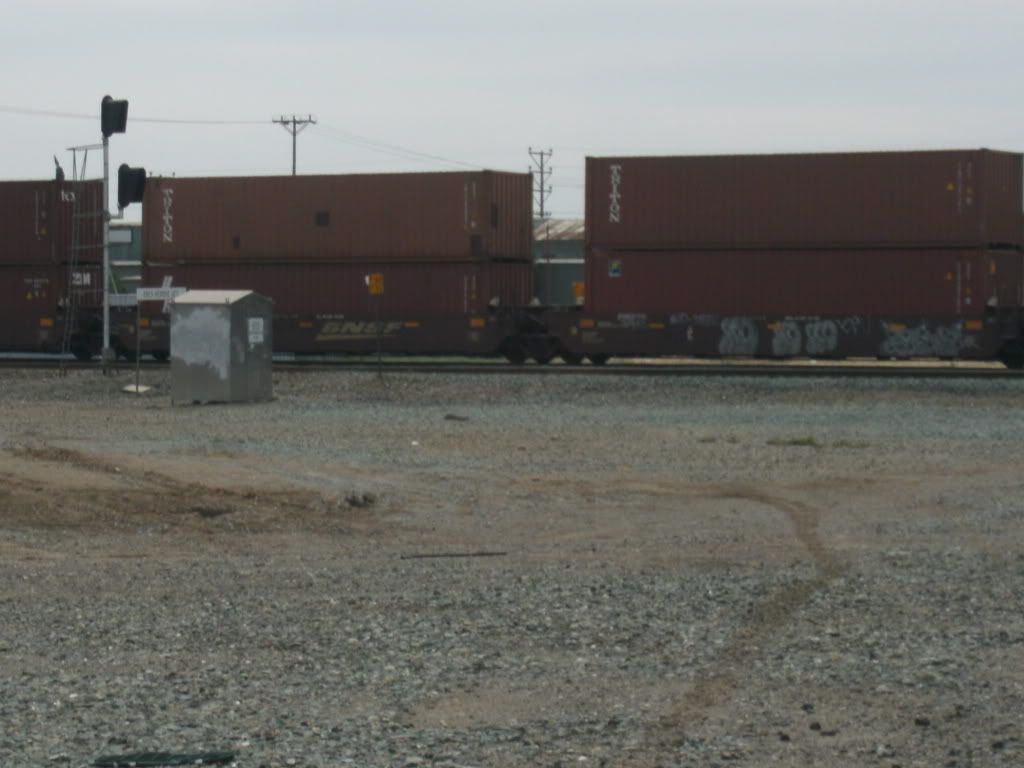 Lights are on, here we go! UP 7630, FXE (Ferromex) 4617, UP 4799.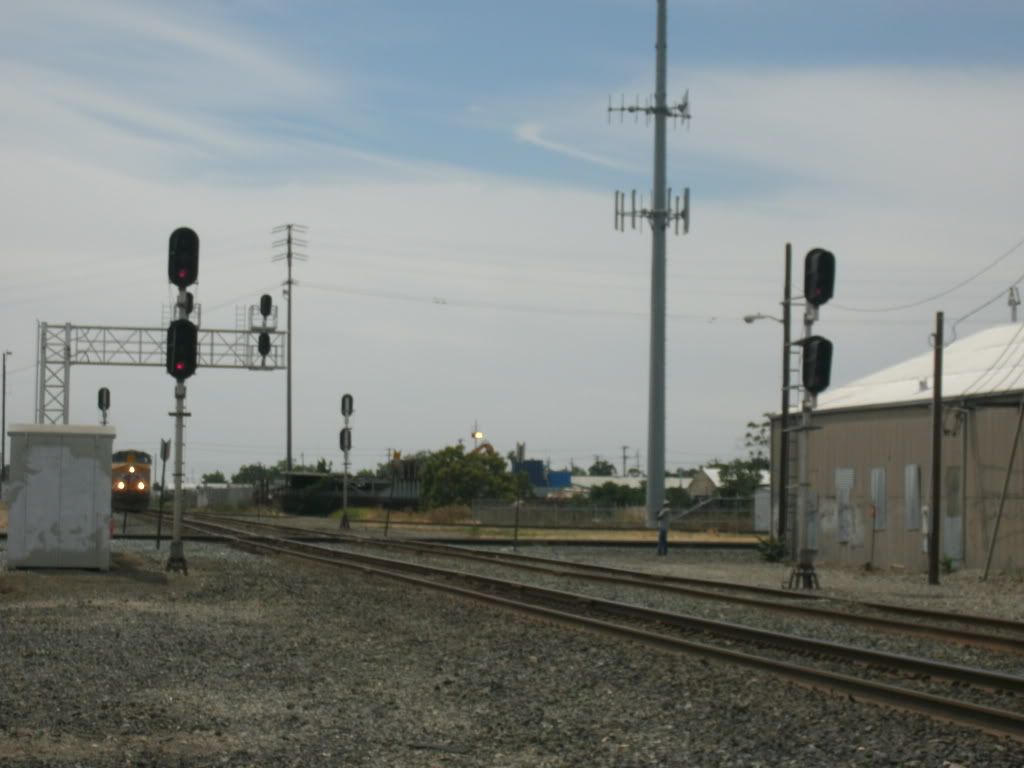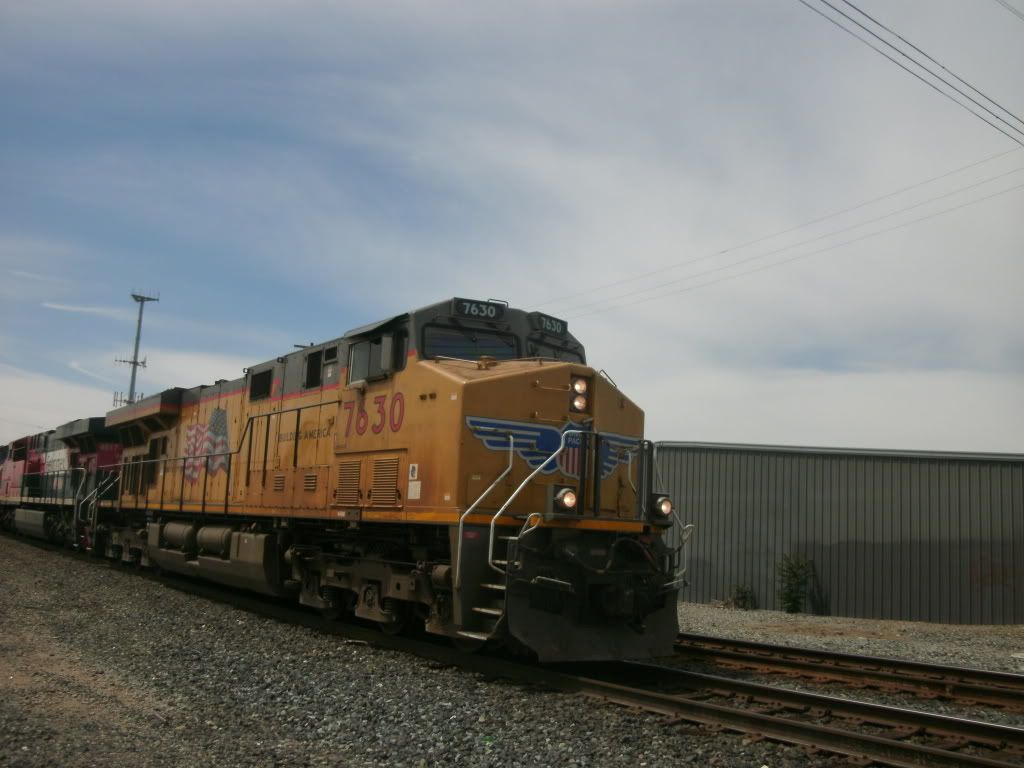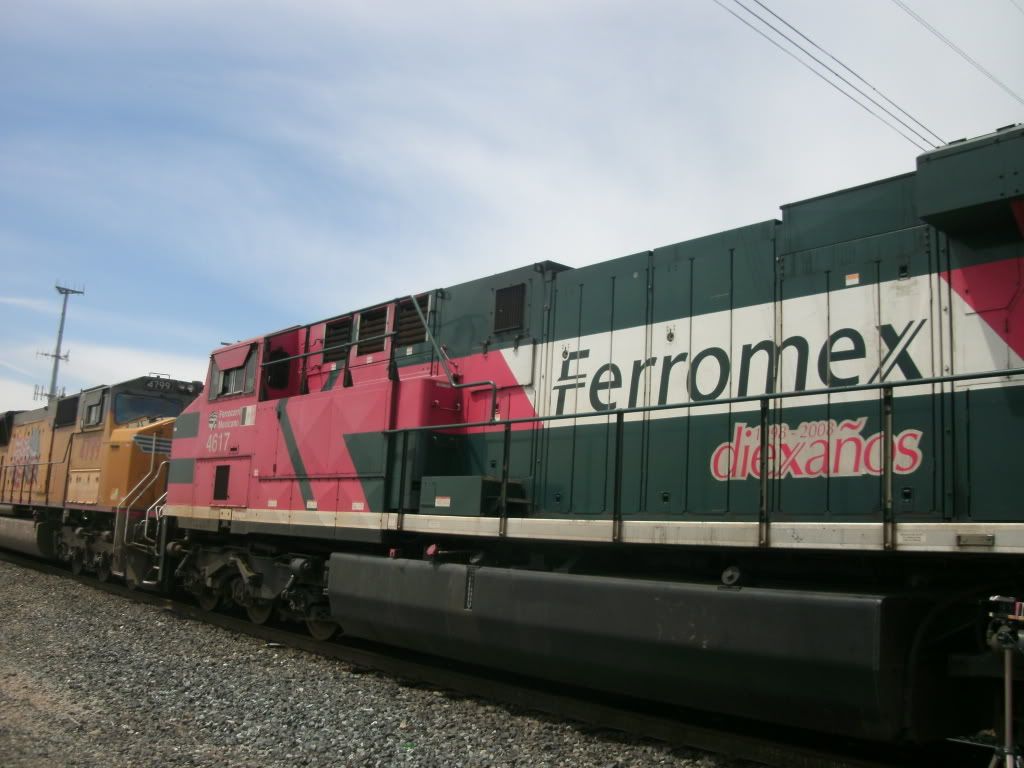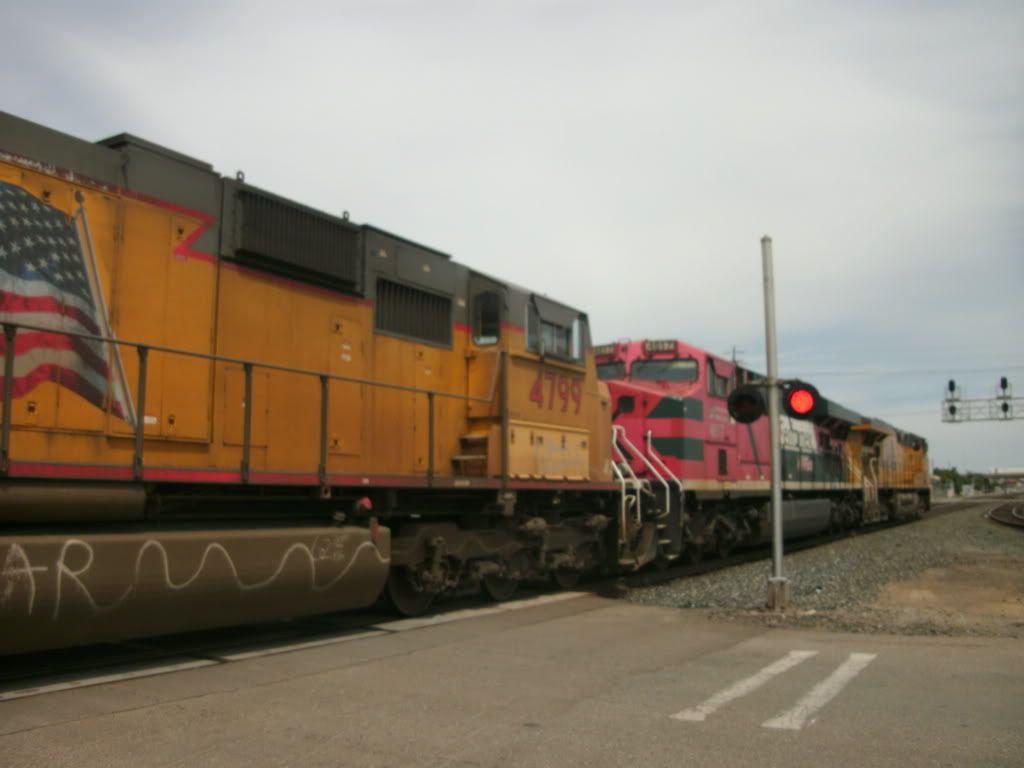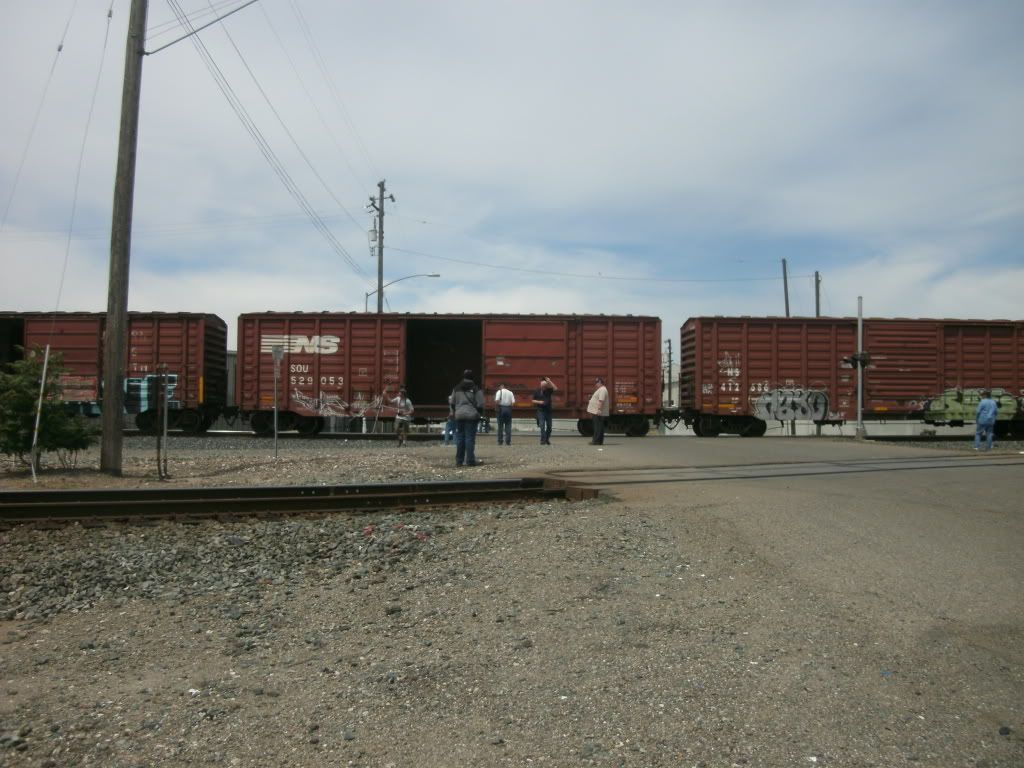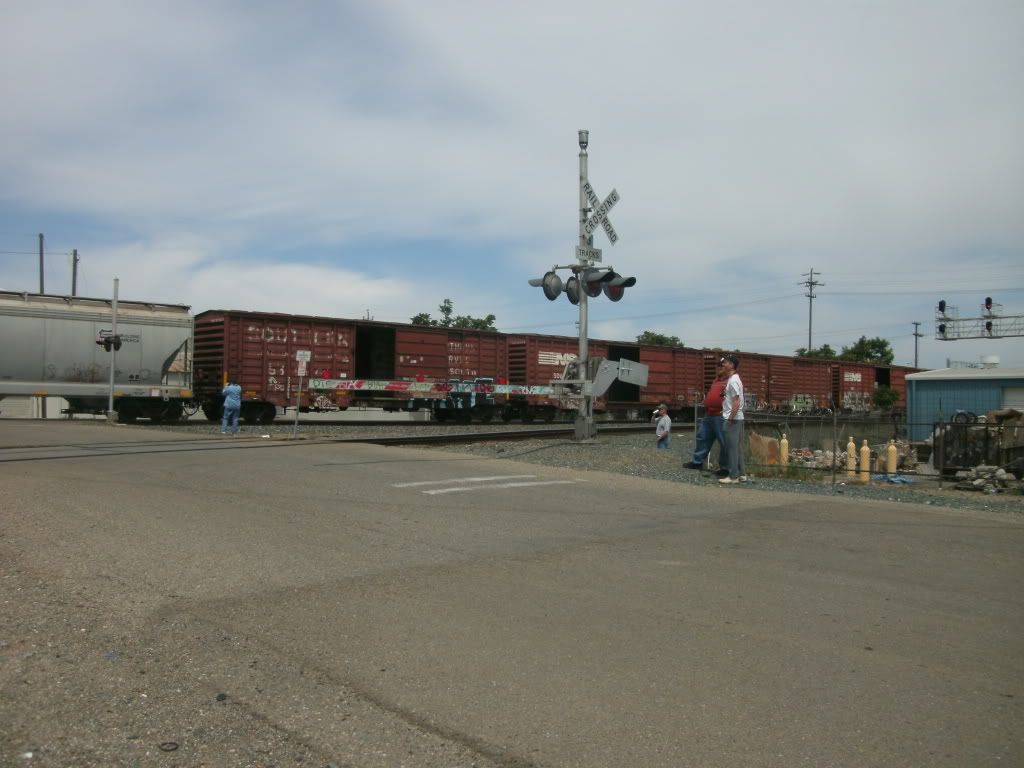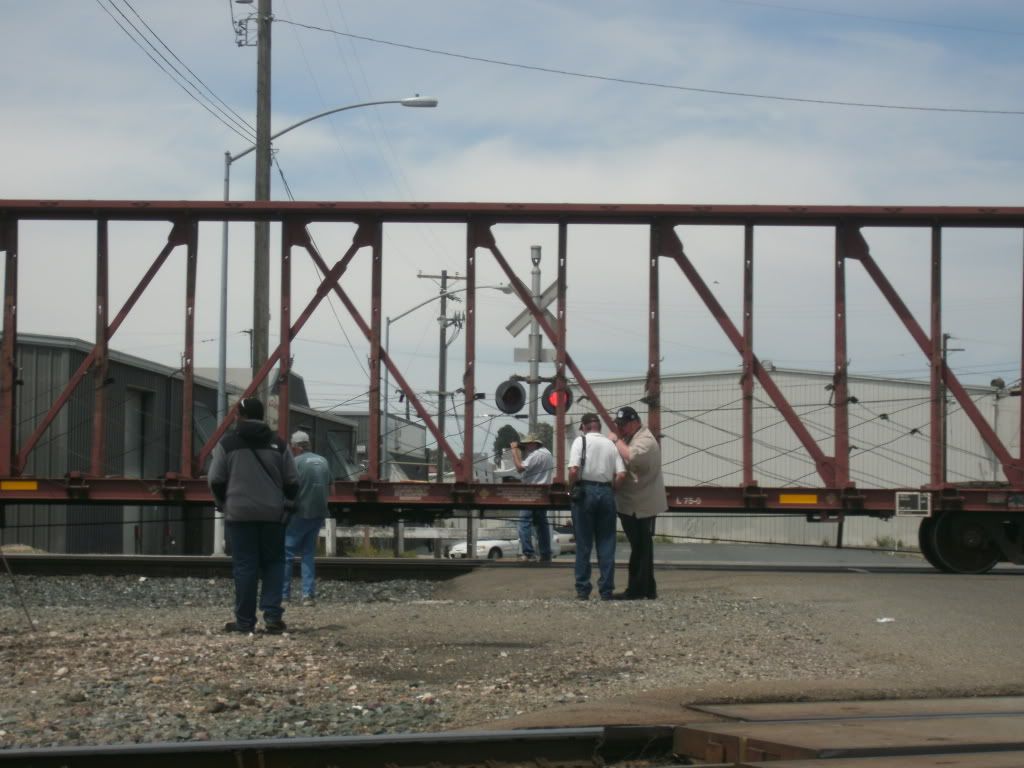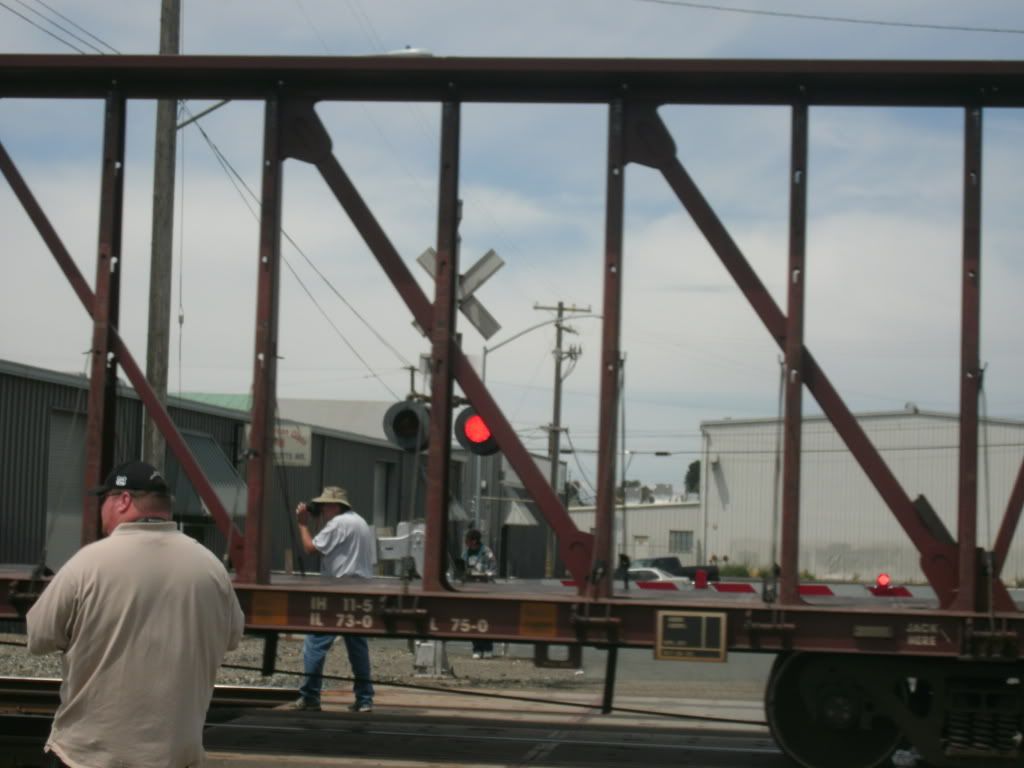 Warbonnet, finally! BNSF 151, 127 lead a manifest west to Richmond, California.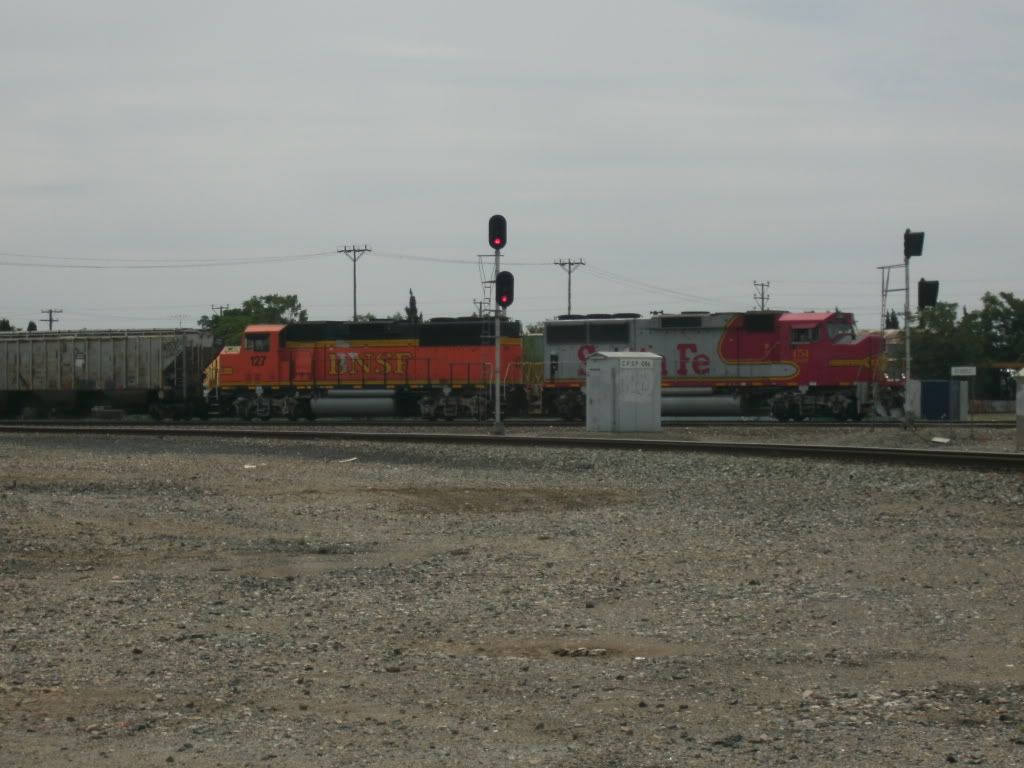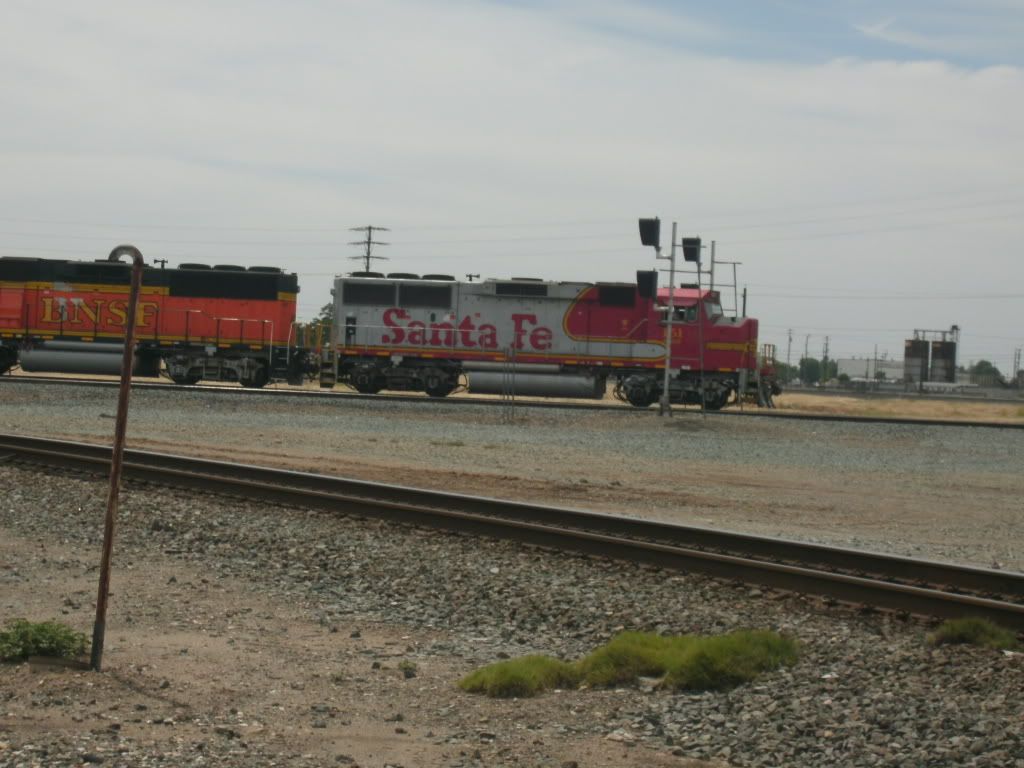 UP 7705, 4751, 4865, 8645 leads a heavy manifest north to points north.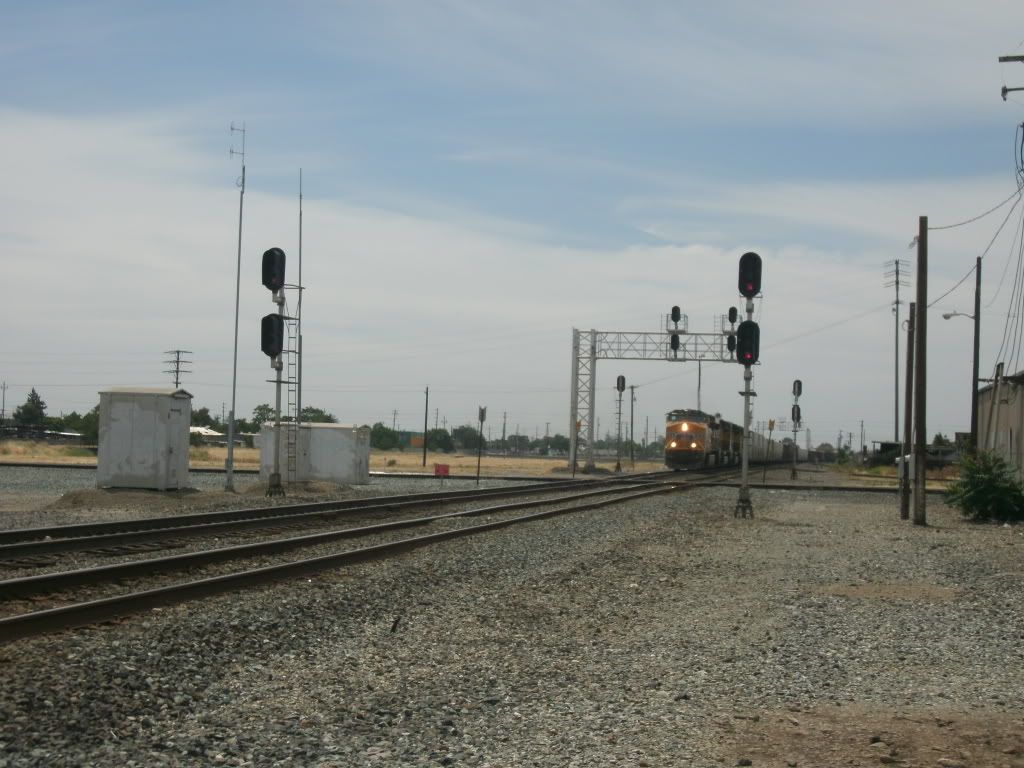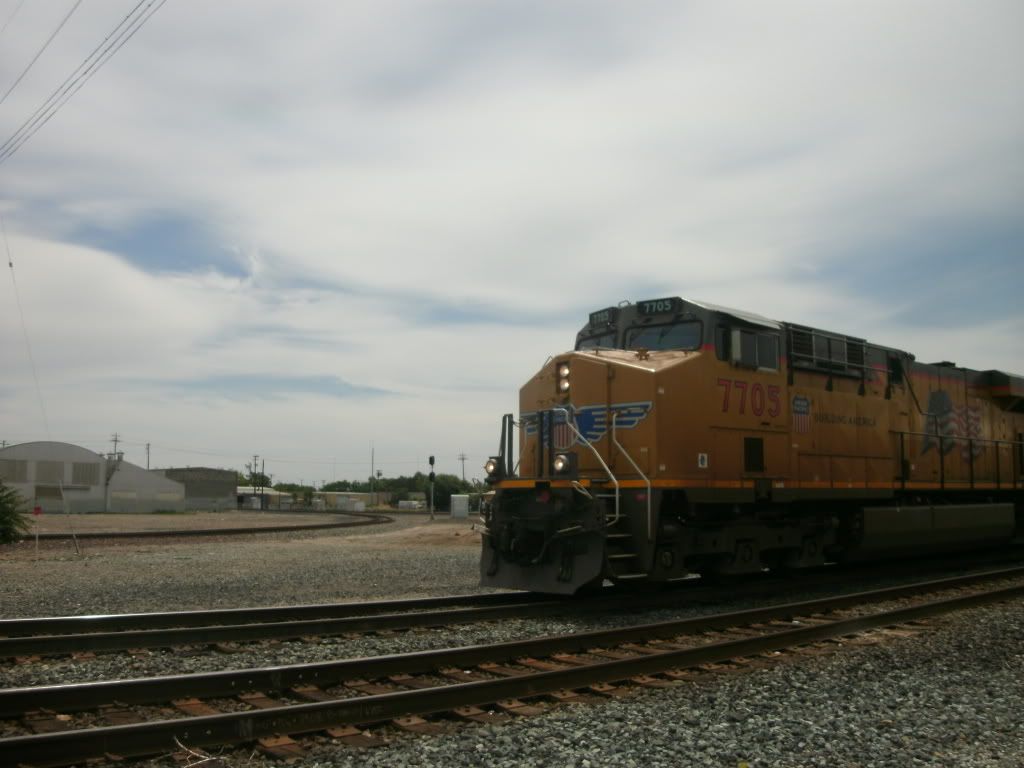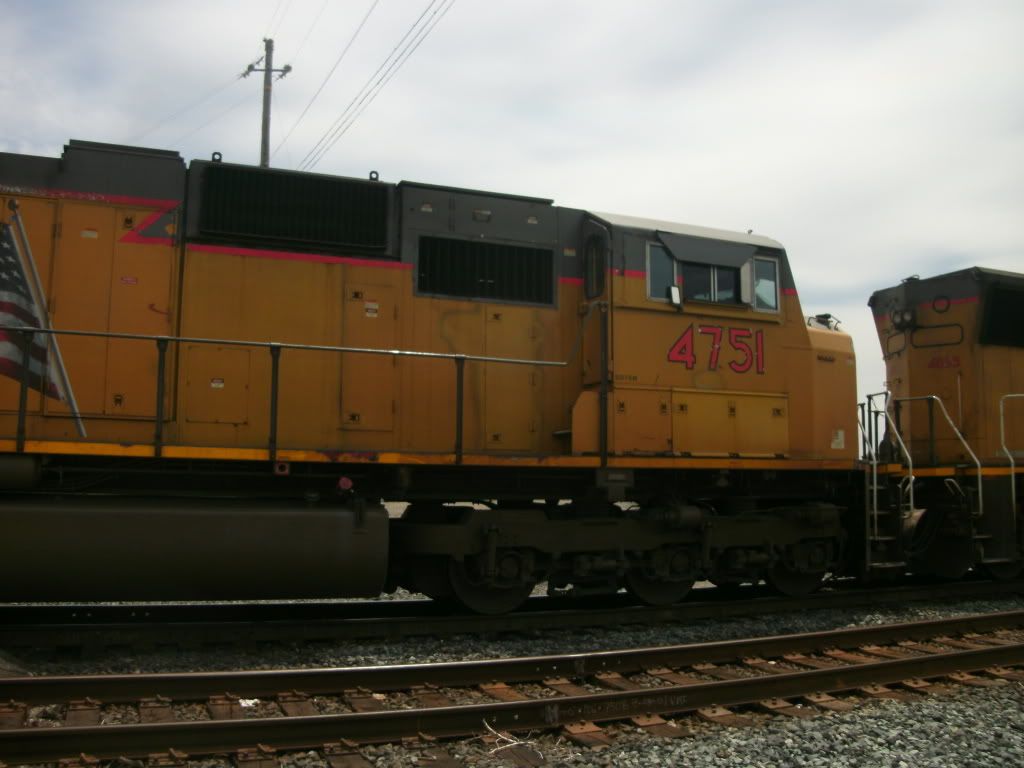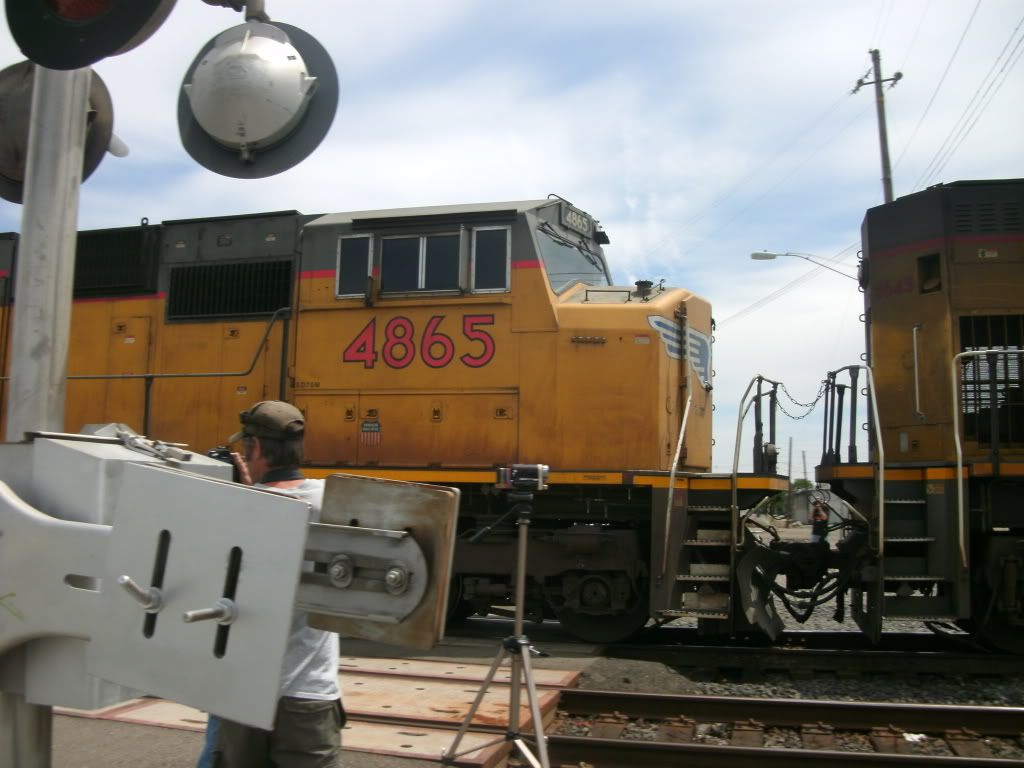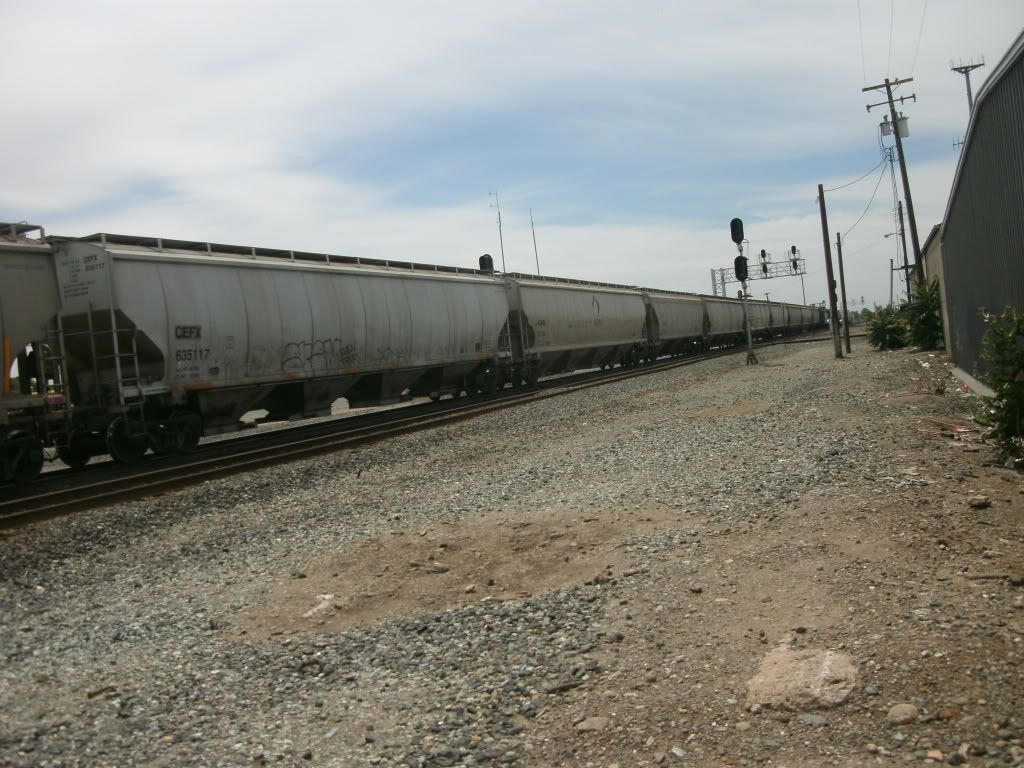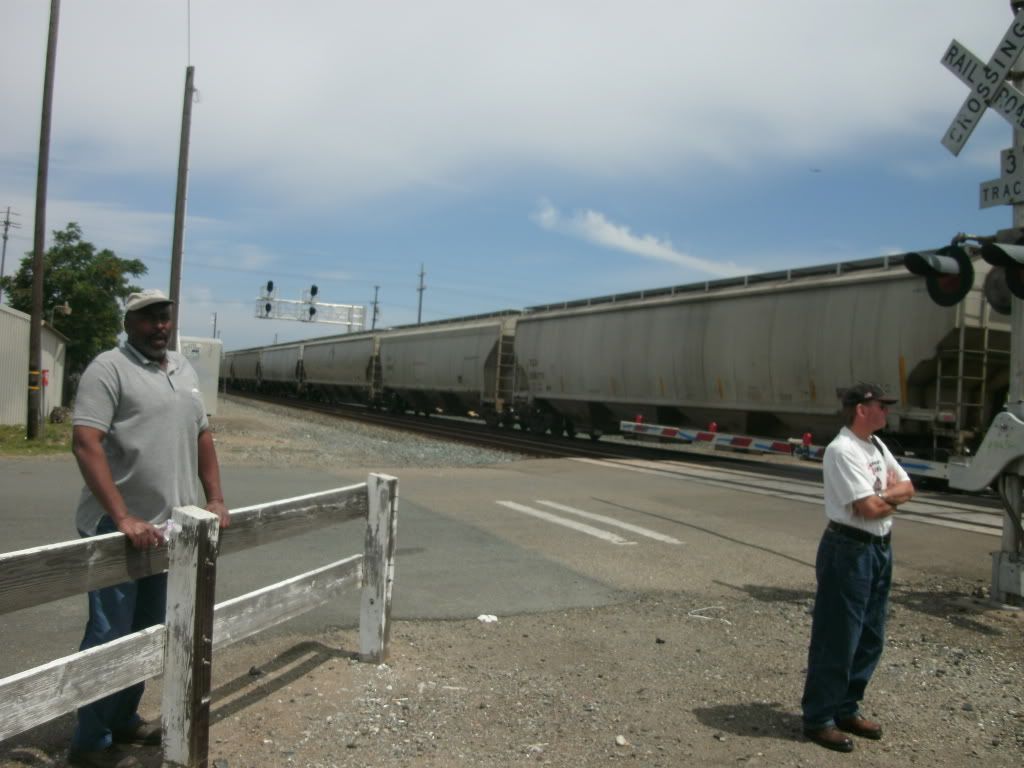 UP 4520, 4191, 3895 lead an odd intermodal train north.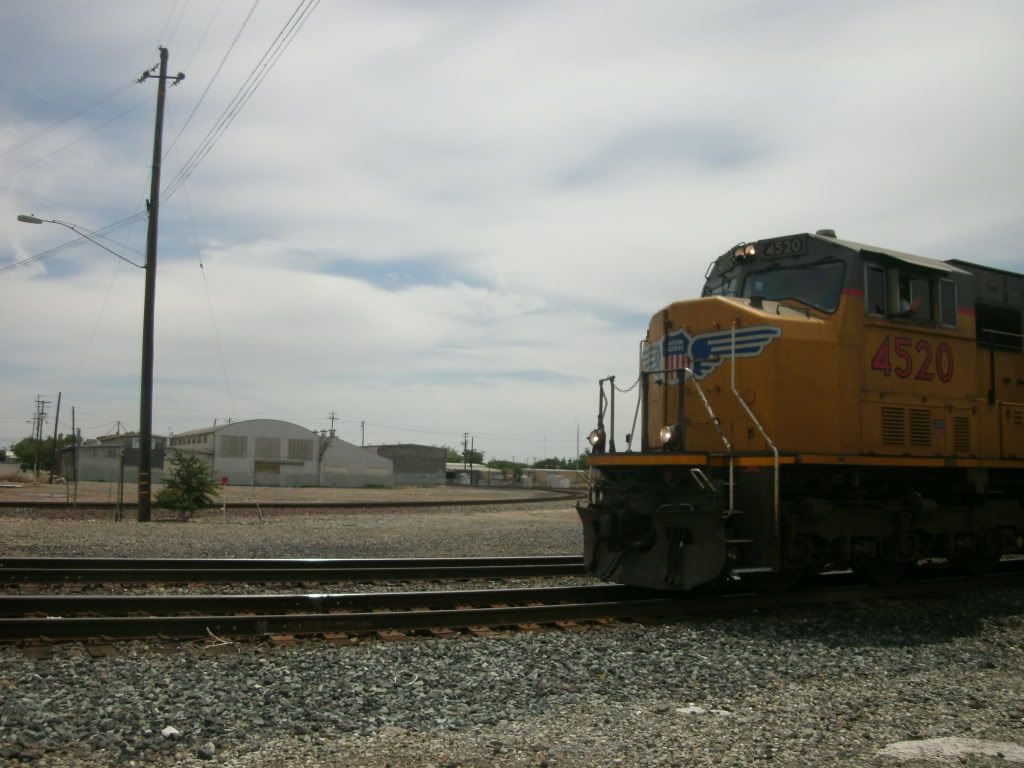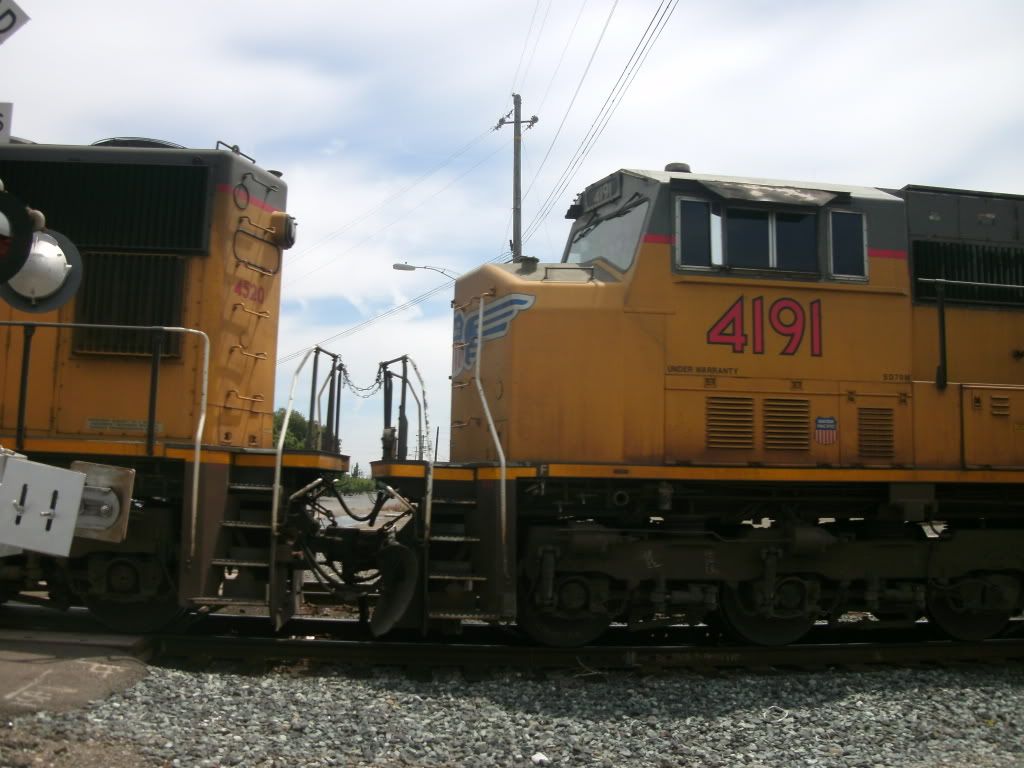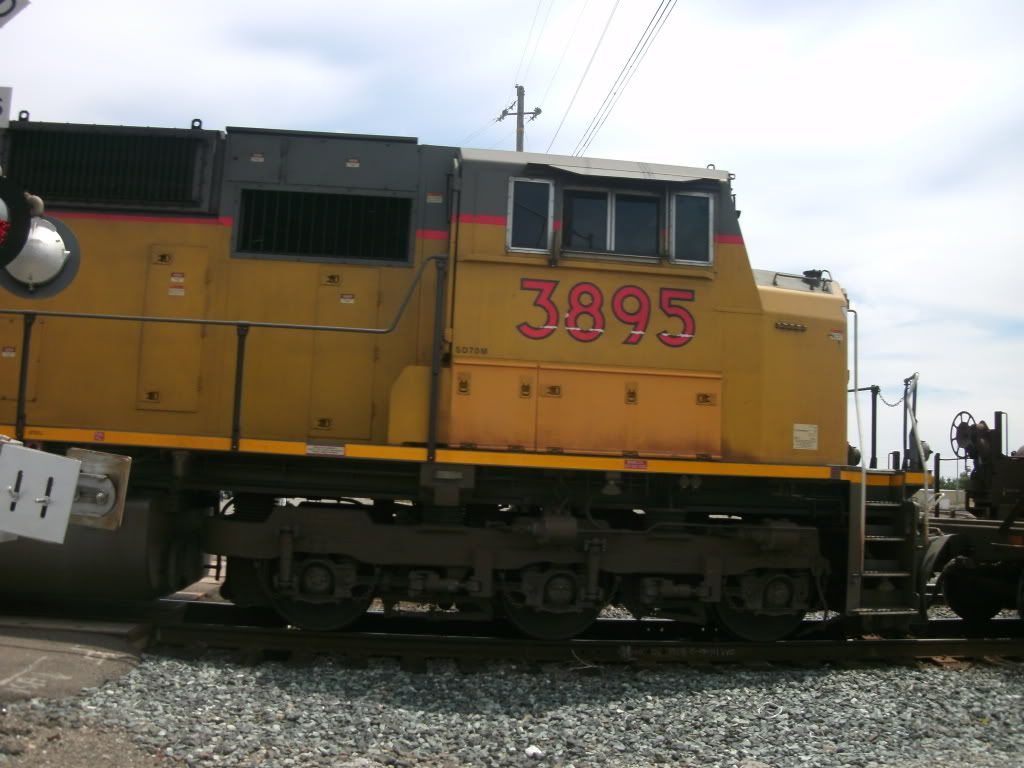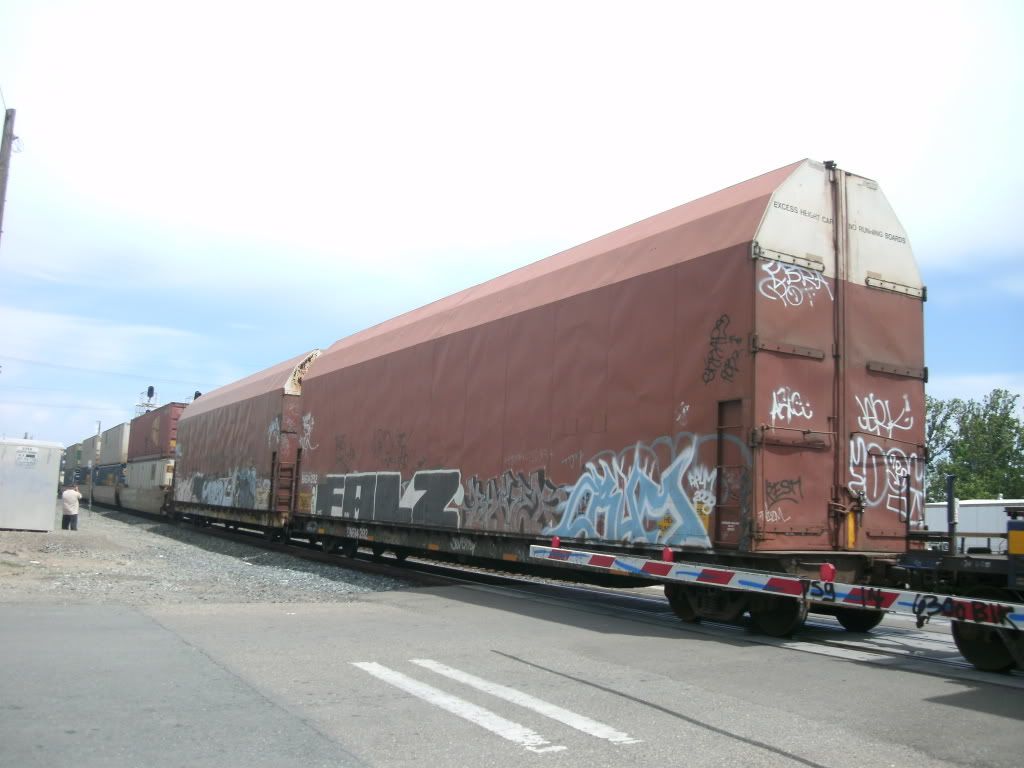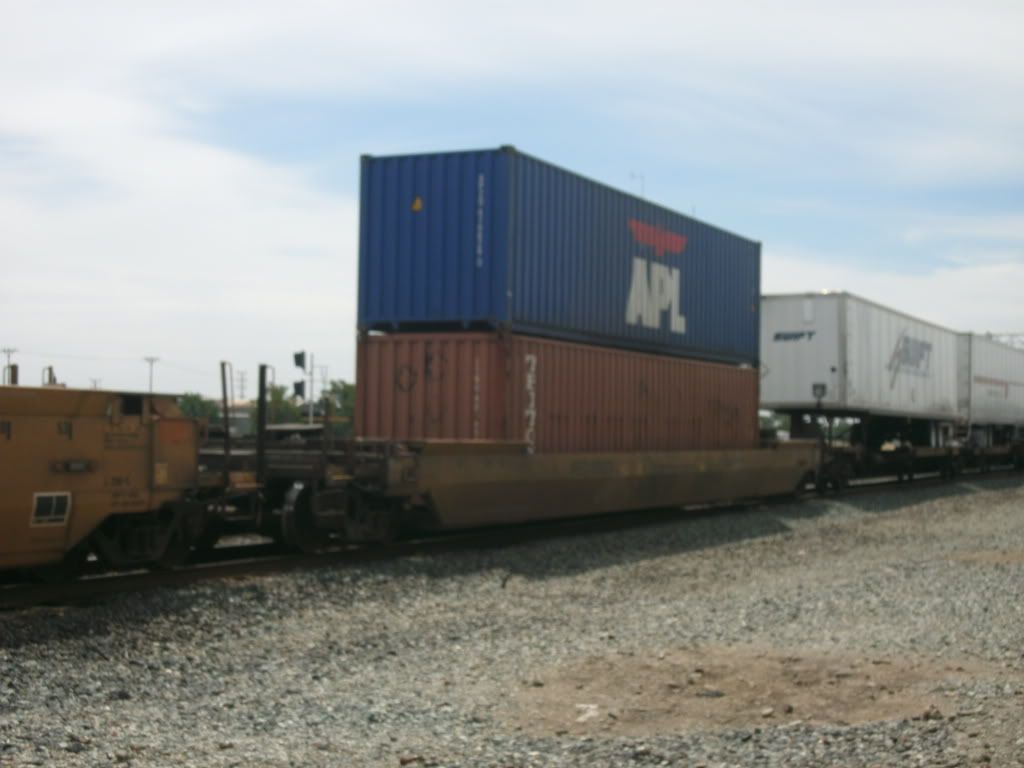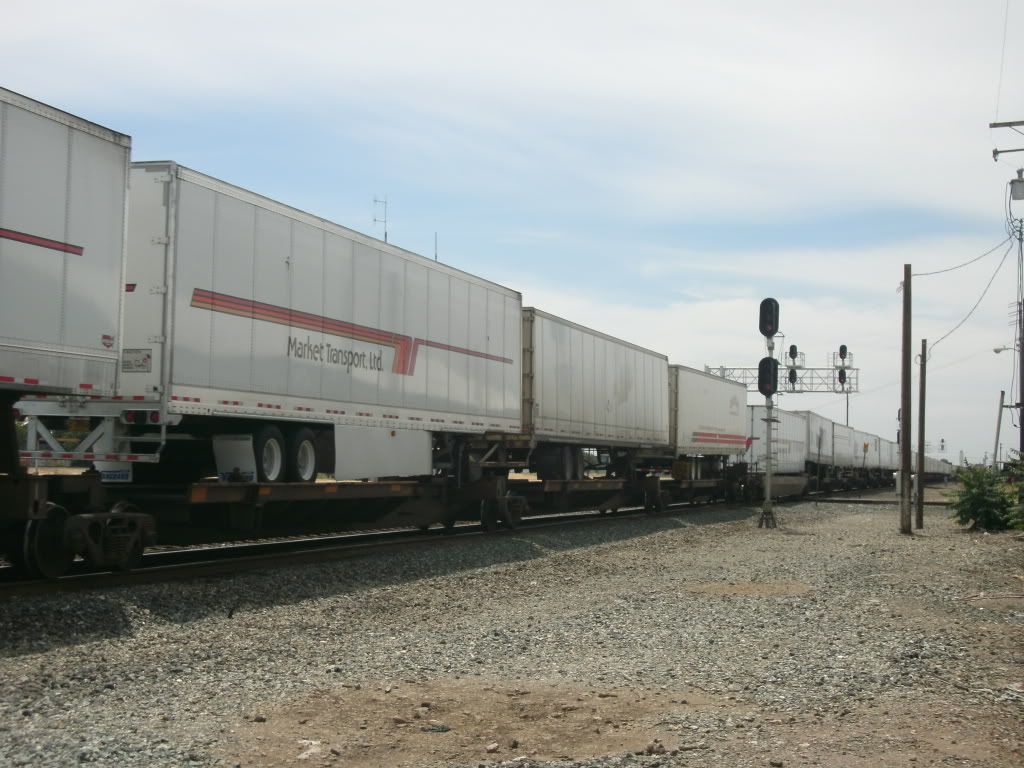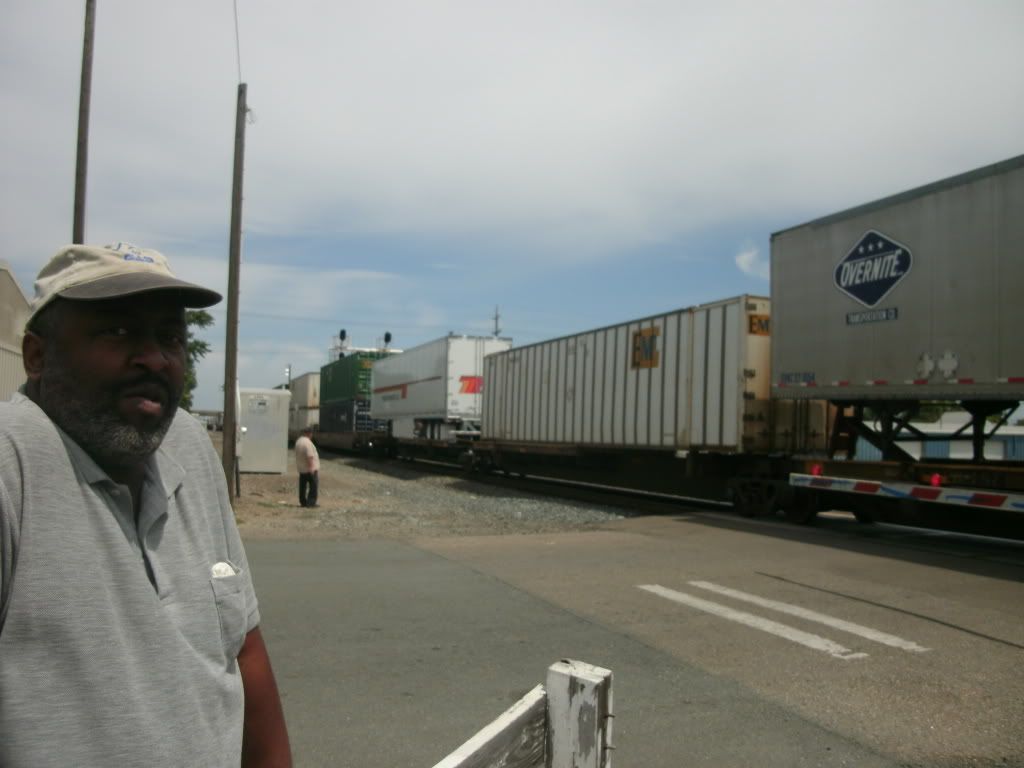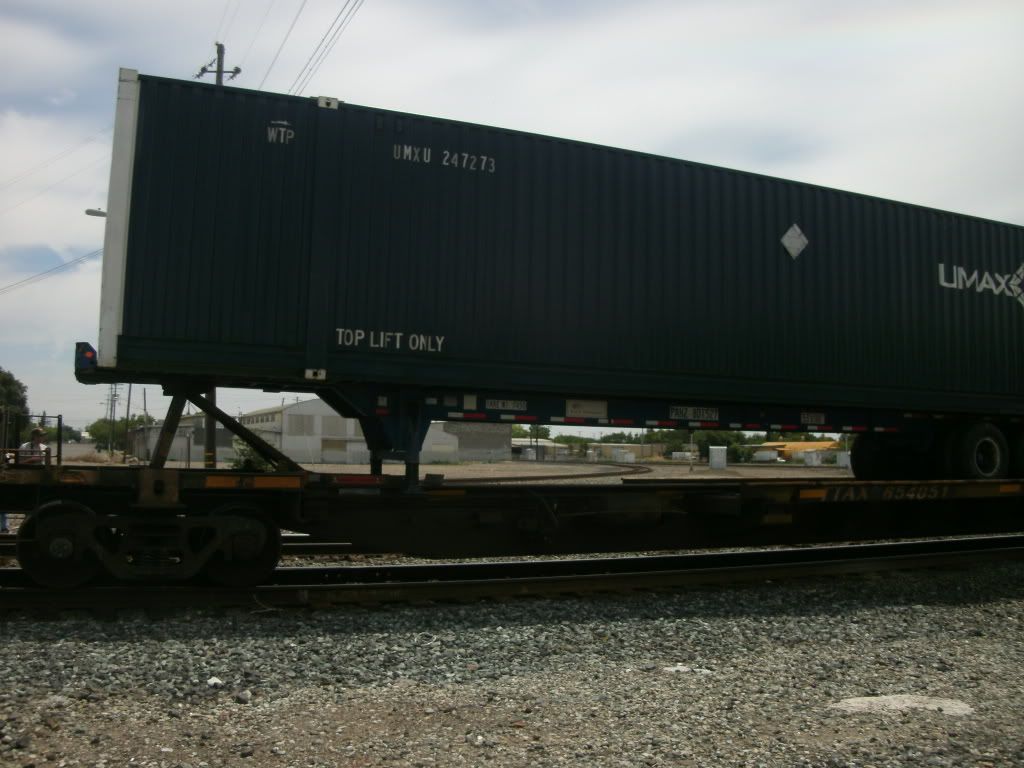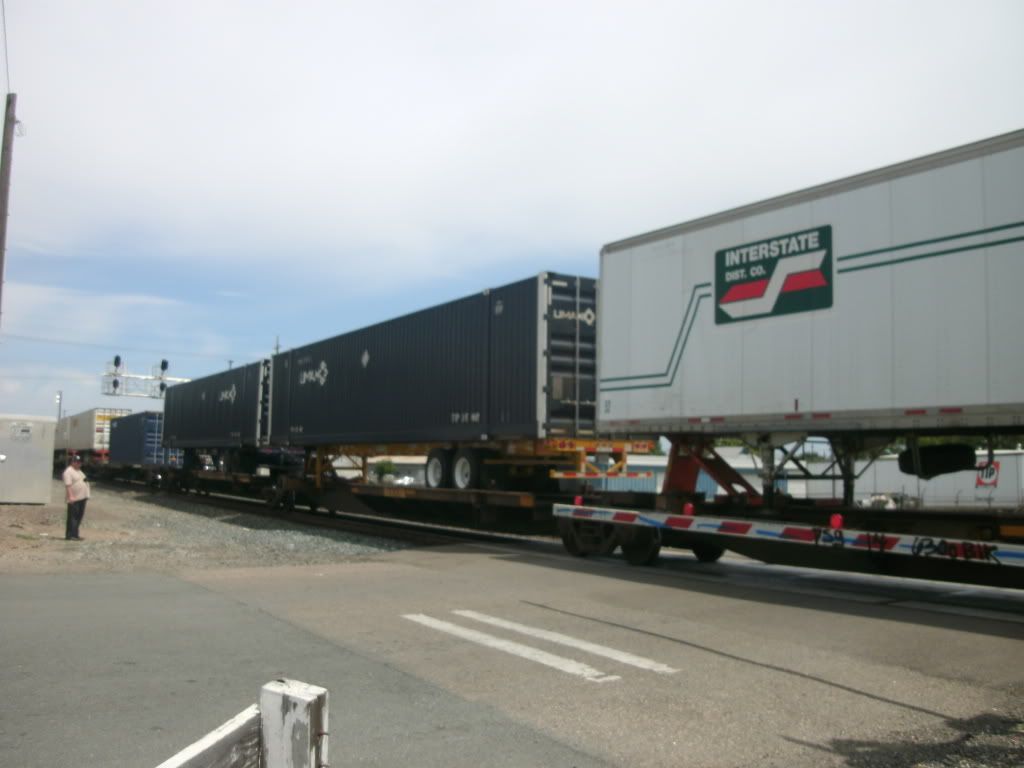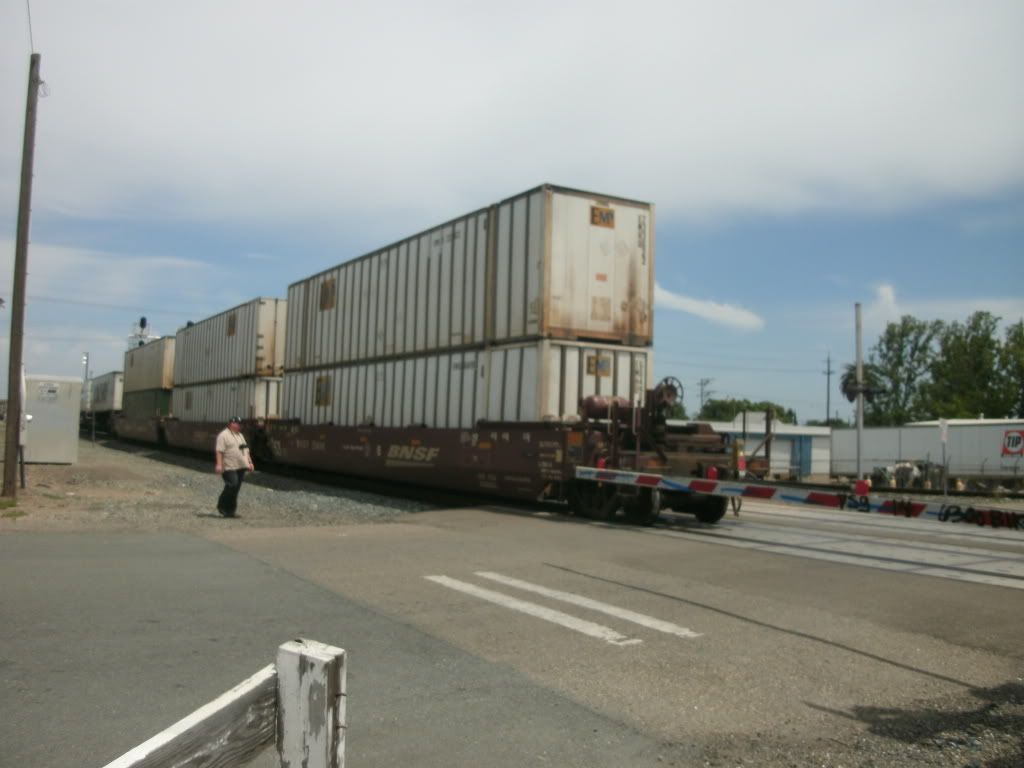 UP local on the south leg of the wye. UP 1528, 1351 drag a local out of the former Western Pacific yard into BNSF's Mormon Yard.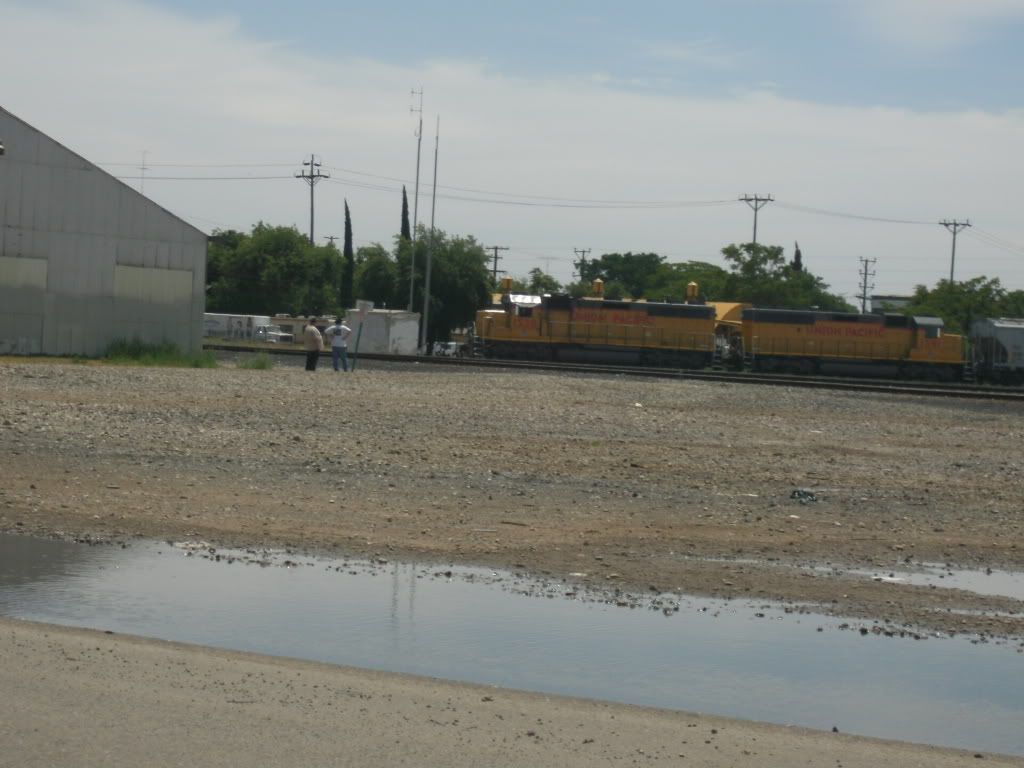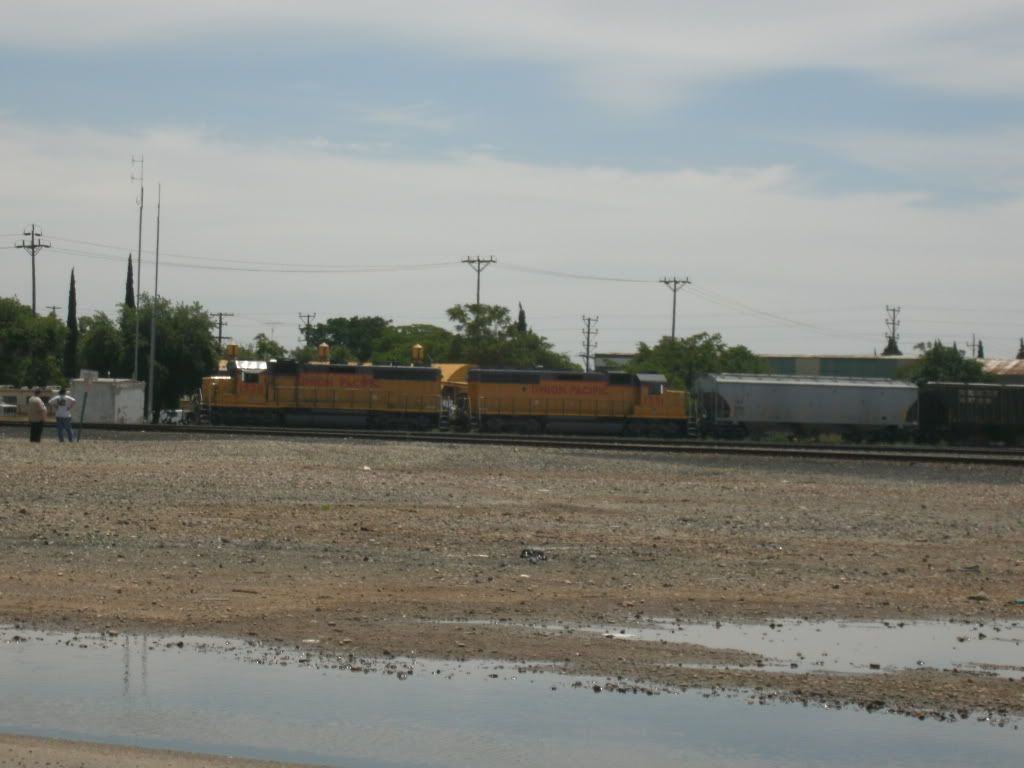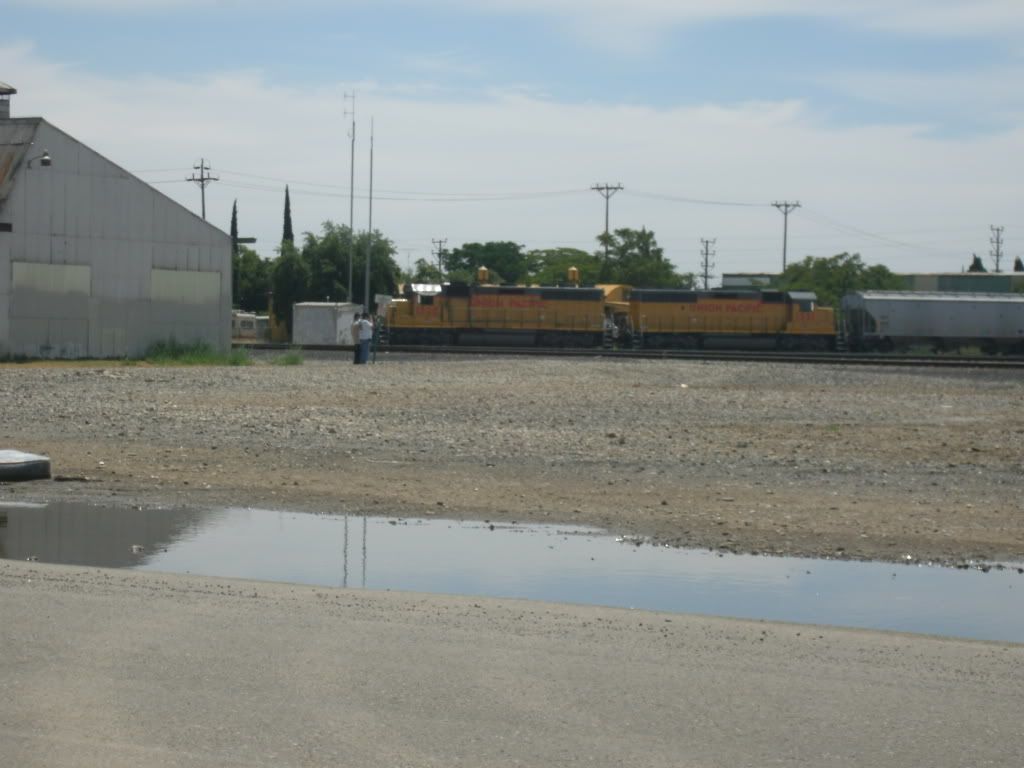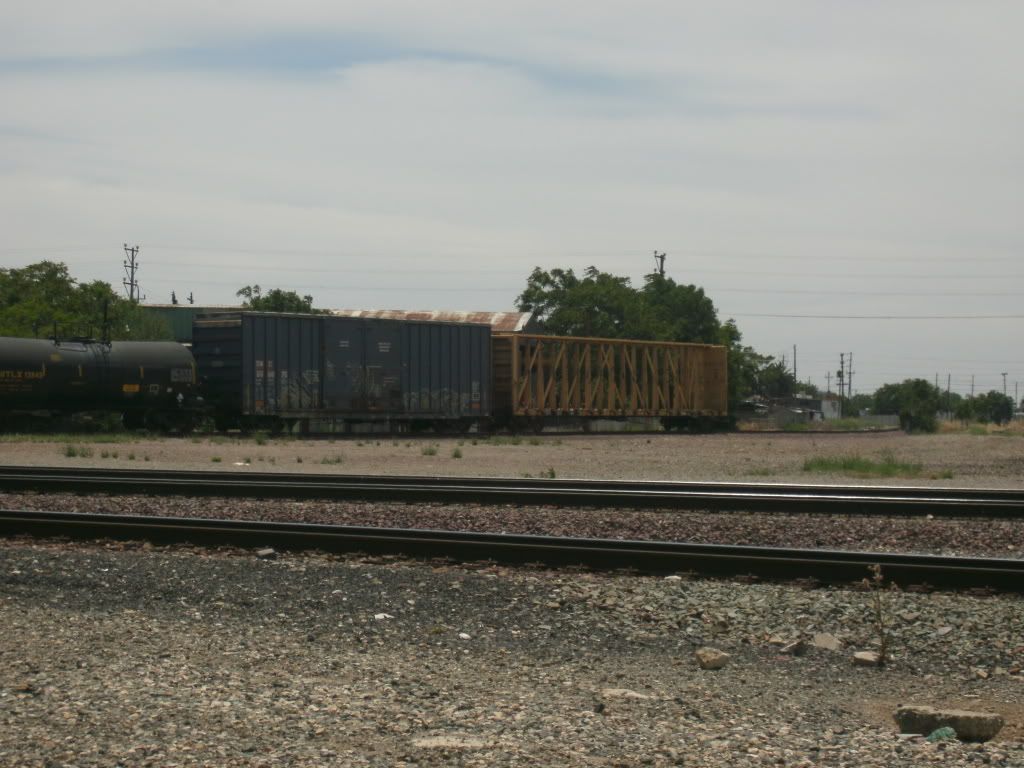 CDTX 2052 leads a southbound San Joaquin to Bakersfield.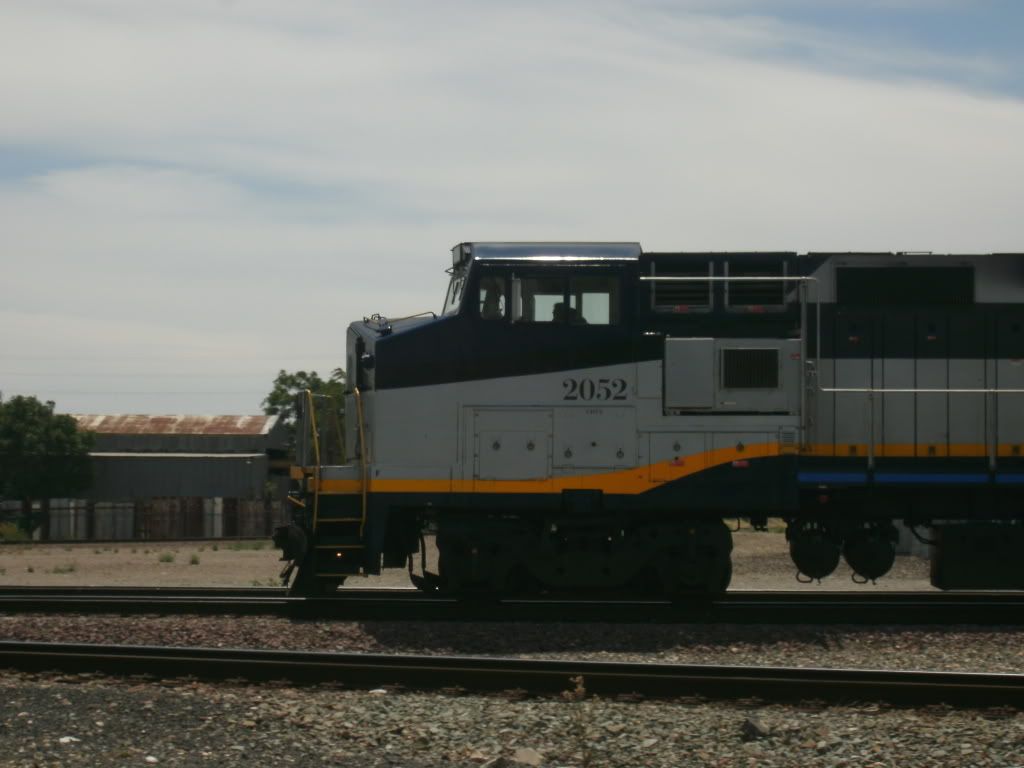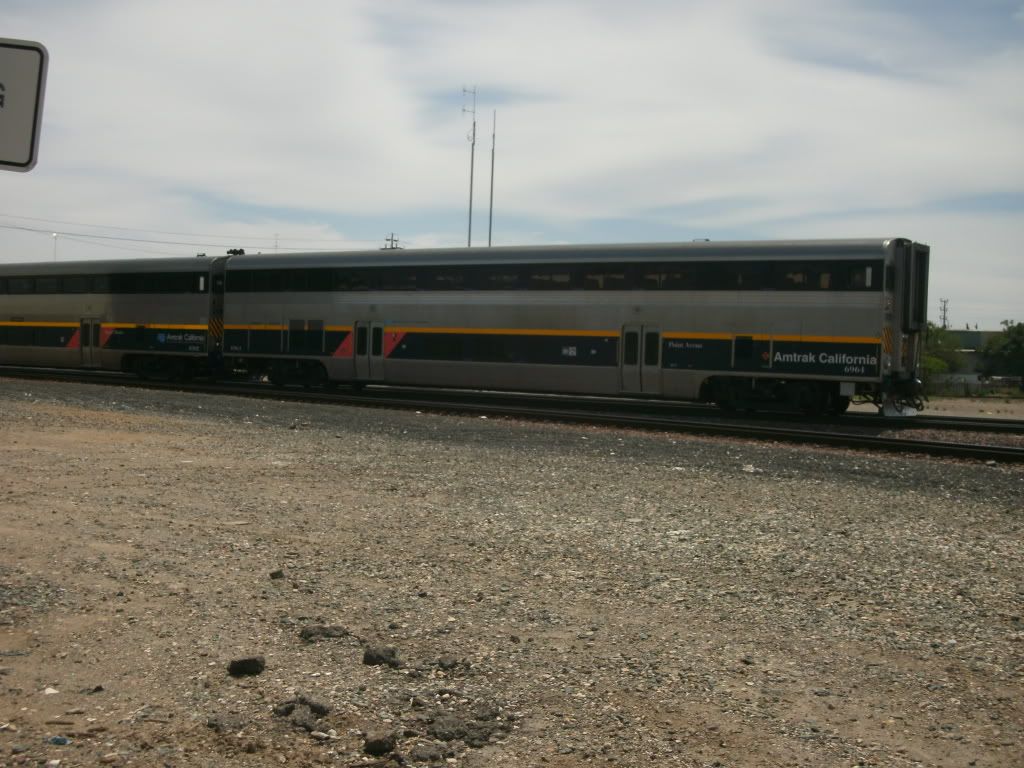 BNSF 4061, 5462(?), and a Warbonnet head west.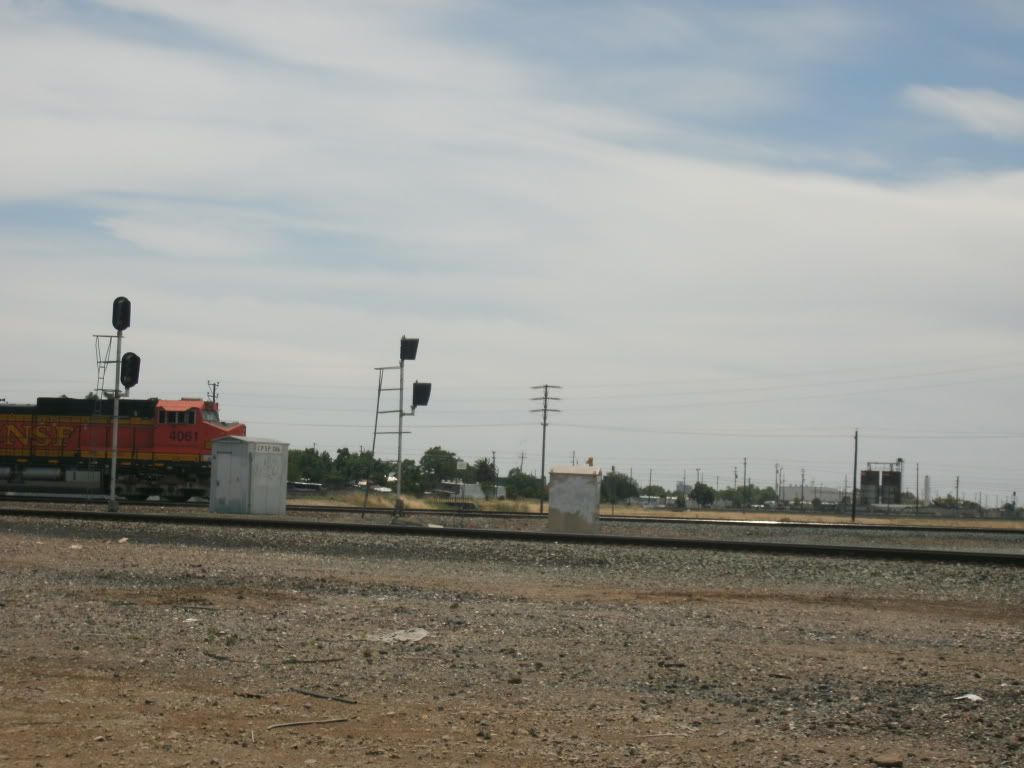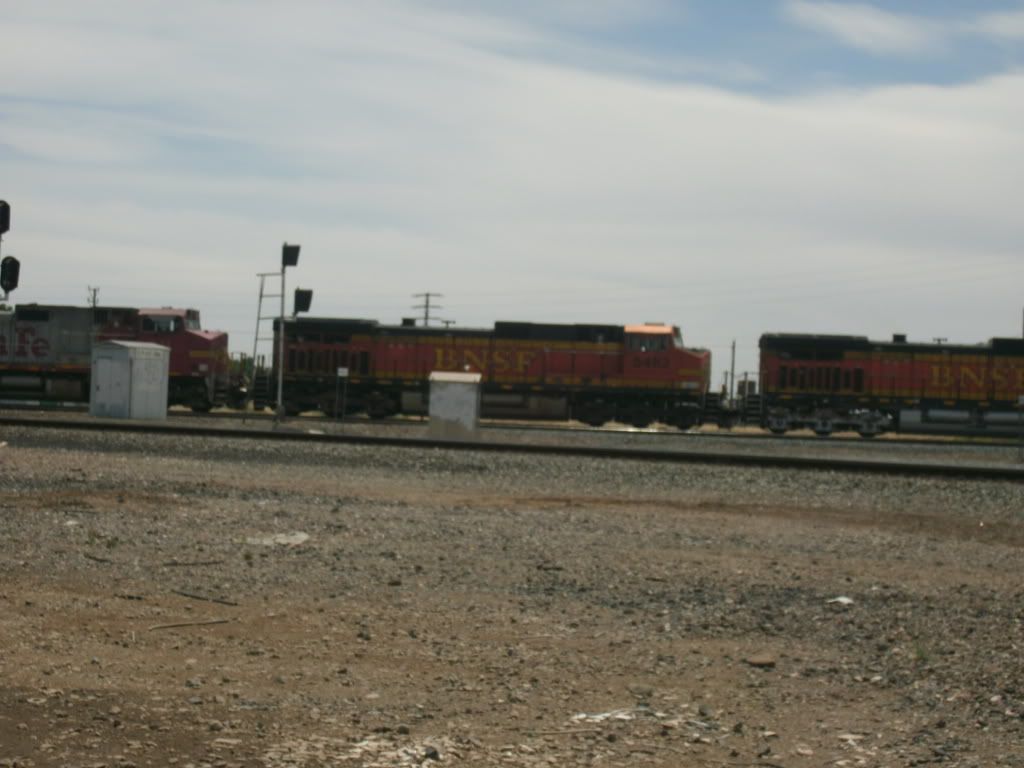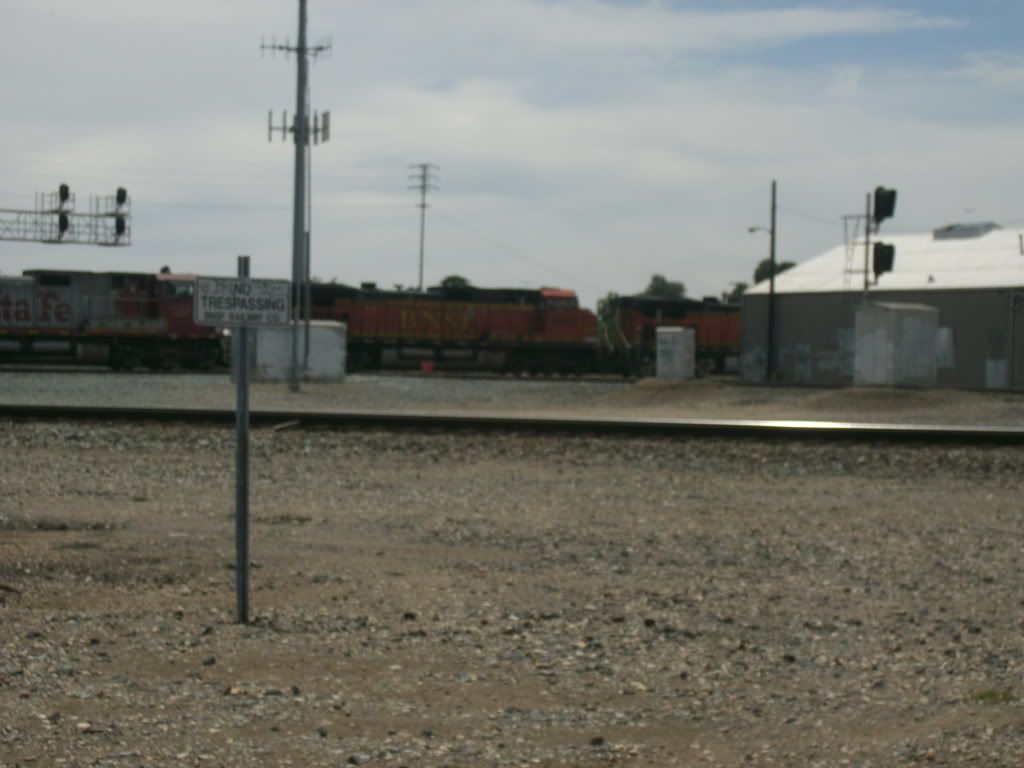 Another Southbound San Jack-o with AMTK 115 in push-mode.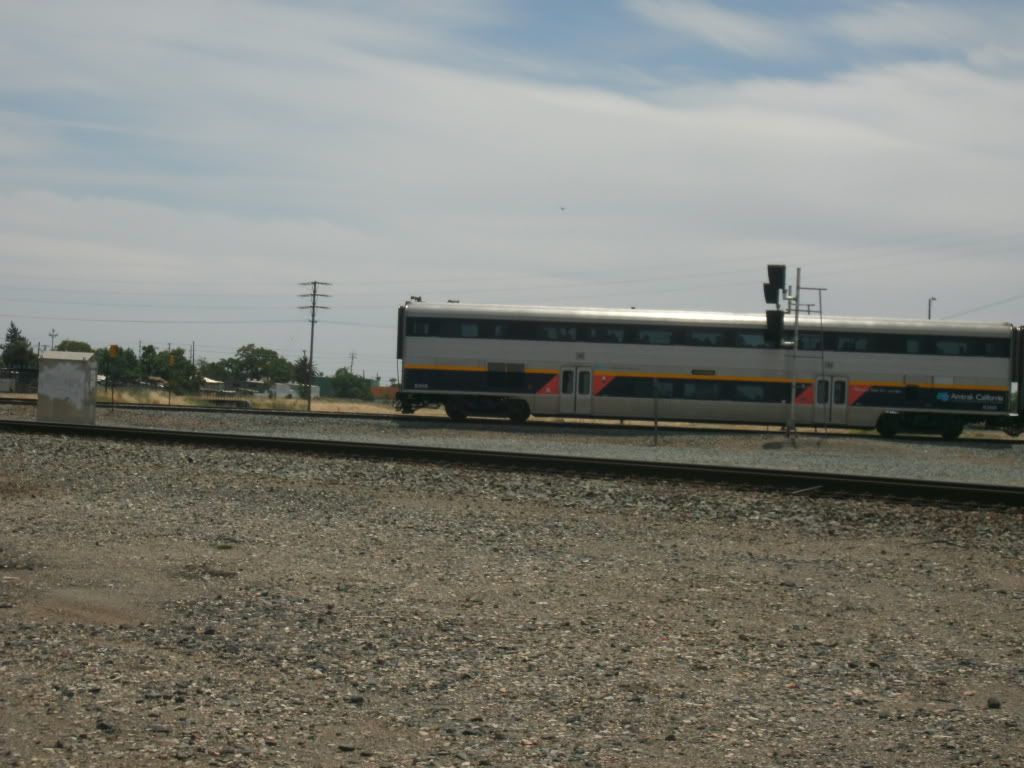 UP 5390, 5424, and another GEVO head south pulling a manifest.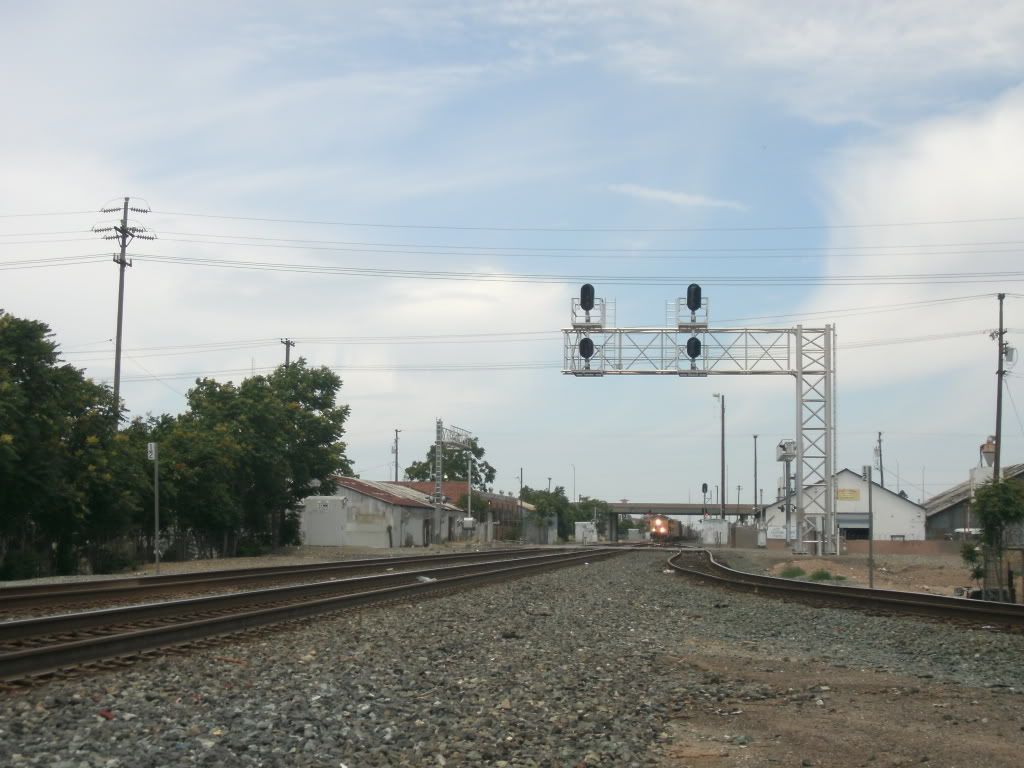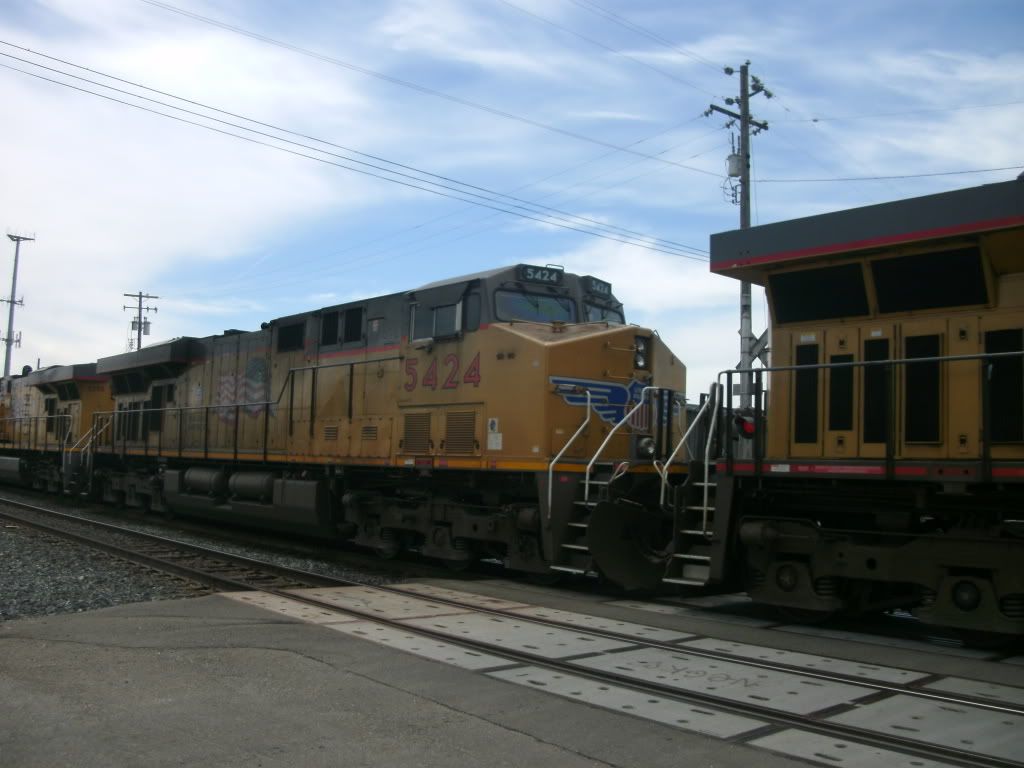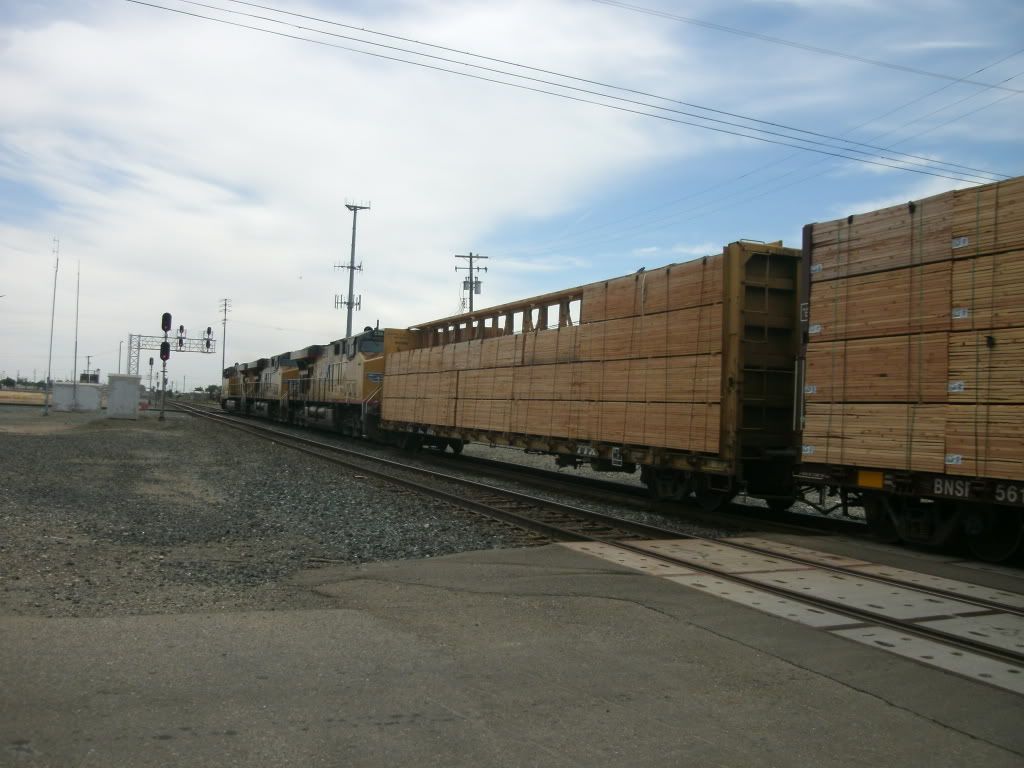 ...with 5488 and 5368 as Distibuted Power Units.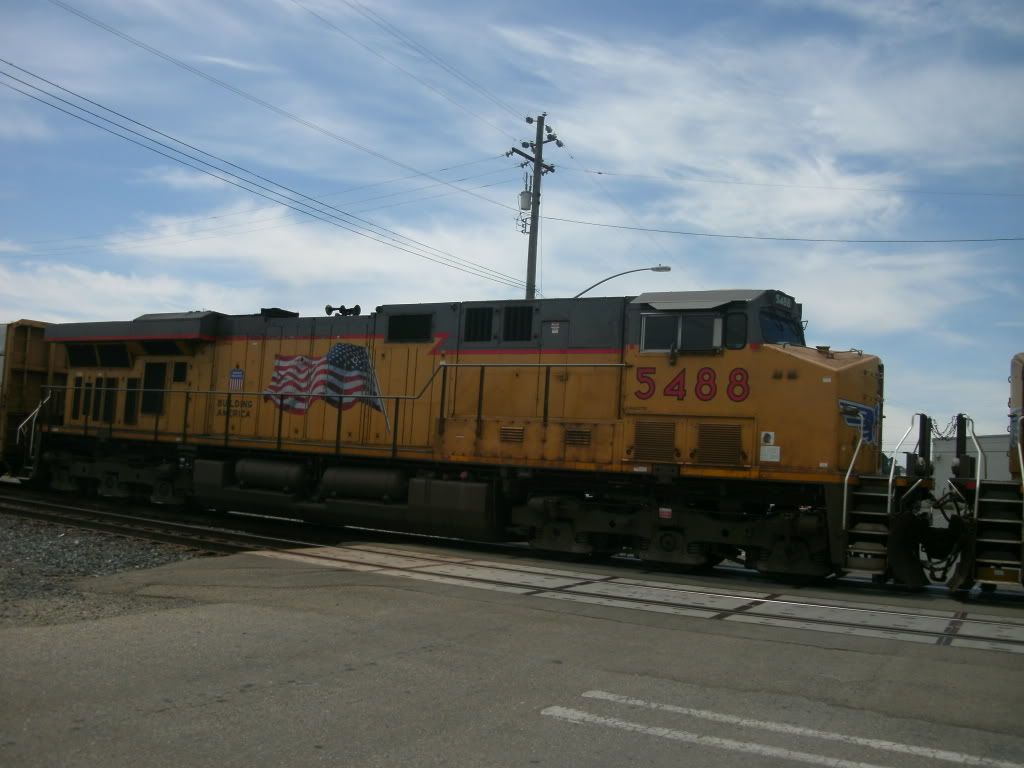 UP 1351 and 1528 pulling their job north onto the Fresno.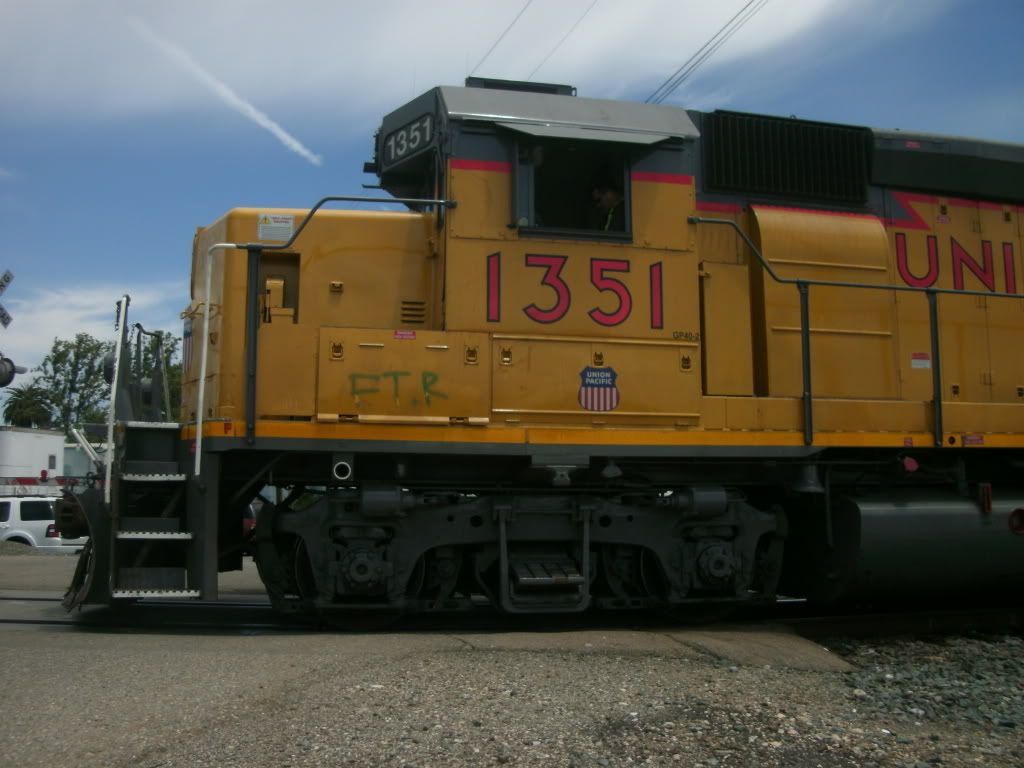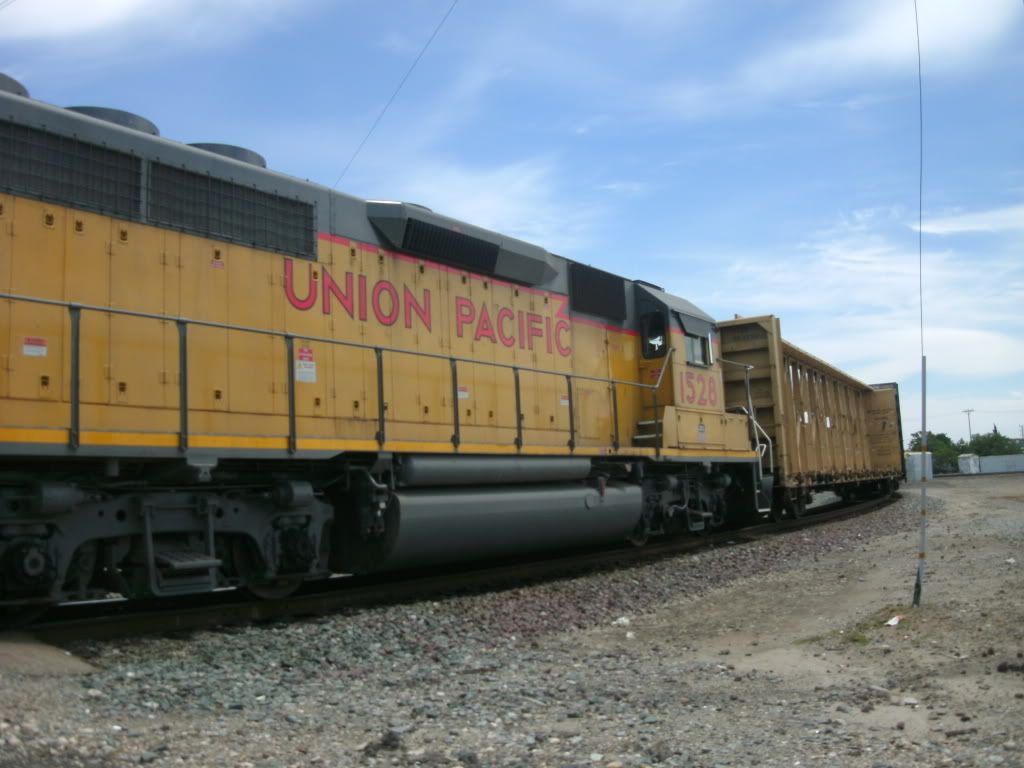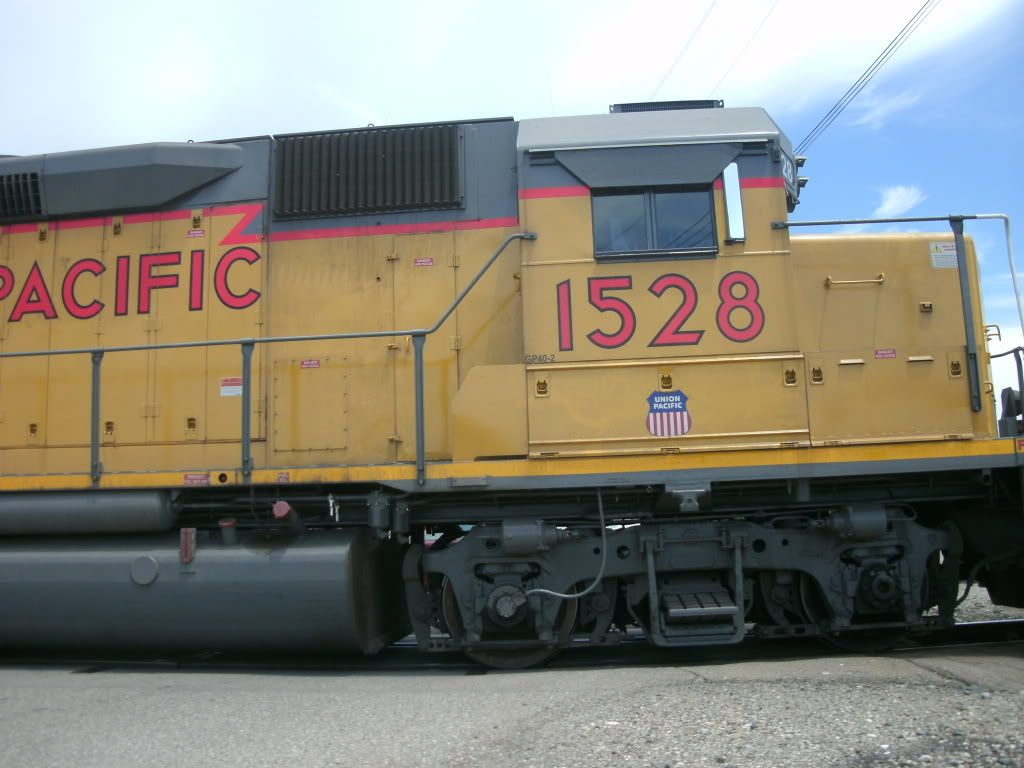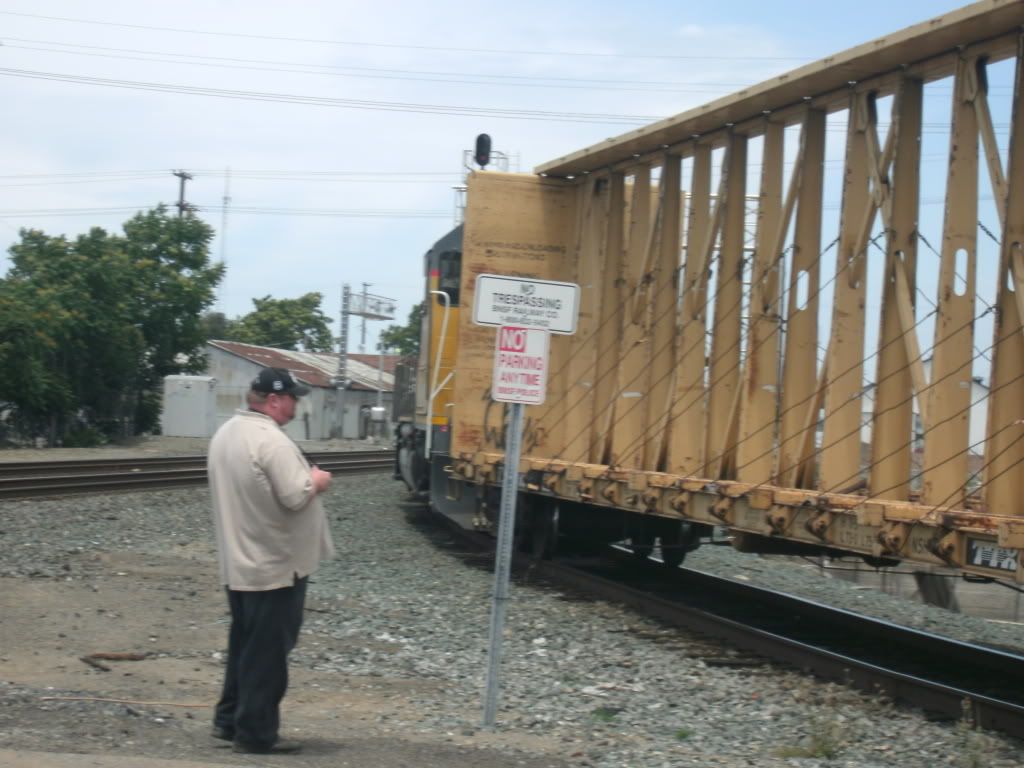 UP 5177, 5499.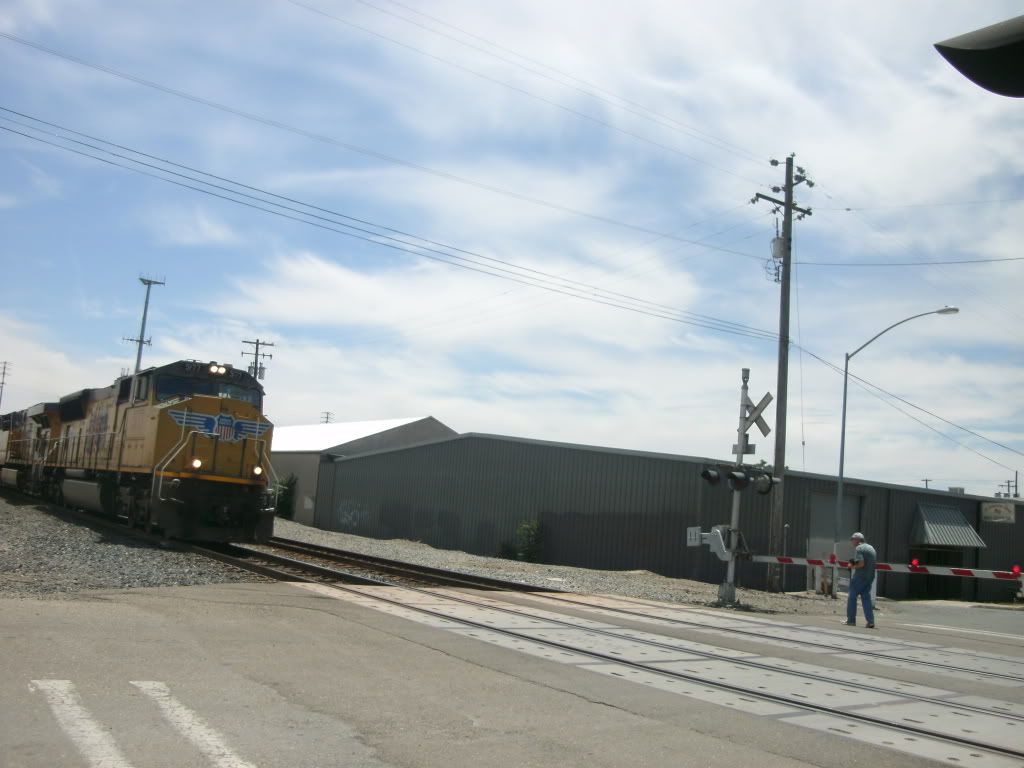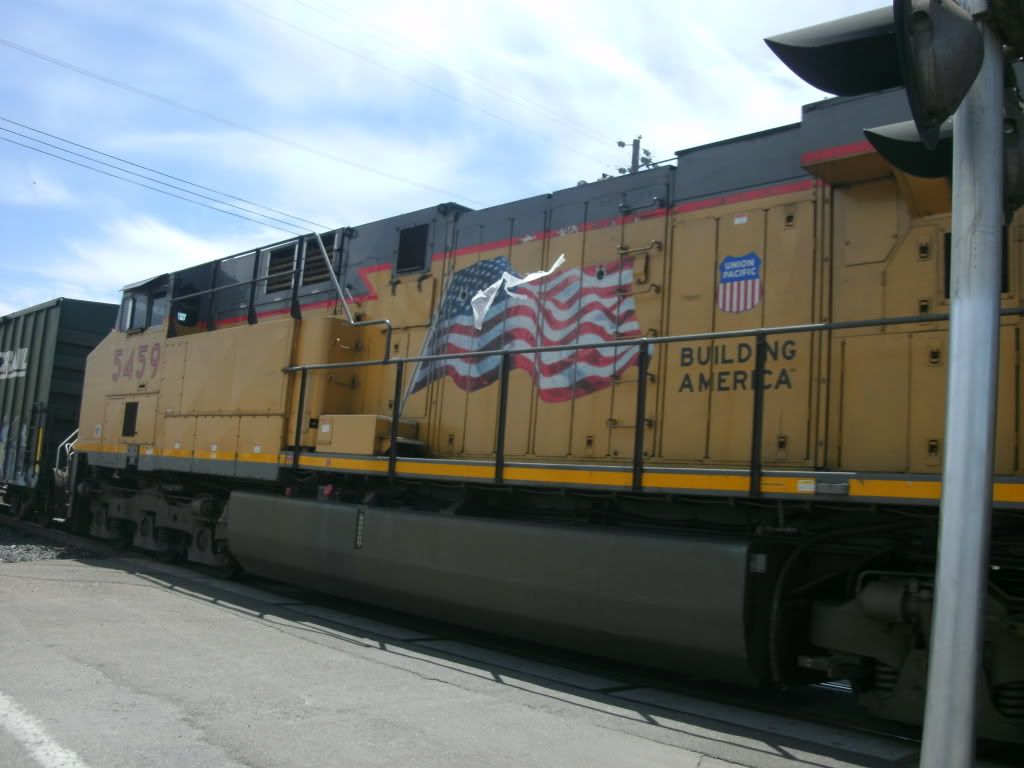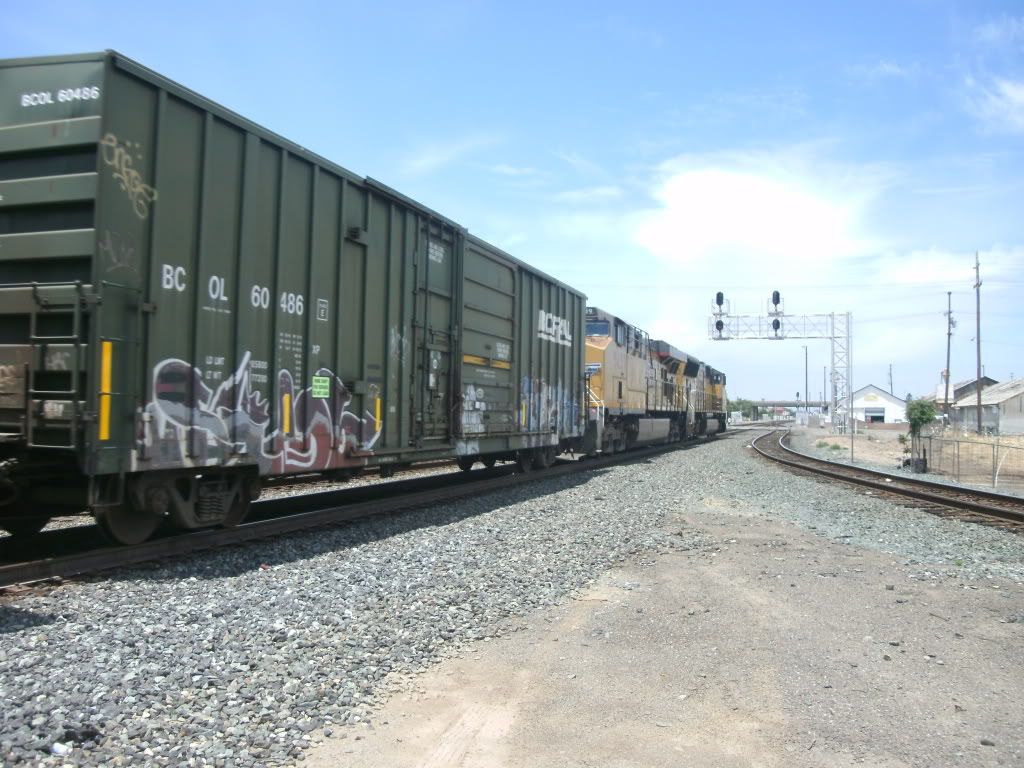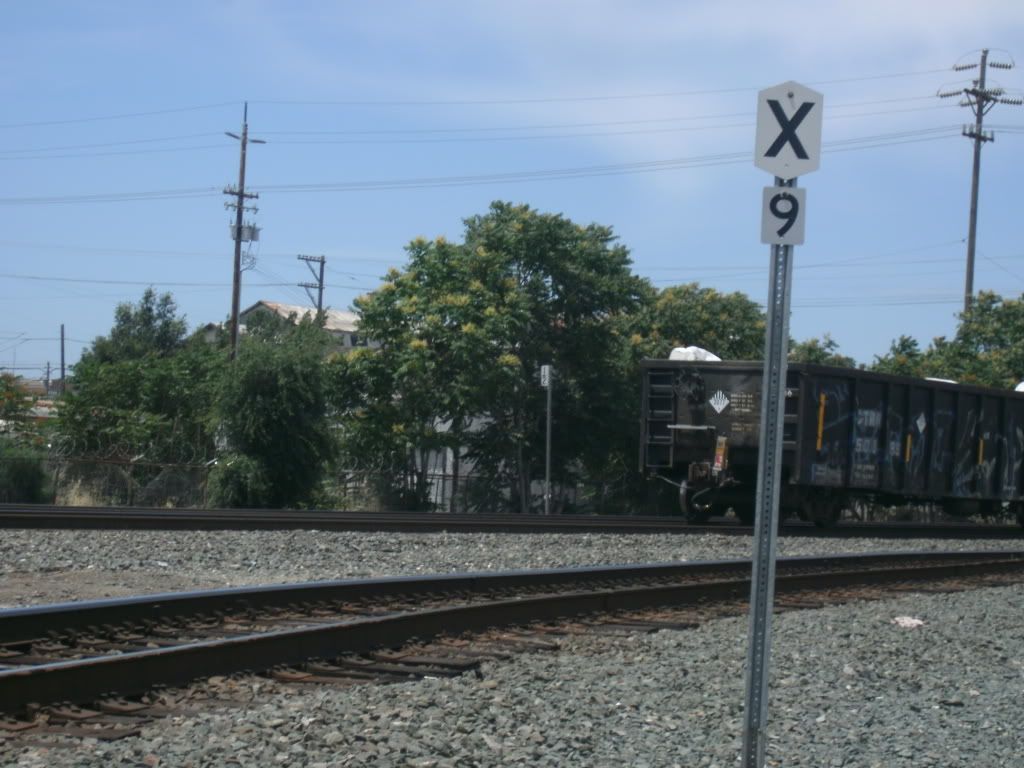 BNSF 127 and 151 came back.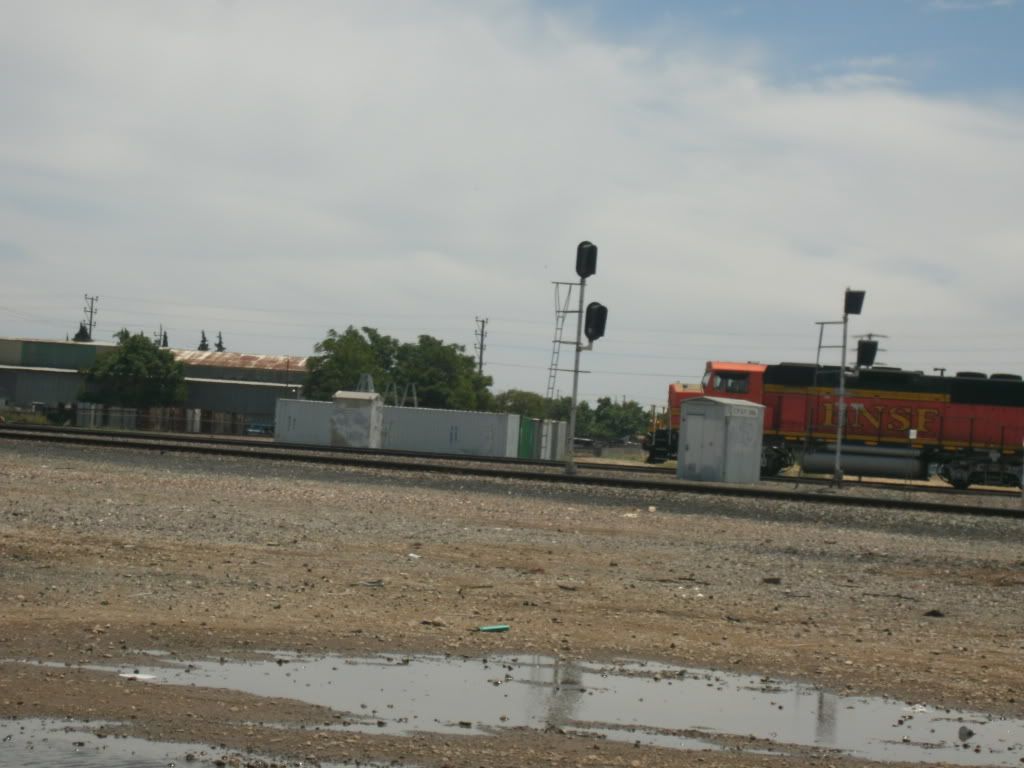 BNSF 7871, 5423, CN 2604 lead a grain train south to Hughston? With mid-train DPU's BNSF 624, 4598, 654, and rear DPU's 4392, 5352.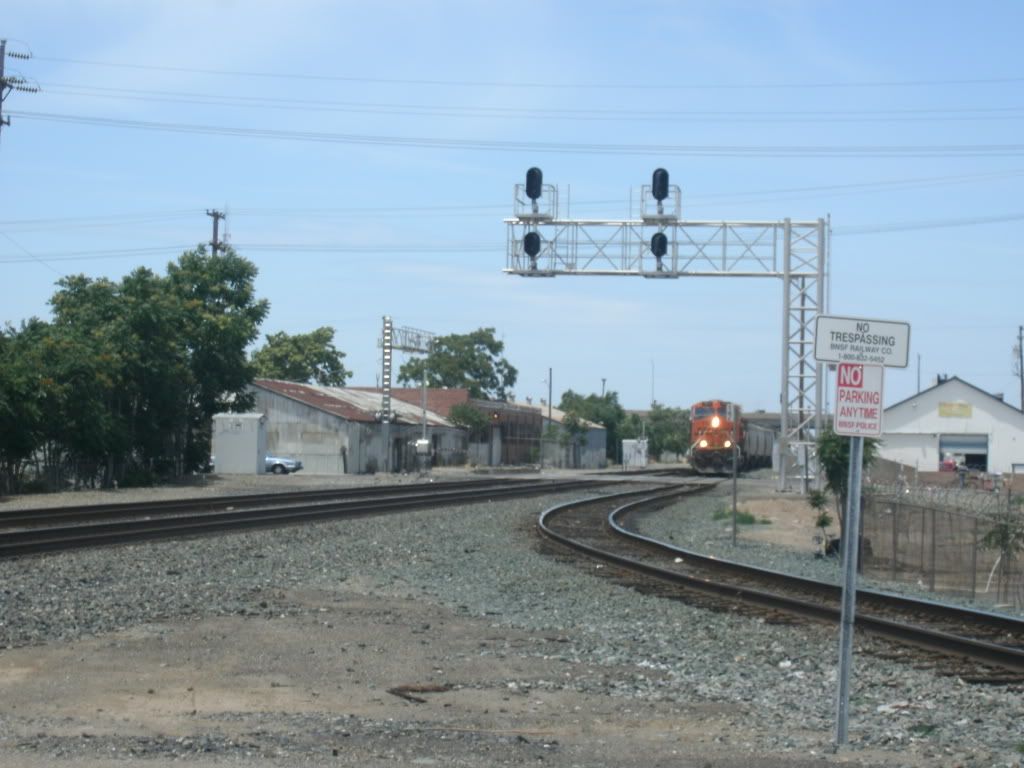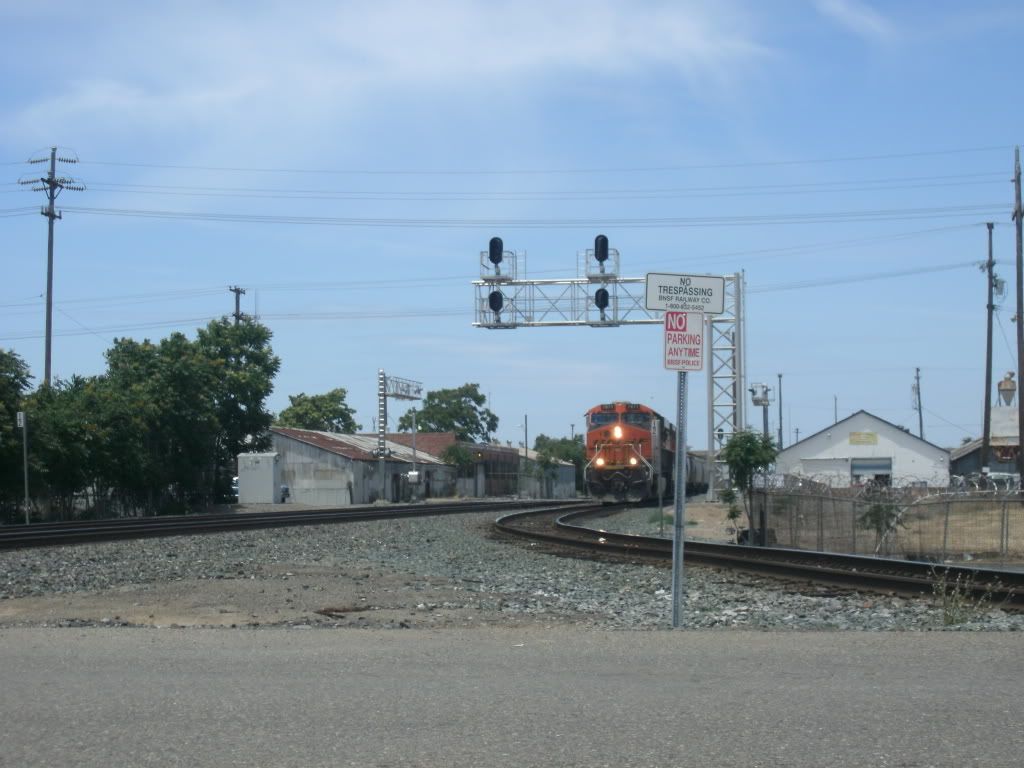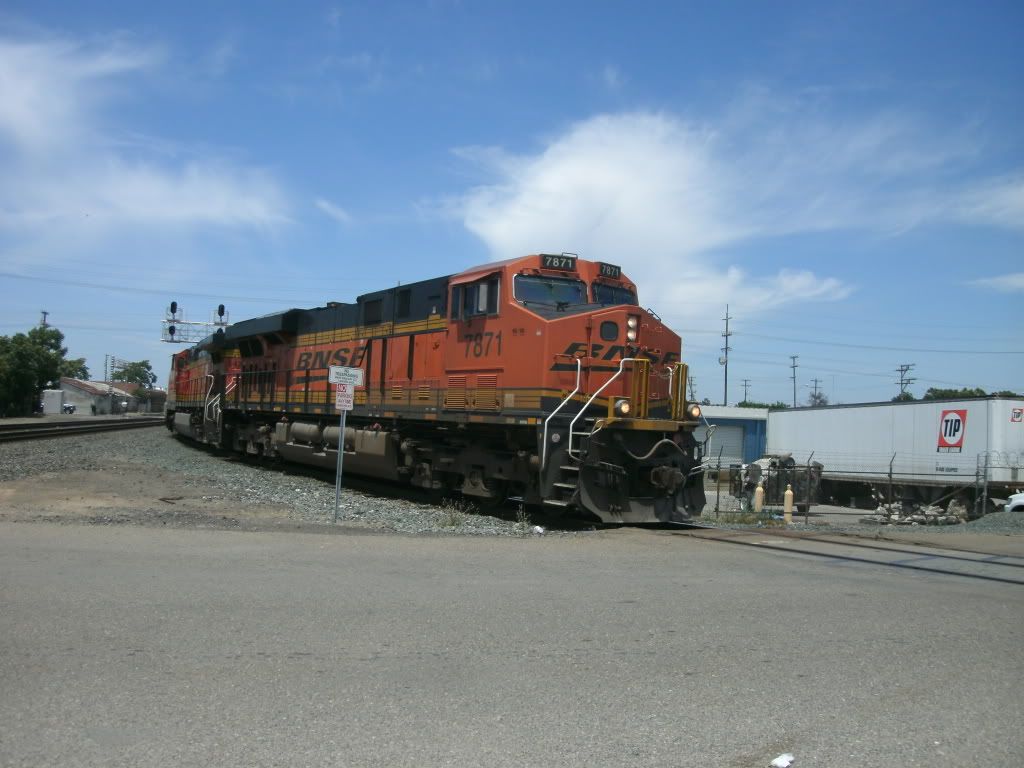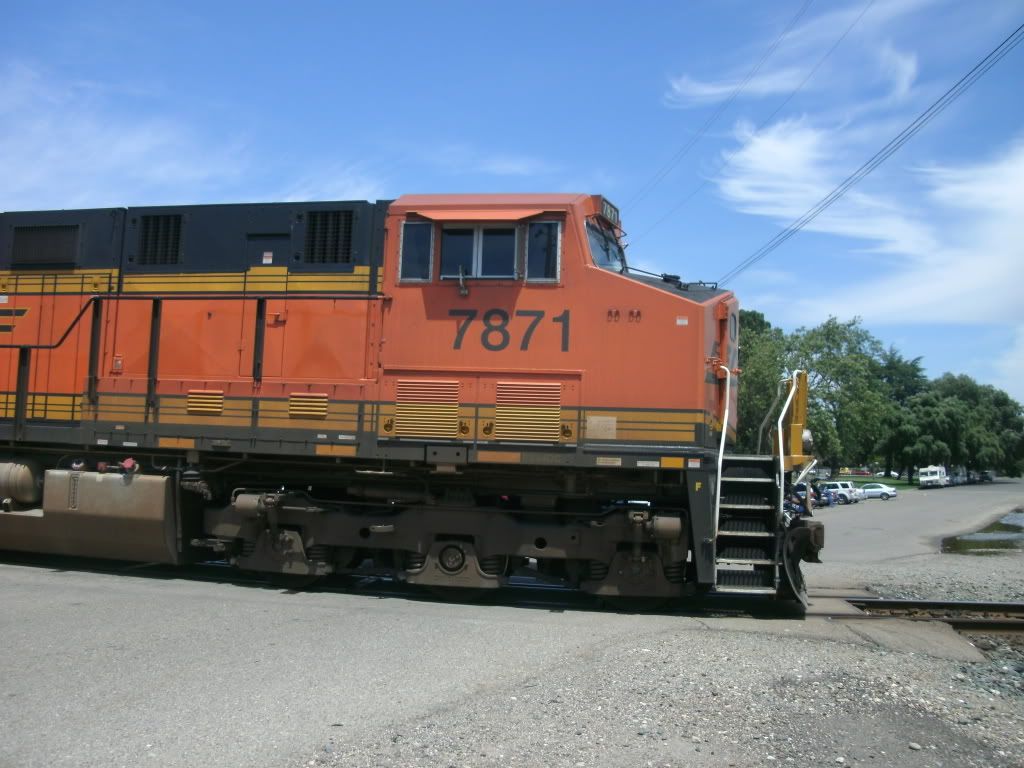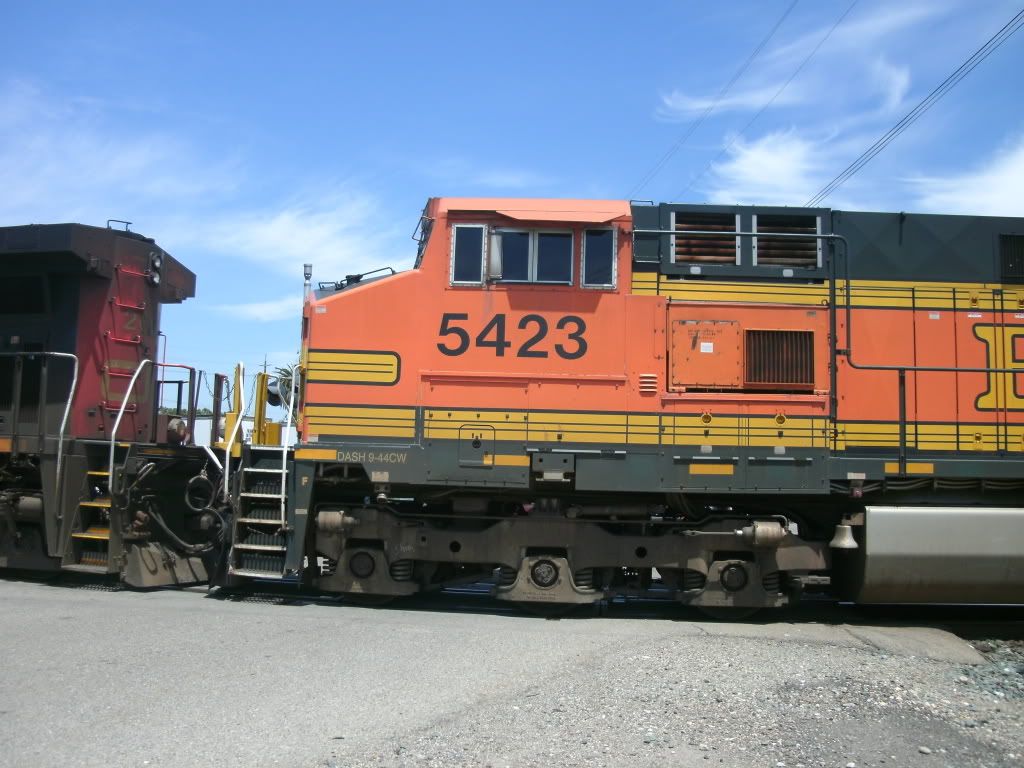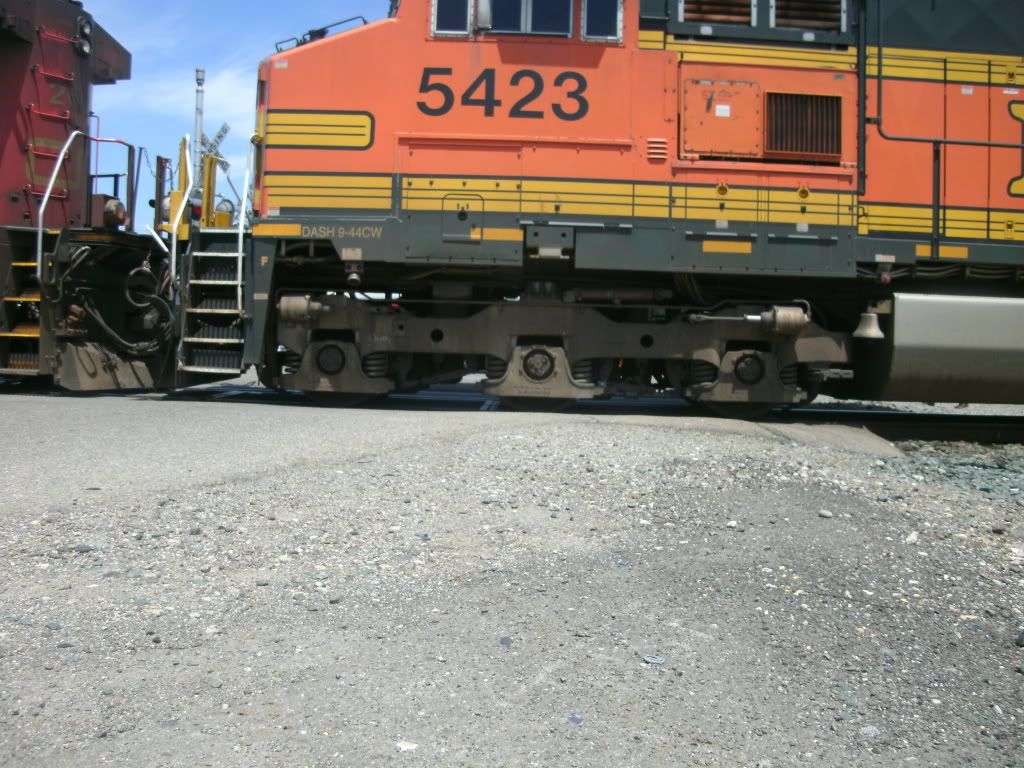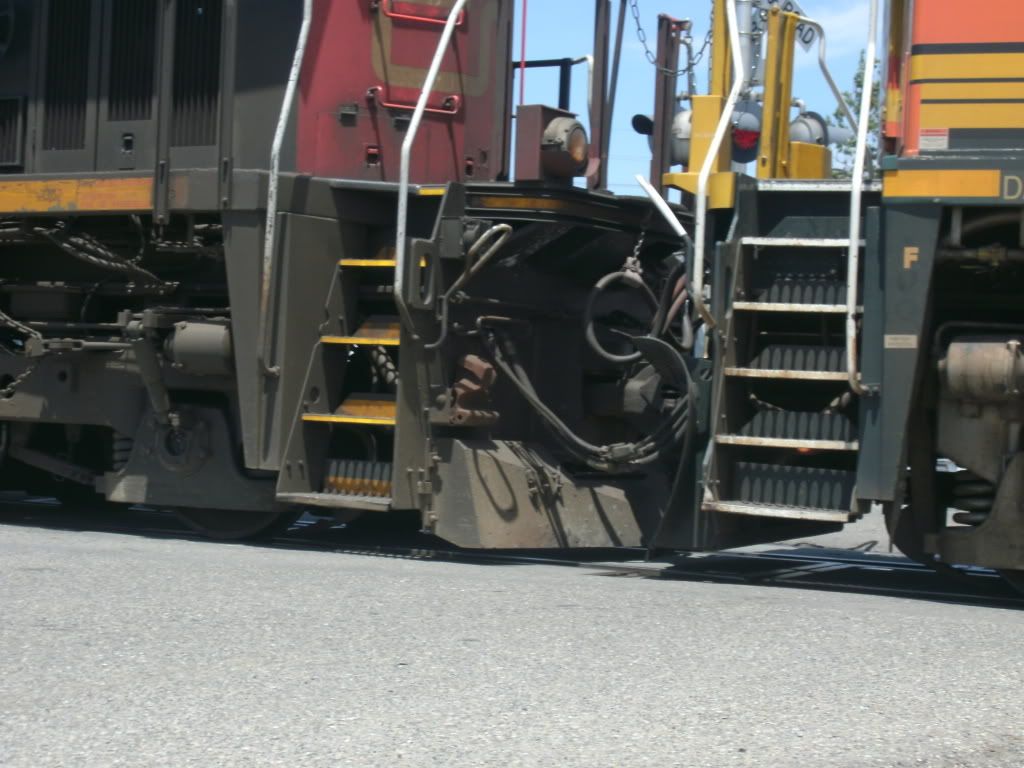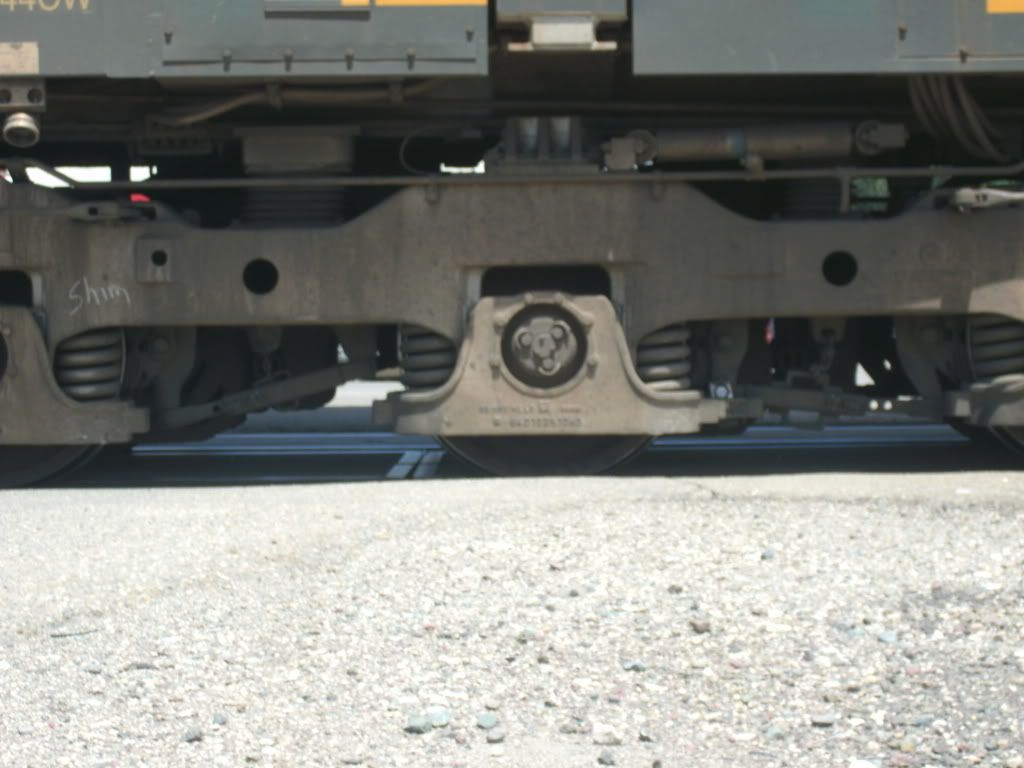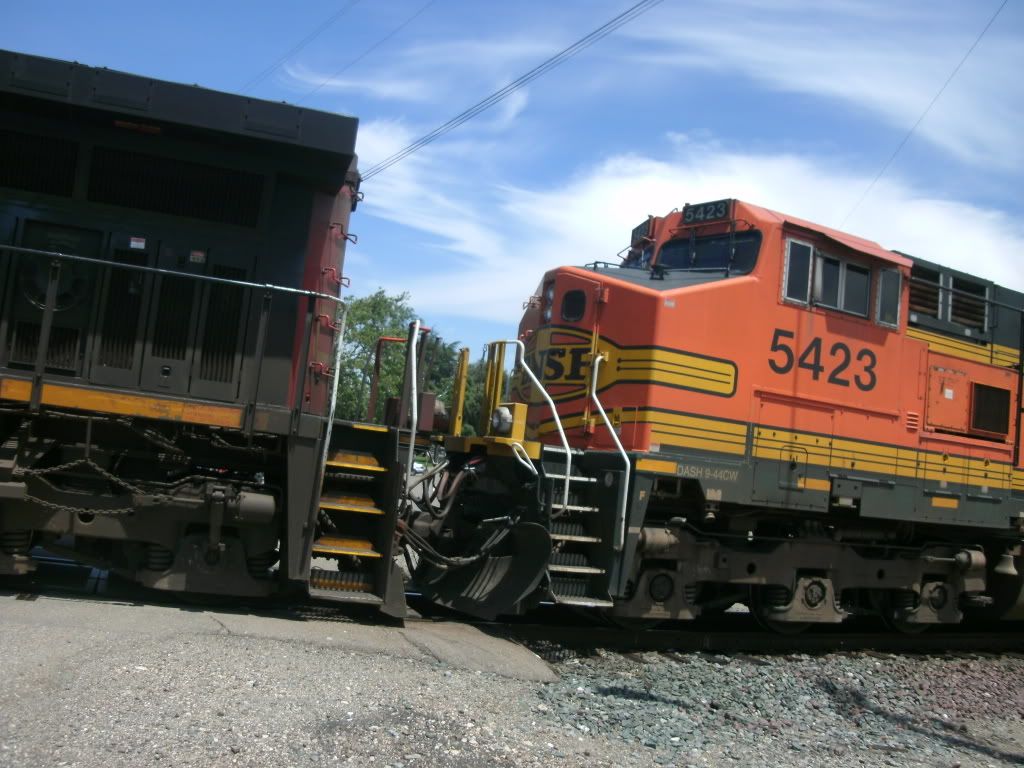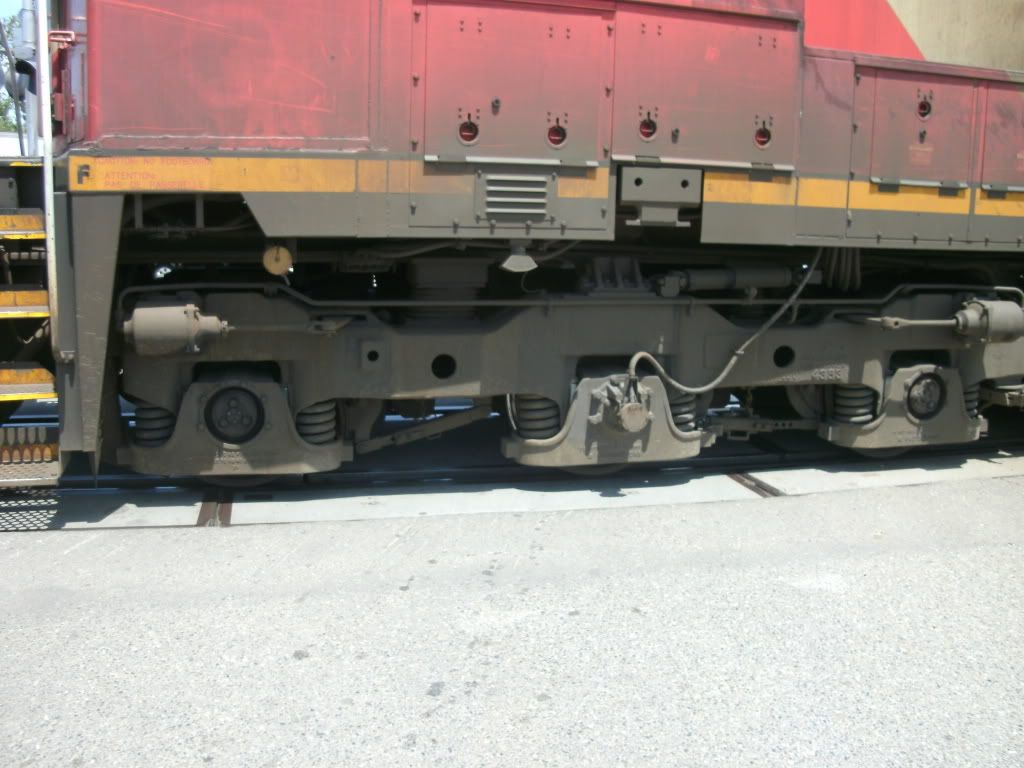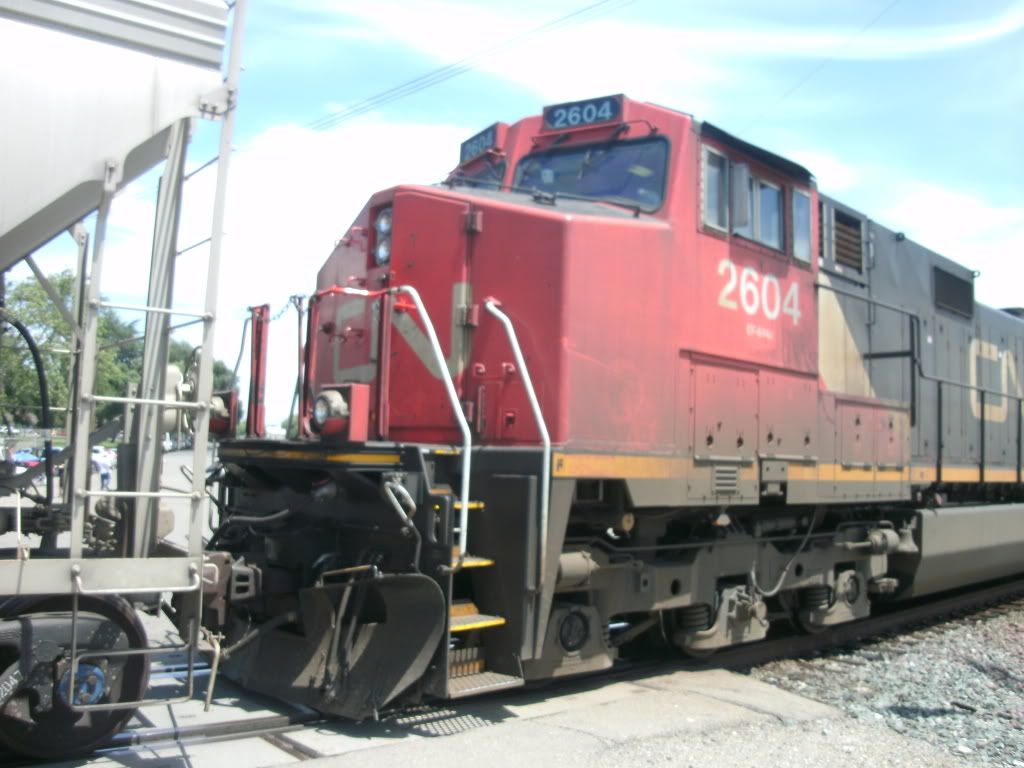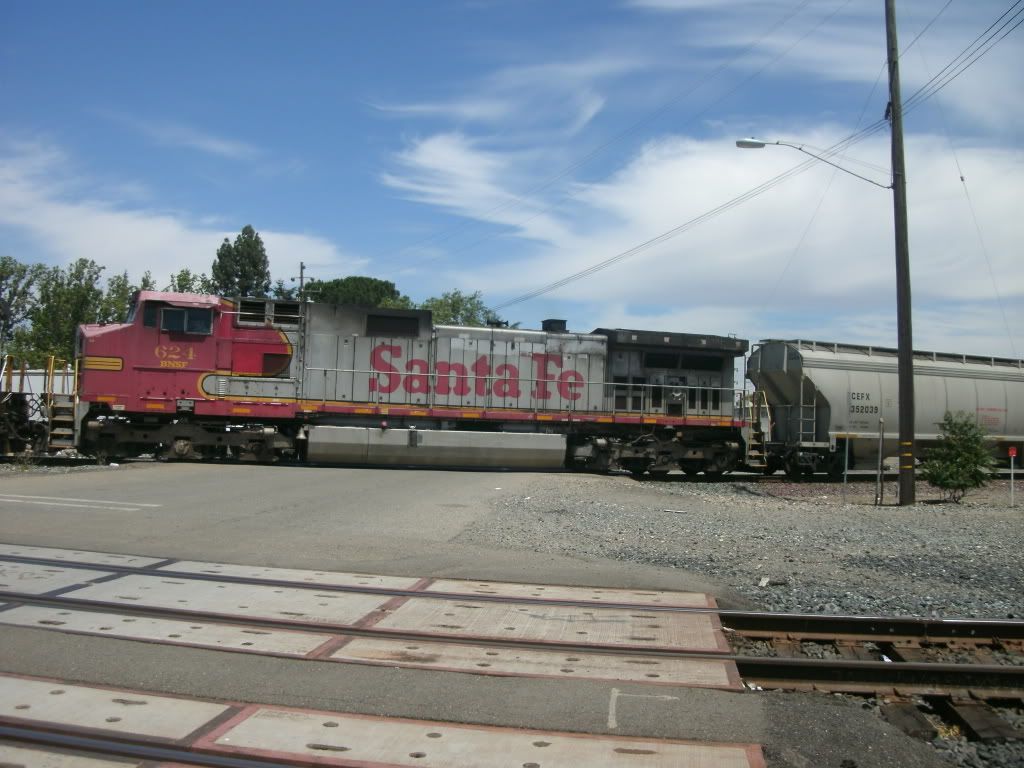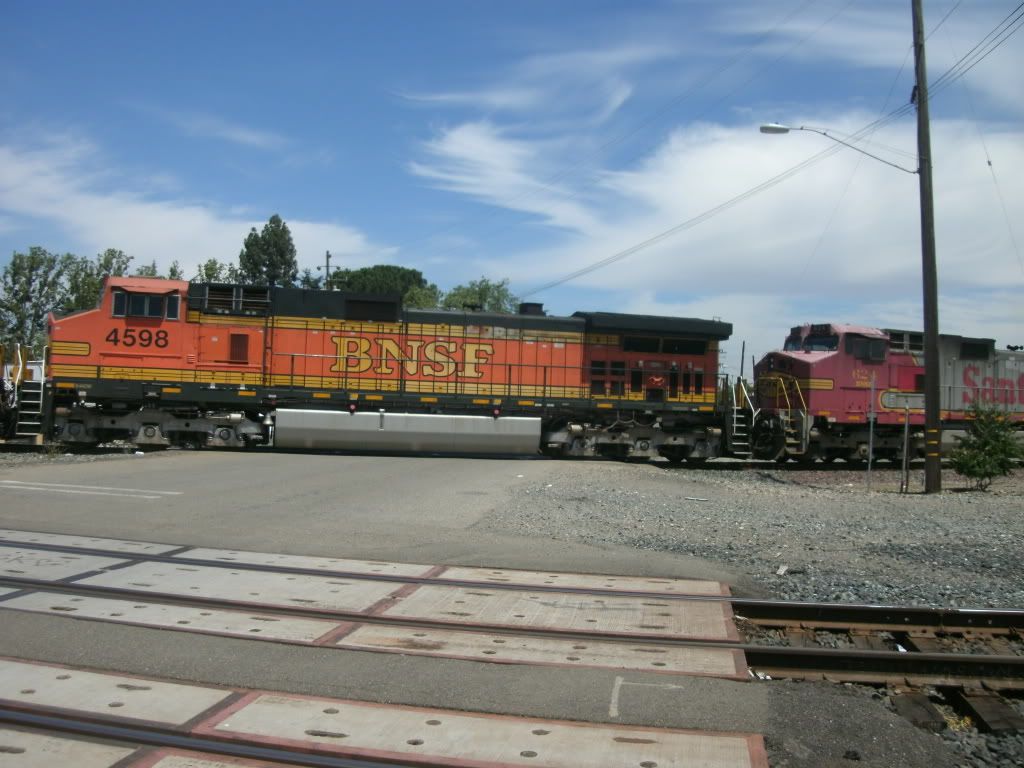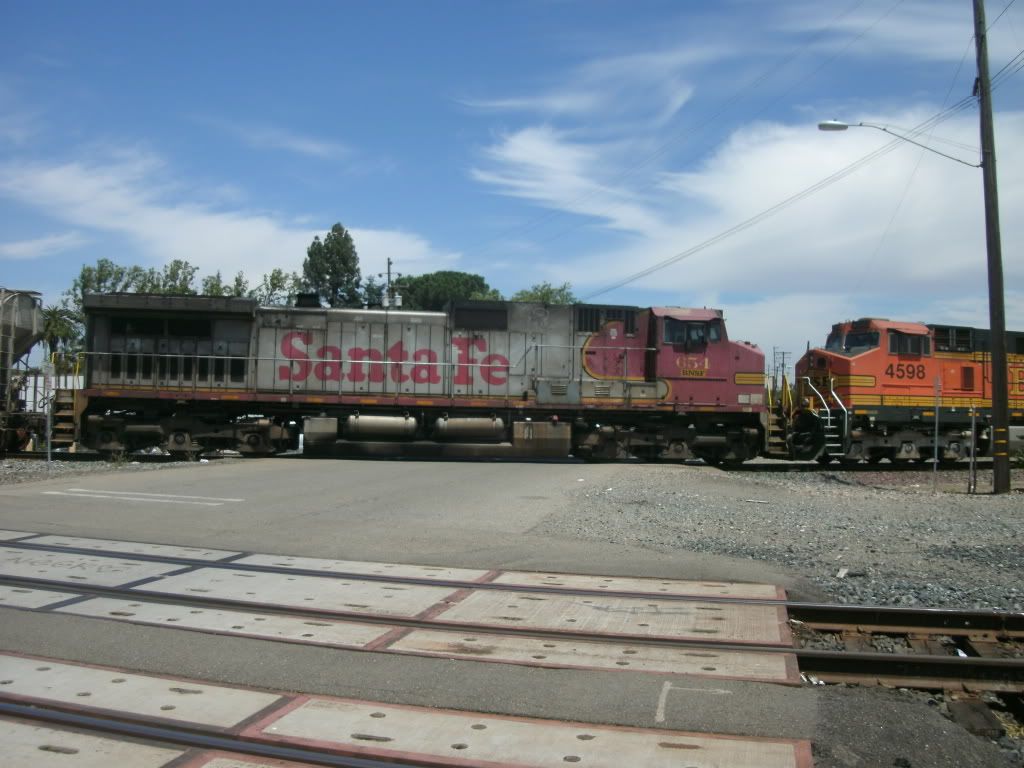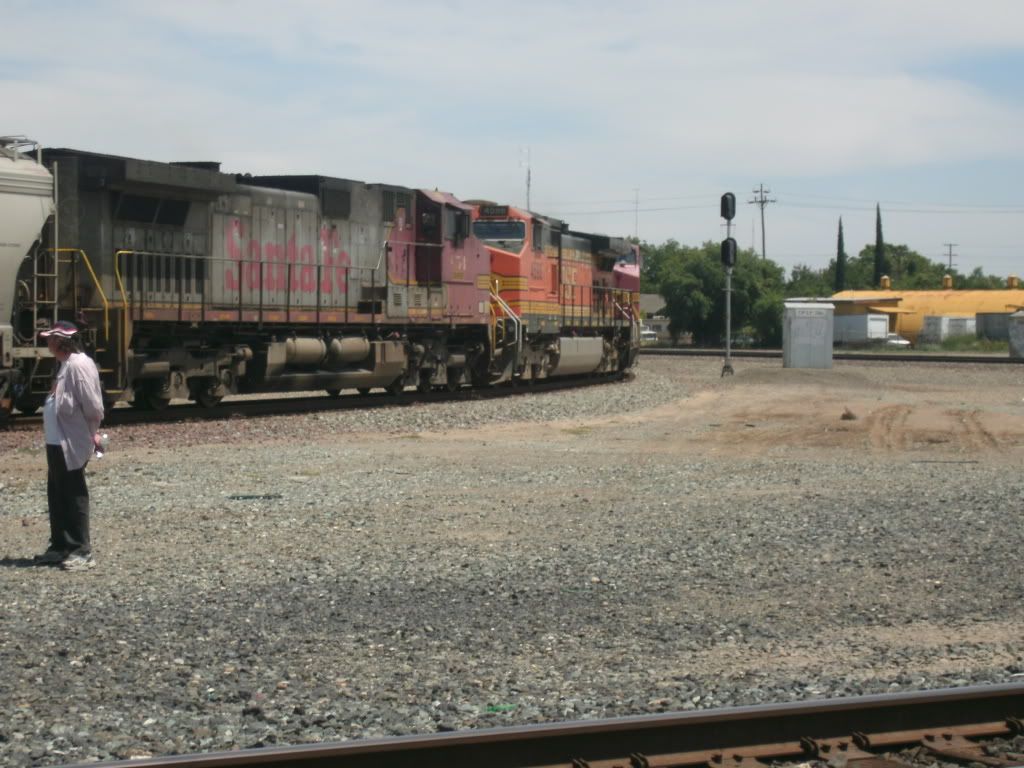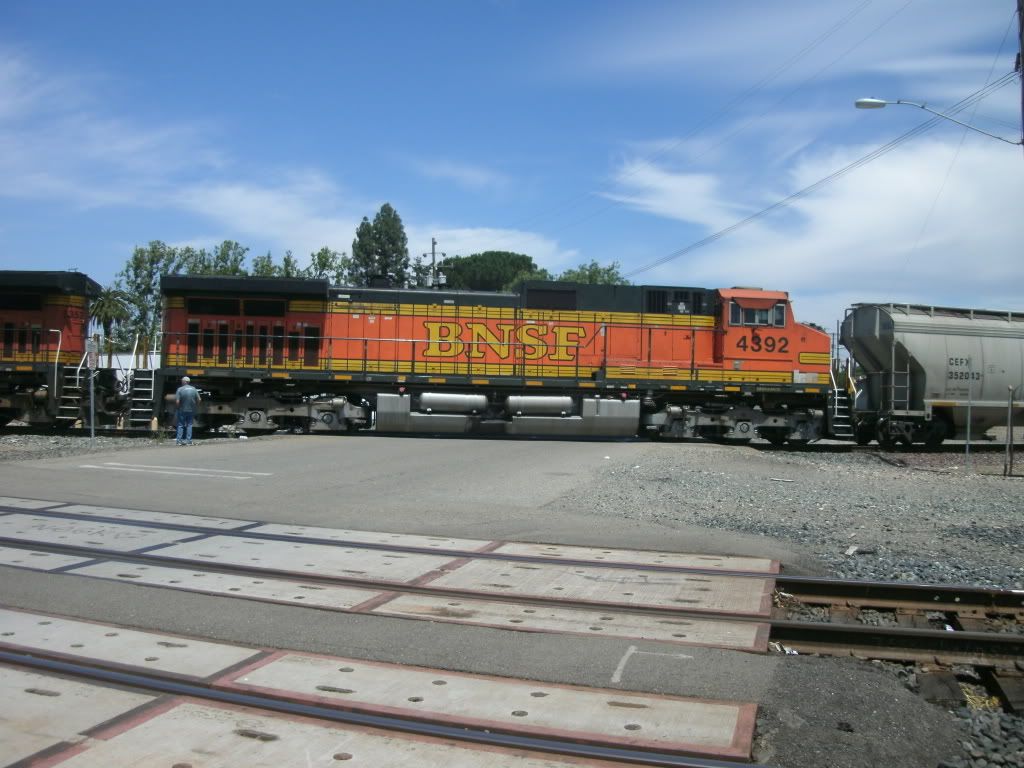 Another BNSF manifest on the Stockton Sub.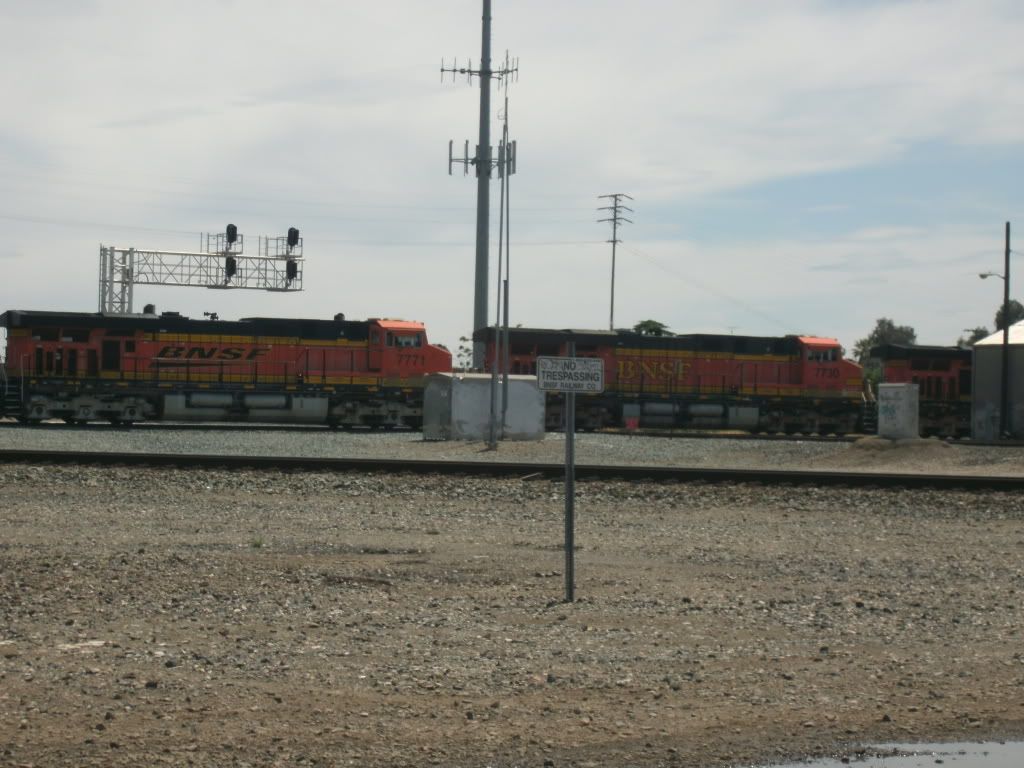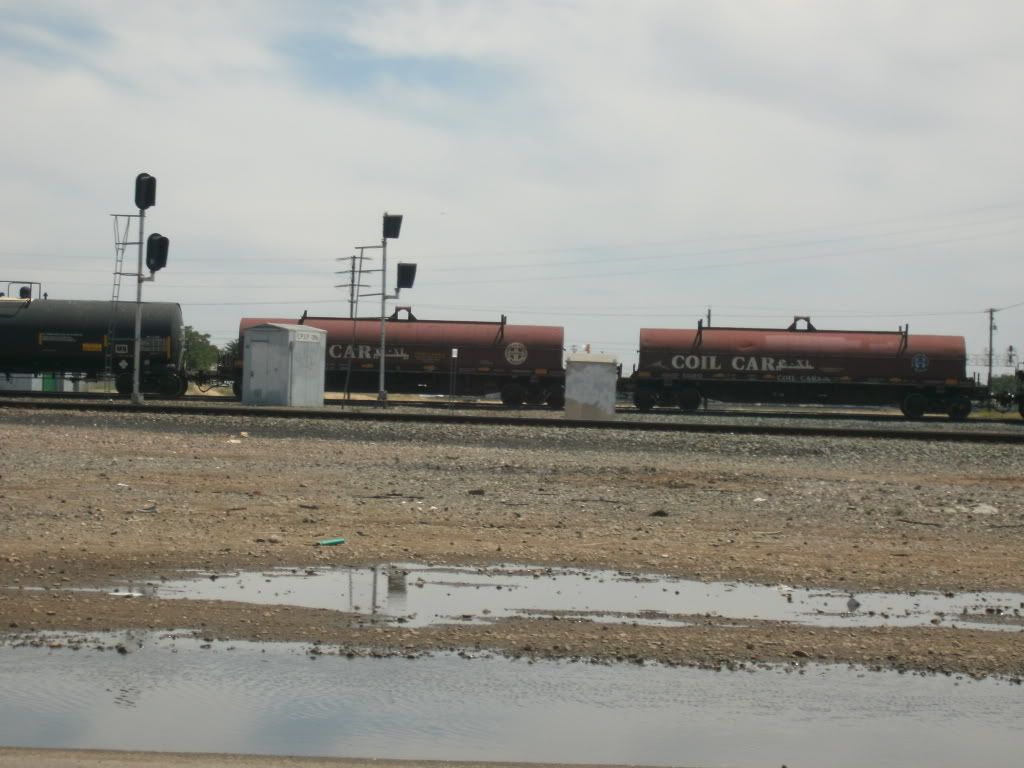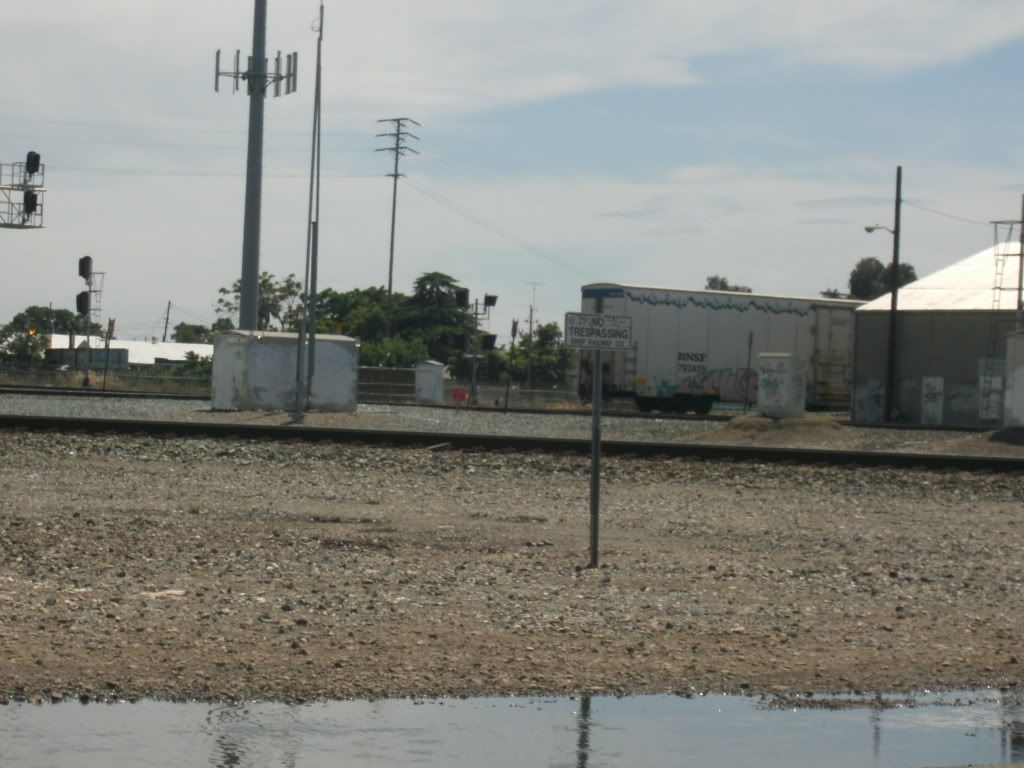 Tim Laskey shoots as UP 2378, 42xx head north. A BNSF manifest waits.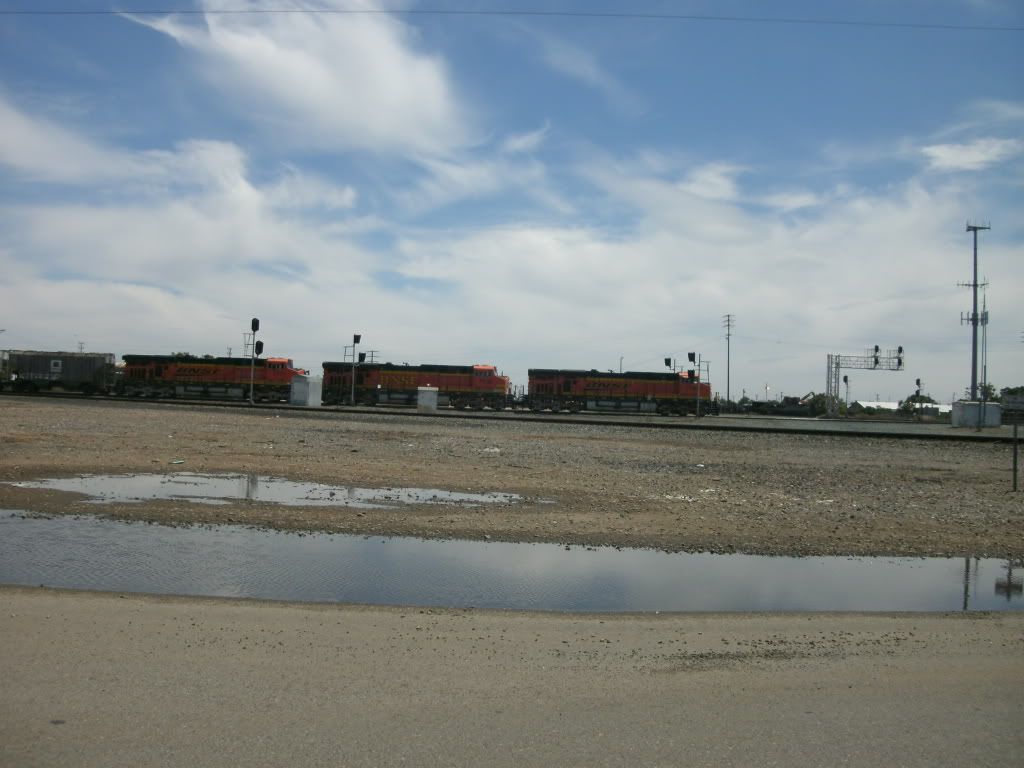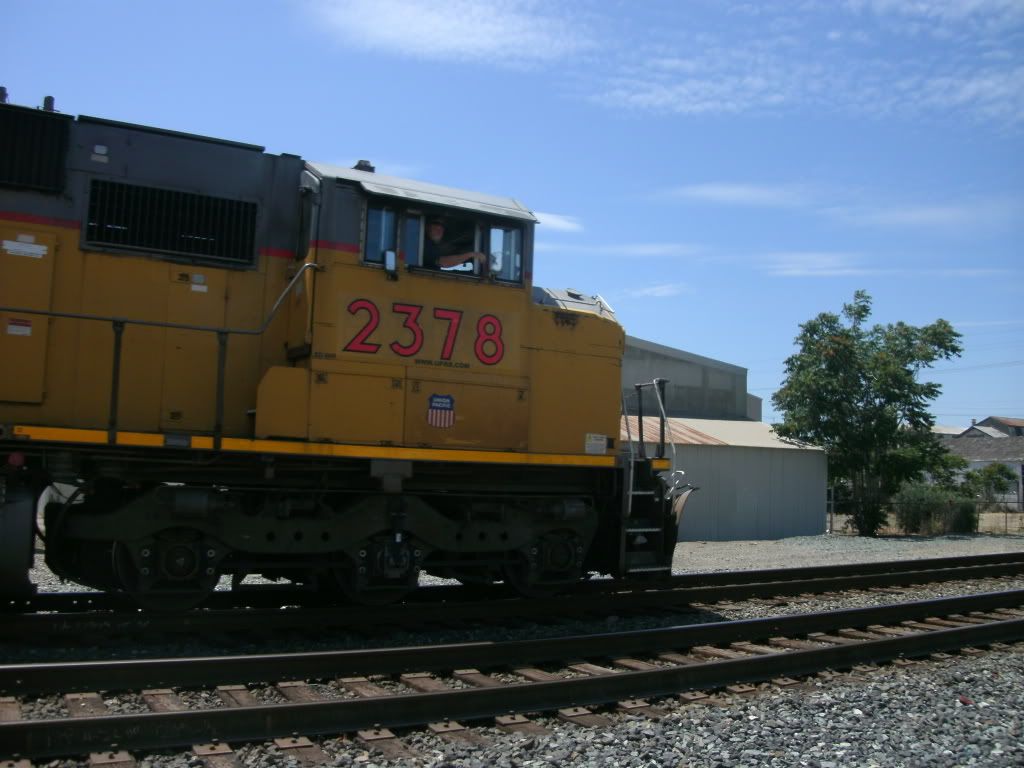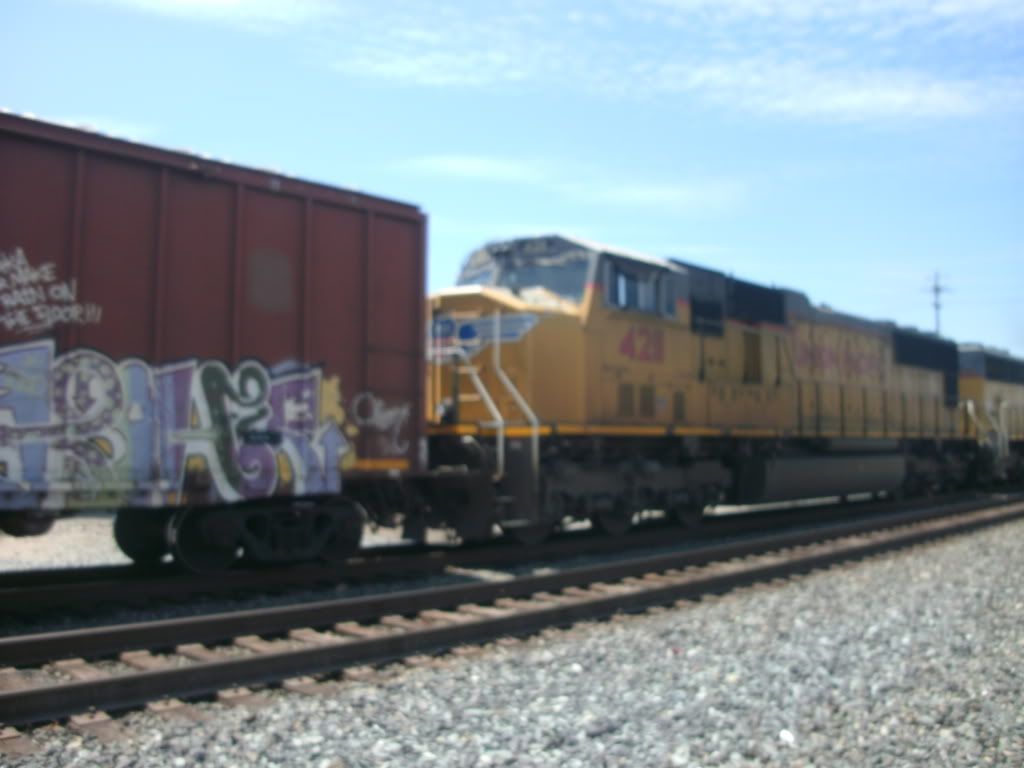 CDTX 2007 doubleheads with another CDTX unit.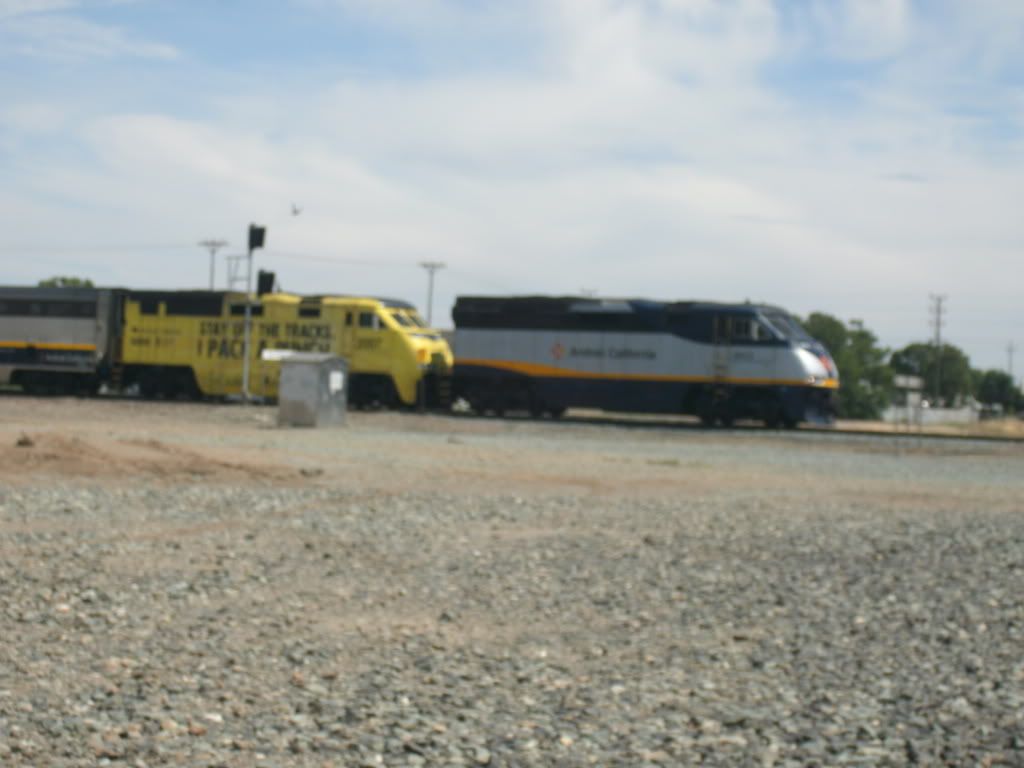 STAY OFF THE TRACKS. I PACK A PUNCH.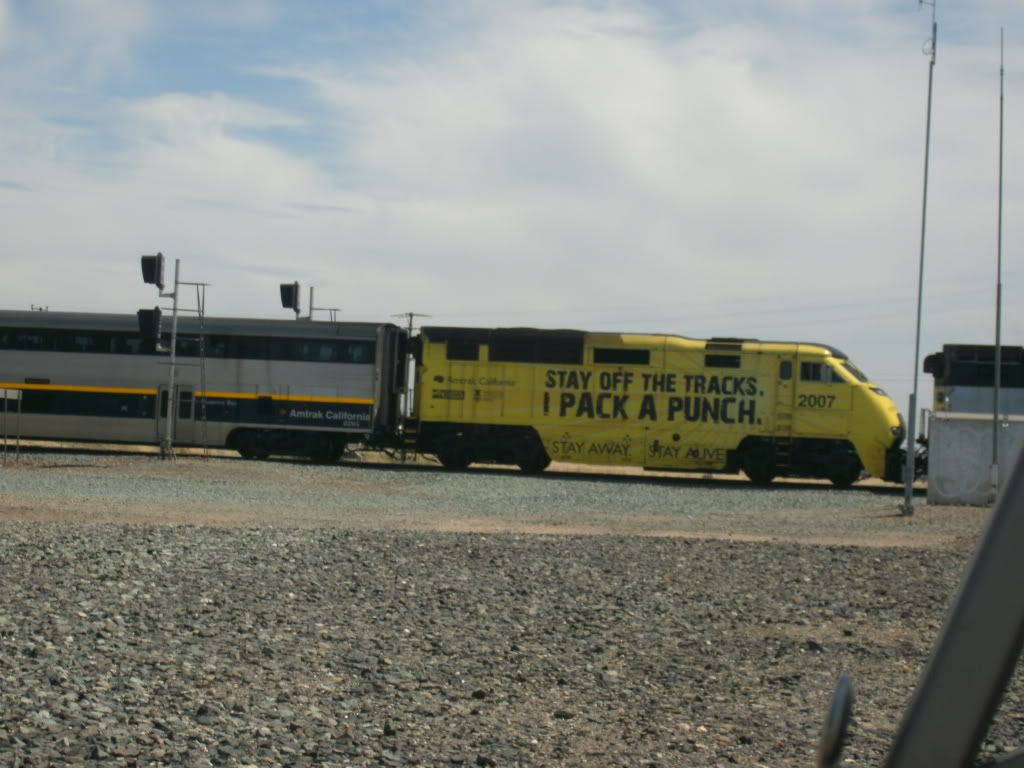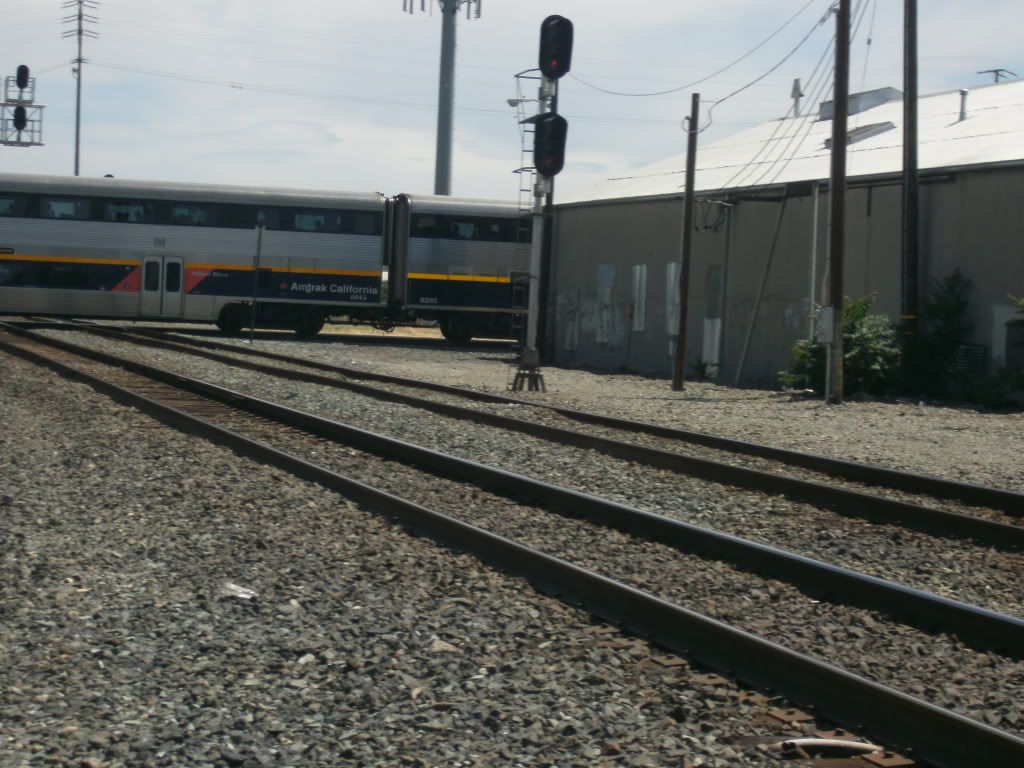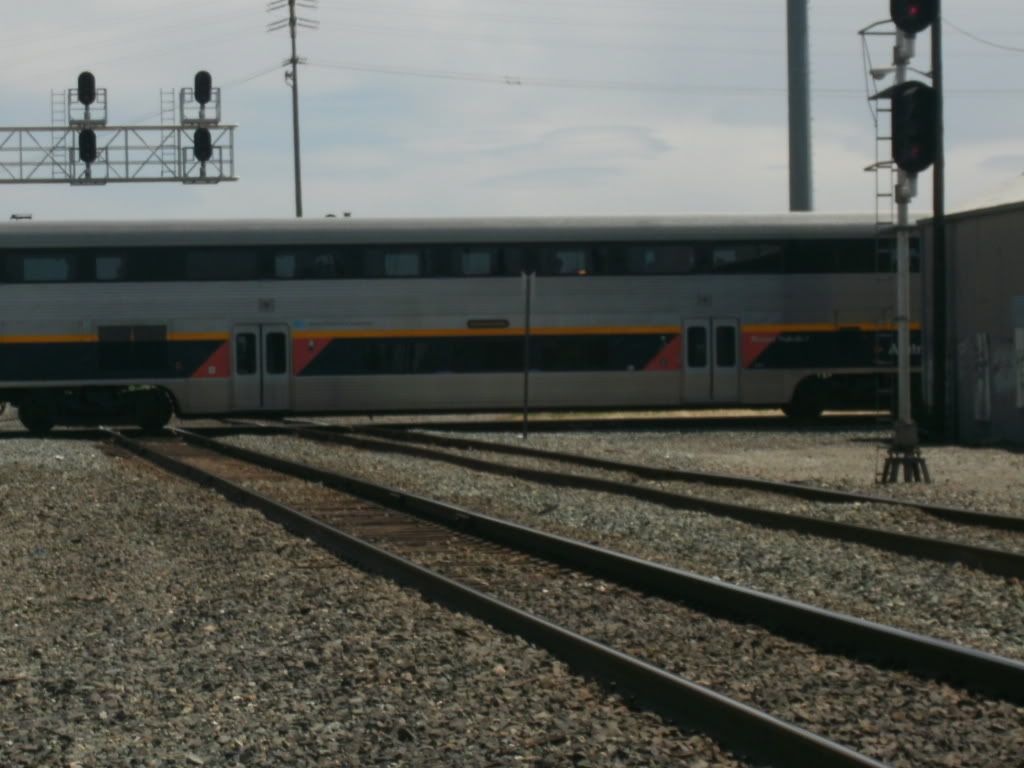 As a UP freight waits, a San Jack-o passes by.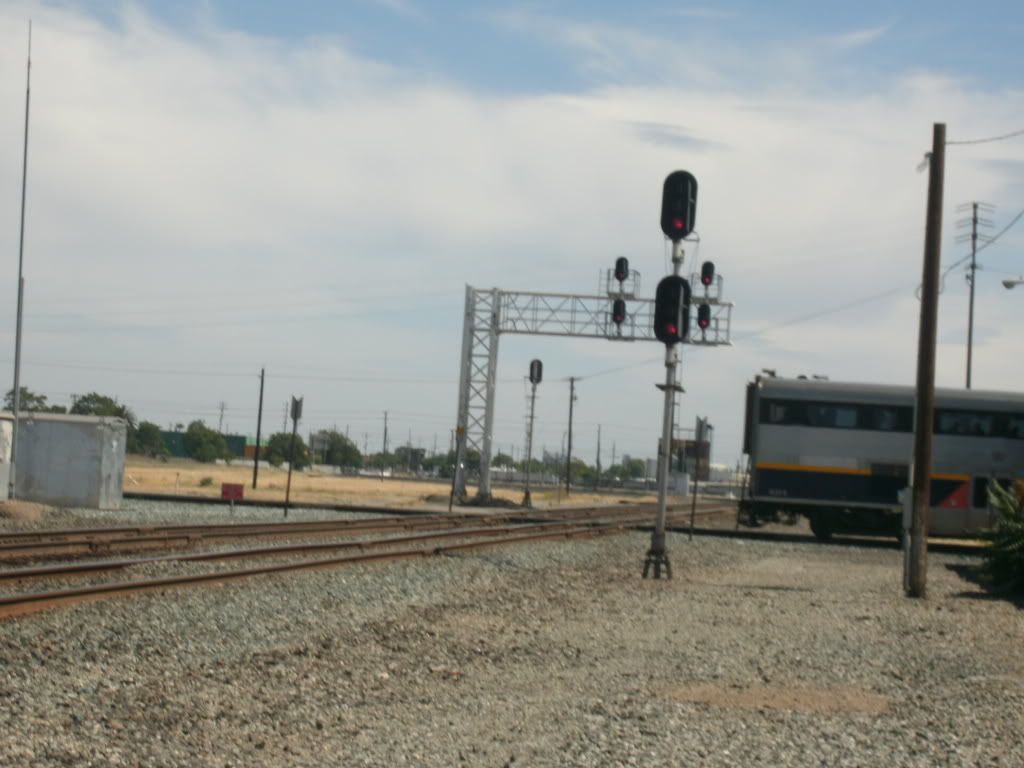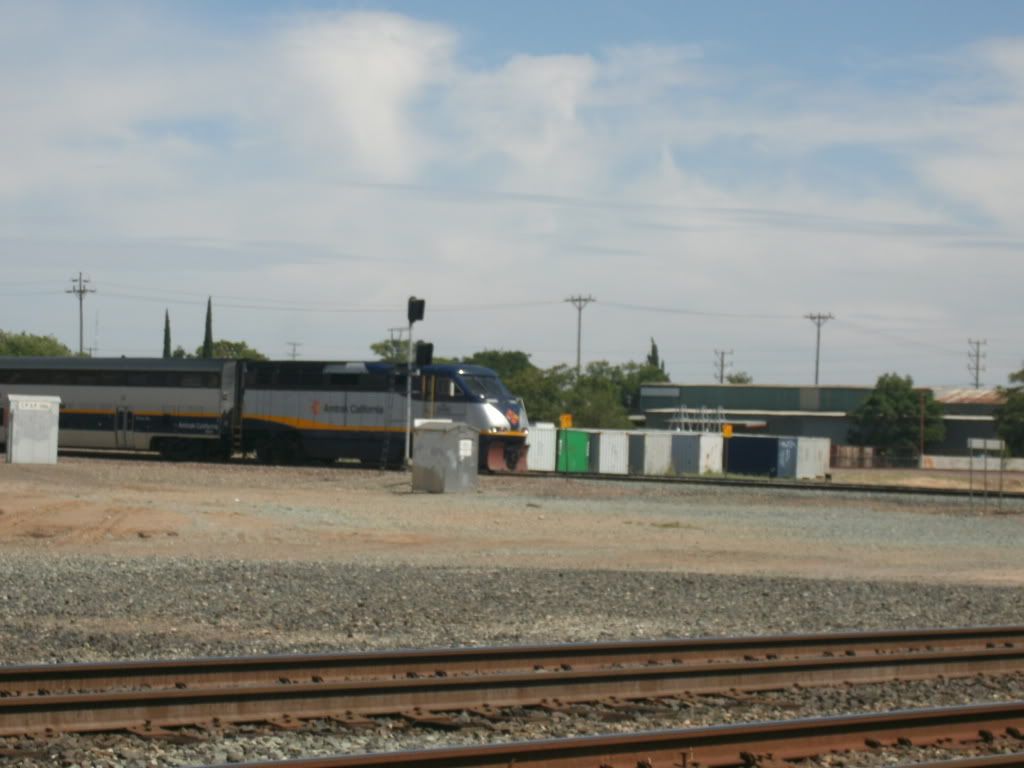 UP 8487, 4850, 4603.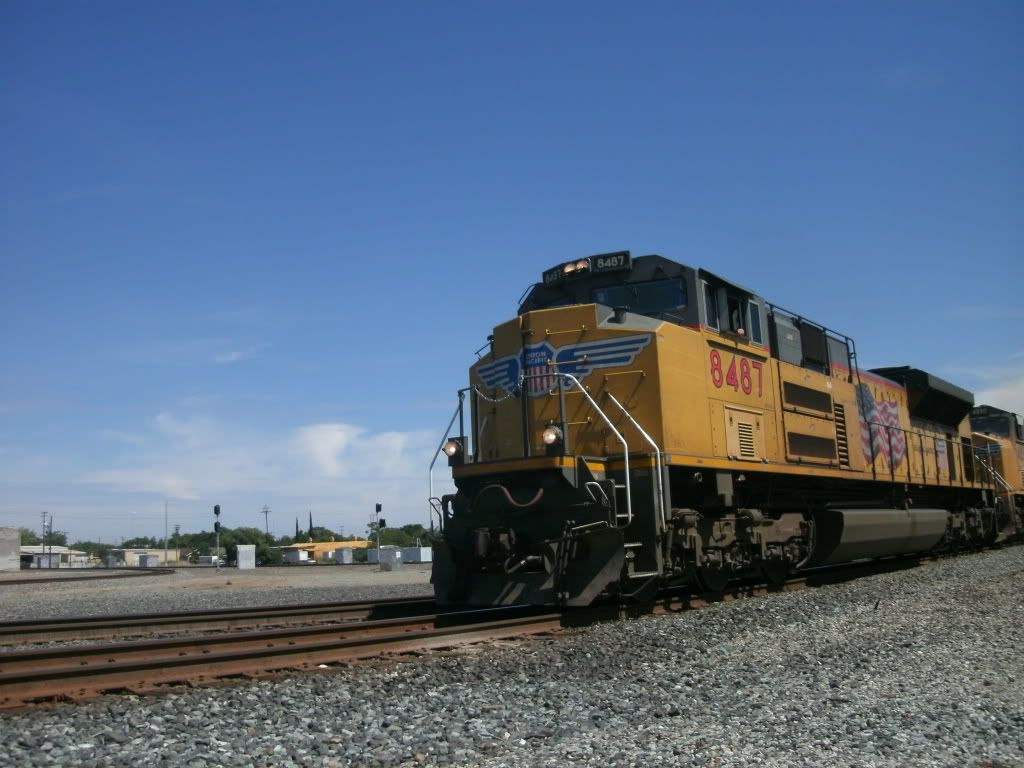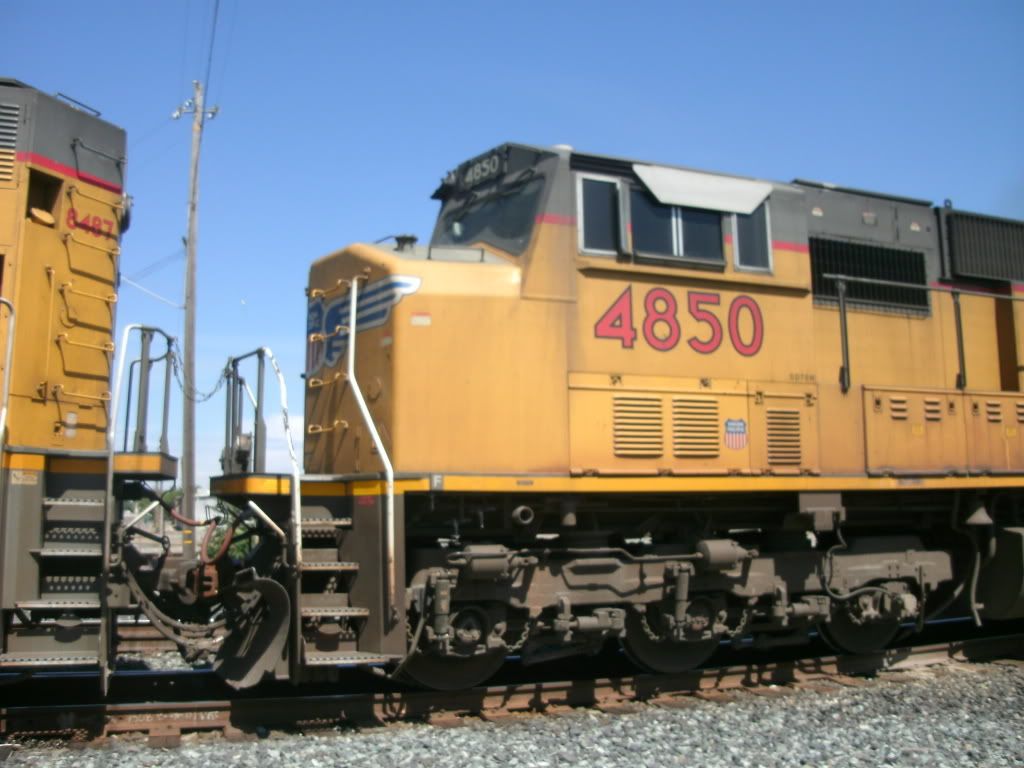 5166, 8155.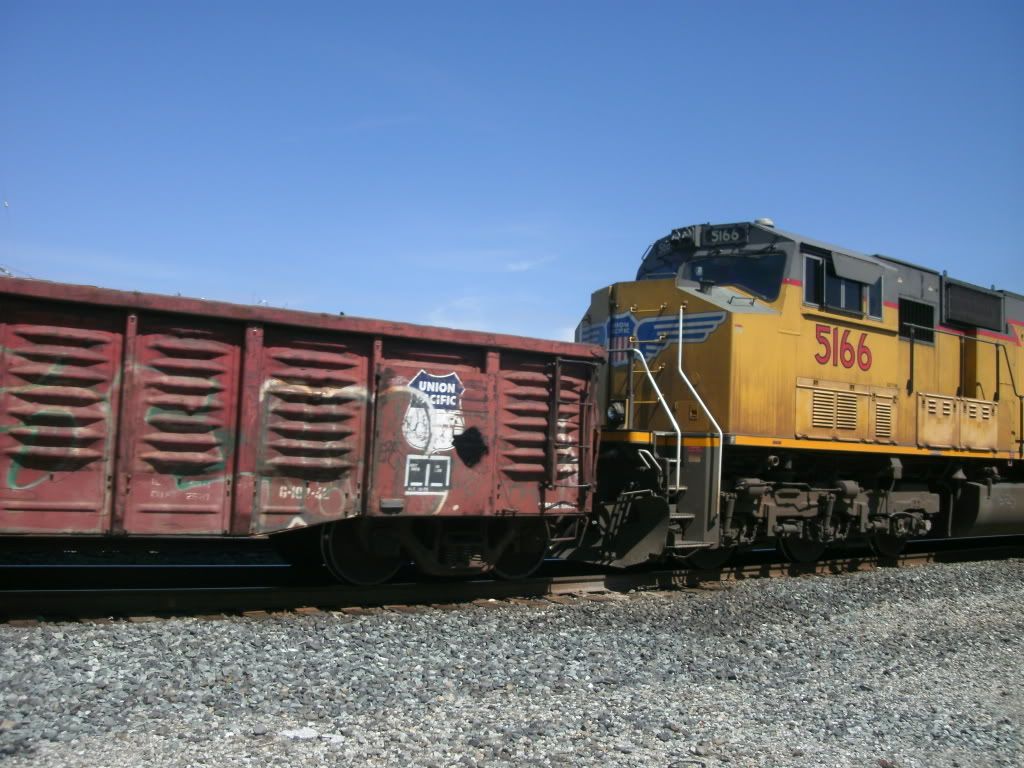 Someone wants in the yard!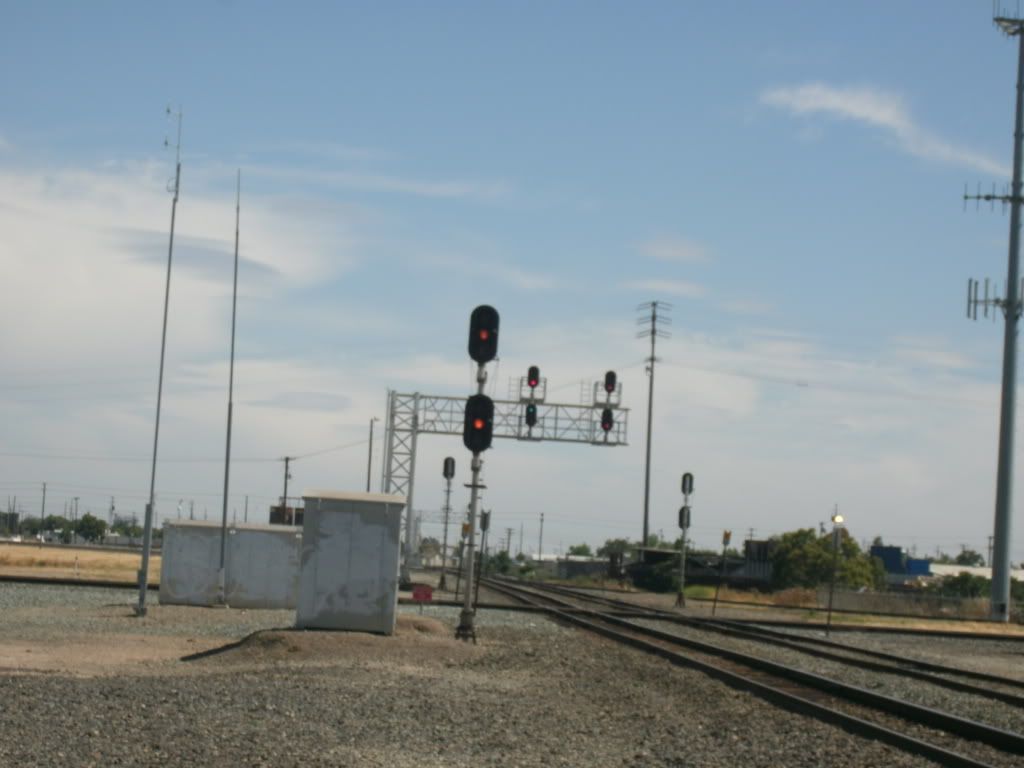 ...and lo and behold, UP 5894 and 5856 head in with a long grain train. It stopped about a half mile away, and it was so silent you could hear a pin drop!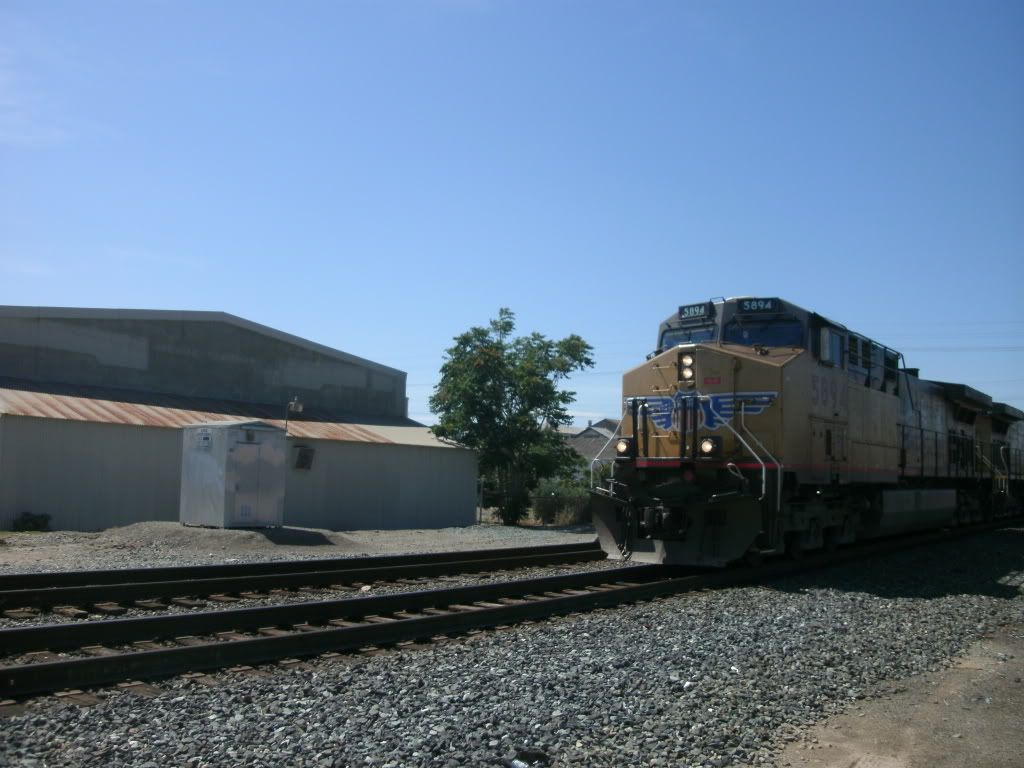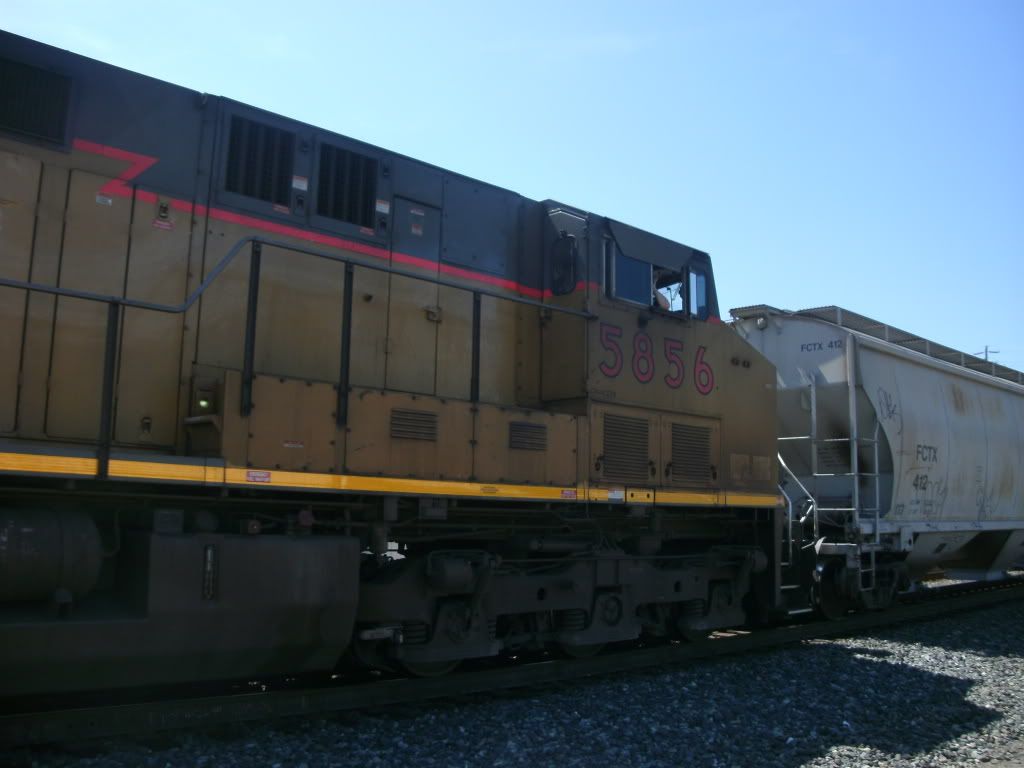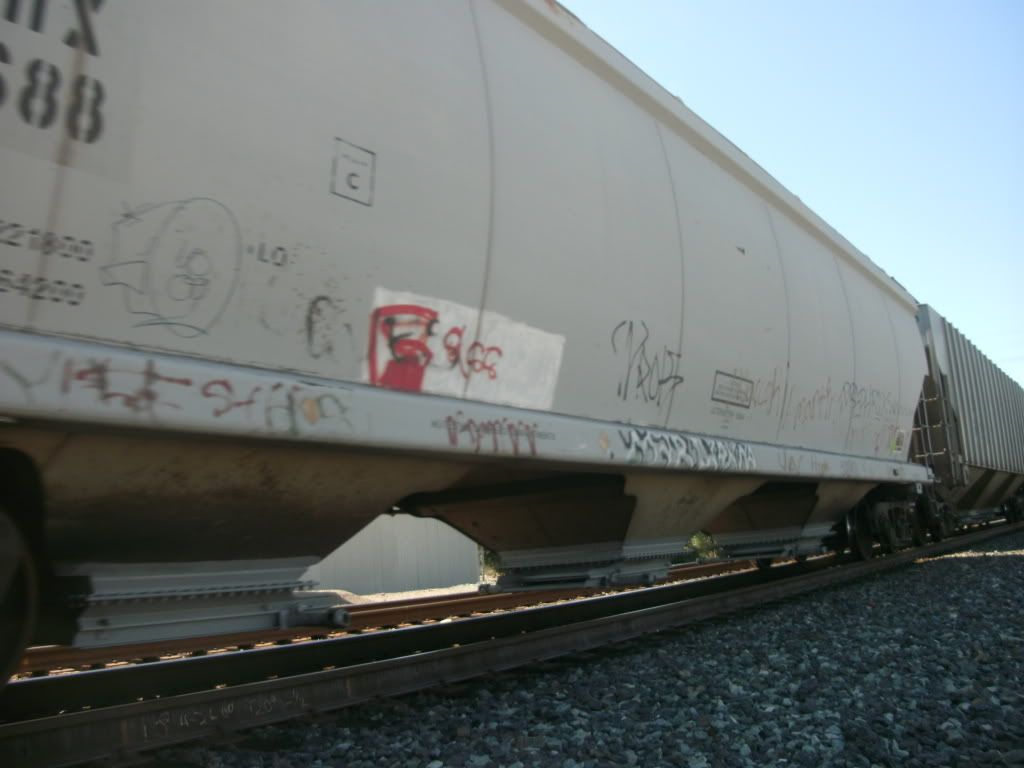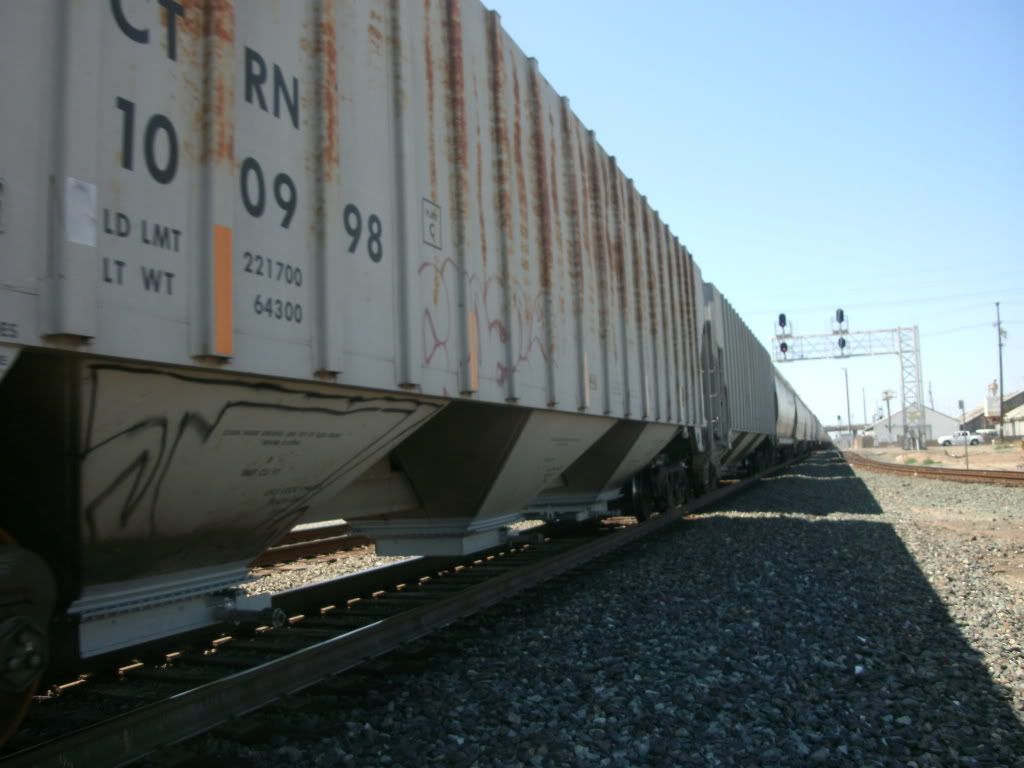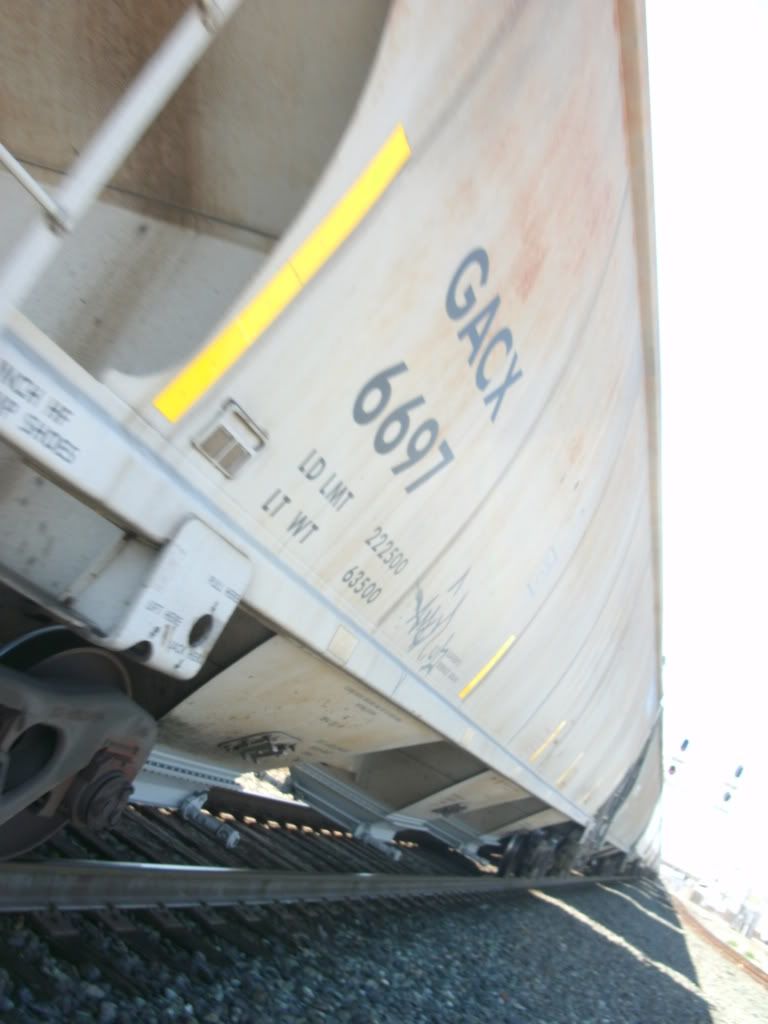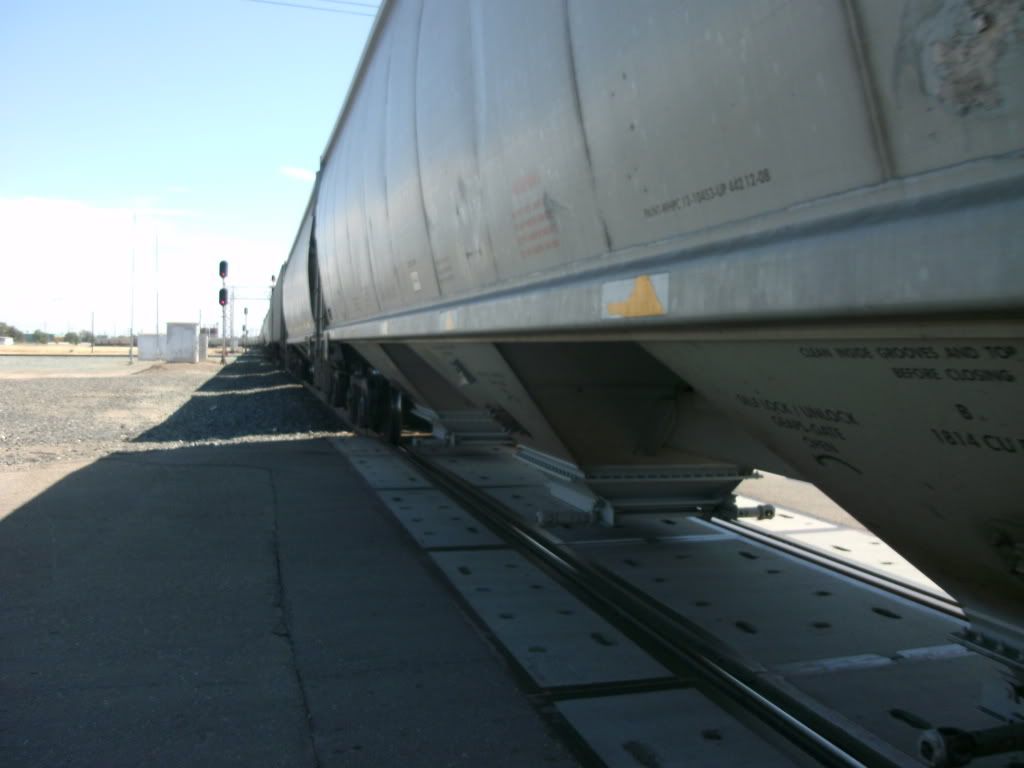 Former UP 4000 renumbered 7000.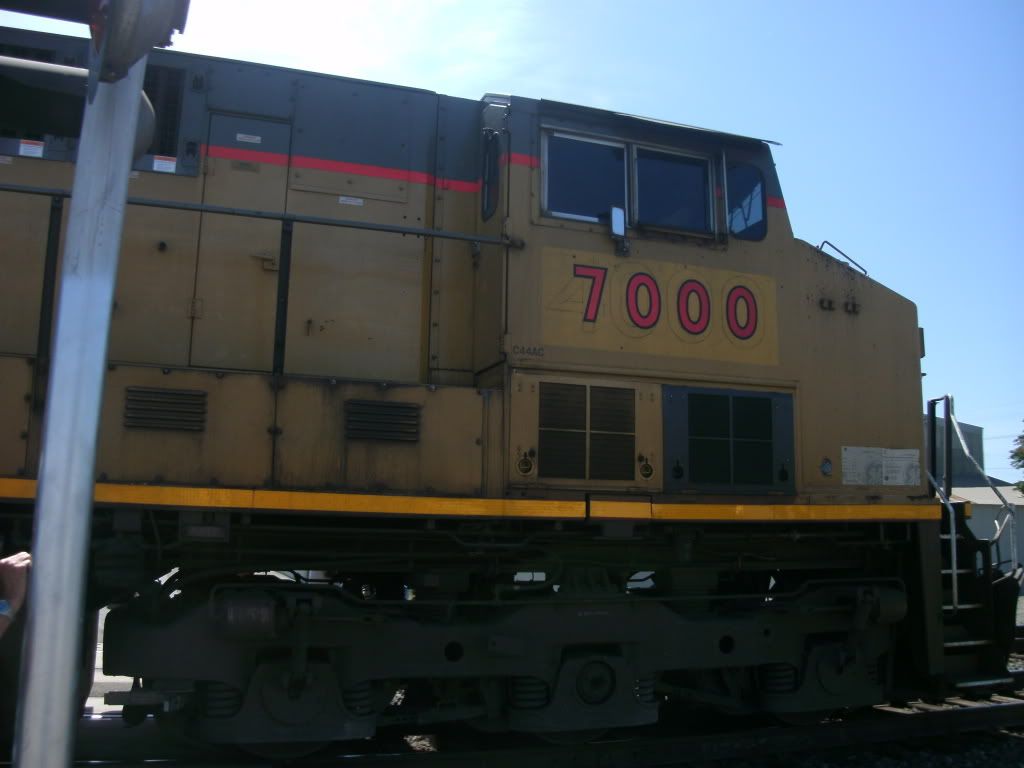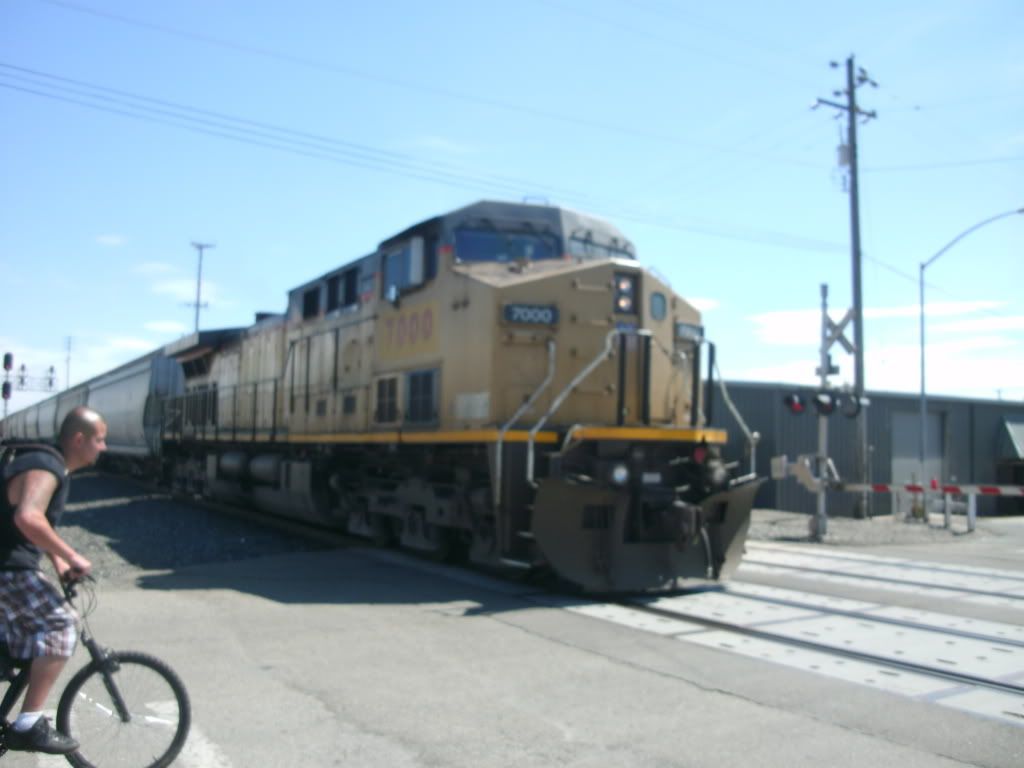 The local returns. UP 1351 and 1528.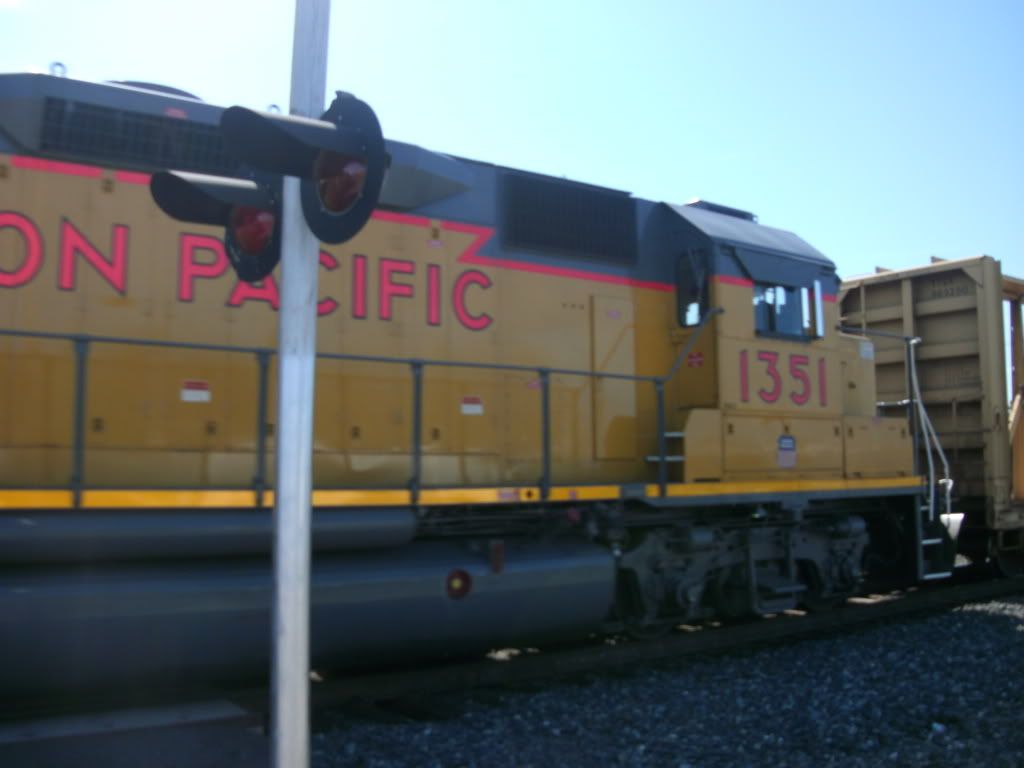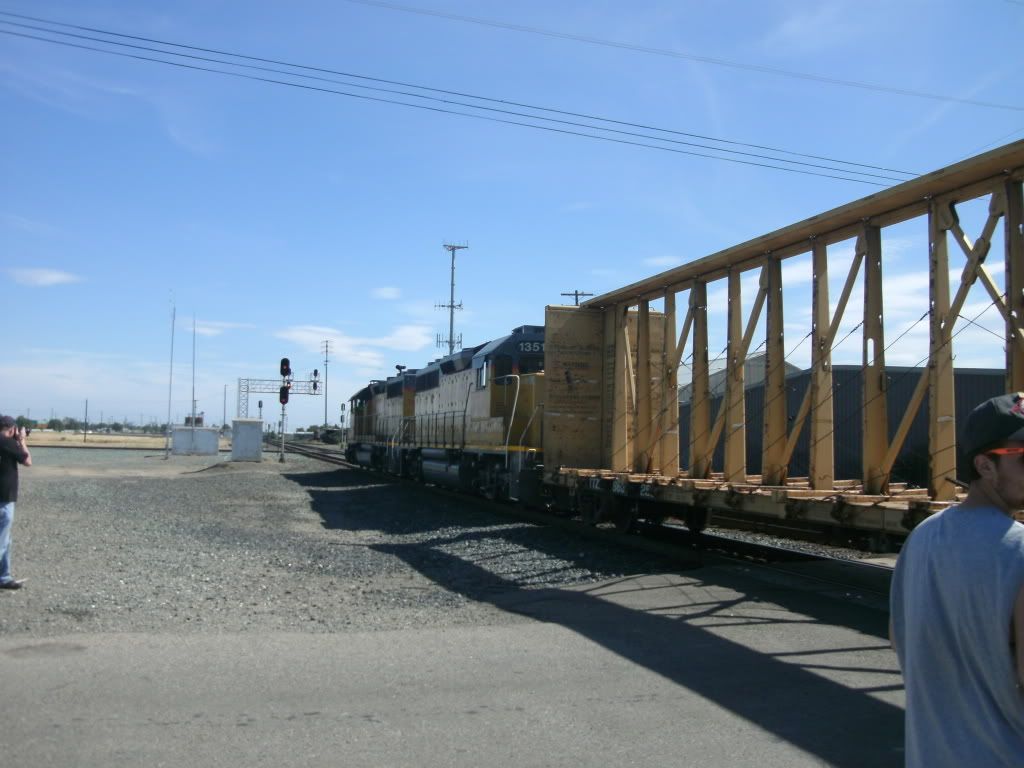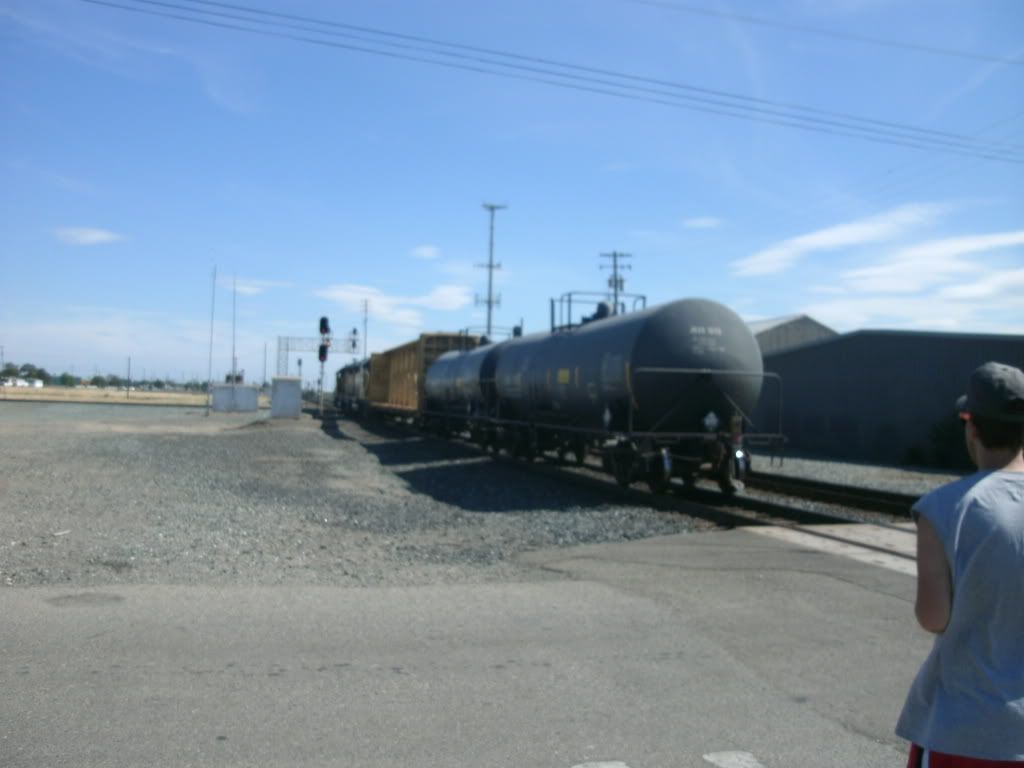 BNSF 5065, 7466, 5047 lead a manifest.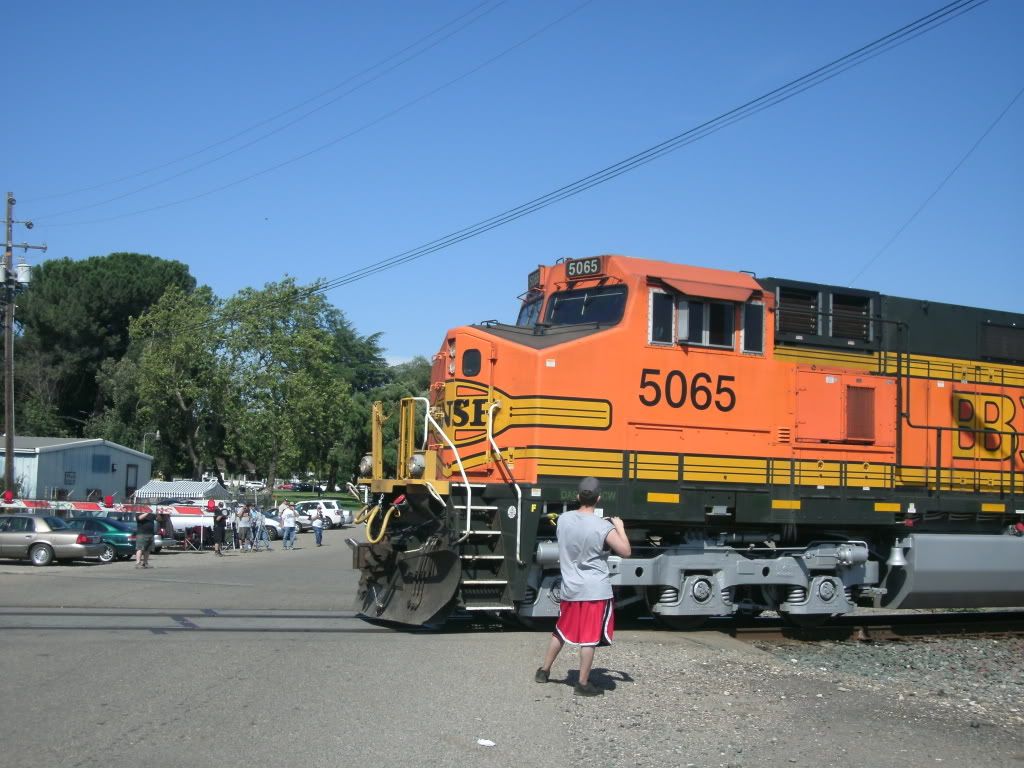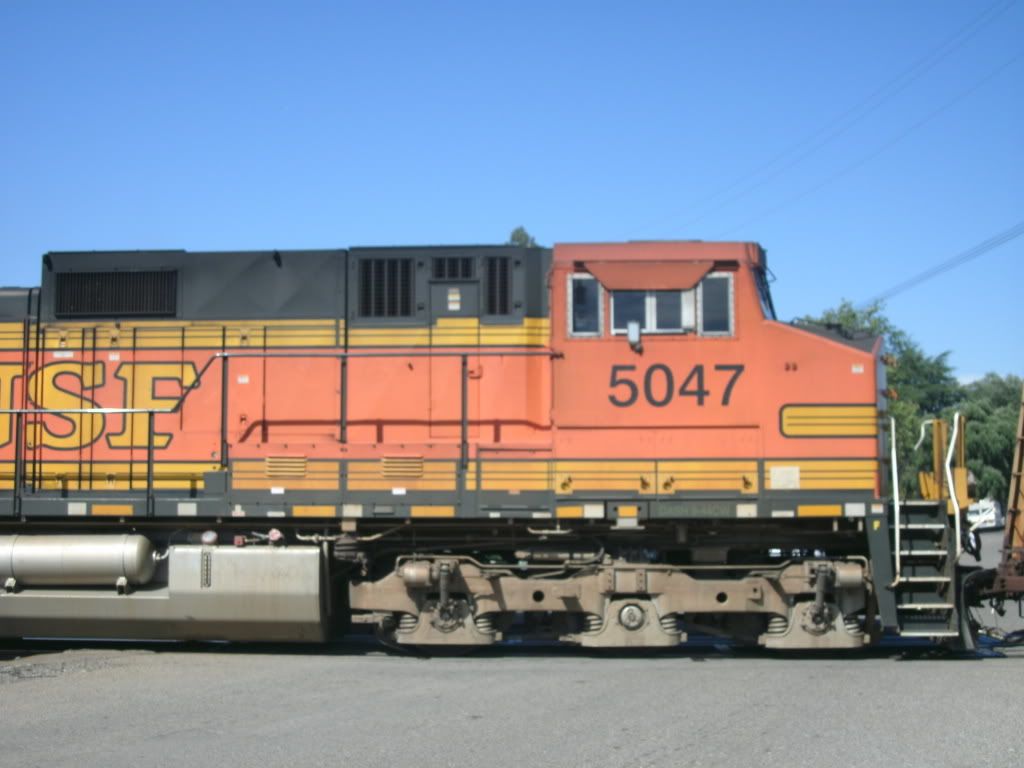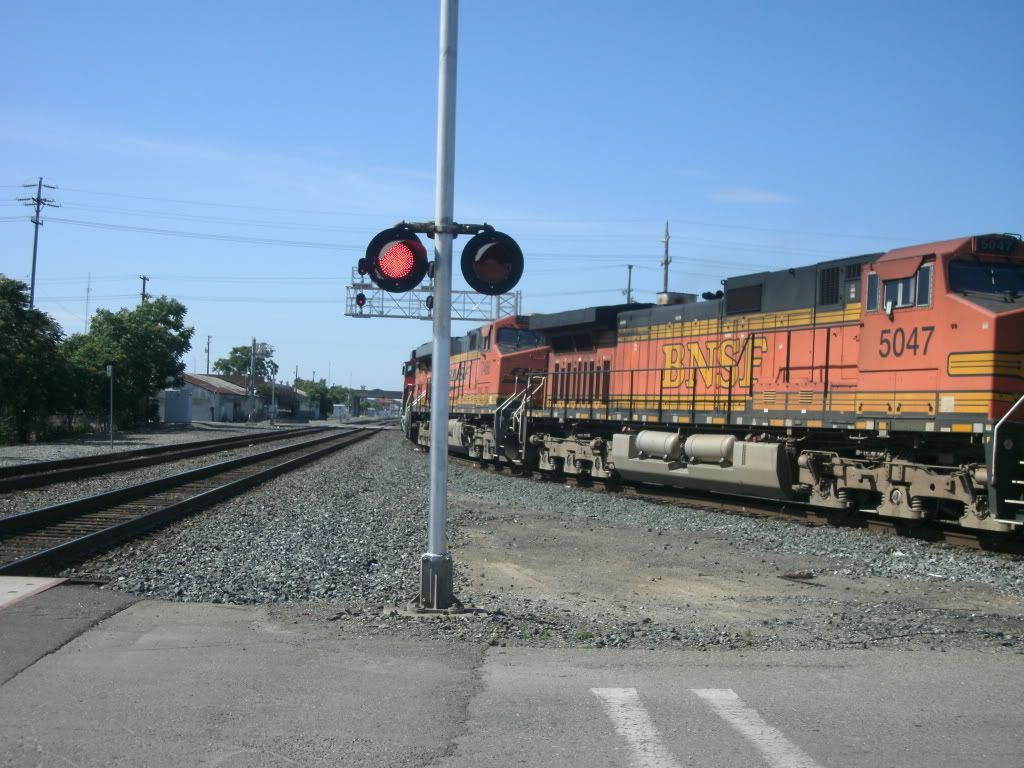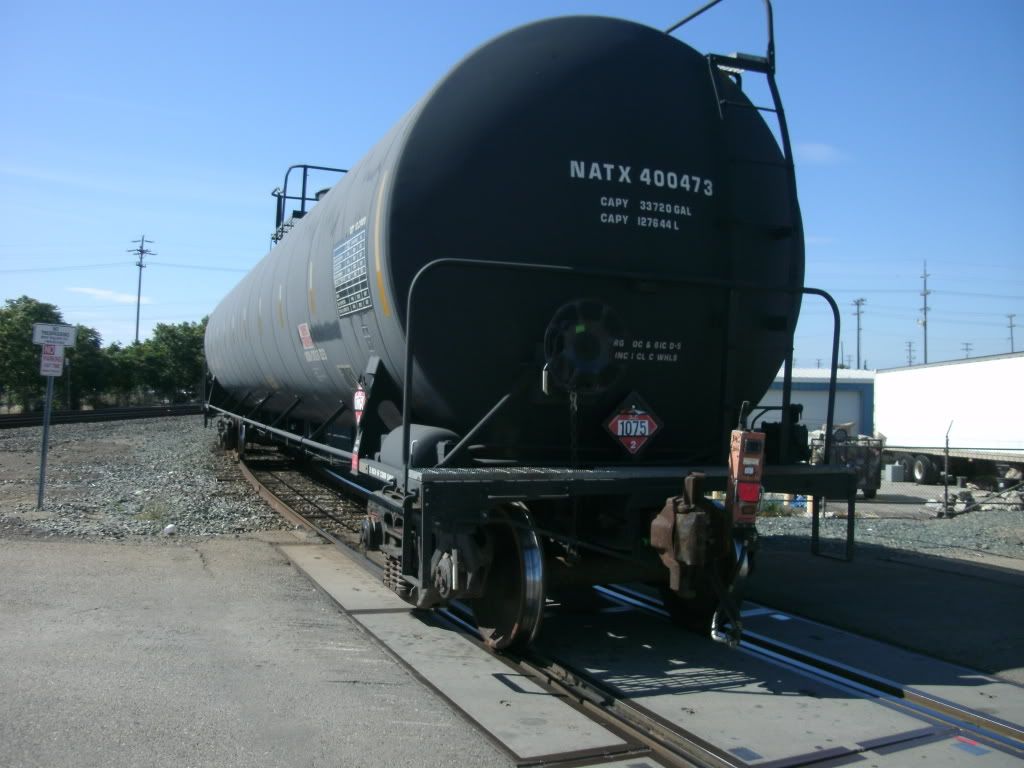 Another local heading to the Port of Stockton.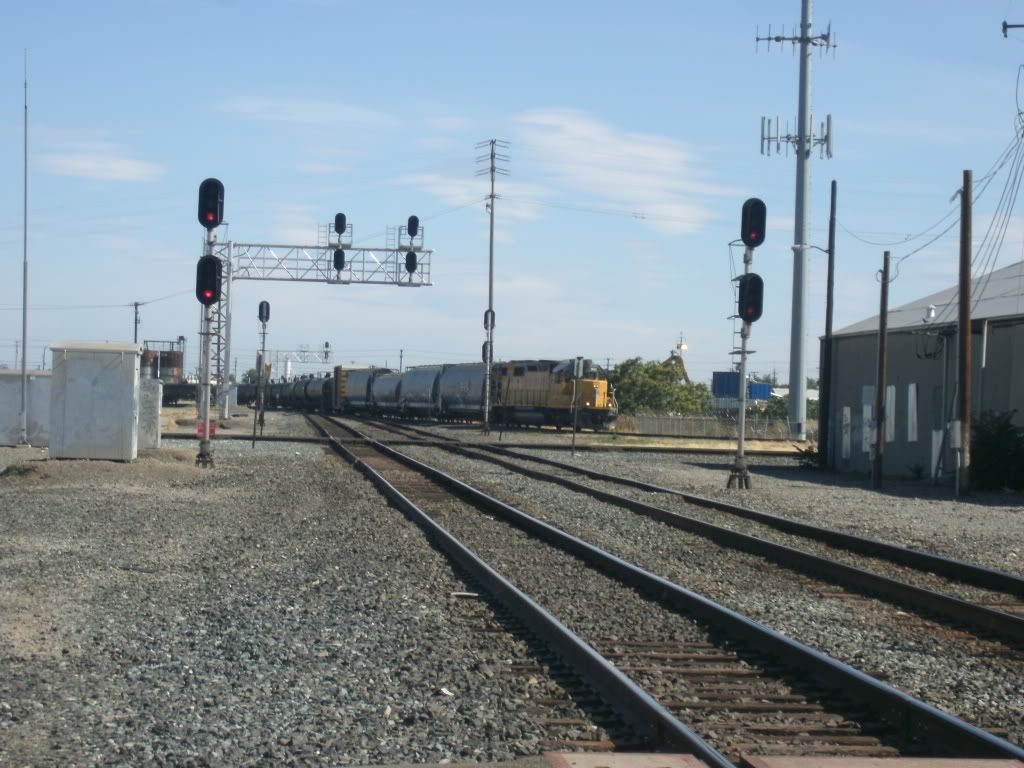 UP 5064, 5026, and 5487 lead south with a manifest.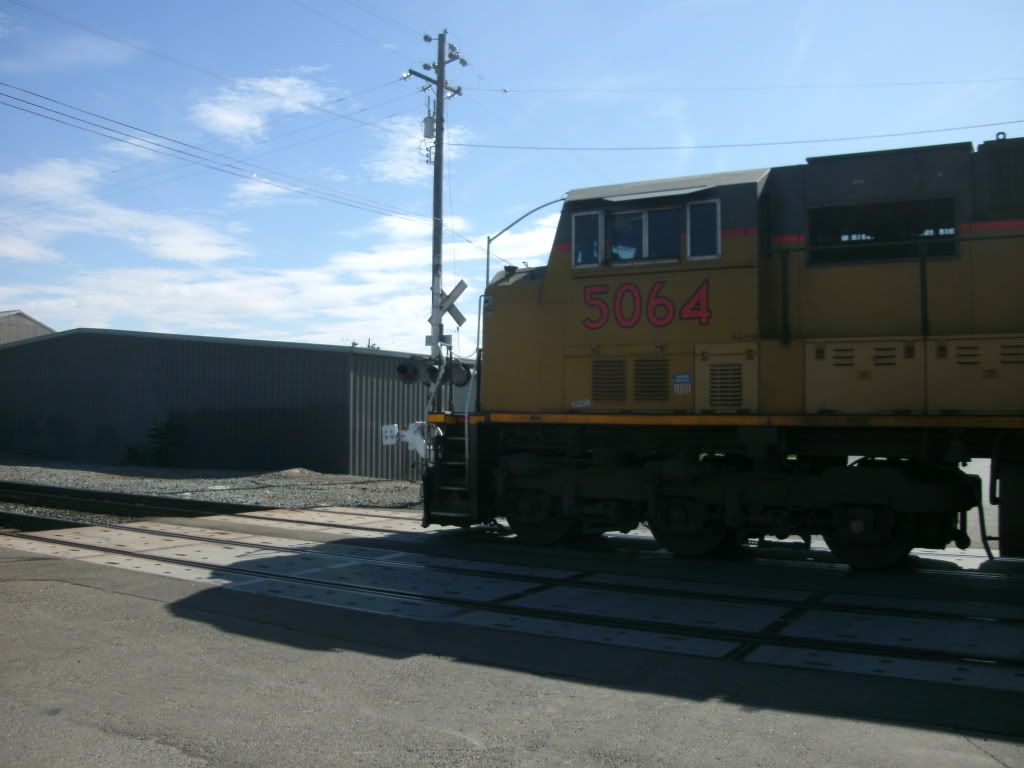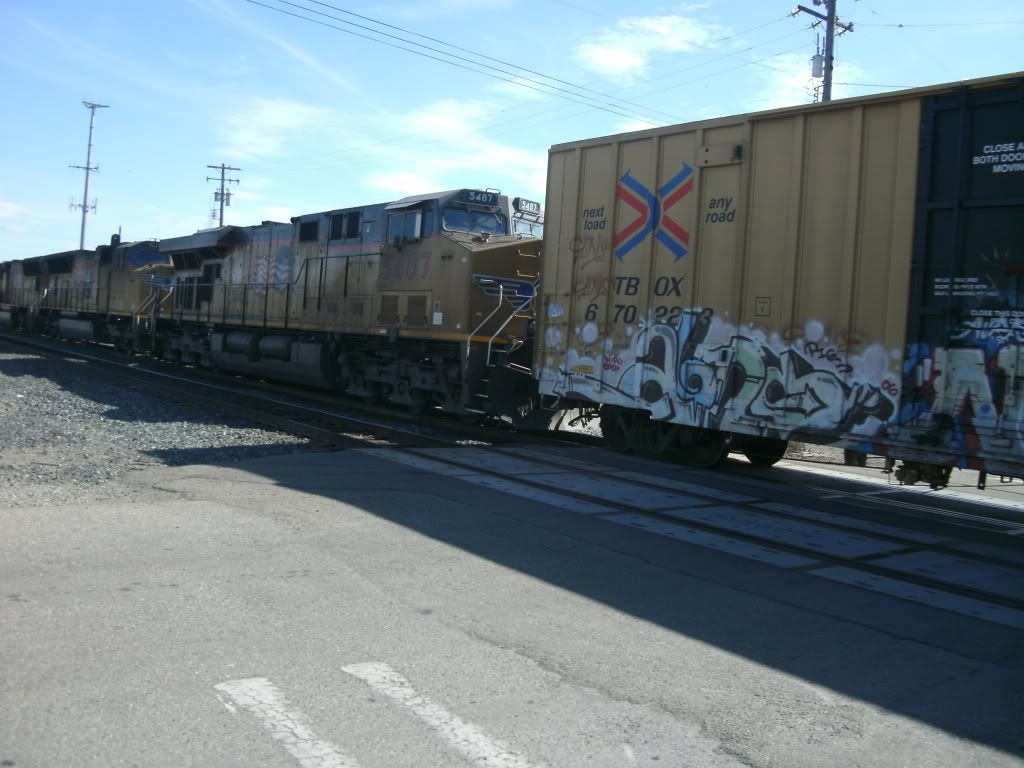 BNSF 1000, 4049, 7417, and 776 head west with a Z train.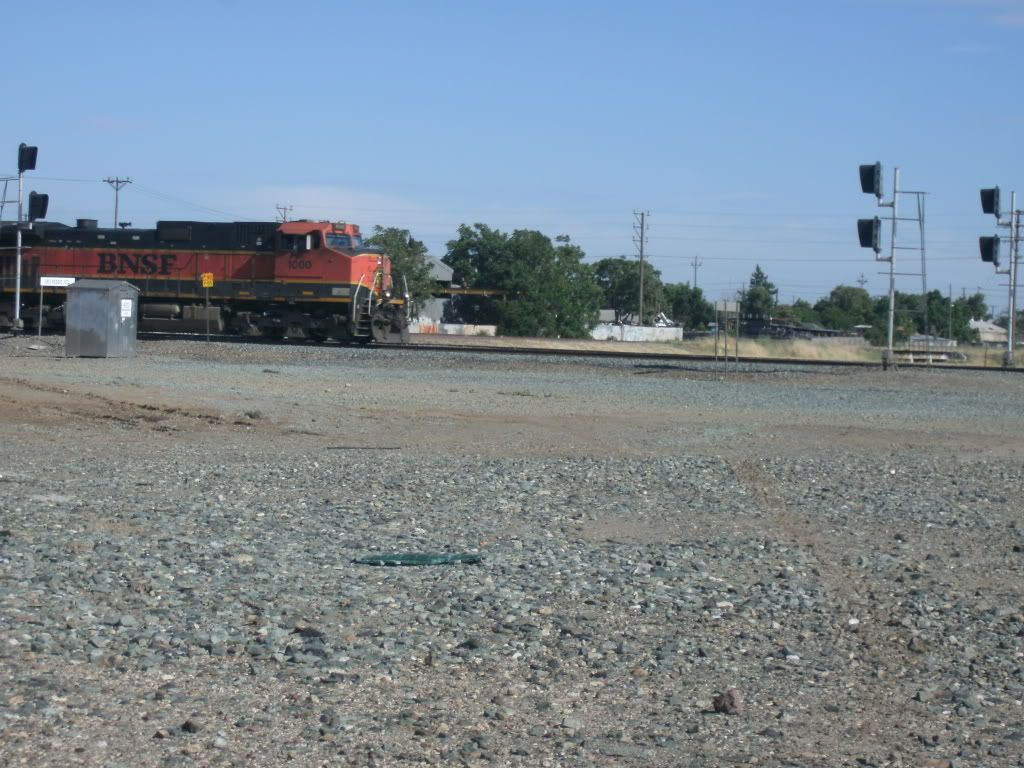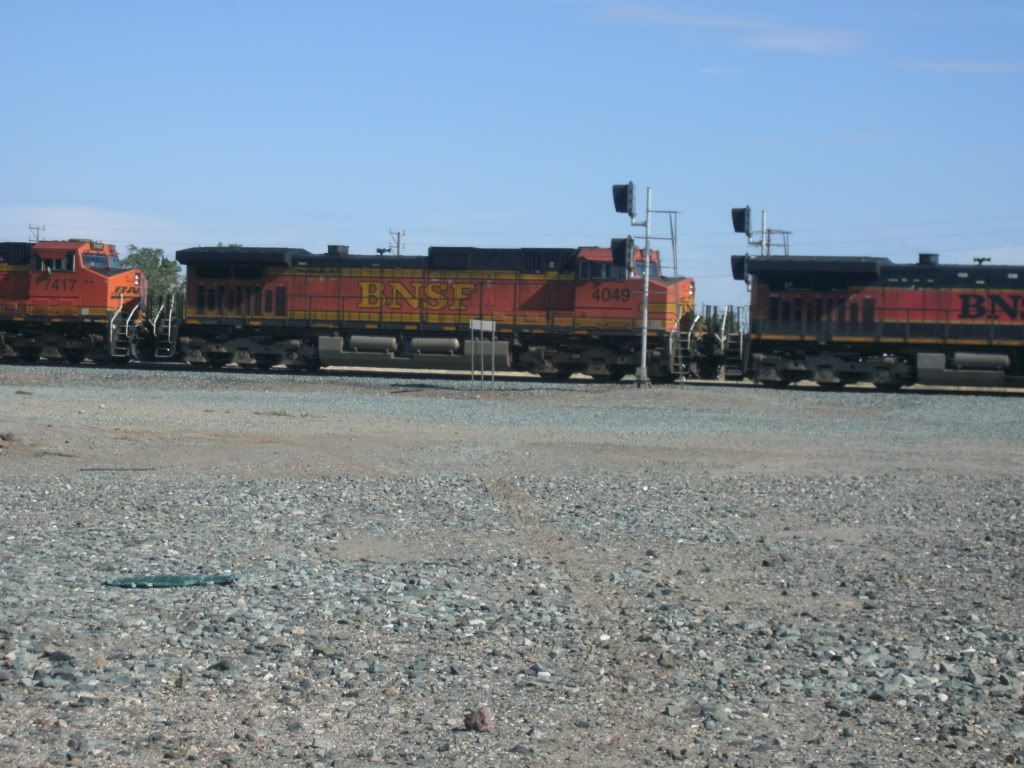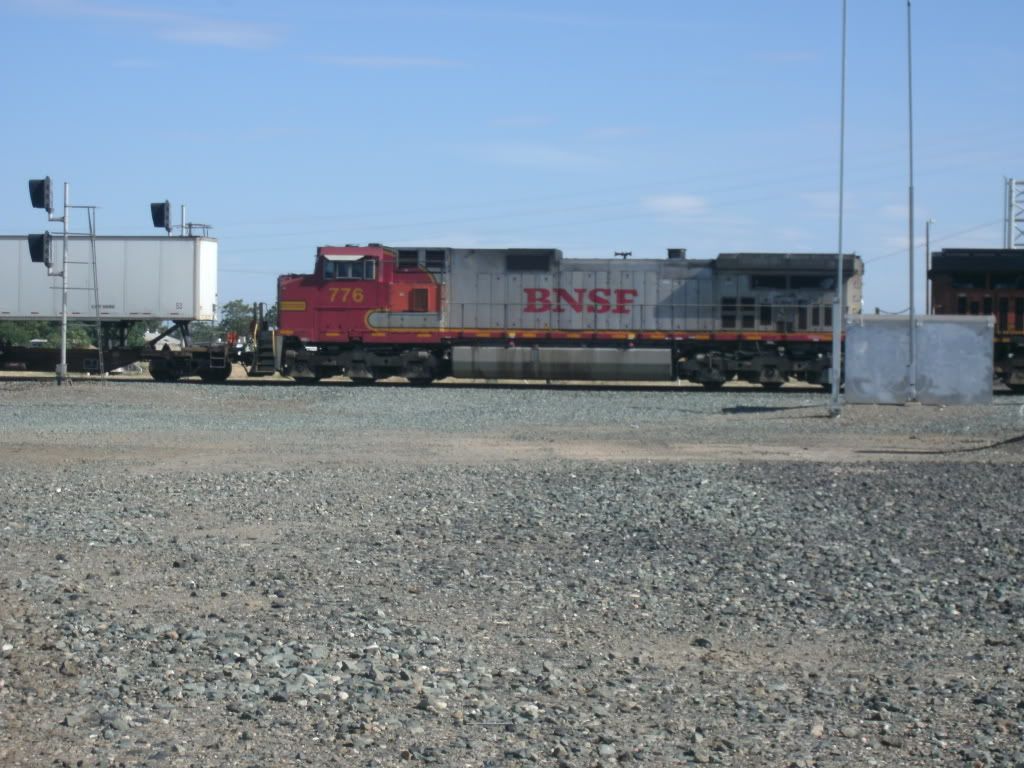 Light power move from the yard. UP 1403.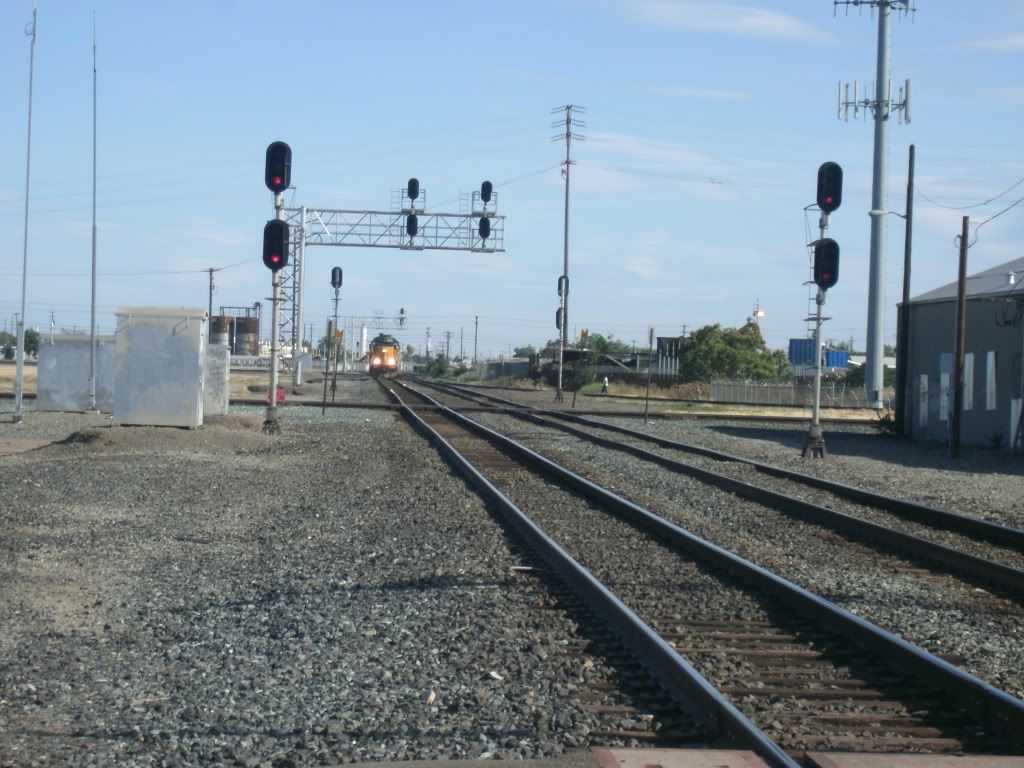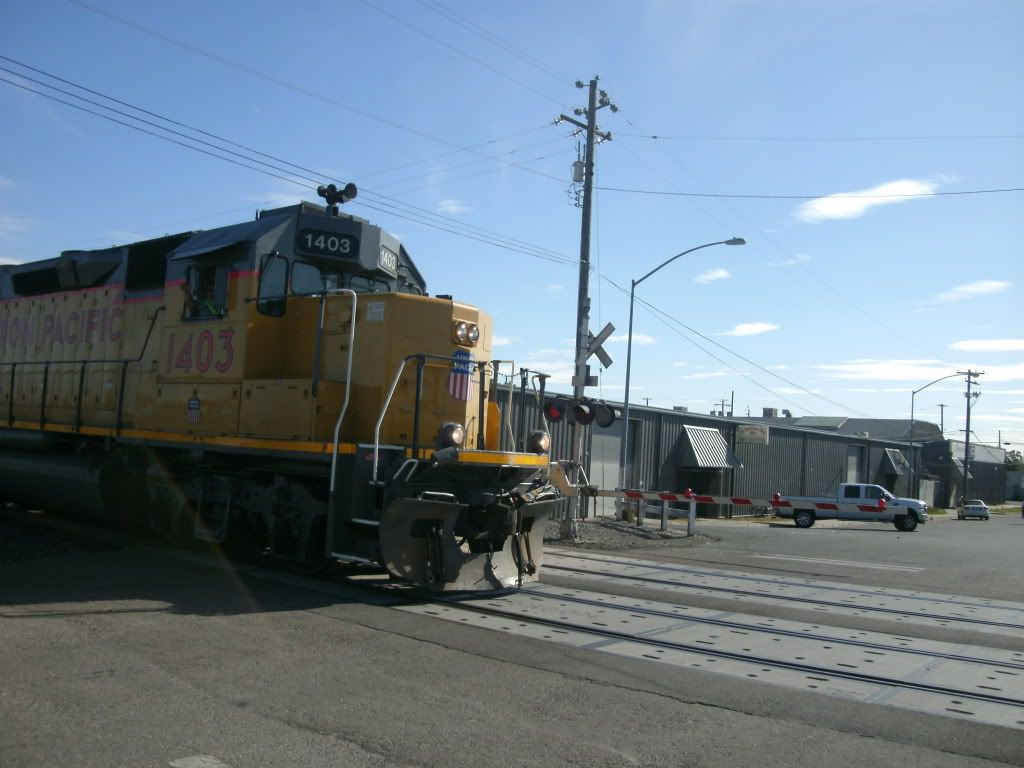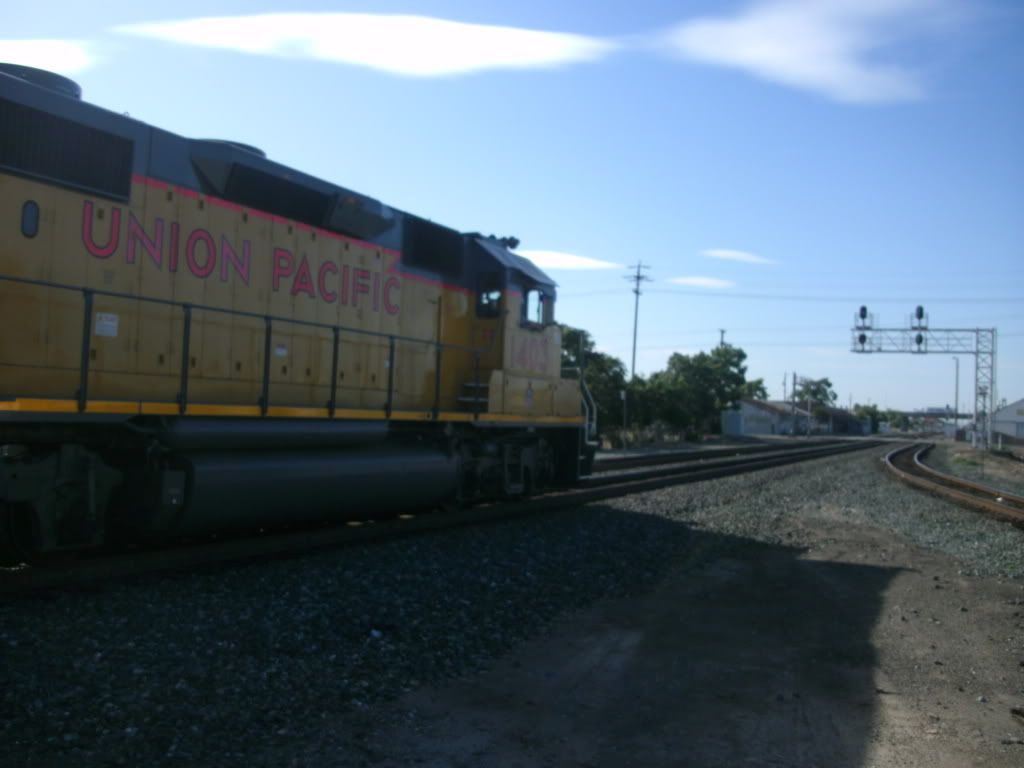 CDTX 2001 leads a San Jack-o.
Another San Jack-o overtakes UP 1403 at the Stockton depot.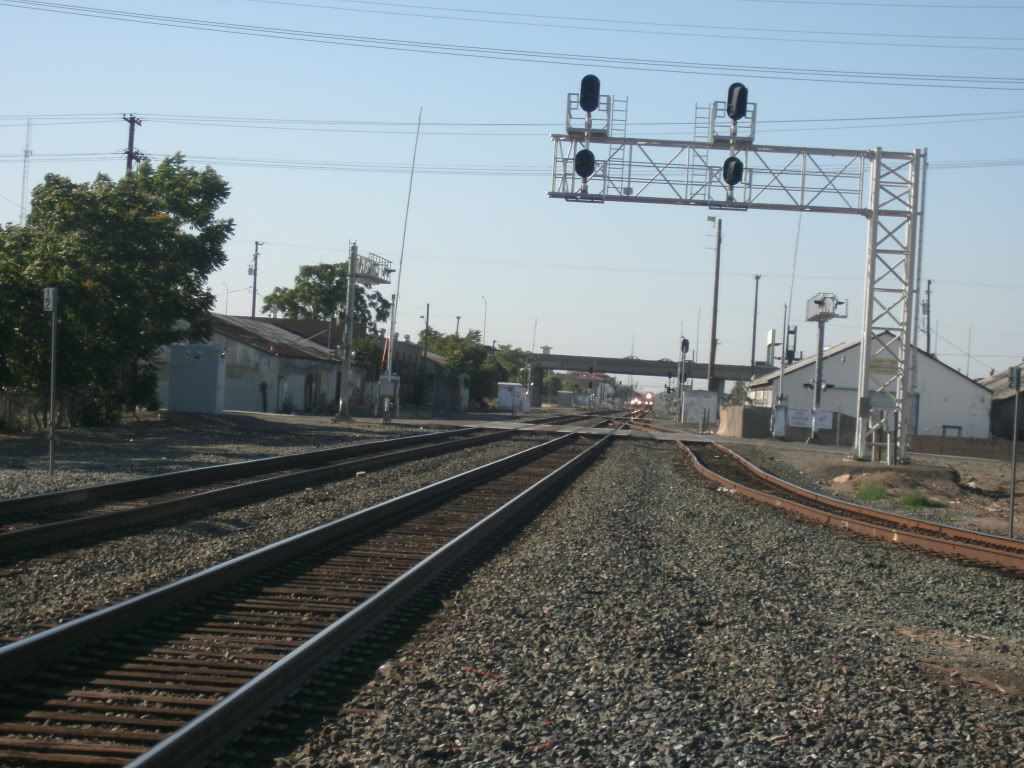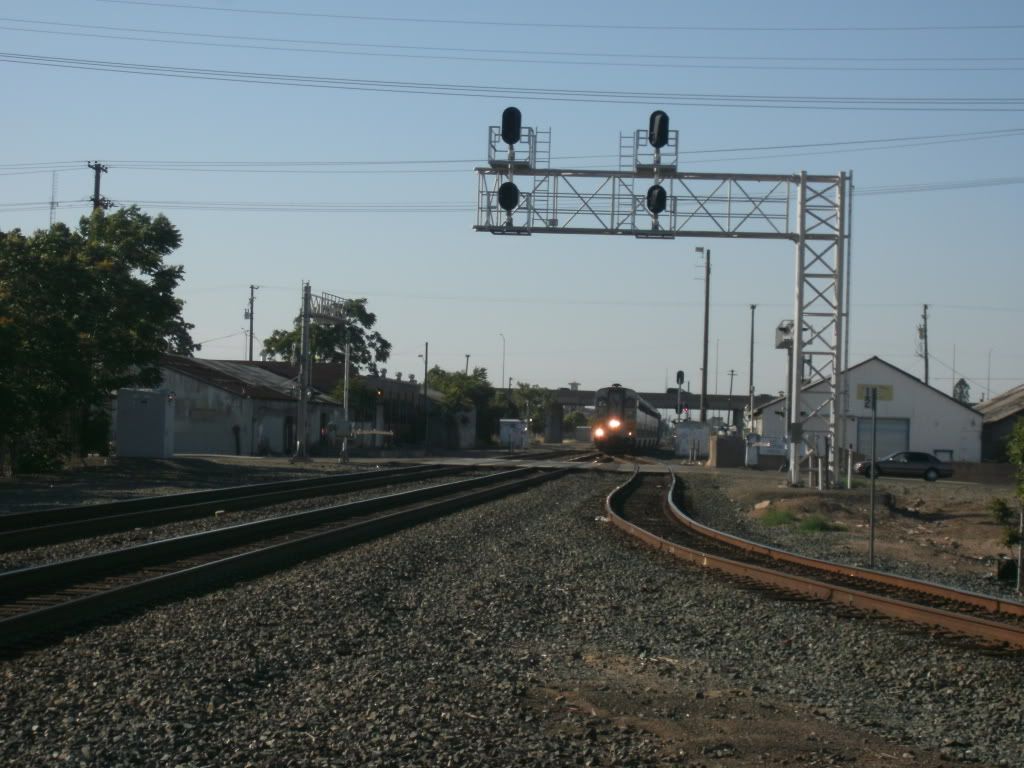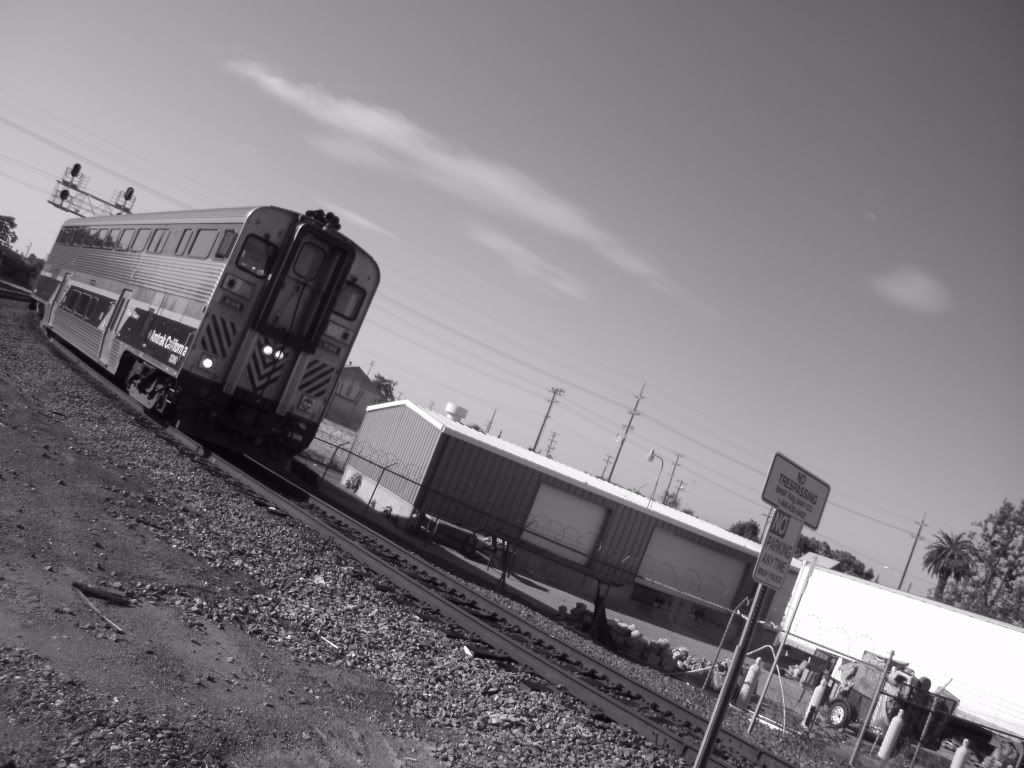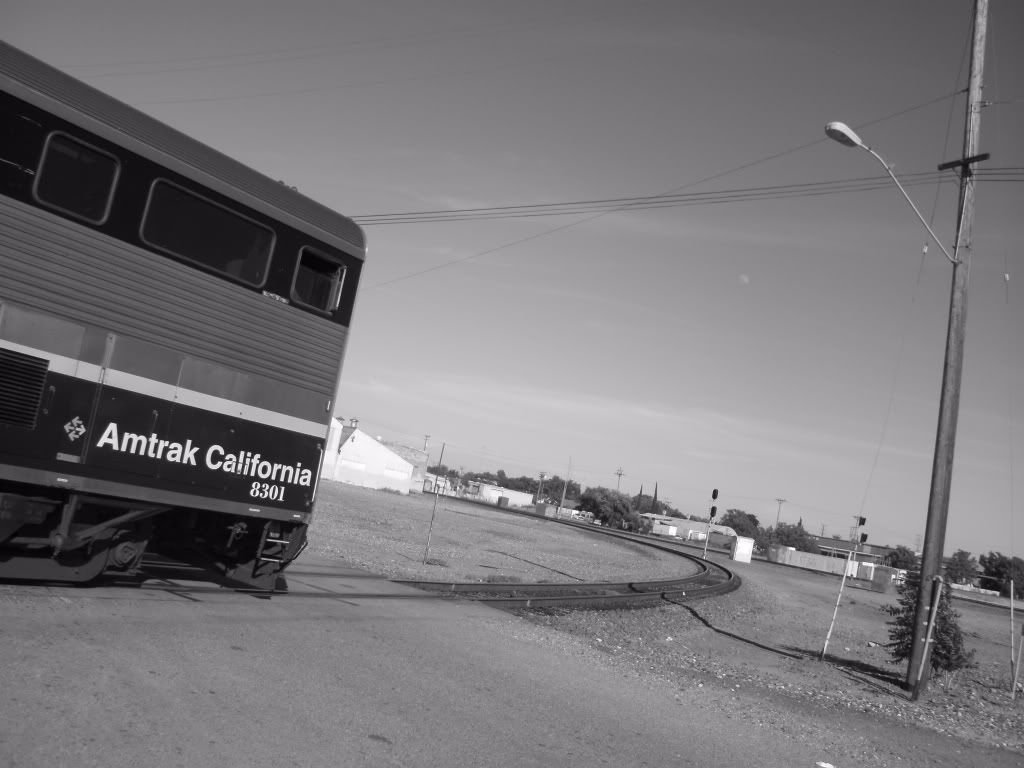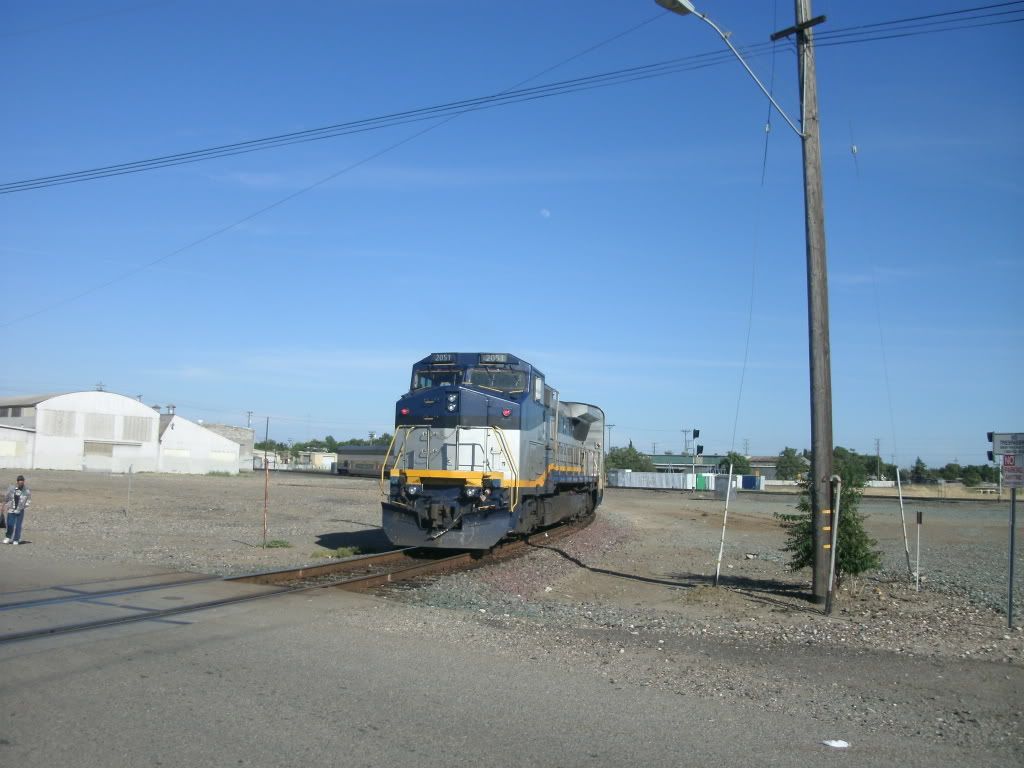 Someone else wants in the yard...as 1403 heads in with a short consist.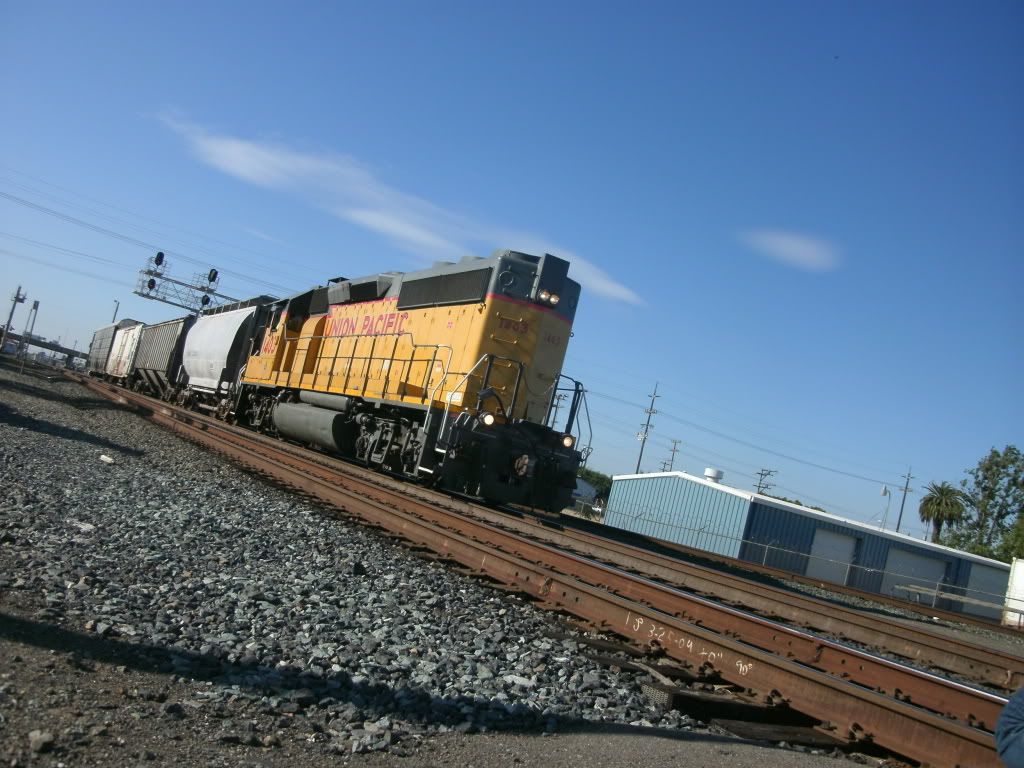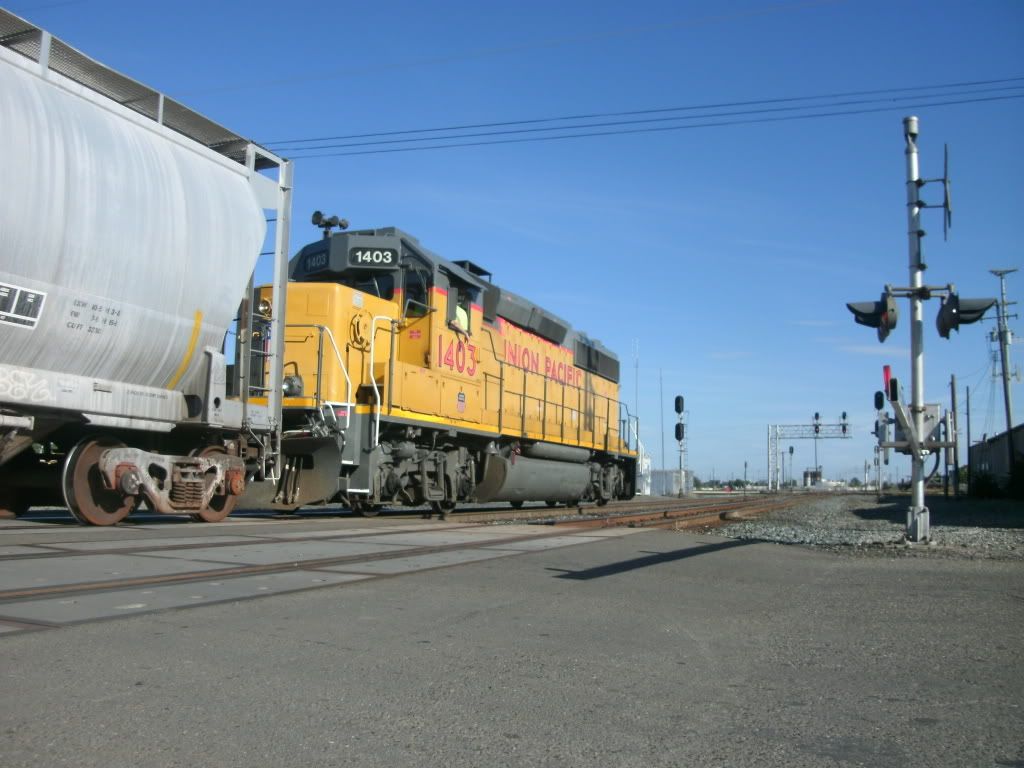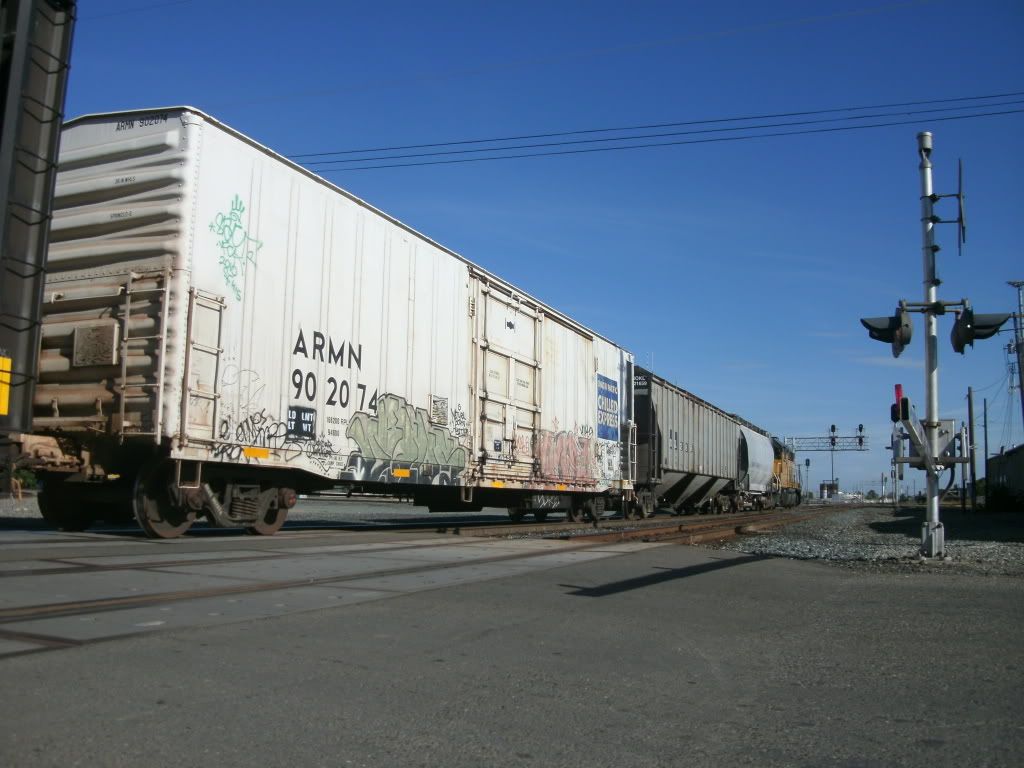 Friendly wave from UP 4211 and 2378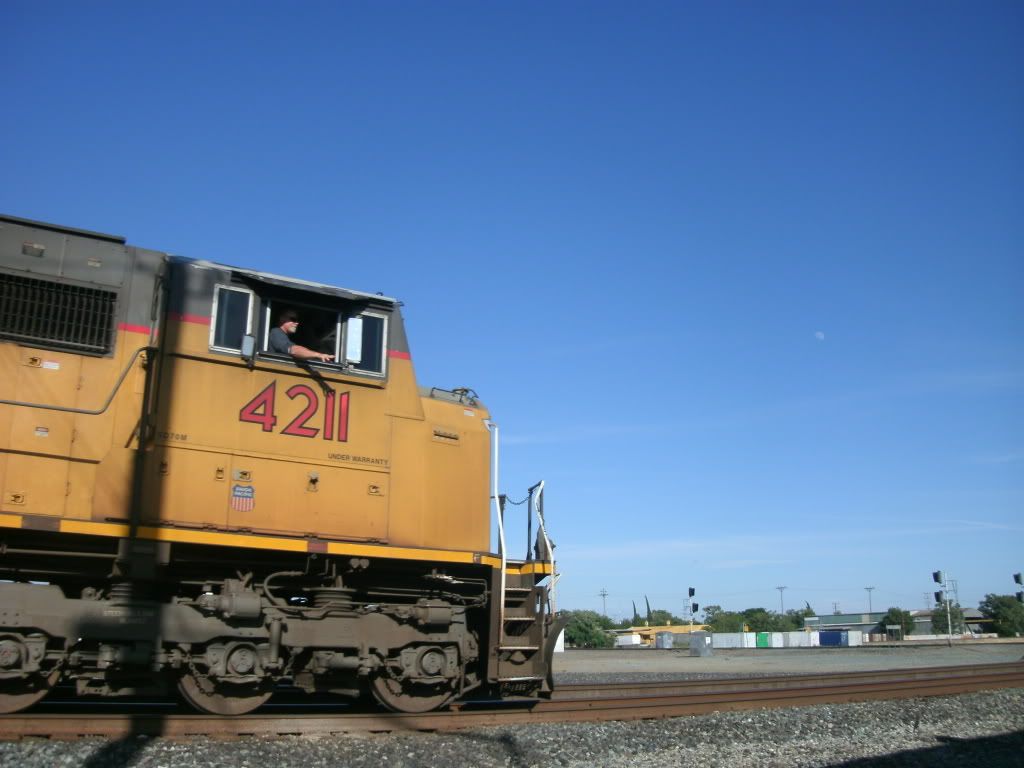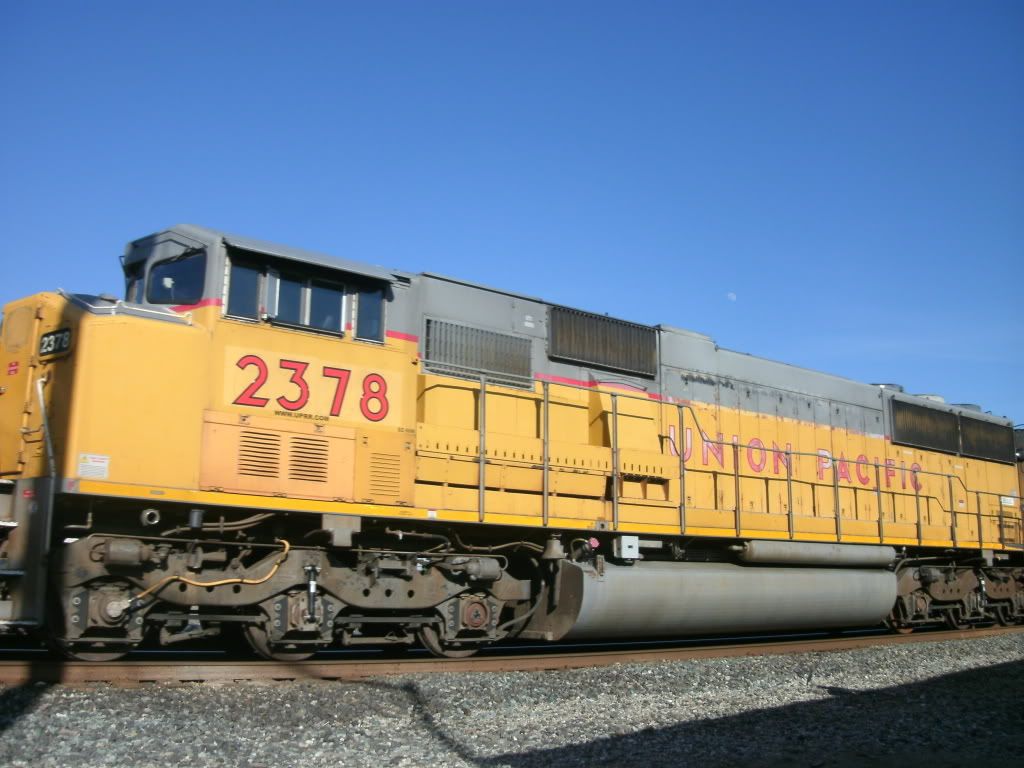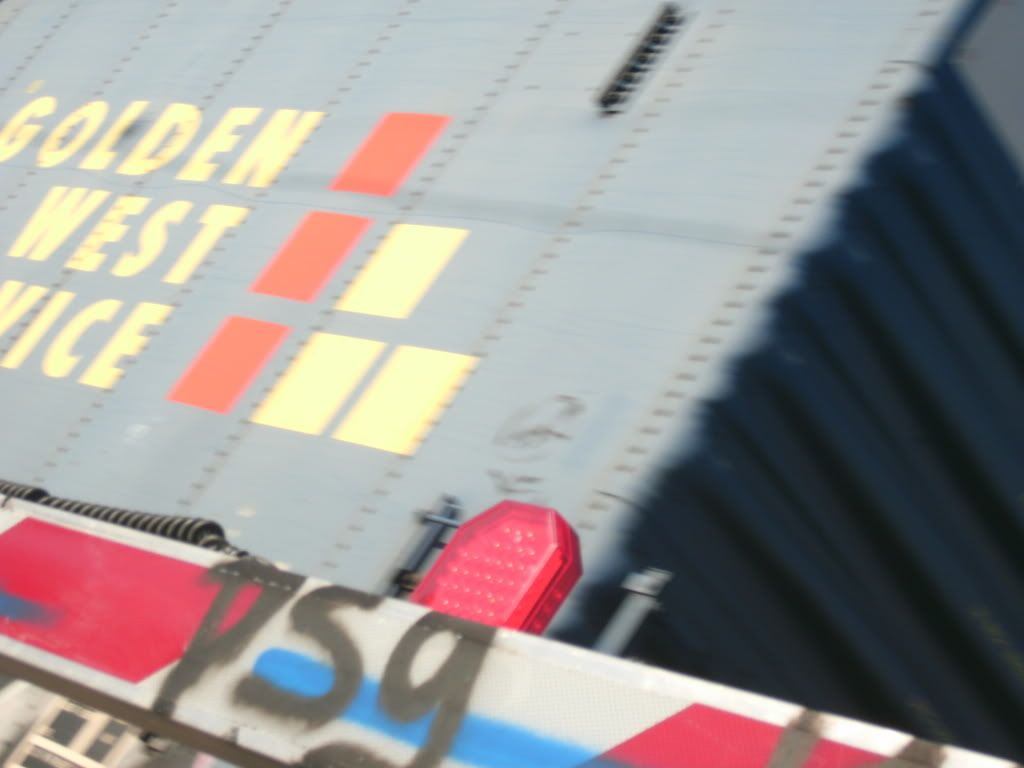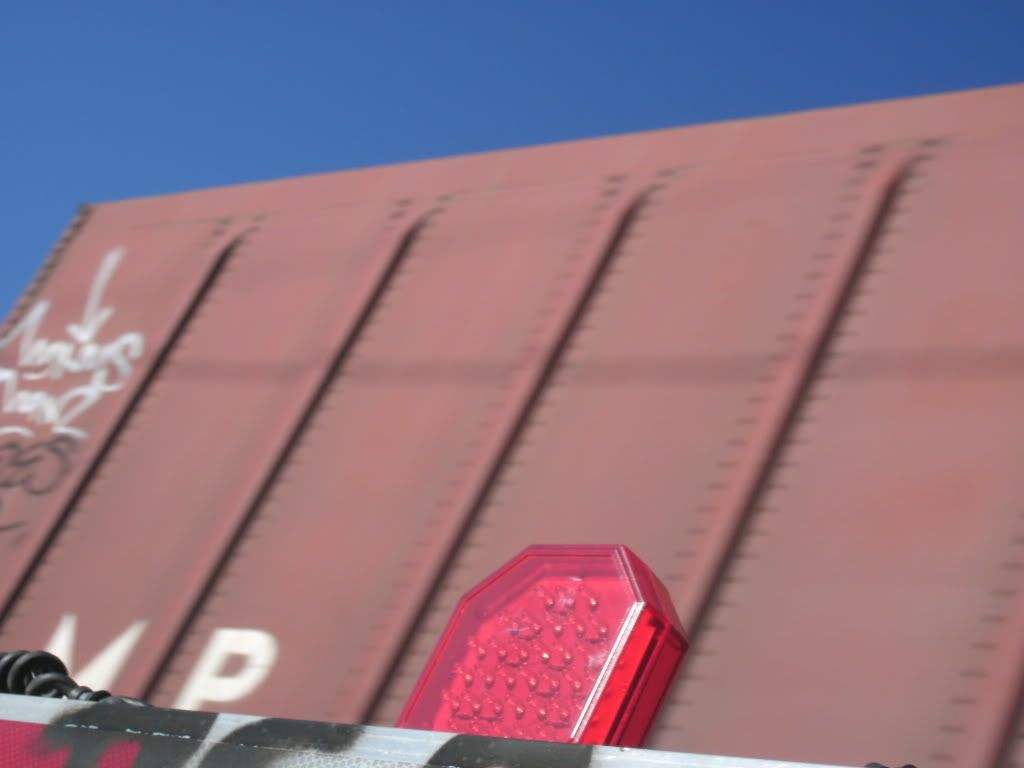 Another grain train pulls into the Port of Stockton to load grain for China or the Far East...I don't know or remember.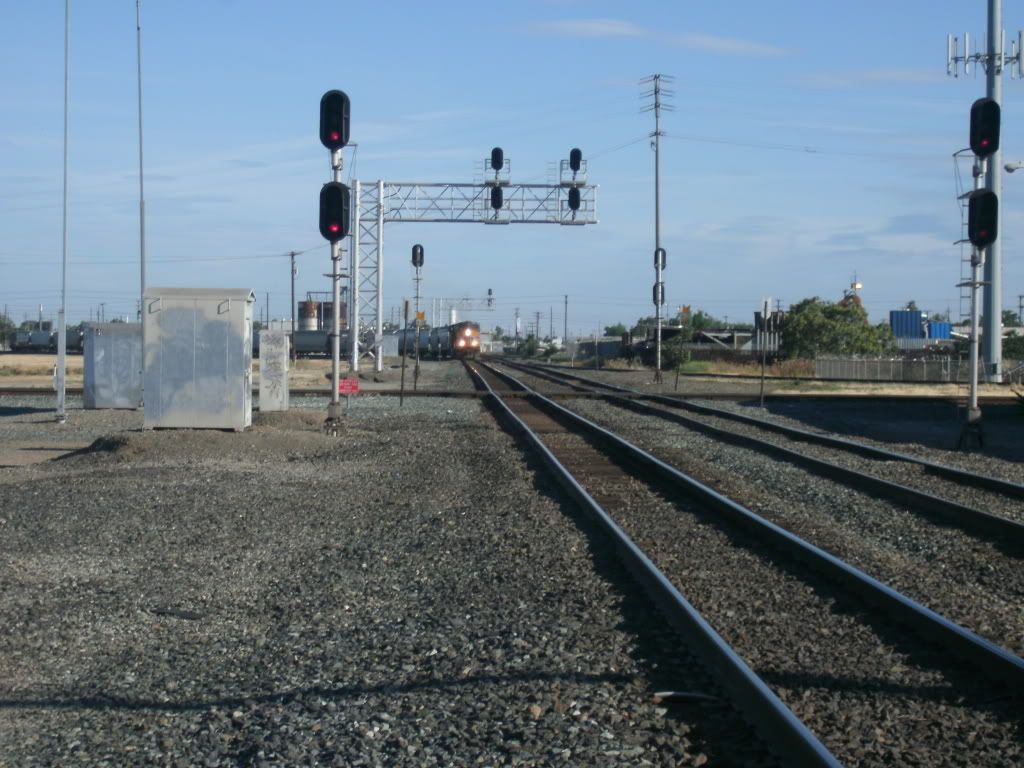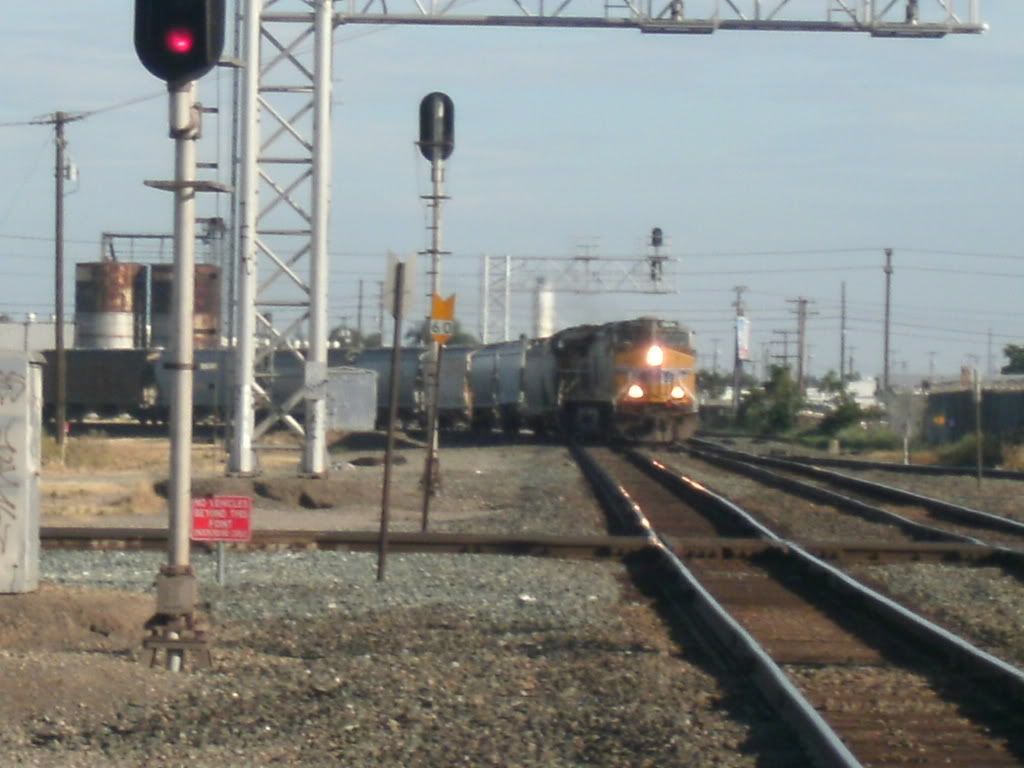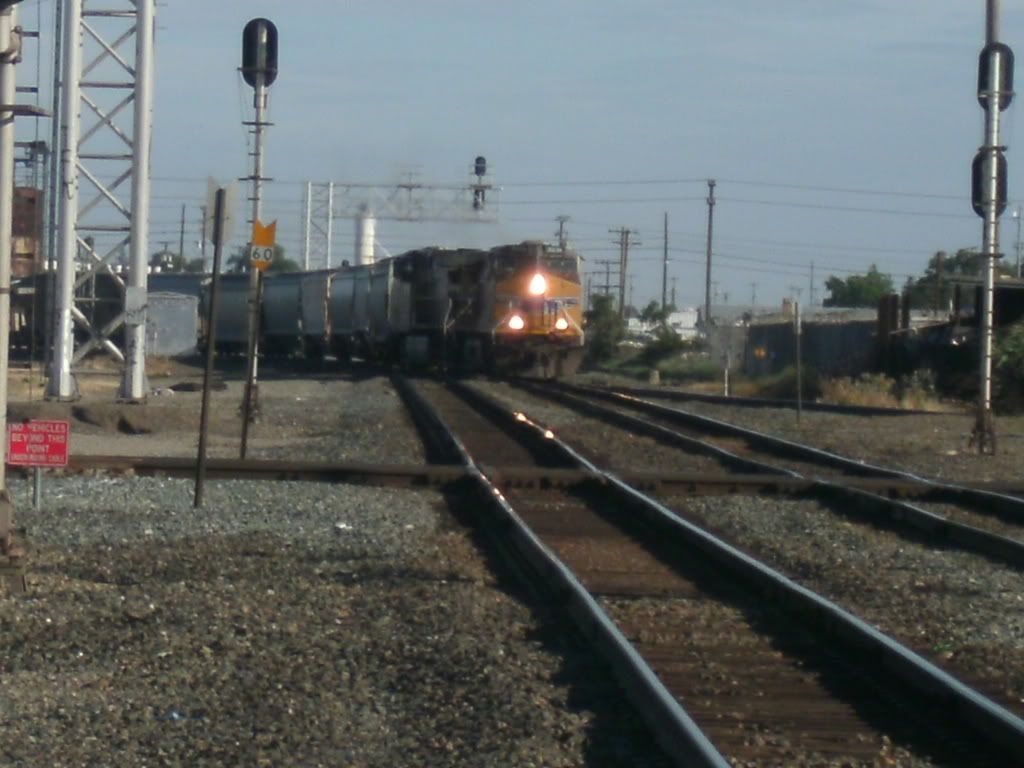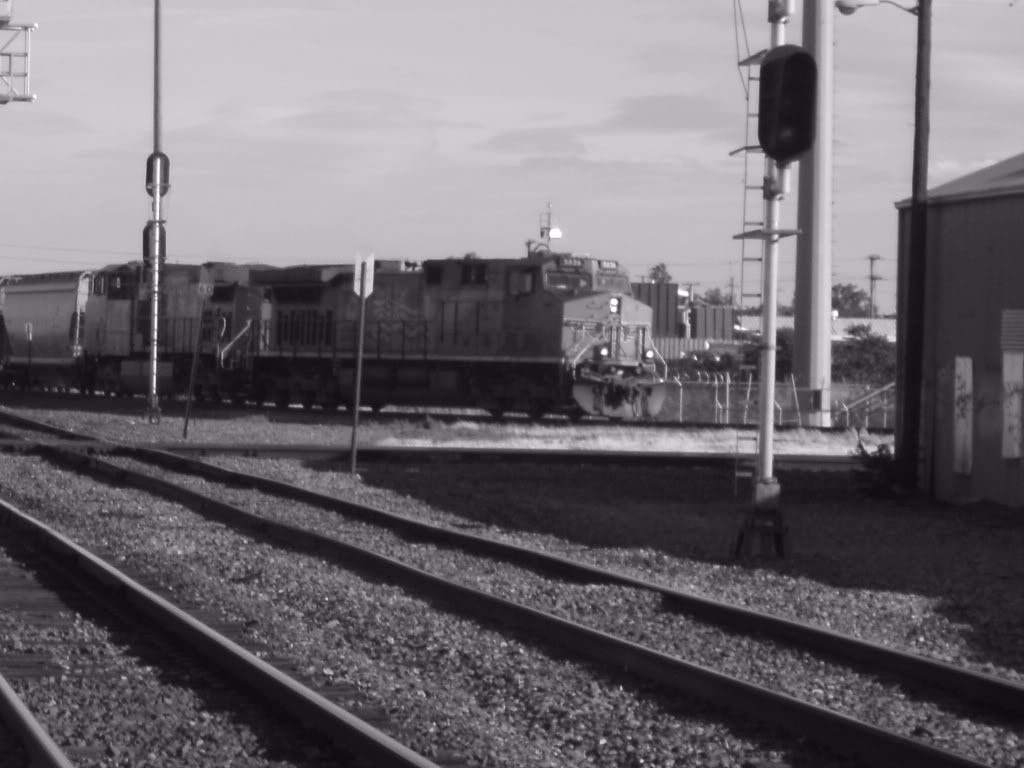 UP 558x, 6761, 7296 grain train with brand new UP hoppers (93xxxx series.) with 5980 pushing.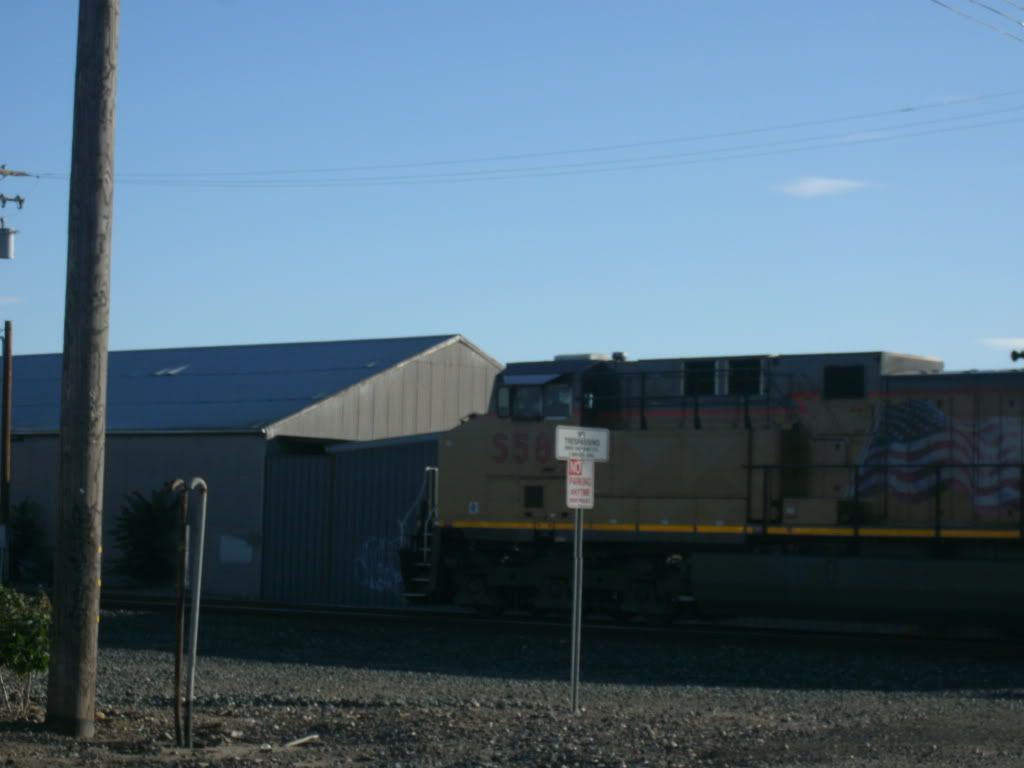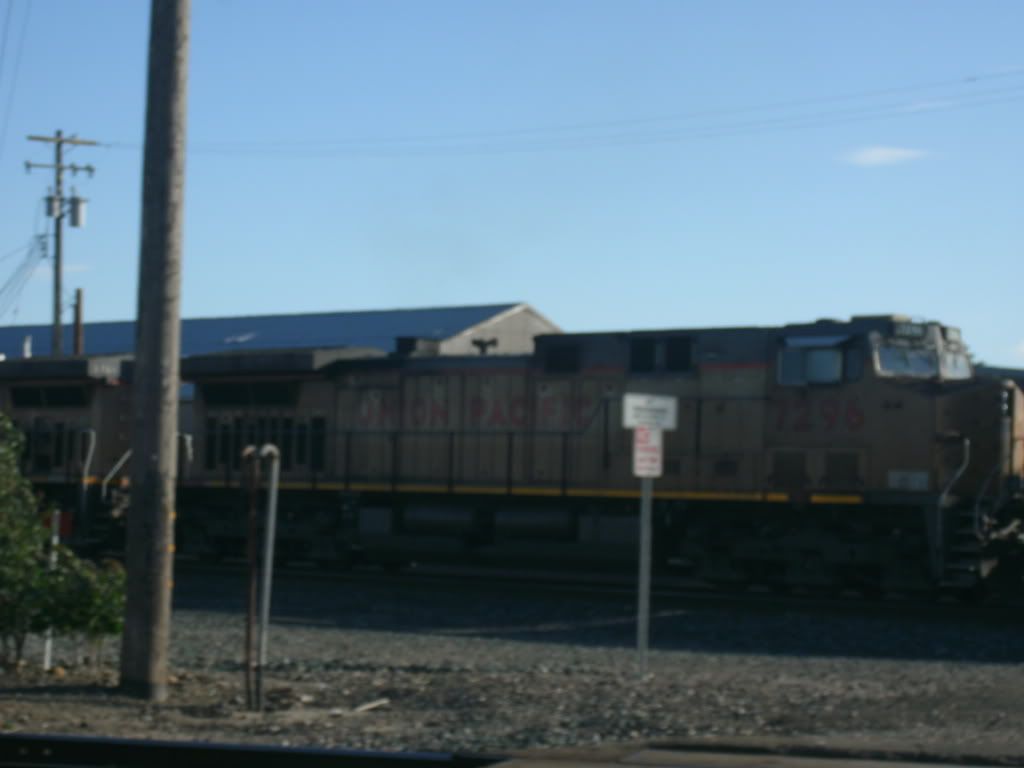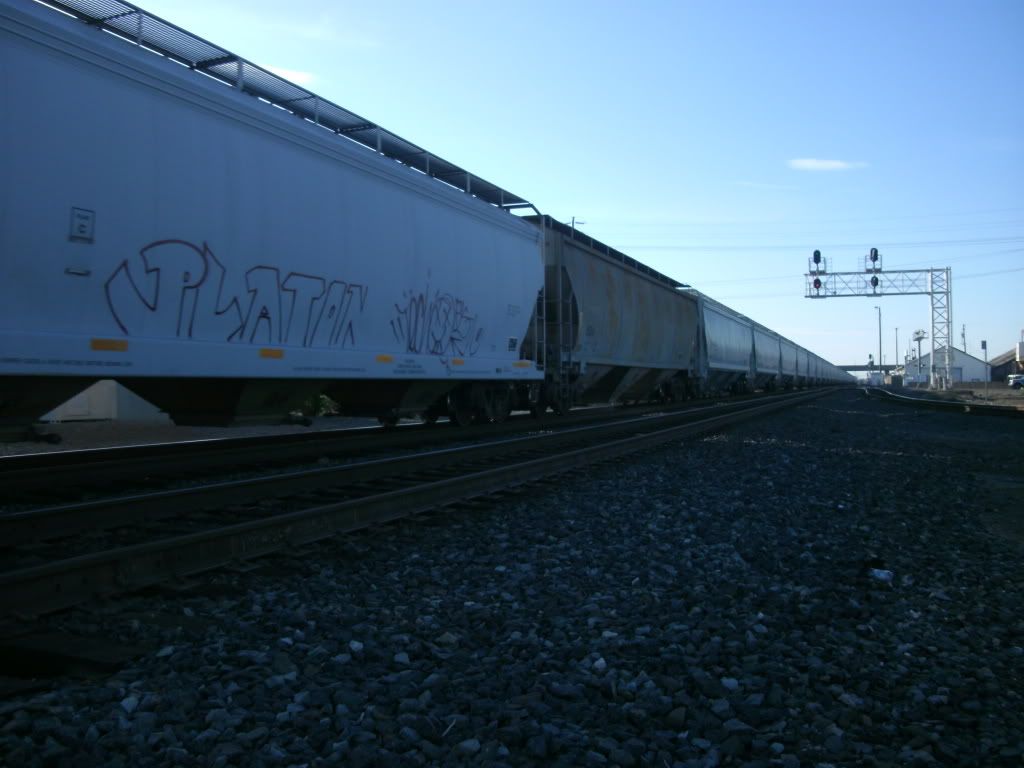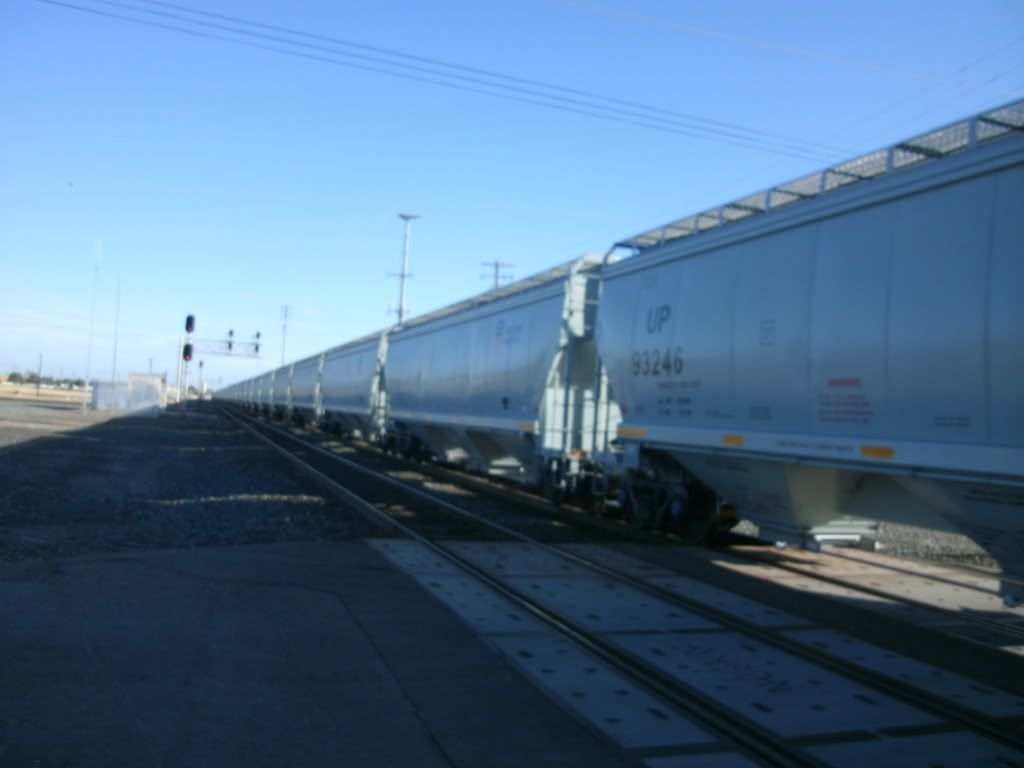 UP 2287(?) and XXXX lead another manifest.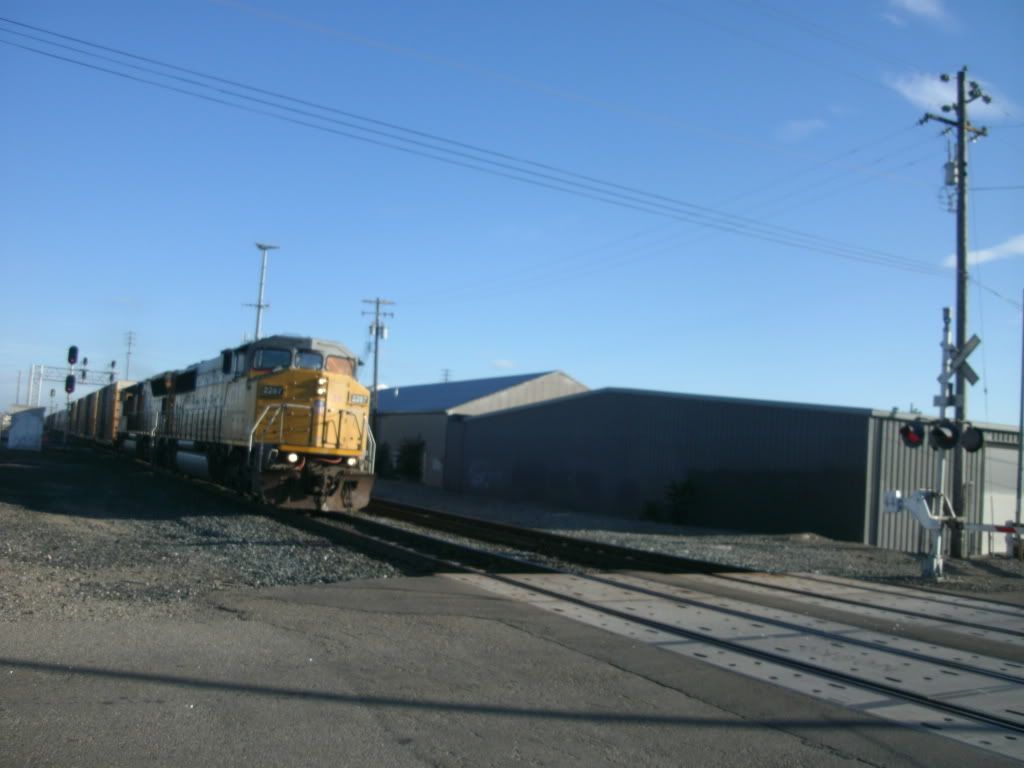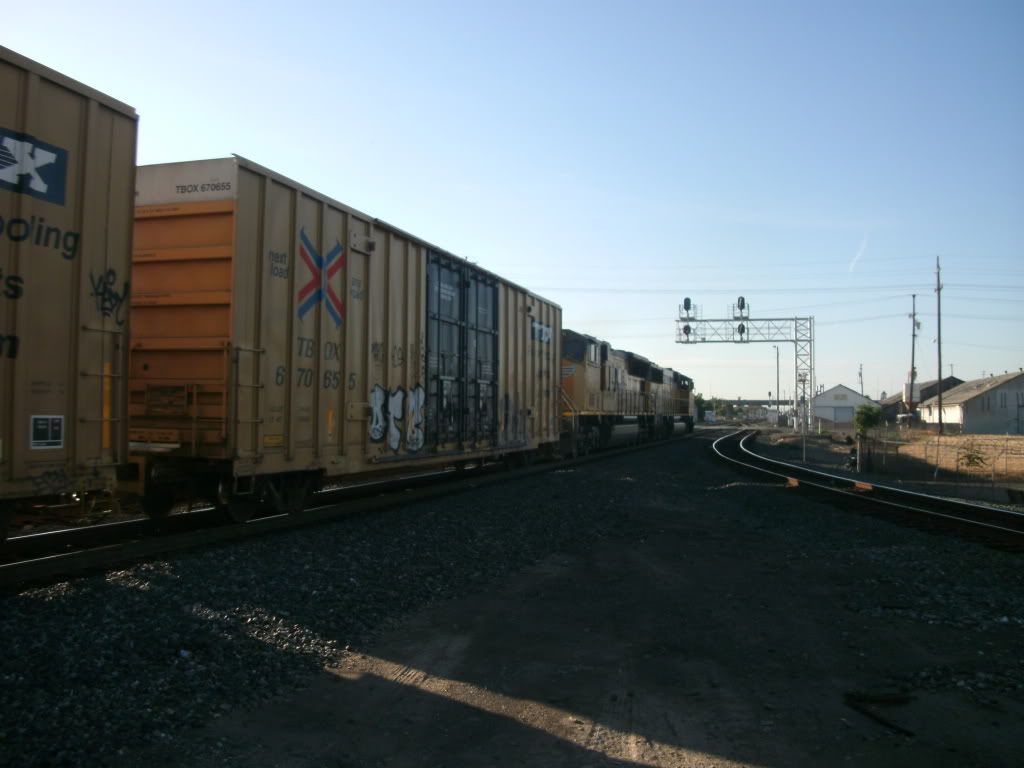 And that's it. Thank you.
Railfanning--->
Next---->
<---Prev