Hellenic Railways (OSE)
OSE English Home Page 
EN at the upper right is the gate to english page.
This is recently developed. At the right column TIMETABLE .with the same backgound with greek sign shown below. Select a depature station and a destination from pull down menues respectively. Windows of Alphabetic Rail Station Search will be opened. Major stations as Athina, Thessaloniki, Patra, Larissa and Alexandroupolis are upper line. Other stations should be found from a capital letters. Clicking on Search shows timetables. Arrival time to intermediate stations are revealed by clicking of the train number.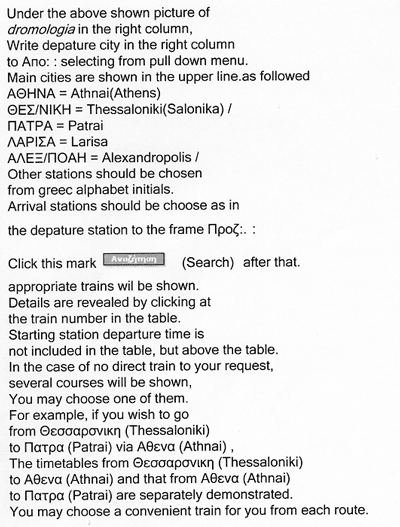 Links concerning to hellenic Railways 
Athens Metro
Electric Railways of Athens - Piraeus (ISAP S.A.)
Paleologos Shipping and Travel Agency
Ship Transportation in Greece
EMBASSY OF GREECE: Tourist Information 

Railroads in Greece by Paravent JA & Prevedouros PD

Saturday, March 13, 2004