During the first weekend in August, we were out hiking in the Indiana Dunes National Lakeshore when we heard the news -- the Hoosier State was finally running with Iowa Pacific's heritage train equipment. This included two engines, two coaches, and yes… an ex-Santa Fe full-length dome car! This service was several months in the making and finally happened.
For those of you who don't know the whole back story… here it the scoop. Let's start by rewinding a few decades. The Hoosier State entered service in October 1980. In April 1986, the long-distance Amtrak Cardinal (which then went from Chicago to Washington, D.C.) was rerouted to use the same tracks as the Hoosier State between Chicago and Indianapolis. The Hoosier State then ran only on days the Cardinal did not operate. The Hoosier State was restored to daily operation on a separate schedule from the Cardinal in October 1987. But funding cuts led to its discontinuance in September 1995 while the Cardinal continued tri-weekly operation between Chicago, Indianapolis and the East Coast. Amtrak restored the Hoosier State in July 1998, as a tri-, later quad-weekly train. From December 1999 to July 2003, the Hoosier State was extended south from Indianapolis to Louisville, Kentucky, and renamed the Kentucky Cardinal. After the discontinuance of the Kentucky Cardinal, the Hoosier State returned to operating four days a week in tandem with the Cardinal.
Fast forward to October 2008. The Passenger Rail Investment and Improvement Act (PRIIA) was signed into law which required the operating and capital costs of providing intercity rail passenger service on Amtrak routes of not more than 750 miles, be taken over by the affected state or states within five years. At a length of 196 miles, the Hoosier State is one of the routes affected by this provision of PRIIA. The State of Indiana became responsible for funding the Hoosier State beginning in October 2013. Faced with termination of a service that would have left Chicago to Indianapolis with tri-weekly train service, state and local officials arrived at a deal to share the $3,000,000 annual cost of the service, becoming the last state in the nation to arrive at a deal to save its short-distance train line in October 2013. Indiana sought alternatives to Amtrak operation and on June 24, 2014 selected Corridor Capitol, a Chicago-based rail passenger services development company, as its preferred vendor to manage and operate the service. Planning was underway for the company to take over the service as early as October 1, 2014, however Corridor Capitol did not meet that deadline and Indiana DOT discontinued negotiations with the company in November 2014. Amtrak continued to operate the train service under short-term contract extensions while the state considers alternative vendors. On March 6, 2015, the Indiana Department of Transportation (INDOT) announced that the Hoosier State would discontinue service on April 1, 2015. The decision was made due to regulations of the Federal Railroad Administration that would require the state of Indiana to act as a rail carrier, despite the state owning no tracks or trains; that requirement would, according to INDOT, increase the cost to Indiana taxpayers for no additional benefit. After Indiana appealed to the FRA, the train's operation was extended to April 30. On April 6, 2015, INDOT reached an agreement with Iowa Pacific Railway to take over the route on a temporary basis and keep it running, while a long term deal is worked out. Iowa Pacific outlined plans to expand service to multiple trips a day and improve speeds reducing the time between Chicago and Indianapolis from the current five hours. After multiple inspections and delays, Iowa Pacific began running the Hoosier State on Sunday, August 1, 2015, with the ex-Santa Fe Big Dome "Summit View" and two passenger cars, with power provided by a fleet of three GP40FH-2 diesel locomotives.

Now, let's discuss the planning for this trip – which wasn't easy, as you are about to see. We wanted to check the Hoosier State equipment for ourselves, but timing ending up being our first hurdle. As mentioned, the Cardinal runs three days per week and the Hoosier State runs four days per week… meaning, you have to pay attention to the schedule and see which date each train runs to make your trip work the way you would want it to. For someone who works Monday through Friday, it can be a bit of a challenge, actually, as we learned. The Hoosier State leaves Chicago on Friday nights at 5:45pm, but we knew that departure was out of the question, as there would no way we could get off work at 5:00pm and fight the horrible Friday night Chicago traffic to make it down to Union Station in time for this train. Then, Saturday night's departure is the Cardinal, which is Amtrak's long distance train to the east coast. The Sunday night departure from Chicago is the Hoosier State, but if you have to go back to work on Monday morning, that isn't practical either to do a round-trip. So, we pretty much learned that doing a round-trip on the Hoosier State out of Chicago for someone who works regular business hours on Monday through Friday wasn't really going to be a real option. So, it looked like we would have to find another mode of transportation south to Indiana and would only be able to catch the Hoosier State back into Chicago on Sunday morning – this made the most sense. So how were we going to do it? Well, we wanted the most time on the Hoosier State equipment so our preferred option was to go all the way down to Indianapolis and do the full 196 mile run back to Chicago. One option was to take the Cardinal down on Saturday night; the positive is this would still be a round-trip train trip, but the negative would be getting just four or five hours of sleep due to the quick turn-around time in Indianapolis between the southbound Cardinal (Train #50) and northbound Hoosier State (Train #851). The other option was to take Megabus from Chicago to Indianapolis; the positives were several departure options, which would give us time to do something in Indianapolis on Saturday night besides sleeping, and of course, the negative, was it was a bus ride, which I do not care much for, compared to taking a comfortable train ride. It turns out either of those options were out of the questions, because EVERY hotel room in Indianapolis was sold out for that Saturday night (August 8th)… apparently even hotel rooms that normally went for $1,200 a pop. We later found out that the reason behind this was a combination of the Indiana State Fair, a country music concert, and a popular motorcycle race that takes place at the same race track the Indianapolis 500. As we were just about to scrap our trip, the idea came into our heads to try and still ride, and just go for an intermediate destination closer to Chicago. At first, we looked at doing the trip to Crawfordsville (the stop just north of Indianapolis). The problem with this was there were no motels near the station. (There was one listed on Google Maps, but it didn't appear to exist on street view or have a legitimate website). The closest motels appeared to be several miles north of town along the interstate… and we didn't know if it would be a great idea to chance getting a cab ride late at night and early in the morning in such a small town. So, we moved another stop further north and looked at doing this trip to Lafayette, Indiana. There appeared to be several hotels with-in walking distance of the station and there would actually be about eight hours of turn-around time between the Cardinal and Hoosier State to get a good nights rest. So this was the option we finally set out to do… the Cardinal southbound on Saturday (August 8th) night, overnight at a motel in Lafayette, Indiana, and then the Hoosier State northbound on Sunday (August 9th) morning. Going along would be us, Robert and Kandace, and our friend from Milwaukee, Kathy Bruecker. Kathy has been a friend of ours for several years… we met her volunteering on Friends of the 261 excursions.
So, we left Chicago Union Station on the Cardinal right on-time at 5:45pm on Saturday night. Having Amtrak Guest Rewards Select Plus status, all three of us boarded from the Metropolitan Lounge. We did note that the new Legacy Club was now charging $20 per person for a visit (it had been $10 since they opened earlier this summer). We are curious to see what the annual membership fee will be for the club when it is announced by Amtrak. Anyway, since the trip between Chicago and Lafayette, Indiana was so short, we decided just to get coach tickets. We found it interesting that coach on the Cardinal was only going for $19.20 a person after our NARP discounts. The four hour ride here was actually cheaper than the 90-minute ride on the Hiawatha Service between Milwaukee and Chicago, which is now up to $24.00 per person. It doesn't make any sense, even though I am told that the Hiawatha is always at a high price bucket since it's a flat fee unreserved service. The Cardinal consist had three coaches and it appeared that the conductors were sorting people on each car depending on their destination. The first coach was for people going all of the way to the east coast – anywhere from Alexandria, Virginia all the way to New York's Penn Station. We wondered why people who didn't appear to be rail fans were purposely choosing to take the Cardinal between Chicago and New York, as they could have taken Amtrak's Lake Shore Limited and gotten to their destination a lot quicker, but oh well. If we have the time, the Cardinal is our preferred train between Chicago and New York because going through the New River Gorge in West Virginia is absolutely beautiful, but of course, if you take a look at a map, it does make no sense at all, as you are dipping south a few hundred miles, then going back up. (We are planning rides on the Cardinal in September for a business trip to West Virginia and then in December for a trip to Washington, D.C. and New York City). Anyway, the second coach seemed to be filled with people with destinations in Kentucky, West Virginia, and Virginia, and then the third coach was full of short-haulers going between Dyer, Indiana and Cincinnati. This seemed like a good loading plan, because if you were going to the east coast and would be sleeping overnight on the train, you wouldn't have to be awakened with people getting off at various stops throughout the night. We settled in and noticed a lot of other people… especially Purdue college students… were also headed to Lafayette, Indiana.
The sign board for the Cardinal, Train #50, taken at Chicago Union Station on Saturday, August 8, 2015
(Photo by Robert Tabern)


Kandace Tabern at the rear of Amtrak's Cardinal, Train #50, at Chicago Union Station
(Photo by Robert Tabern)


Our friend Kathy Bruecker settles into her seat on the Cardinal in coach, just before departing Chicago Union Station
(Photo by Kandace Tabern)

The only other times we have taken the Cardinal we had been in a sleeper, so we were kind of wondering how dinner in the dining car was handled for coach passengers. As you may know, the Cardinal operates with a combiner dining-lounge car. There is a center bar area where food is cooked; one side of the car has about five or six tables that serve as a lounge car; the other side of the car has about five or six tables that are used as the dining car area. Personally, we think this is a horrible set-up, as who wants to be on a train for potentially more than 24 hours and have to fight for five or six tables of "lounge car" space? Likewise, on a train with a few hundred passengers, five or six tables for the dining car isn't really practical either… meaning only maybe 20 or 25 people could eat at a time. We didn't know if we were even going to get a sit-down dinner, as we figured the sleeping car passengers would be brought into the dining area first and then us, in coach, would get whatever space was left over. We asked the conductor how this worked and he mentioned that he would make an announcement when the dining car was open for coach passenger and that we should head in there "right away" if we wanted a full sit-down dinner. Just out of Chicago, he made the announcement and we headed in there in an attempt to be part of the first seating. We did walk quickly and were the first three in the dining car and were seated with a nice gentleman who was from Chicago and was going down to Indianapolis for the motorcycle race. That is when the sometimes-typical Amtrak behavior started amongst employees. One member of the dining car crew started to hand us menus and another member of the staff asked us "what do you think you're doing – we need to seat the sleeping car passengers first!!!". Complete disorganization. Apparently the conductor was not supposed to make the announcement inviting everyone to the dining car until the sleeping car passengers were taken care of first. Ahhhh.... Oops! The two employees were actually going back and forth on what they should do, as more sleeping car passengers and coach passengers were arriving to eat. They decided to let us stay – and then just tried to do more "to go" orders for people in the sleepers. Of course, the menu ended up being "diner lite" – meaning food they can only cook in the convection oven. No steaks or really quality meal selections here anymore. Mixed reviews on the dinner. Kandace, who had the chicken, said it was actually pretty good. Our dining car partner had the beef and said you could tell it was done in a microwave and wasn't very good. Kathy and Robert had the pasta and it was just average – tasted like it came out of a can – and really wasn't worth it for the $15.00 price they were asking. Everyone had the tiramisu for dessert which actually made it better. By the time dinner was over (it took way too long for us to be served) we were already in Rensselaer, Indiana. There was a table in the lounge area that opened up (people waiting for our table, I guess!?), so we decided to sit in there and watch the sunset over the Indiana corn fields. We headed back to our seats a few minutes before coming into Lafayette, and got our belongings together.
A nice place setting on Amtrak's Cardinal in the combined dining car/lounge
(Photos by Robert Tabern)





A "selfie" (hence, a little blurry) taken with the Cardinal

menus and Robert & Kandace Tabern
(Photo by Robert & Kandace Tabern)


Kathy enjoys her dinner roll onboard Amtrak's Cardinal, somewhere near the Illinois-Indiana State Line
(Photo by Kandace Tabern)



Our dining car selections on Amtrak's Cardinal; chicken (top) and pasta (bottom)
(Photos by Robert Tabern)


An interesting looking table in the combined dining car/lounge car on the Cardinal; you can tell the train car was not meant to be designed like this
(Photo by Kandace Tabern)



The Cardinal arrives a few minutes early into Lafayette, Indiana, allowing time for a quick picture before it departs for the east coast
(Photo by Robert Tabern)


Our hotel of choice was the Campus Inn, which was about a 0.4 mile walk from the station. There was a Hilton Garden Inn even closer, but we were not looking for something quite that fancy. We got two rooms that were $69.00 a piece, or about $78.00 after tax. The walk between the station and the Campus Inn took us across a pedestrian walkway over the Wabash River and through a small park, but it was well lit and we felt safe the whole time, as the main highway and business strip were located very close to the walkway. The hotel was clean and comfortable and the manager at the front desk was friendly; we would stay there again. Again, it was nothing fancy, but was very economical for a quick overnight.
The next morning we all met up in the lobby of the hotel around 6:45am. We didn't even bother checking the train status, as we figured the train would be just coming from Indianapolis and would leave on-time. We learned that there was about a 45-minute delay from Kathy who did check the status (we never heard what the source of this delay was, but really forgot all about it with the beautiful train set we were riding on). I pulled out my laptop and started writing this story while everyone else enjoyed a bagel and some coffee. Soon, it was time to go and walk back to the train station. It was a beautiful view of the Wabash River now we had some daylight for our walk back to the station. We met a local on the bridge who mentioned that the river had been in flood stage for 3 months! We guess Indiana was in flood stage while northern Illinois and southern Wisconsin is nearly in drought conditions; it's been an interesting summer of contrasting weather. Anyway, we walked down to the loading area for the Hoosier State. We found the location of the Lafayette, Indiana station very interesting. The actual station was an old New York Central station that was moved a few blocks away to its current location along the Amtrak (CSX/NS line). There are three tracks that pass through Lafayette. The two closest to the station are owned by Norfolk Southern and aren't used by Amtrak. So yes, there are actually no platforms on the station side, as Amtrak never stops there. That means passengers must walk across a pedestrian walkway across the tracks from the station to board the train every day. Amtrak used the single-track CSX line on the far west side. We were welcome by a gentleman who said that he was the "unofficial greeter". We were trying to figure out if this was something he did for fun, or if this was actually endorsed by Amtrak. We figure the first option, as he had a hand-made nametag on and a fanny pack with some Amtrak patches on. Regardless, he did give us some interesting tid-bits about the station and the railroad lines that passed through there. Apparently the NS line went between Chicago and Fort Wayne, Indiana (where I used to live from 2001-2003), and then the CSX line was the main freight and passenger line between Chicago and Indianapolis.

The 0.4-mile walk between the hotel and the Lafayette, IN train station takes you over the historic Wabash River
(Photo by Robert Tabern)


Kandace Tabern and the Lafayette, Indiana Amtrak station; note the two tracks closest to the station are Norfolk Southern and the track closest to the platform is CSX and is only used by the Cardinal
(Photo by Kathy Bruecker)


The man who "greets" passengers at the Lafayette, Indiana Amtrak station
(Photo by Robert Tabern)

The

Hoosier State

pulled in about 50 minutes late, not making up much time between Indianapolis and Lafayette, but it was quite exciting to see the new Iowa Pacific consist that we had been waiting for and was the purpose for this trip. The train had an engine, followed by the full-length ex-Santa Fe dome car, two coaches, and another engine. We were the first people to board from the Lafayette station, as we were a group of three.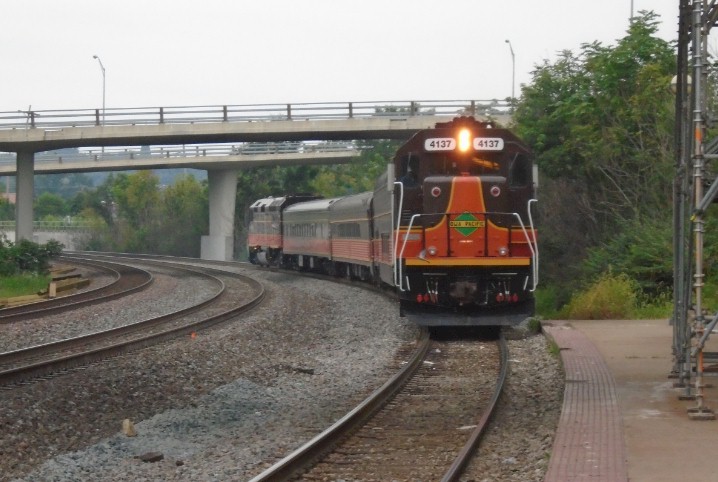 Arrival of the "Hoosier State" into Lafayette, Indiana on the morning of August 9, 2015
(Photo by Robert Tabern)

Coach seating on the Hoosier State; photo taken while still sitting at the Lafayette station
(Photos by Robert Tabern)


We didn't quite know what to expect getting on in Lafayette instead of Indianapolis. My fear was that the dome car would be just full of people who got on at the first two stops and we wouldn't be able to get in there at all. After getting our ticket collected, we headed up to the dome car to check things out, and to our surprise it wasn't even one-quarter full! It amazes us that most average passengers don't seem to really care about the dome car and spending time up there. I noticed this on the Hiawatha and other trains when Amtrak decides to throw on its "Great Dome" Car #10031 (

Ocean View

). Anyway, that was fine with us and we knew that is where we would be spending the rest of the trip. What a difference in service compared to what we got on the

Cardinal

the night before! We were greeted by an Iowa Pacific official and a waiter in a white pressed outfit and bow tie! How classy!! They explained that breakfast was being served downstairs and we could go down whenever we wanted – and that seating in the dome was considered "lounge space" and that it was open to anyone and that we could stay up there until arriving just before Chicago Union Station. Again, we were just impressed by this and couldn't say enough about how amazing customer service was on the new and improved Iowa Pacific version of the

Hoosier State

. I mean just the lounge car space was amazing – fighting for five tables on Amtrak's Cardinal that had small windows – versus a full-length ex-Santa Fe dome car! After just enjoying the views for about 20 minutes, we decided to head to the lower level of the dome car for some breakfast.


Kandace Tabern and the upper level of the dome car, used as a lounge car for now
(Photo by Robert Tabern)


e
Enjoying the views from the upper level of the dome car on the Hoosier State
(Photo by Kathy Bruecker)

Another view of the upper level of the lounge car; note white table cloths for lounge area
(Photo by Kandace Tabern)


Is this 1950's or 2010's train service?? A service attendant makes drinks for two passengers on the Iowa Pacific Hoosier State train
(Photo by Kandace Tabern)



Kandace Tabern and Kathy Bruecker enjoying time in the upper part of the dome car, just before heading down for breakfast
(Photo by Robert Tabern)


The two things that really stood out to us were the high quality of the meals and the extremely low prices for such selections. For example, a plate full of eggs, toast, hash browns, and bacon were going for just $6.00. Yep, $6.00!! You know on Amtrak that would have cost well over double that. All of us ended up ordering the $6.00 plate – of course; I got an extra order of crispy bacon. The quality of the meal was outstanding – it really rivaled the service and quality of food on VIA. The last time I rode the

Cardinal

and had breakfast you could tell the eggs were equivalent to that of a microwaved McDonald's Egg McMuffin patty. But, no, the chef actually scrambled them up himself in the kitchen – which I ended up getting a quick tour of. Apparently the chef had worked for Amtrak for a number of years and actually quit to come and work for Iowa Pacific. We can see why! Our only two hopes are that the prices don't jump dramatically and that the level of service doesn't decline after the initial weeks of service. We doubt it knowing the quality the Iowa Pacific is known for, but it's worth mentioning. Oh, and who doesn't love the fact that Iowa Pacific is using REAL china and silverware. Even the coffee cups and napkins had Hoosier State printed on them.


Breakfast time on the Hoosier State! Meal service takes place on the lower level of the dome car.
(Photo by Robert Tabern)



A yummy breakfast on the Hoosier State for just $6.00!
(Photos by Kandace Tabern)


The Hoosier State chef gave us a quick look around the kitchen
(Photo by Robert Tabern)
After breakfast we were near Dyer, Indiana and headed back to the upper level of the dome car to enjoy some more views of Indiana and coming into Chicago. We spent some time talking more with the Iowa Pacific executive who was very friendly and attentive to what we thought of the service. Apparently, after about Labor Day or so, the upper level of the dome car will becoming "business class", which means seats will go for about $99.00 one-way, but will feature meals brought to your seat and unlimited alcohol. Not a bad deal, especially since it will be a nice way to separate yourself from the noisy college students and coach passengers. There is also WiFi throughout the train. We look forward to checking this business class service out later this fall and hope it is successful for Iowa Pacific. Just after crossing the Indiana-Illinois State Line, the Iowa Pacific official gave us a comment card so that we could throw out some ideas for improved service -- we suggested maybe selling souvenirs? Service was so good, it was hard to find things to suggest to improve on. The only thing we didn't care for was one of the Amtrak conductors seems really rude (guy with the dreadlocks) and barked orders at where people should sit when we got on and proceeded to put his backpack out in the aisle and block 8 seats for himself; the other conductor was very friendly and even told us about some of the history of the railroads we were traveling on and explained how the route of the Hoosier State was one of the hardest crossings to get into Chicago, as you traveled across more than a half-dozen railroads (Amtrak, Metra, CSX, Norfolk Southern, Union Pacific, Indiana Harbor Belt) between Dyer, Indiana and Chicago Union Station. We didn't know that!

Kandace and the famous Monon "smiling" water town, as seen from the upper level of the dome car
(Photo by Robert Tabern)


Photos of the Hoosier State on Sunday, August 9, 2015 at the Dyer, Indiana Amtrak Station
(Photo Courtesy: Russell John Sekeet)
Passing through the Union Pacific freight yards at Dolton, Illinois
(Photo by Kandace Tabern)

A view of U.S. Cellular Arena, home of the Chicago White Sox, from the dome car - a sign our trip was coming to an end!
(Photo by Robert Tabern)

A photo of our train arriving into Chicago on Sunday, August 9th
(Photo Courtesy: Russell John Sekeet)

Just as the White Sox stadium came into view, the conductor asked us to return to our seats so that we could begin preparing for our trip into Chicago Union Station. We headed back to the last coach where we only spent a few minutes upon boarding and heading up to the dome car and got our things together. What an amazing trip! We are already planning on riding again towards the end of October to check out the new business class service that they will be offering.
Ex-Santa Fe Big Dome "Summit View" is now running out of Chicago Union Station four days per week on the "Hoosier State"
(Photo by Robert Tabern)

The "end of the line" at Chicago Union Station with the Hoosier State and Robert and Kandace Tabern
(Photo by Kathy Bruecker)