Toronto Terminals Railway
Recent years history
Union Station Rail Corridor USRC

City of Toronto purchased Union Station in 2000.
GO purchased all TTR trackage.

Note: TTR retains operating jurisdiction
and is still owned 50/50 by CN and CP.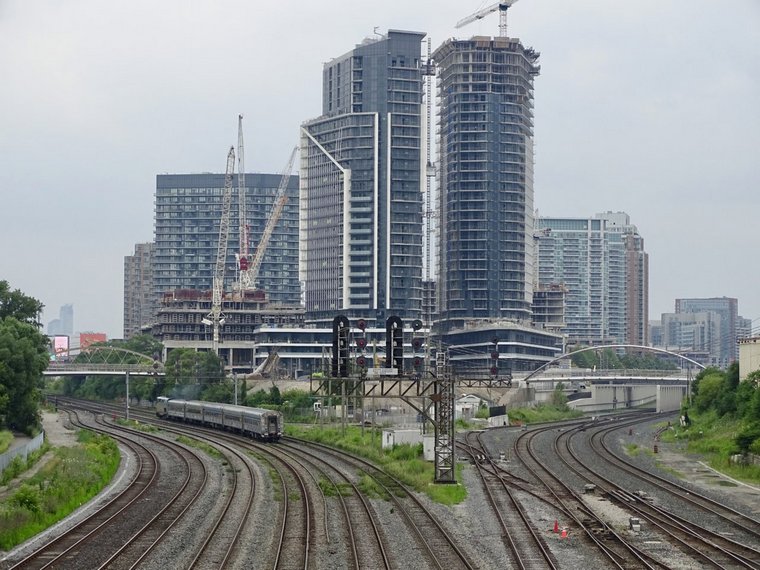 Garrison Point with 29 and 35 storey highrises on Ordnance St. (right angle deadend off Strachan Ave.)
Endless highrises cover the waterfront from Don Valley to Sunnyside.
Foreground: Sight of former Cabin D. July 2019
GO 611 shoving westbound towards flyunder beyond new footbridge. View in opposite direction is below.
VIA 6454 deadhead equipment off No.2 Canadian on the way to VIA TMC in Mimico Yard. July 15, 2017
Looking east at the incredible growth of highrise towers only a portion of which are shown in this photograph.
CN 3150 RS-18 Tempo unit leads train westbound to London. New pedestrian overpass leads from Union Station.
The many slip switches guarded by pot signals are referred to as puzzle switches. The area is called the berry patch
for the many strawberry red lights. John Street Interlocking tower still with its roof. Note the arrow light which changes
to indiciate to trainmen of arriving trains which vestibule doors to open. Note too the loudhailers on the nearby pole.
These are located throughout the plant to give instructions to movements. Far left track drops down to lower level to
reach CN Express shed. Left deadend track is York Street team track for business cars. A lead and then another
deadend track known as the fence track used to store spare CN passenger cars to be quickly added to trains with
sold out seating. Looking east. October 15, 1977 Bill Thomson
---
Ontario Northland operated daily passenger trains including the night Northland for many years via the CN Bala Sub.
A variety of equipment was used from GMD "covered wagons" to European TEE (Trans-Europe Express) equipment first with original diesels and later with modified A units on the day time Northlander. The Government of Ontario ended funding in 2012 for most passenger service retaining only the far northern Polar Bear service between Cochrane and Moosonee. The last run of the Northlander was on September 28, 2012.
ONR 1980 original TEE Train locomotive arriving as No. 121 Northlander via the CN Newmarket Subdivision
passing Cabin D. April 12, 1979 Janusz Mrozek
ONR 1984 with former TEE deadhead equipment heads west to VIA Toronto Maintenance Centre in Mimico Yard. 8/1985
Service operating via the CN Bala Subdivision following abandonment of the Barrie-Orillia segment Newmarket Sub.
---
VIA Rail Canada
VIA Rail replaced CNR and CPR in providing passenger service starting in 1976 and in the years following this, both railways moved their offices out a little at a time. The biggest change to the railway scene was outside the TTR property although adjoining it seamlessly. It came with the removal of the CNR Spadina roundhouse and coach yard replaced by VIA's own facility at CNR Mimico Yard, as well as closing of the CPR's John Street roundhouse, car shop and coach yard.
CN No. 5 VIA's Super Continental westbound to Vancouver. April 1980.

Note CP Rail light engine (MLW yard unit) at far upper right. Far left CN Business car on TTR York Street Team Track.
3rd track from far left is "fence track" used to store some extra CN passnger cars for last minute addition to trains.
Note too the "puzzle switches" so called because these slip switches presented a visual puzzle to approaching engineers
to see just what track they were lined up on.
---
The creation of GO Transit commuter trains on the CNR between Oakville and Pickering effective May 1967 began a reversal of declining train movements which further increased in years to come with the addition of five new routes on both CNR and CPR. This increased traffic resulted in a number of changes over the years. From GO's inception the ticket and waiting concourse was located in the arrivals area of the station underneath the Great Hall. This space was originally known as the Exit Concourse for intercity passengers and it reverted to its original use following GO's move August 2, 1979 into a new GO Transit concourse located in the basement of the East Wing. Among the changes made to Union Station to accommodate this new concourse was the closing of the original 1954 TTC subway entrance located opposite the LCBO. Two new subway entrances were built at the north end of the new concourse, closing off the east part of the lower level driveway from Bay Street originally built for vehicular traffic and taxis. This area is now called the moat and is scheduled for extensive commercial redevelopment. The Post Office had occupied the East Wing since 1920 and moved out in the 1970s. The upper four floors of the East Wing are now occupied by Scotiabank, although they are expected to vacate the main floor in 2010, when that space will become public for the first time since the station was built. Scotiabank's lease of the top three floors expires in 2016, when it is expected that the space will be needed for further GO expansion. The GO concourse will change after the renovation of Union Station. It will be on the same level as the TTC mezzanine so people won't have to climb those dozen steps when exiting the subway station. Meanwhile GO has expanded further into the basement area underneath the train shed. By 2014, a continuous level concourse will extend from Bay to York Streets, with VIA occupying the centre portion.
This increase in trains eventually resulted in a small expansion of the train shed adding two more tracks as seen in this September 1979 photo by Ted Wickson.
CN 8831 westbound on CN Highline past new construction.6/12/2007 Clayton Langstaff
Another expansion in 2009 (opened May 11th.) added another platform to squeeze in more tracks for GO. June 22.2009
---
GO Highway Coaches
Initially, GO buses (1909, 1908, 1431 shown here) simply used the south side of Front St. W. in front of Union Station.
1900 series were a special model for GO. New Flyer D40 Suburban, having no rear doors.
Note signs (above bus roof) marking stairs direct to/from TTC subway and GO trains.
2002 Felix Tse
---
Finally, on July 1, 2000 after years of negotiations, the City of Toronto purchased the Union Station, CPX Building and the Toronto Terminals Railway itself, for $55 million. This sum included settlement of a long-disputed lease of the city-owned land. Later, the tracks were sold to GO Transit and Union Station Rail Corridor (USRC) was created. The TTR remains the legal federal railway operating the USRC as well as Union Station under contract to the owners. Note: Effective May 1, 2009 the City of Toronto took over the day-to-day operation of the Union Station (not USRC) from the TTR.
The first major change was the demolition of the former Canadian Pacific Express facility and office building at 141 Bay Street. Following closure of the Express operation automobile parking took over use of the ground level while the track level tracks lay abandoned. The office building was rented out, the last tenant being Budget Car and Truck Rental.
Canadian Pacific Express 137 & 141 Bay Street. August 1, 2001 R.L.Kennedy
Demolition of the 18 door dock is well underway by Priestly Demolition.
August 1, 2001 R.L.Kennedy.
GO Union Station Bus Terminal

Looking southeast from Front Street West former site of CP Express shed at track level.
East end of platform tracks 1 and 2 Pedestrian walkway over Bay Street is to left of wall. June 20/2005 R.L.Kennedy
View towards Scott Street Tower. June 20, 2005 R.L.Kennedy
---
Views from CN Tower looking east of Union Station.


Double slip switch (a.k.a. puzzle switch) January 9, 2010. Clayton Langstaff