Tools For Self Protection
[ Home ] [ Tips ] [ Contents ] [ Previous Page ] [ Next Page ]
---
The most important tools that you can own are the ones that protect you from harm. In this category are three that you MUST acquire and use.
A good pair of wraparound safety glasses are an absolute necessity. If you wear regular glasses, find a pair like these that will fit over your regular glasses. Even though the lenses in your glasses may be made of shatter resistant polycarbonate plastic, they aren't big enough to fully protect your eyes from high velocity particles that may be ejected while working with other tools. These things may be uncomfortable, but they are far better than blindness.
The other major safety related item that you need is a good respirator to use when you are using solvent based adhesives and while painting. You can get one of these in the paint department of any hardware store for about $30. The filters should be rated for painting. Each filter contains a particle filter that traps paint particles and an activated charcoal filter layer that traps solvents. They are quite effective if not a little uncomfortable. However, you'll get used to it and the minor discomfort is much better than breathing solvents.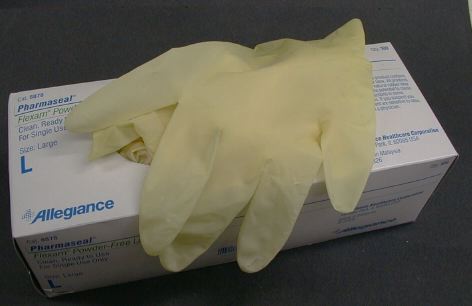 As long as your are protecting your eyes and lungs, you need to protect your skin too. Solvents can be absorbed through the skin, plasters leach out moisture and irritate and paint can cause allergies. Simple latex gloves can protect your hands from exposure to chemicals that can damage your skin or cause allergies. Don't bother with the cheap gloves sold in grocery or hardware stores, go straight to a pharmacy and buy heavy, talc lined surgical gloves. The are much easier to get on and off and don't tear. This whole box cost me $6 at my HMO's pharmacy, less than the cheap gloves cost.
---
[ Home ] [ Tips ] [ Contents ] [ Previous Page ] [ Next Page ]
---
© 1999 George Schreyer
Created Dec 4, 1999
Last Updated Dec 4, 1999