Thomas and James Tips
[ Home ] [ Up ] [ Previous Page ] [ Next Page ]
---
A few years ago, Lionel released a Thomas the Tank Engine set. Thomas is a British inside cylinder 0-6-0 tank engine that pulls two coaches, Annie and Clarabel. This set was based on the Shining Time Station TV series that is probably still playing on PBS. I would imagine that many large scalers with small children somehow managed to acquire this set.
Later, another set containing James the Red Engine was released. James is an inside cylinder 2-6-0 tender engine of British design that pulls two 4 axle freight wagons.
Neither of these sets is still manufactured but some may still be around. At the end of James' production run when Lionel exited the large scale business, these sets were blown out by a discount store chain, Pic-N-Save, for $49.95 each.
---
Contents
---
Power Pickup
Both Thomas and James have six driven wheels, but only four pick up power. Considering that the brass wheels get dirty fairly fast, this combination is sure to cause flaky power pickup. If the engine runs fine in the turns and sputters on the straights, suspect dirty wheels more than dirty track.
There is a simple modification that can be done to both engines that materially improves power pickup. The change is to add contacts to the center driver set.
There is no room to add a conventional power pickup to the center drivers, but it is easy to add a wiper contact that bears on the center driver tread. On James, it is straightforward to add a 1/32" thick by 3/32" wide brass contact strip. The strip is simply clamped between the frame and shell castings as shown in the photo. A wire is then soldered to the brass strip and run through a hole drilled in the lower shell and connected directly to the motor.
I attached the same type of contact to Thomas' frame with plumber's epoxy putty. This particular epoxy is handy because it sets up really fast so that you don't have to hold it in place for more than about five minutes. The epoxy also will not stick to your fingers. I modified Thomas several years ago. After I took this photo recently, I realized that I probably could have clamped the contact on Thomas the same way that I did James.
---
Lubrication
Both Thomas and James use a small vertically mounted can motor that drives the rear axle through a worm gear. Power is transmitted to the other two axles by an external spur gear train similar to that used on many Lionel "O" scale locos. Lubrication of the worm should be done with heavy gear grease or oil. Lubrication of the spur gear train is a little more problematical because lubricants applied there will attract dirt and excessive lubrication will get on the backs of the wheels and interfere with the power contacts. I use a very small amount of LGB 50019 oil on the external gearing as this oil is effective and doesn't seem to foul the electrical contacts.
The mechanism that runs the moving eyes on the smoke box cover can be lubricated, if necessary, with gear grease.
[ Top ]
---
Couplers
James resides at the Geologically Improbable Railroad, Mountain Division and so he needed LGB knuckle couplers. It turned out to be straightforward to mount them in place of the supplied hook and loop couplers.
Thomas runs on my outdoor version of the Geologically Improbable Railroad so he needed Kadee couplers. #831's mount with little difficulty.
[ Top ]
---
Adding Weight
Both engines are very light. They will pull their assigned two car consist on level track fine, but add a car or hit a moderate grade and both will spin their drivers. I added 12 to 16 oz of lead to the inside of both engines centered above the drivers.
James has a three axle tender that is very light and would derail under almost any kind of a load beyond his two cars. I glued 4 oz of lead under the tender floor and the tender started to behave itself.
Neither of these sets have metal wheels yet. I'm not sure why I haven't changed them.
[ Top ]
---
Sound
Neither Thomas or James come equipped with a sound system, and considering how little these engines are worth, it doesn't seem reasonable to spend the money to add one. However, after I added a Sierra to one of my Shays, its old Bachmann sound board became available. Since it could run off a battery for a long time, it seemed reasonable to install in James which still had plastic wheels.
There is little room in Thomas for a sound board and speaker, but James has a large nearly empty tender that is easily big enough. The tender shell is attached with two screws, one under the rear coupler and the other also secures the drawbar.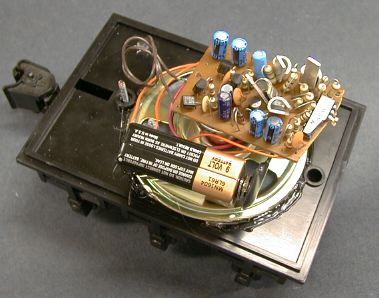 A 3" speaker fits easily on the flat floor. A bunch of holes drilled through the floor lets the sound out. The Bachmann sound board was recovered from a defunct R/C Big Hauler. To make the board fit better in the Shay, it had been literally hacked in half. All the sound circuitry is on the rear third of the board so all that is necessary is to cut a trace leading down each side of the board past the sound circuitry and then to physically cut the rest of the board off. I left some of the motor control circuit behind just because it was easier to cut right through the motor controller IC. The rest of the board is mounted to the back of the speaker magnet with foam mounting tape. The battery is stuck to the side of the speaker with foam mounting tape.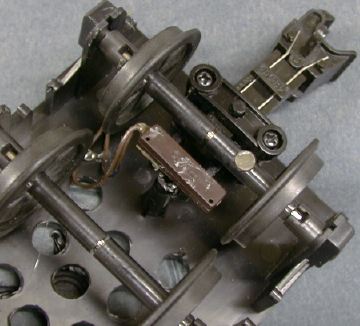 The sound switch is a reed switch left over from a PH Hobbies sound board installation sometime in the dark distant past. The switch is stuck to an existing bracket in front of the rear axle. Two small high energy magnets are attached to the rear axle with Zap CA.
This cheap and dirty installation didn't cost me a dime out of pocket as all the parts were already available as left overs from previous sound system installations. The sound is typically not great, but then considering the cost, it is acceptable.
---
[ Top ] [ Home ] [ Up ] [ Previous Page ] [ Next Page ]
---
This page has been accessed
times since 30 Oct 1999.
---
© 1998-2000 George Schreyer
Created Jan 31, 1998
Last Updated Aug 13, 2000