---
Located about 2 miles west of the summit of Tehachapi Pass is the town of Tehachapi. A modest sized community (pop. between 10,000 and 15,000), Tehachapi is constantly expanding, mostly to the southwest into the hills away from the railroad. The original downtown area including Tehachapi Blvd. are built directly adjacent to the railroad line through town. Near the middle of town is the old SP Depot which is still used by UP for railroad business (the depot may eventually become a local museum). Also located along Tehachapi Blvd. in the middle of town is Railroad Park, which is a narrow park situated between the road and railroad tracks and includes an old railroad water tank. This is a nice location to relax and have lunch in the summertime. The business district along the railroad in Tehachapi includes several antique shops and one railroad themed shop, which sells books, shirts, hats and Lionel trains. Located west of the station on Tehachapi Blvd. is the Best Western Mountain Inn and Mountain Crossing Coffee Shop. In the lobby of the coffee shop is an HO scale replica of the Tehachapi Loop, which has been located there for at least 20 years. Tehachapi is a nice place to stay if you are visiting the area in the warmer months. If visiting between November and March, be aware of the weather patterns, watching for winter storms. Although a relatively low pass (about 4000 feet), winter storms regularly leave a foot or more of snow in 24 hour periods. Usually storms pass quickly, and the snow rarely stays on the ground for more than a week in Tehachapi.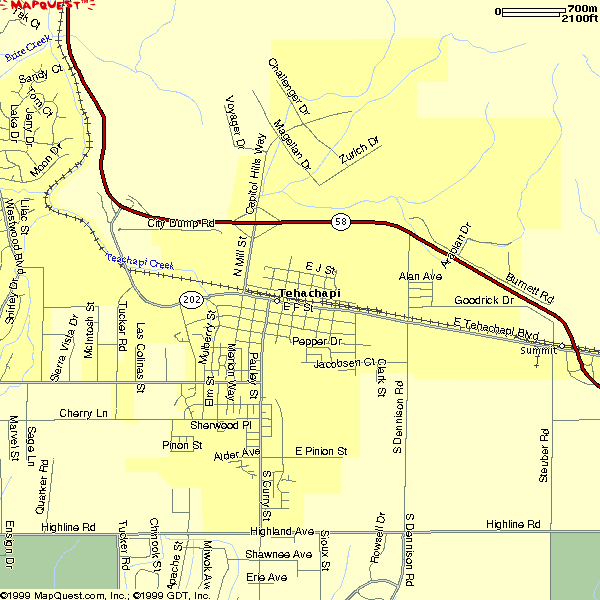 Directions:
Tehachapi is located on State Highway 58 about 40 miles east of Bakersfield, between Bakersfield and Mojave. To reach the downtown business district, take the Hwy 202/Correctional Facility exit from Hwy. 58 east from Bakersfield. Follow the roadway which becomes Tehachapi Blvd. From Mojave, exit at the Tehachapi Blvd. exit and take Tehachapi Blvd. west about 2 miles to Tehachapi. Tehachapi Blvd. runs along the south side of the railroad all the way through the town of Tehachapi.
Nearest services:
Gas, food, lodging and retail businesses are all available within 5 miles of the center of Tehachapi.
---