On April 18th, 2011, I took the Coast Starlight from Davis, CA to Los Angeles CA. I got up early, 04
:
00 to get down to the depot by 6. Left my house at 05
:
00, and arrived at the depot in Davis with my laptop, scanner, ticket, cash at 05
:
35. A few Capitol Corridor trains arrived and left, and #11 came into Davis slowly, with private car Silver Solarium on the tail. It was on time.
I had seen it the week before. When the Starlight stopped, I handed my ticket to a conductor, who checked in my ticket, then told me to go to the last car, where I was assign seat 6. It was an aisle seat. I thought, "forget it! I'm heading over to the lounge." Fired up the computer, the scanner was running, got some coffee ($1.75!) when we approached the Suisun Bay Bridge, and we made good time into Martinez, and Richmond.
Cannon
Martinez
Near Crockett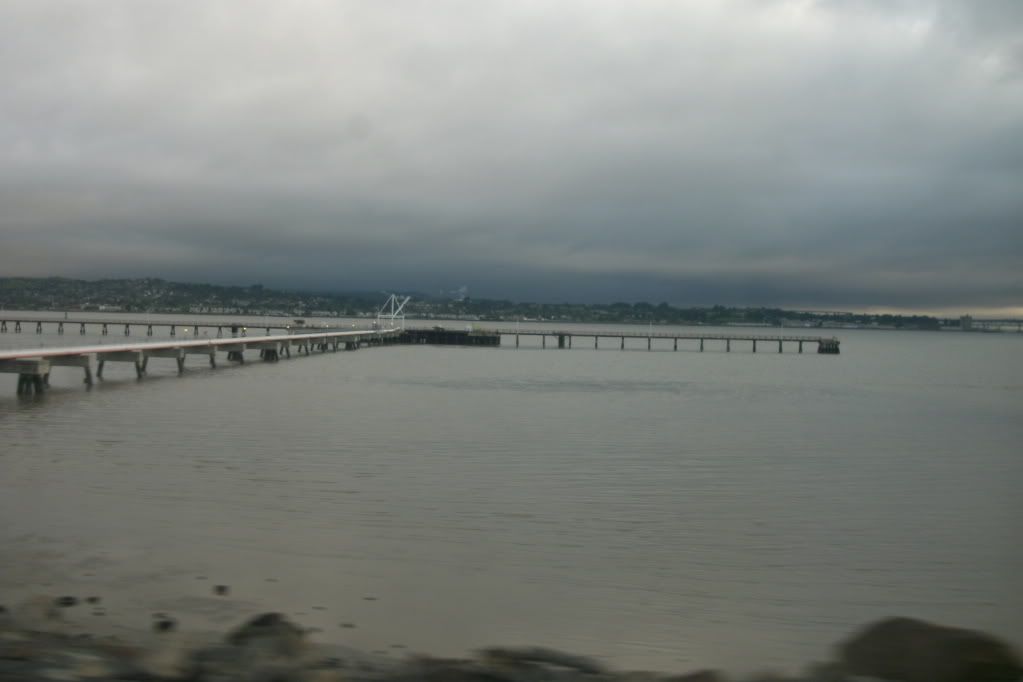 Crocket underneath I-80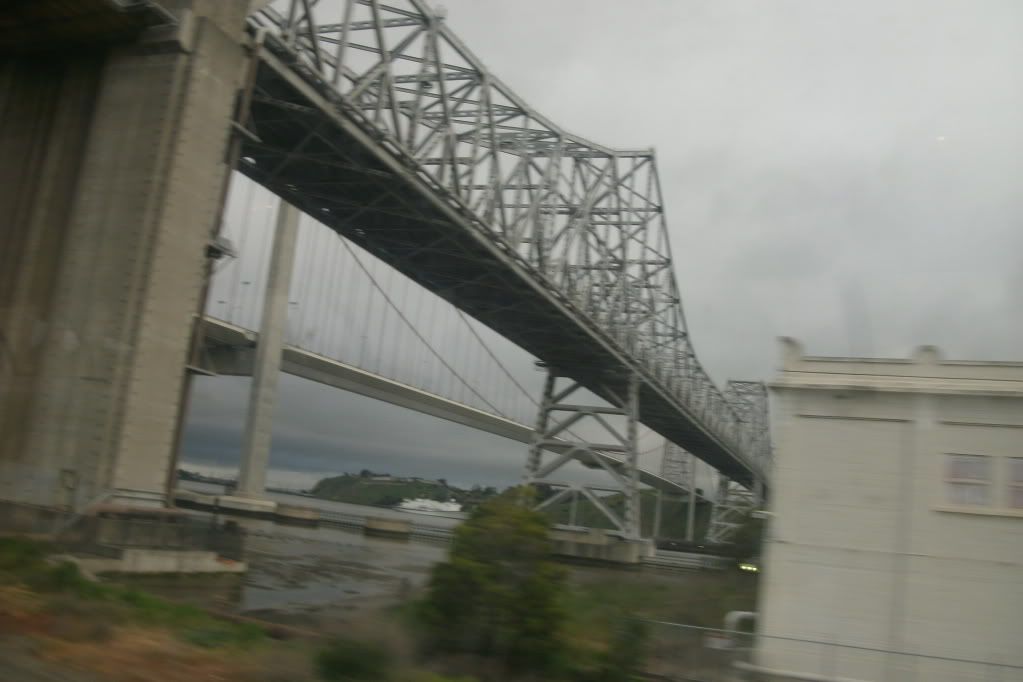 Emeryville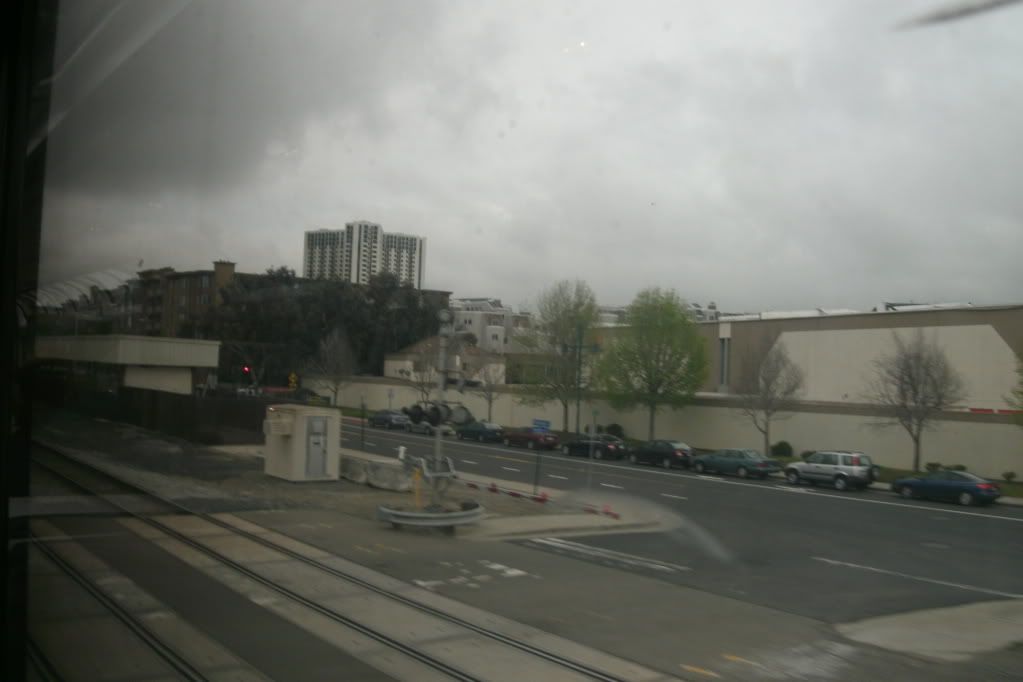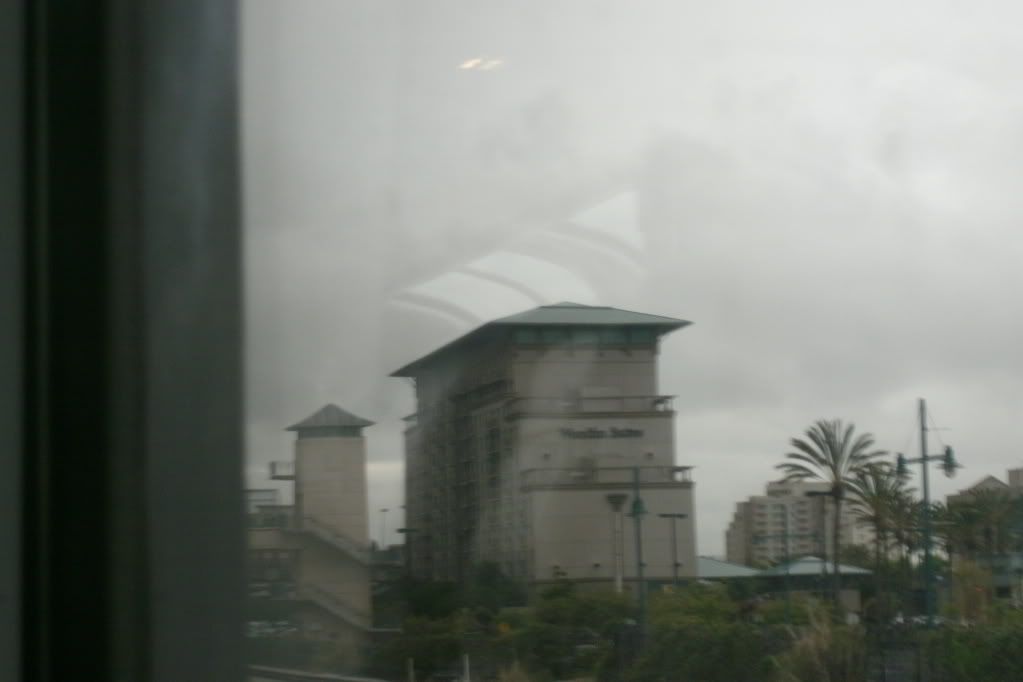 There was a little bit of fog shrouding San Francisco as we made our way into Jack London Square in Oakland. We had a diverging approach at Shellmound and a restricting speed at Emeryville, where we stopped to let folks on. Some people took their time getting on, so we didn't leave until 0825.
Aproaching Desert Yard.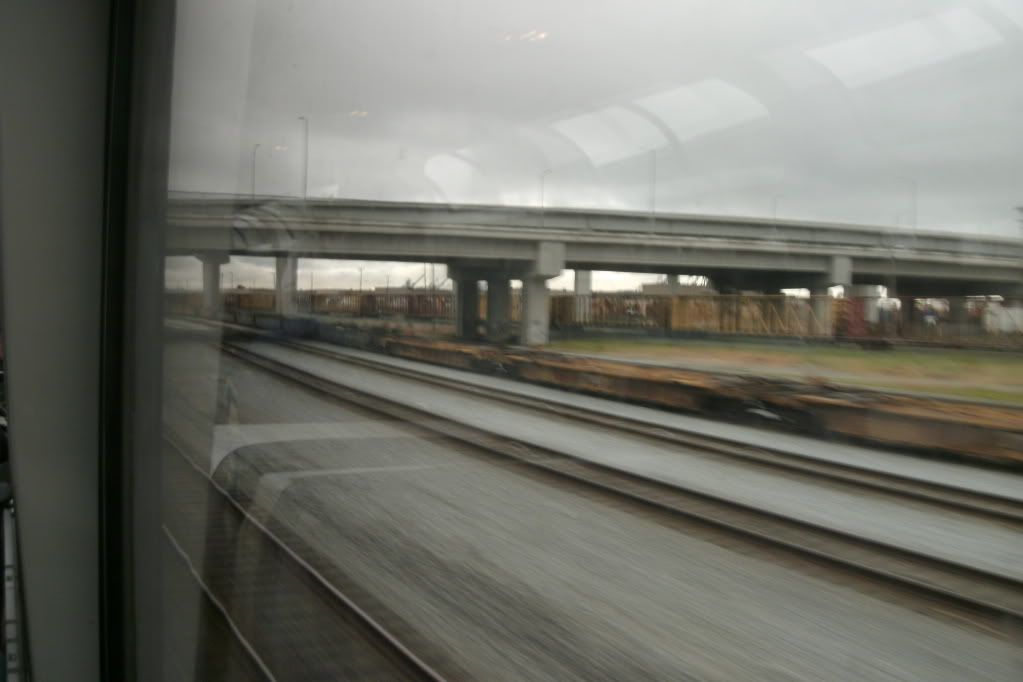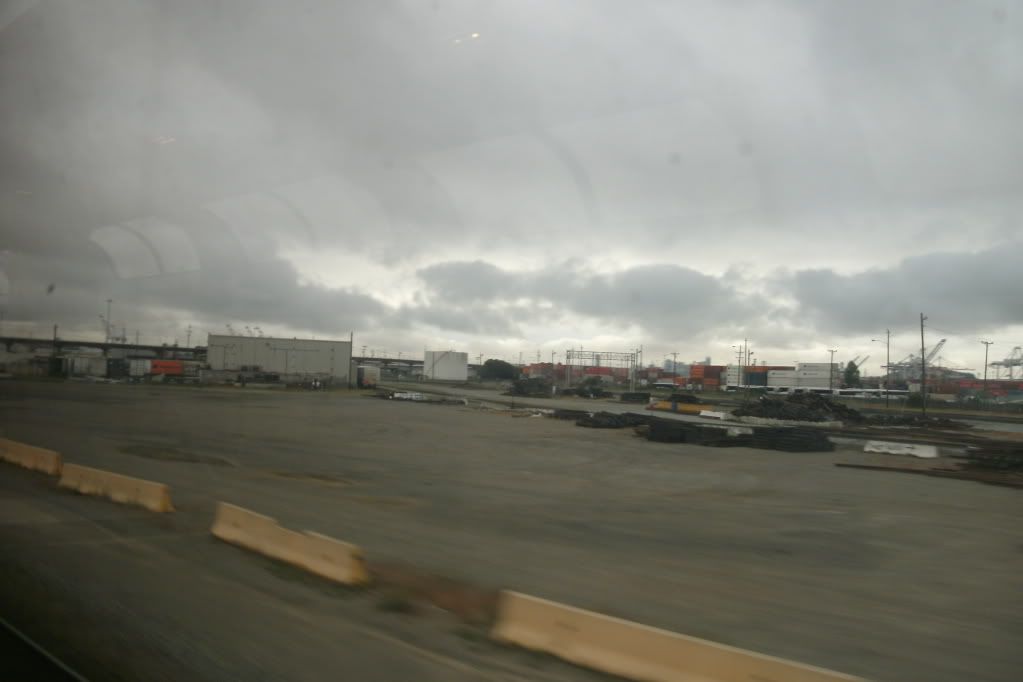 Saw an Oakland Terminal Railroad locomotive switching cars, but was unable to shoot it due to the trains speed. It's the thought that counts, right?
BART Aerial Line to SFO.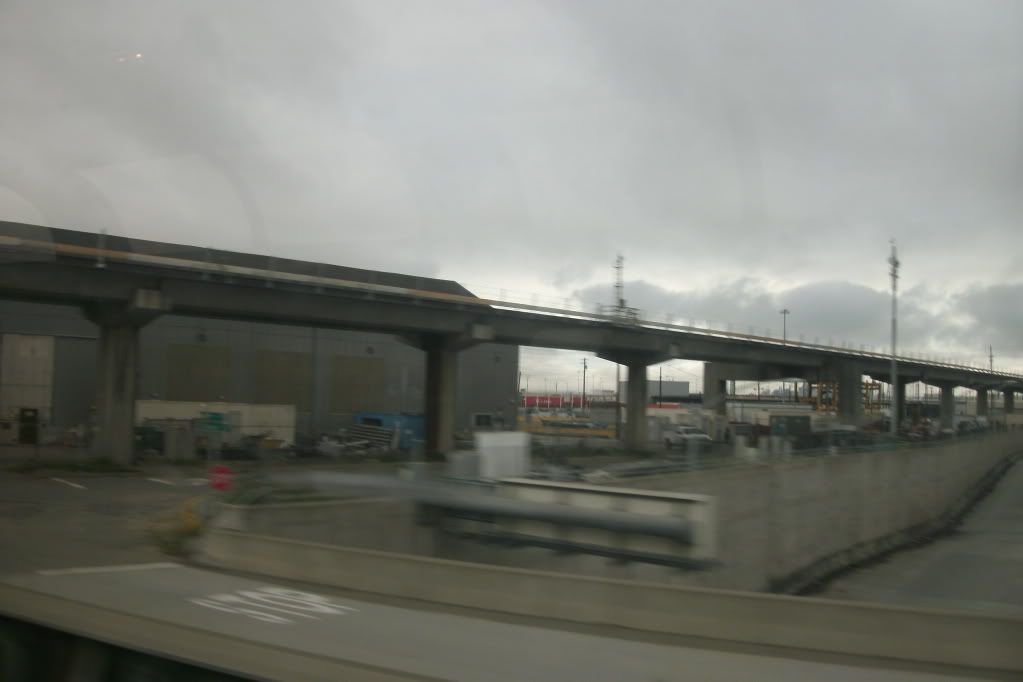 The Yard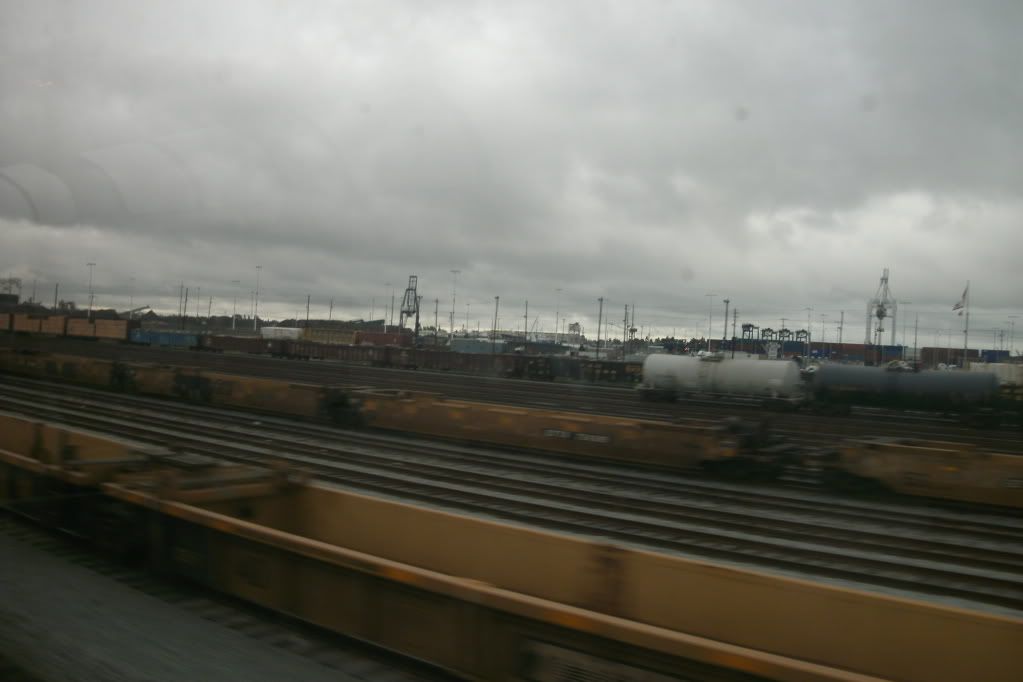 Amtrak Coach Yard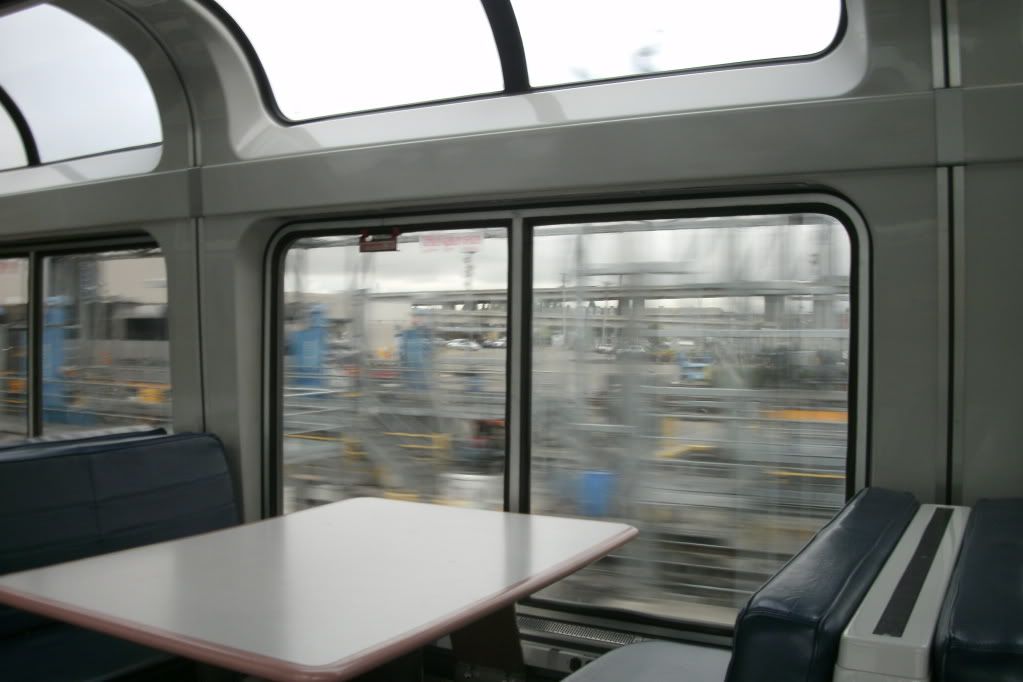 As we crawled into Oakland, we passed an AMTK genset switcher. Gotta just love the environmentalists now, huh?
We were on Main 2 into JLS, and seeing the new track work in that area was nice. But the clouds surely didn't help the mood.
New track work, Jack London Square.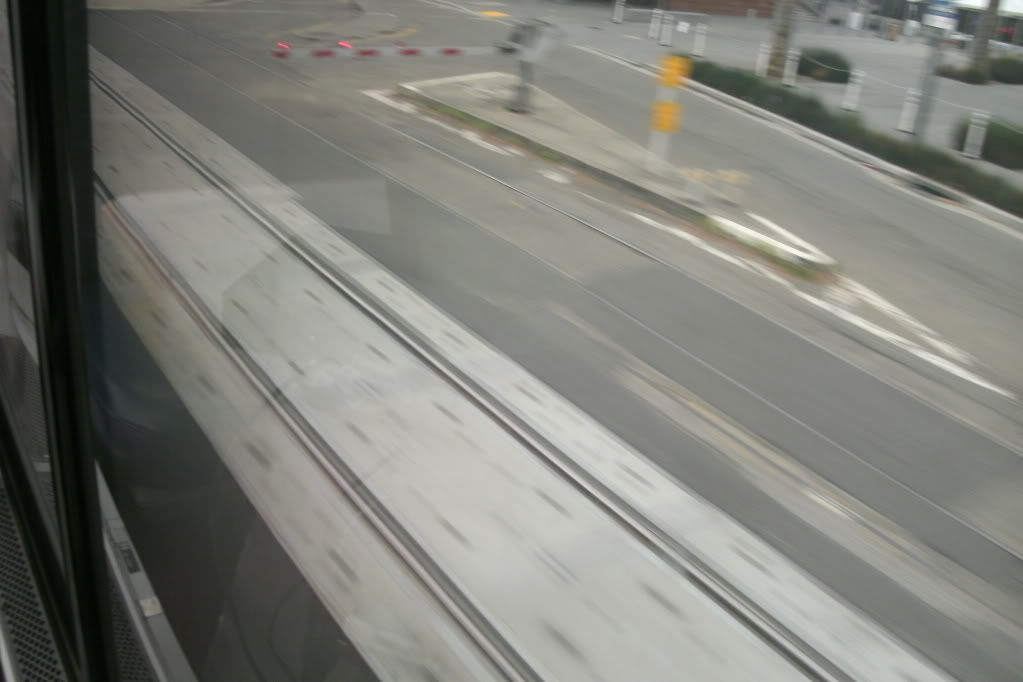 Oakland JLS Depot.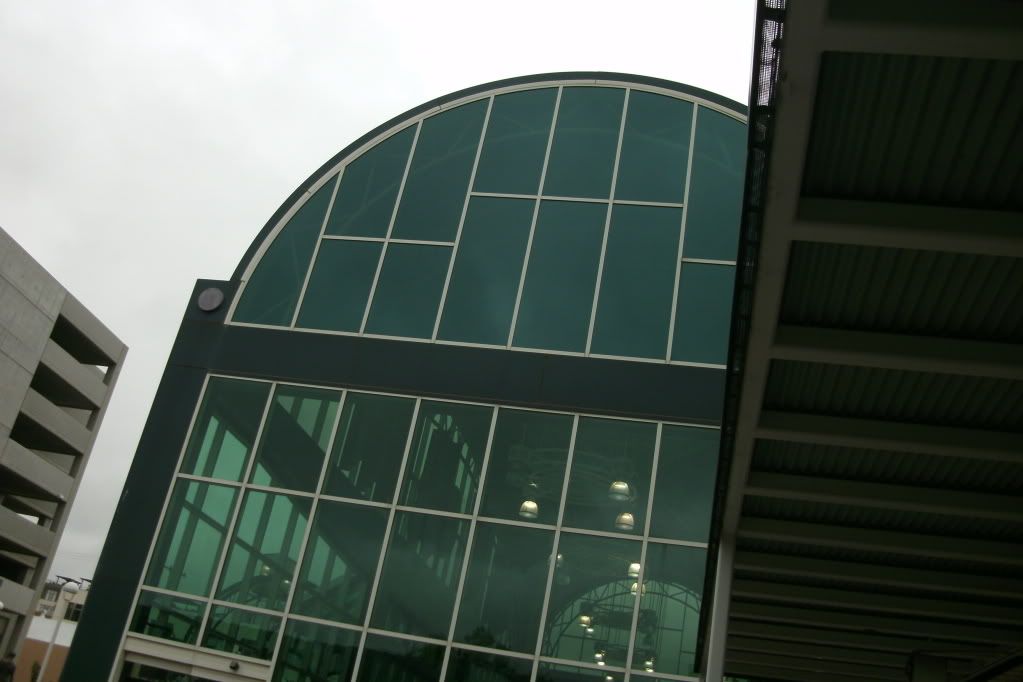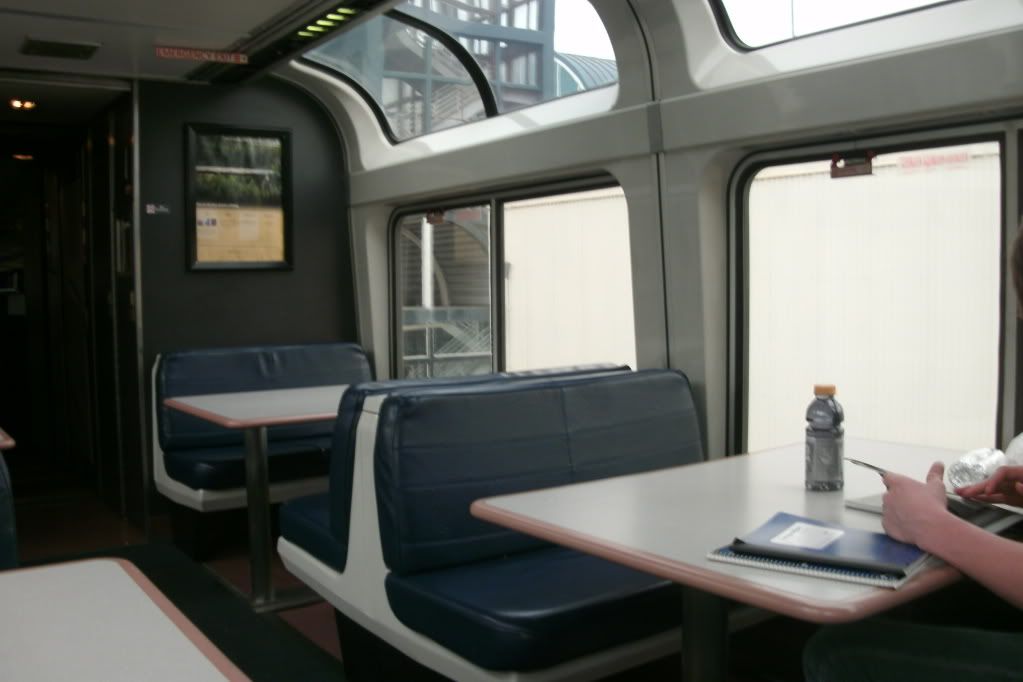 Went out for a smoke break, then that genset I saw earlier came by and took off the private car Silver Solarium to head back to the Coach Yard. Capitol Corridor 547 arrived. We waited for the clear to start moving further south. During the trip, I heard and announcement saying something about San Luis Obispo, which I thought meant that we were getting off. Thank god the conductor told me we were going through to LA. Highball! We were outta JLS. We then approached East Oakland Yard. We passed UP 1482, yard switcher, there. Saw the BART tracks far to the left. CDTX 547 passed us heading Eastbound on the Main 2.
Boy, the Bay Area is a mess!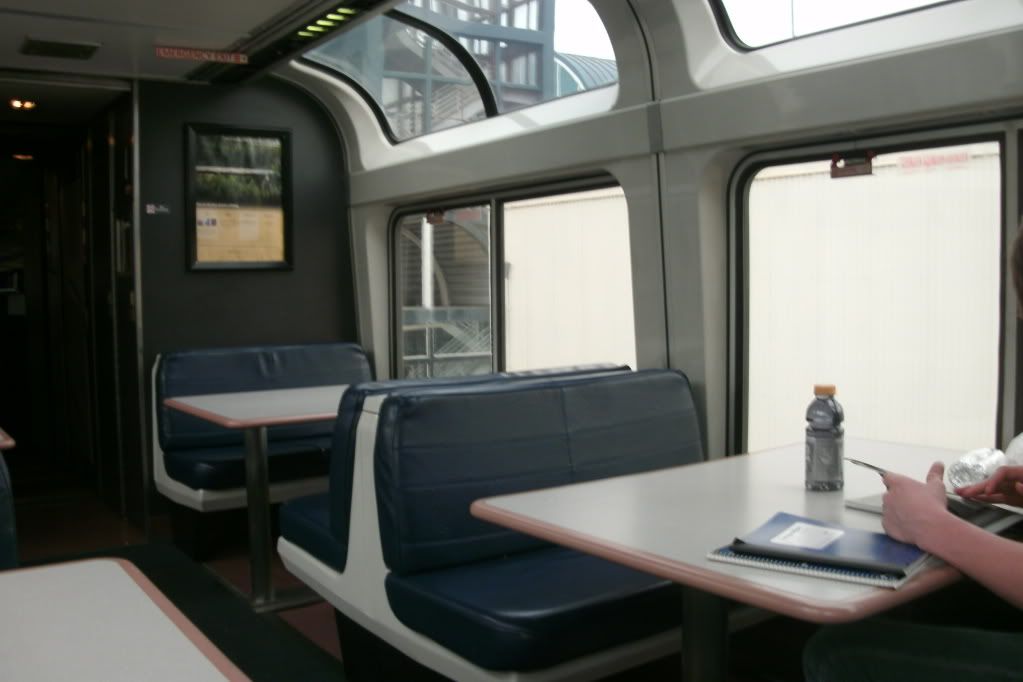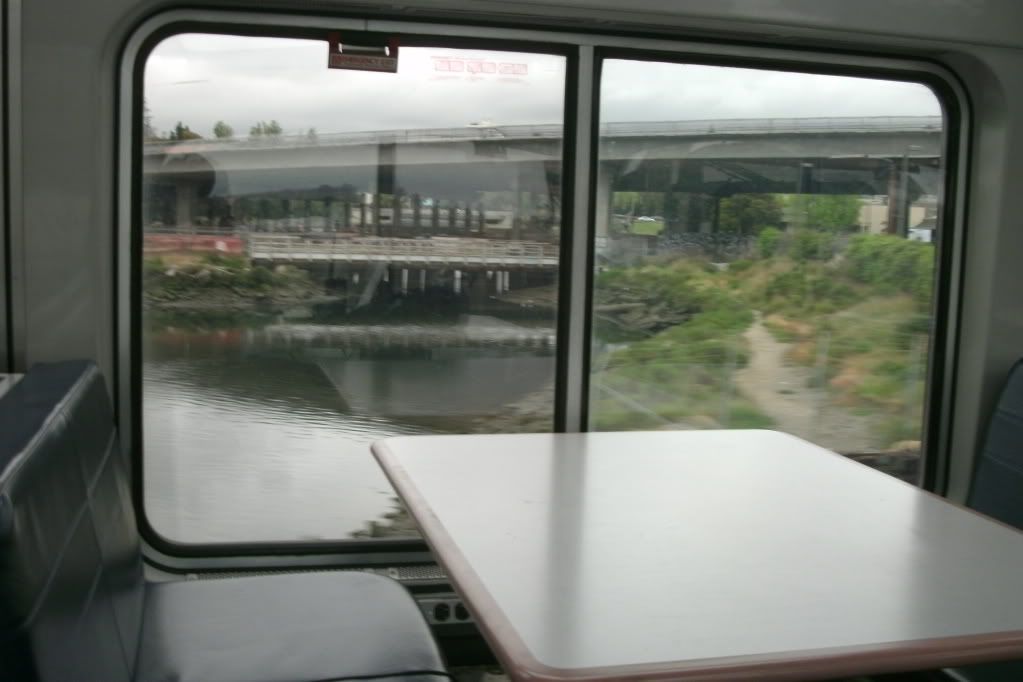 Grafitti Galore!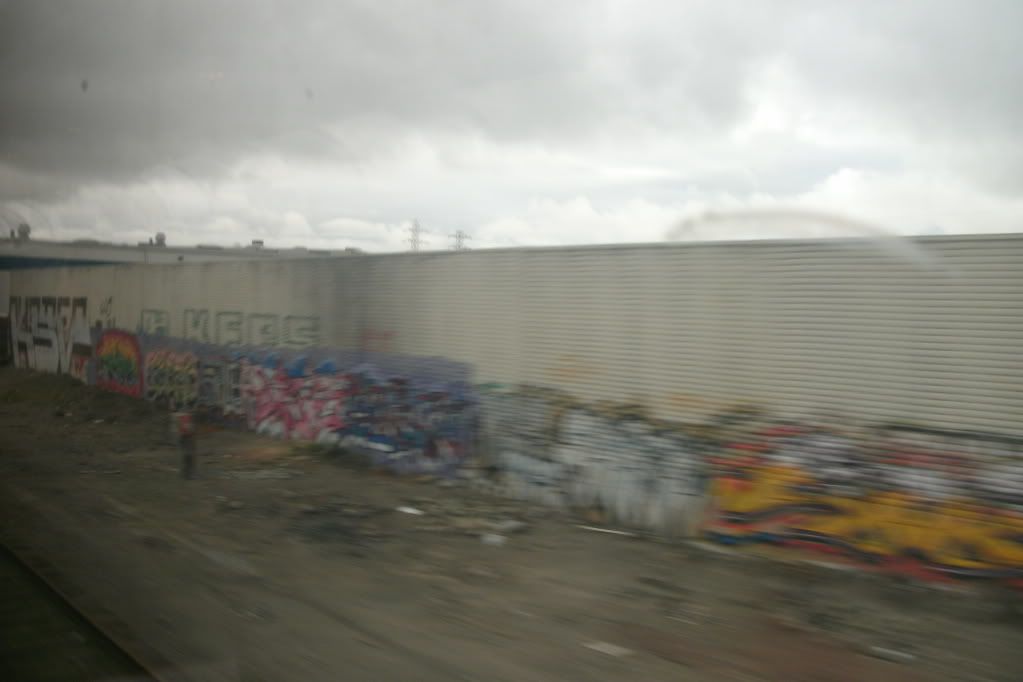 Coliseum.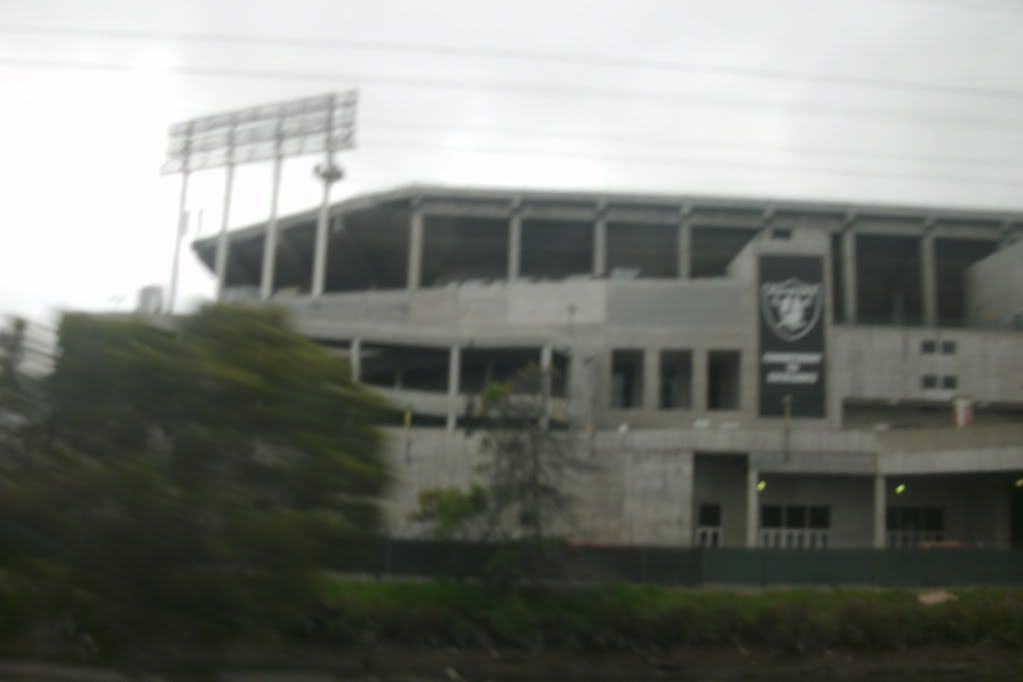 We switched at Elmhurst to the Coast Subdivision.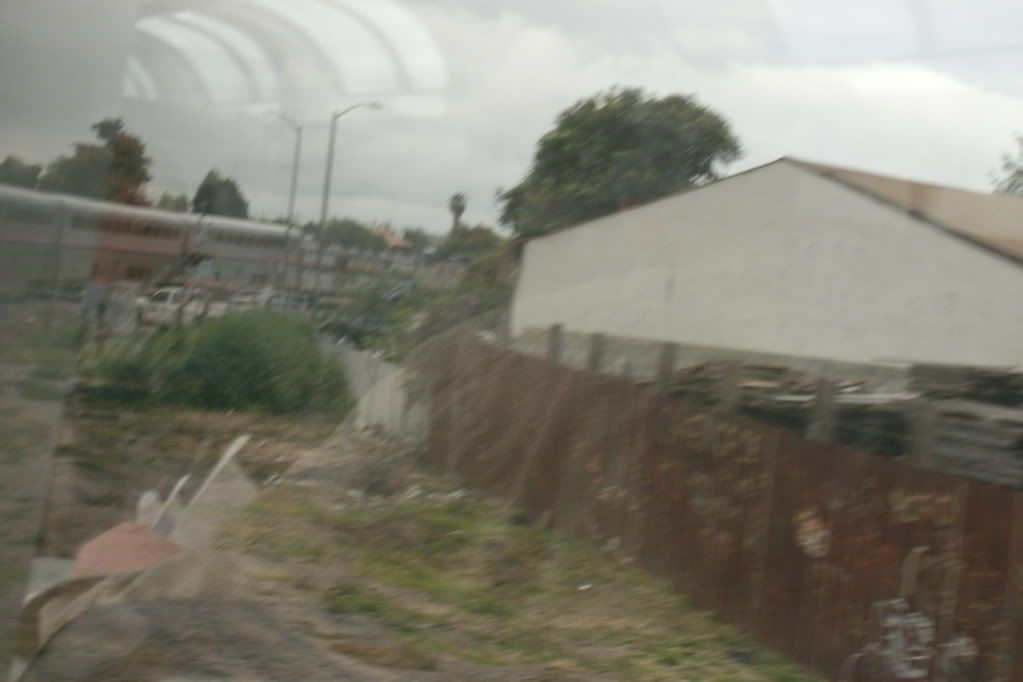 We slowed past Elmhurst on the Coast Sub at around 15 MPH, through to Mulford where we picked up speed to 50 MPH. Passed a small yard in that area. Man, I love the horn on our lead engine, AMTK 161. We then entered the South Bay Area around Russel, where we encountered the marsh/wetlands. Then we went through an industrial area...again. Then we passed Alvarado. Too many houses, I gotta say, but this is the Bay Area we're talking about. Growth begets growth, eh? Well, by 09
:
20, we were at MP29.2. We proceeded to roll through Carter. We arrived in the Newark Area at 09
:
25, passed a local switching with UP 2088 and UPY 362 pushing south. Passed through Mowry. There was a red signal somewhere in the Marsh, which forced us to crawl through to Santa Clara. Passed another Capitol, 528 with a B32-BHW pushing north as we headed south. We later got through the slow zone, and sped towards Drawbridge and Alviso.
Newark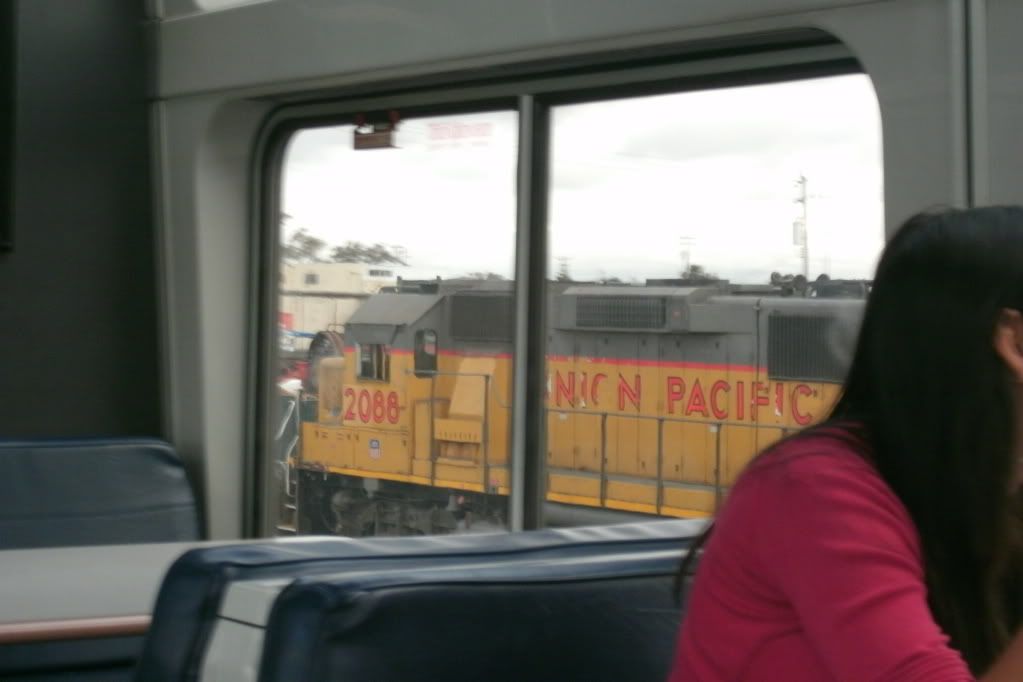 Salt Ponds!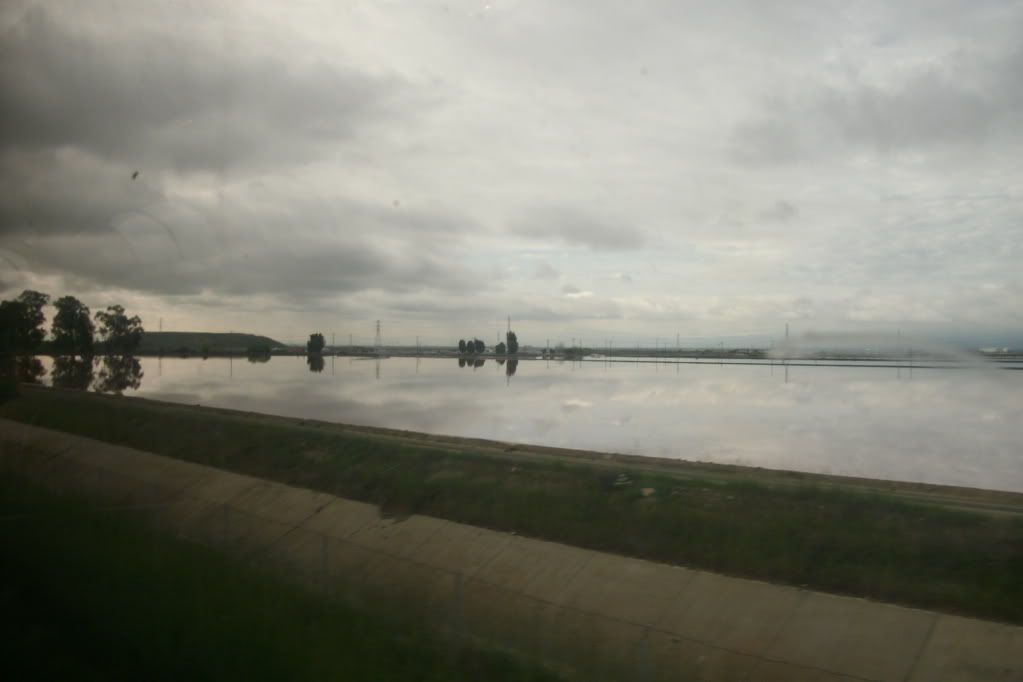 Town of Drawbridge...LOL!
Alviso, CA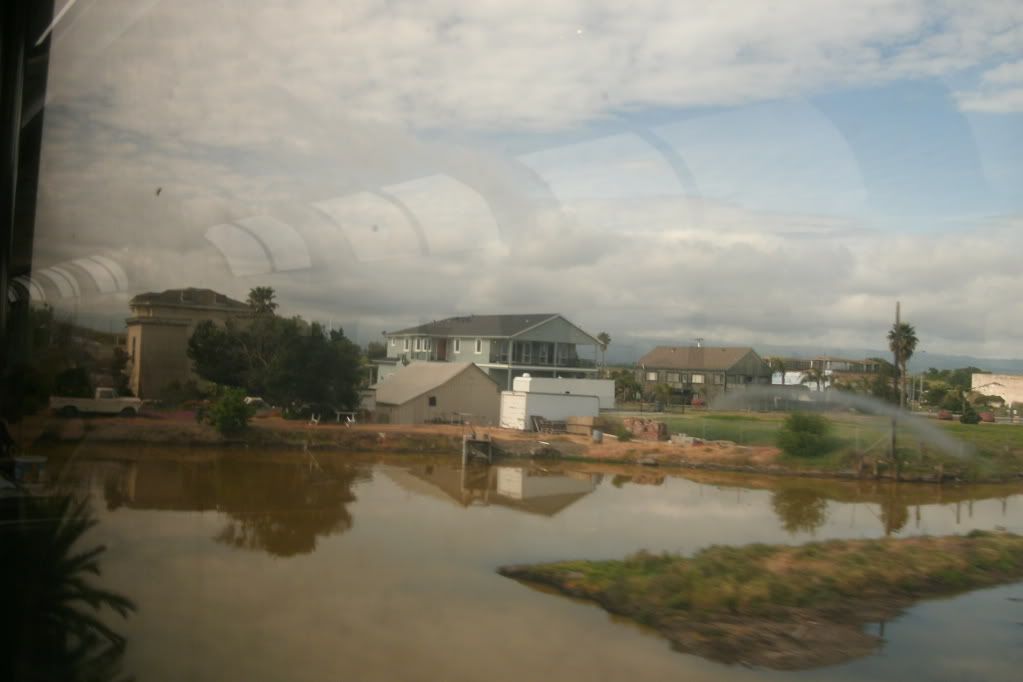 Great America in the distance, below the sky.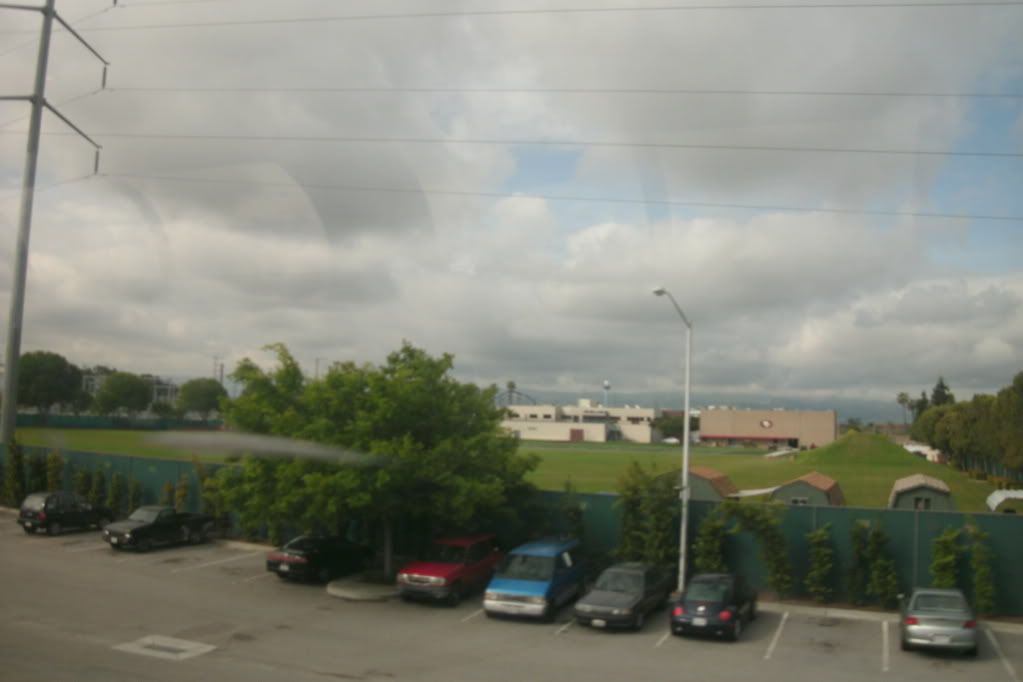 There was a report of gangs, but were ok. We passed the San Jose International Airport at 0943. We started tilting when we approached the Caltrain Mainlines at Coast...hmm, wierd. San Jose was just minutes. We had to wait at Coast for Caltrain or something. Off to my left at Newhall was the Caltrain CEMOF.
Private Observation Car at Santa Clara Depot.
CEMOF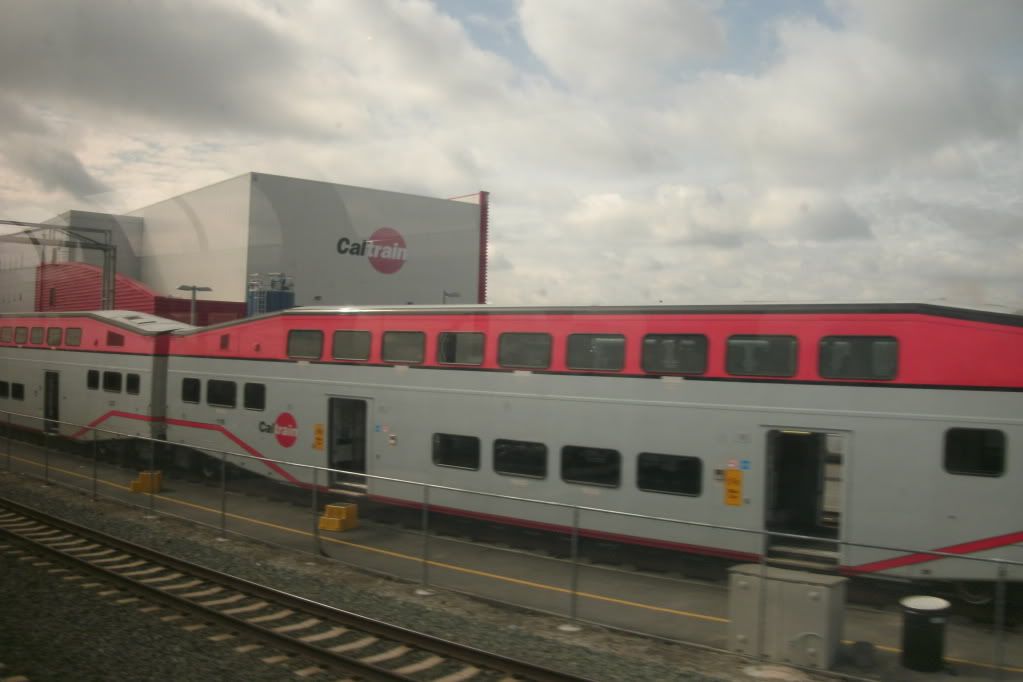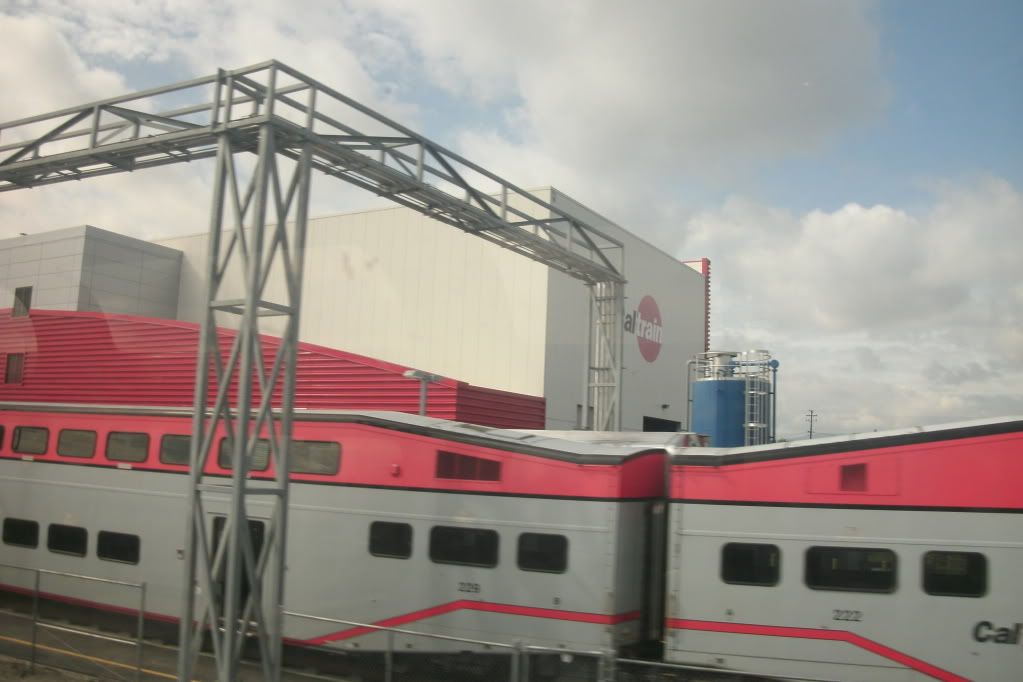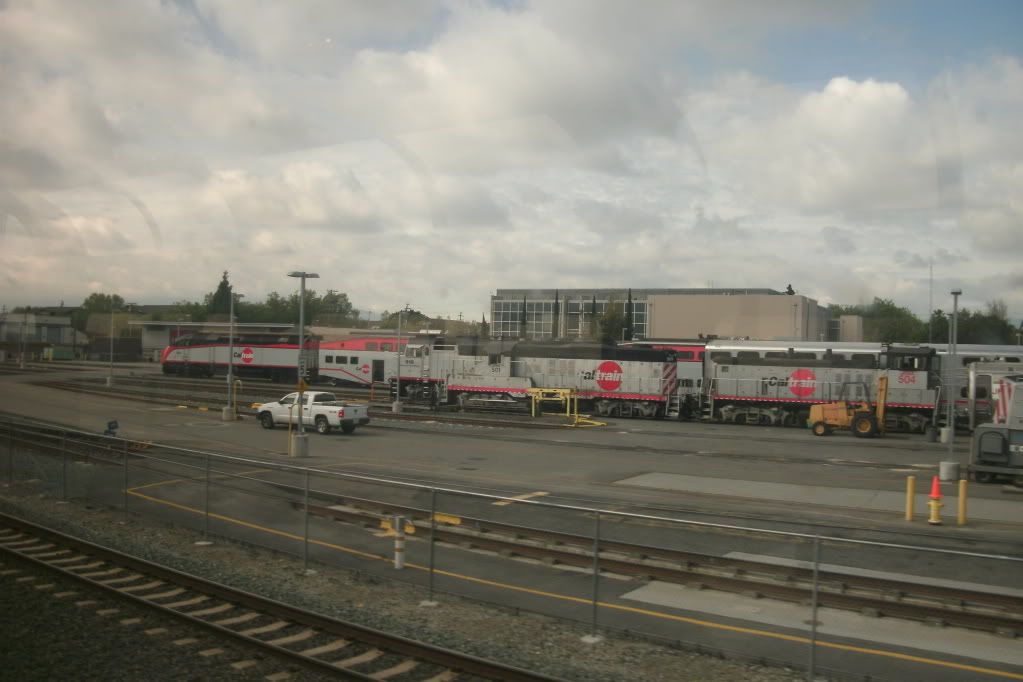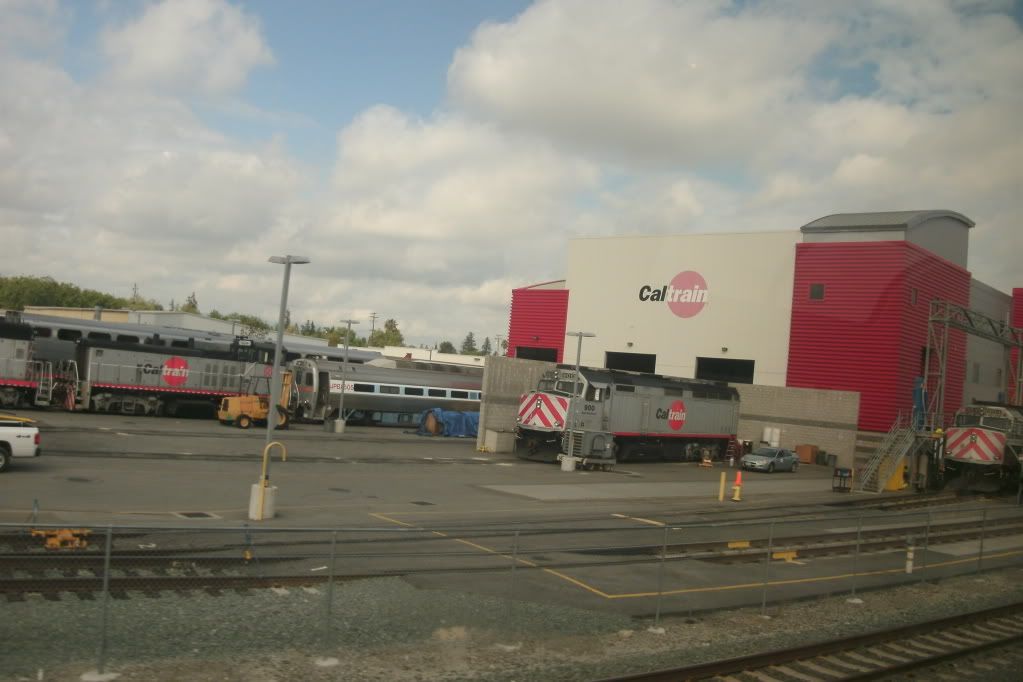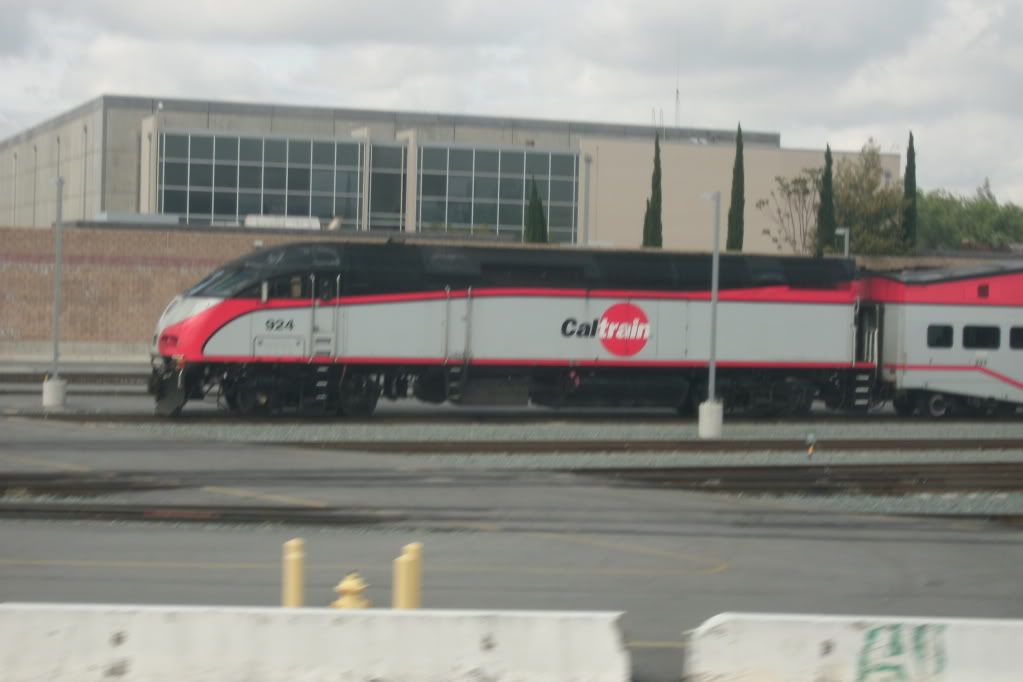 San Jose Diridion Station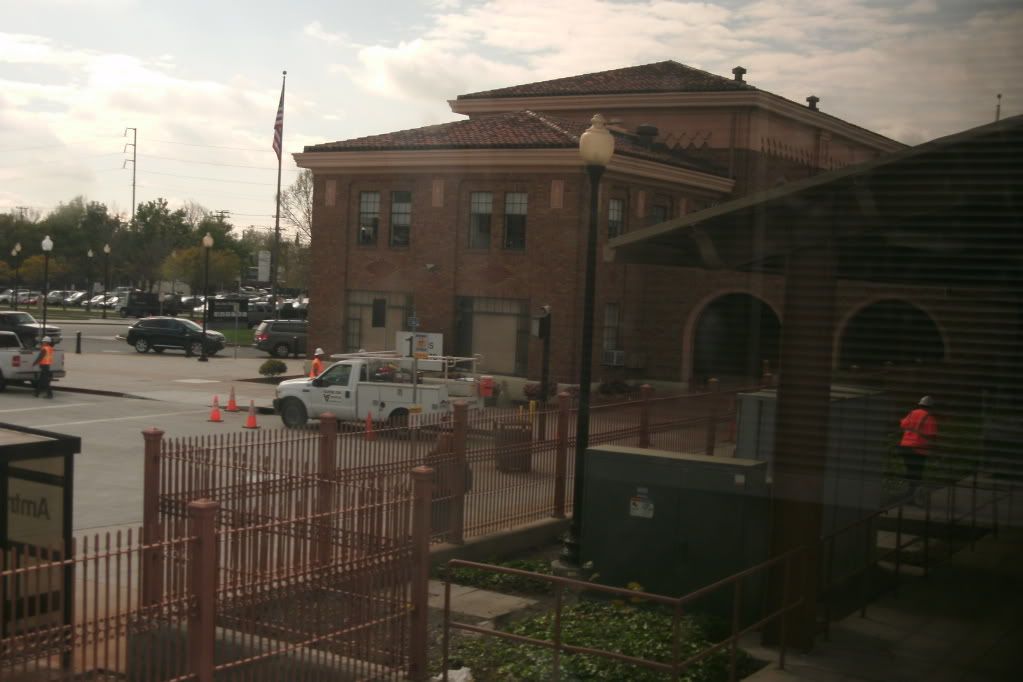 We arrived at Diridion Station at 09
:
54, and waited for our break to be over while picking up passengers. Man, sitting right next to these red and white Caltrain Bombardiers is exciting! And a Cabcar, too. This trip is fun already, and we haven't even hit the coast! Out of San Jose, we were told not to go over 15 MPH...WHAT?! We pulled out of San Jose at 10
:
07, passing by the standard Caltrain consist of 5 cars and an MPI MP36PH-3C, JPBX 928. Nice sounding engine. We stopped for several minutes, I couldn't hear anything on my scanner from Coast to Lick.
JPBX 915,
South San Francisco.
We finally pulled out at 1014. Fricking kids in the lounge were driving me crazy. I have low patience for idiocy. Passed Tamien at 1019. Three Altamont Commuter Express trains were sitting at the south end of the station, in the storage yard there. We passed Lick at 1021, where I could hear my scanner on the right frequency again. Apparently there was track work on Main 1, somewhere in the San Jose Area...I sure didn't see it! We were sure moving fast after San Jose/Diridion. I loved it!
Countryside...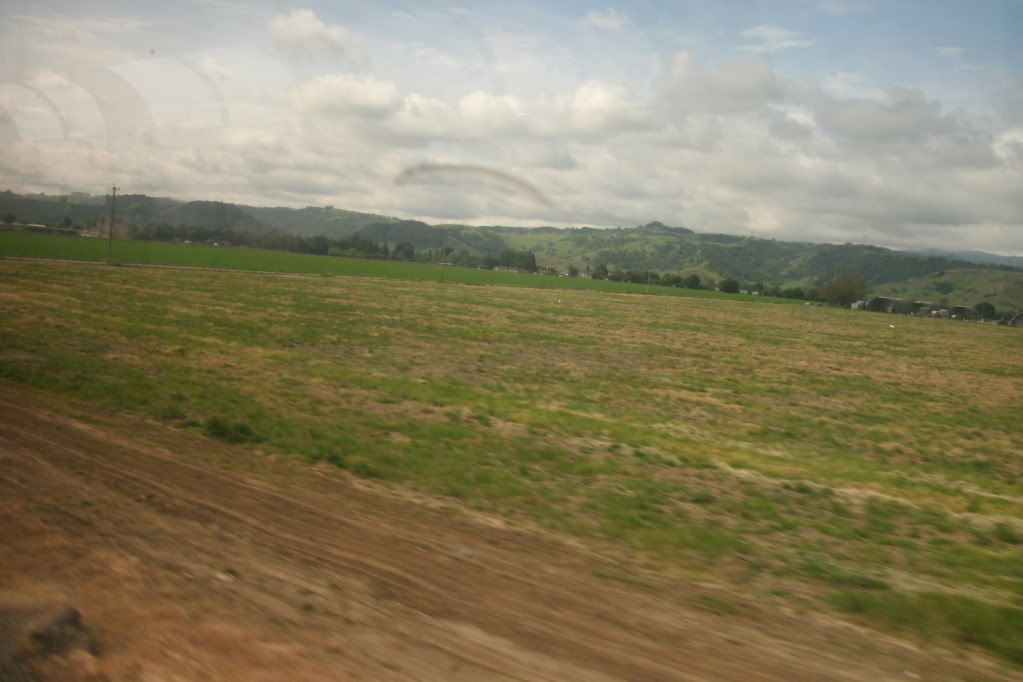 We highballed into and past Morgan Hill. We had to stop and guard a crossing at 73.2, Church Avenue in San Martin. We had to go 10 MPH for this crossing...Hmm. As we pulled by, we were slowed down by a work crew...Backhoe, three dump trucks, etc...passed a green flag two miles later. About a mile later AMTK 161 called the work crew to let them know that someone knocked over their red flag, known as a "red board". Passed the Hollister Branch spur at Carnadero.
Rounding the curves on the Coast Sub near Watsonville, er, to the east.
We arrived in Watsonville around 11
:
22. Even with the muggy morning clouds, the valley was beautiful...
Note: I must railfan down here some day.
Shots of the yard from the Starlight Lounge Car.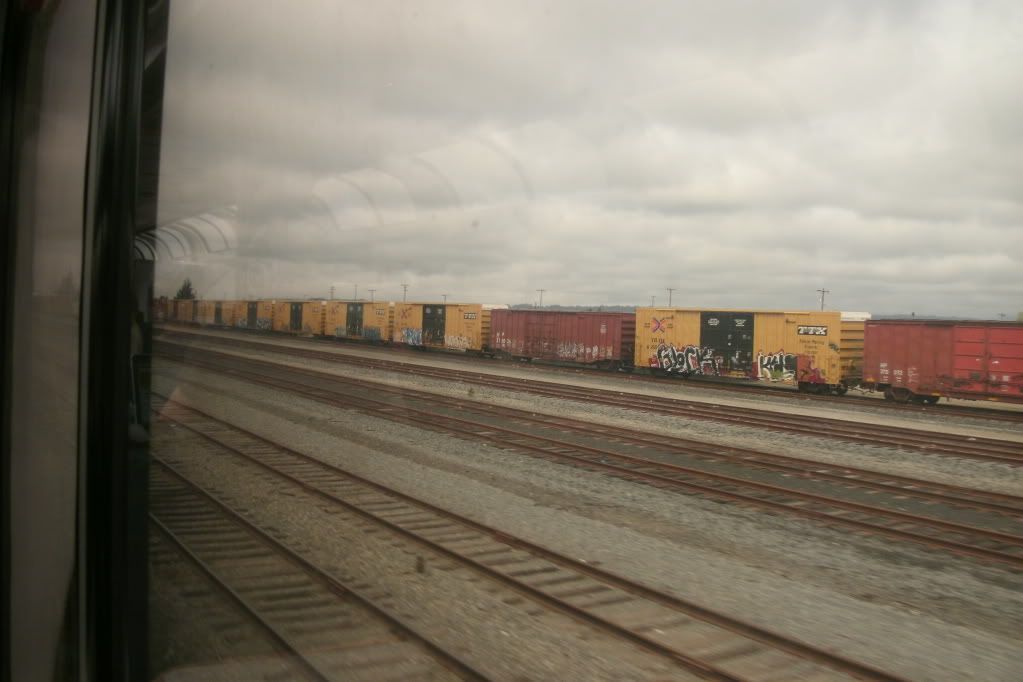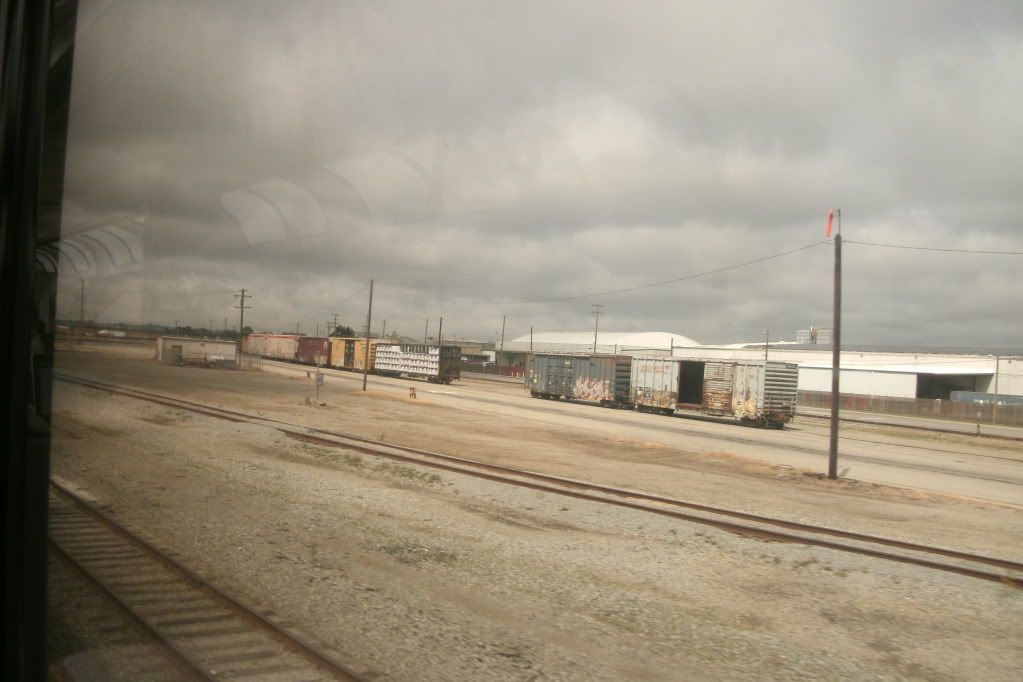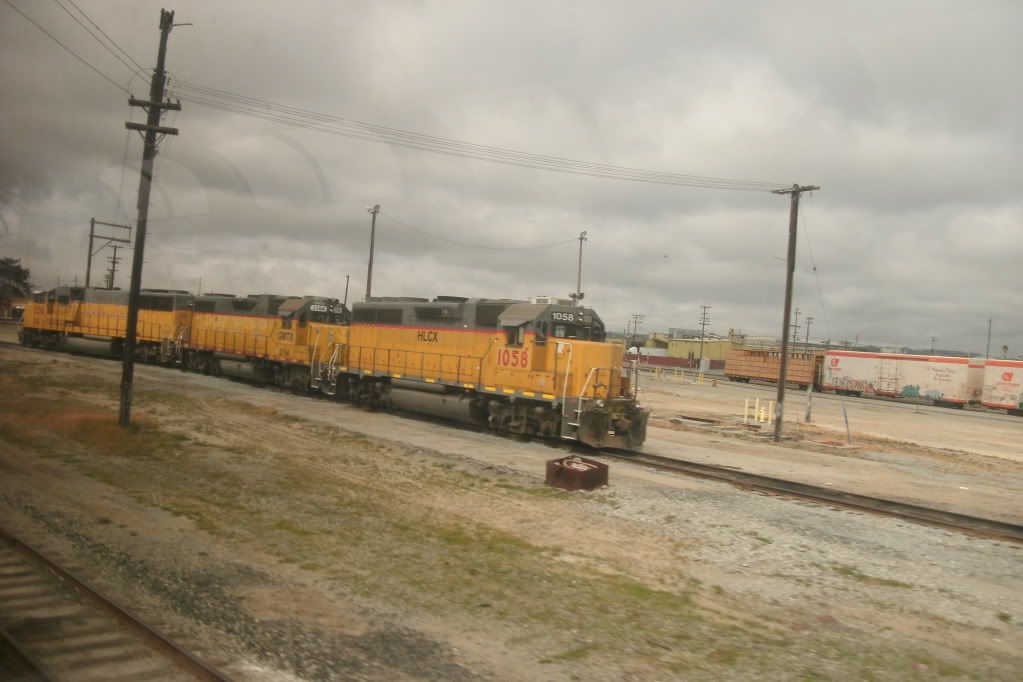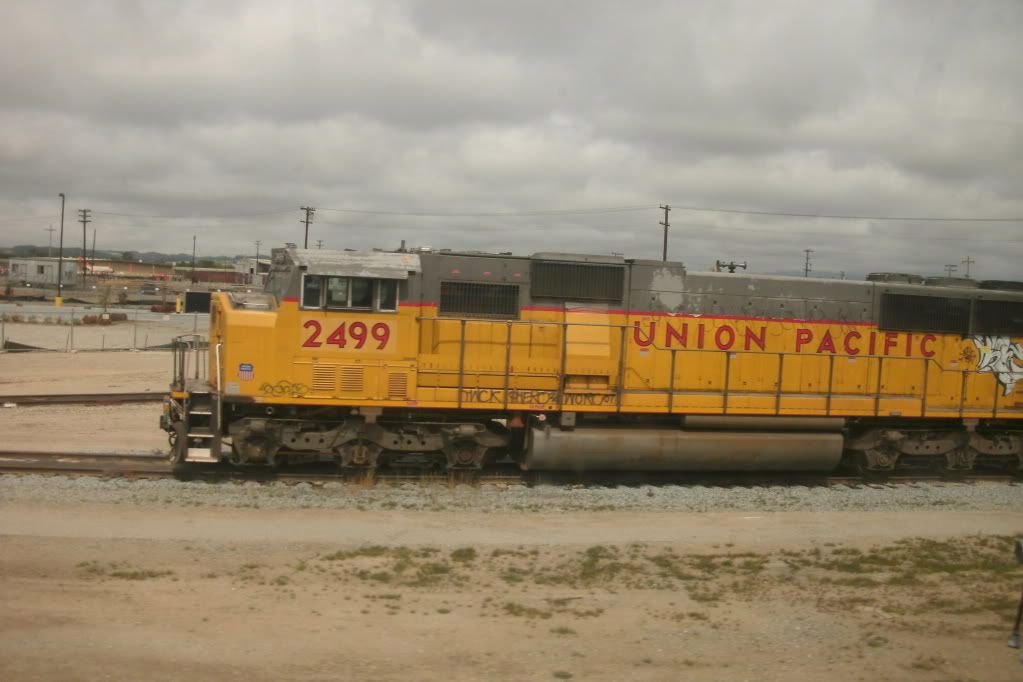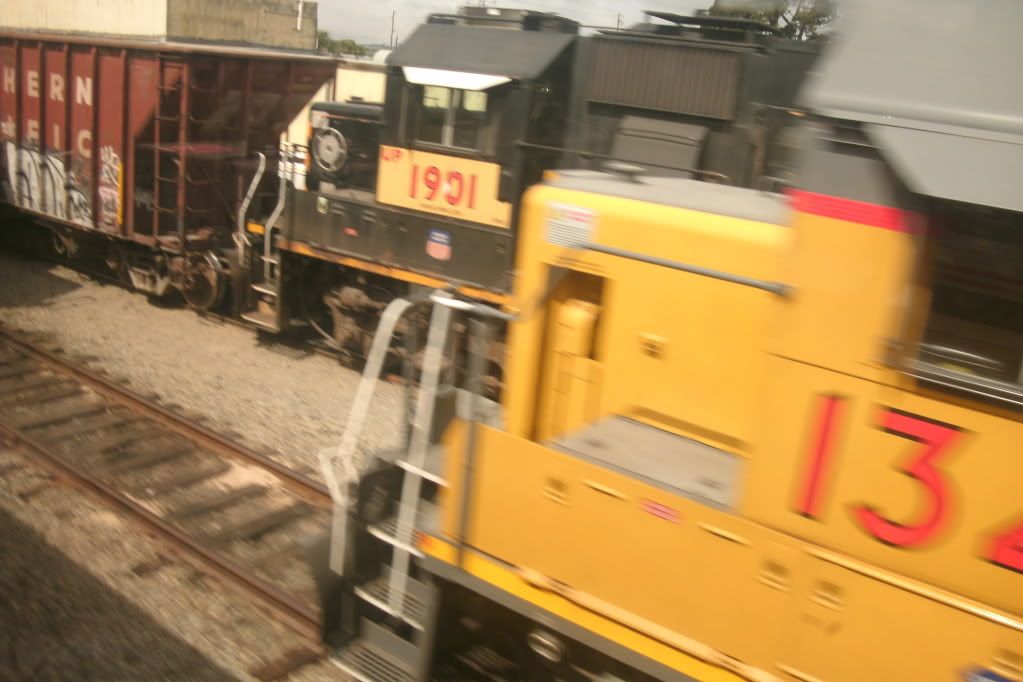 We passed MP 99.1, no defects, and we were going track speed 50 MPH. Track warrant at Castroville, which made us stop in the siding there. The Monterey Local was somewhere out there, as the engineer kept calling them from Watsonville. We slowed down and stopped northwest of the town of Salinas, for that track warrant to take us from Salinas to Gonzales.
Salinas, CA.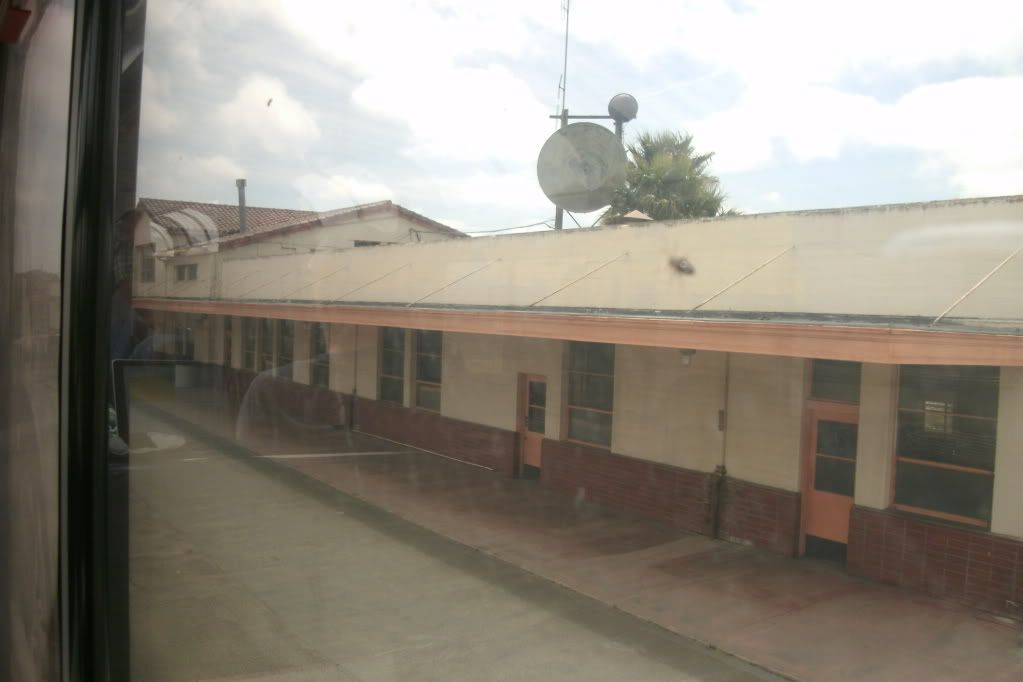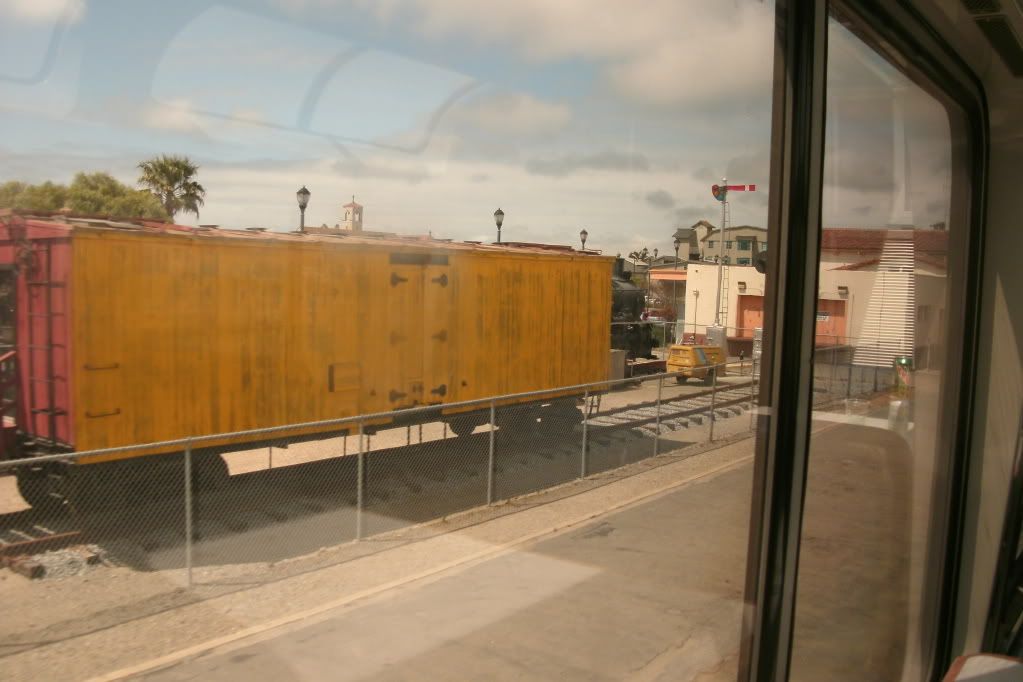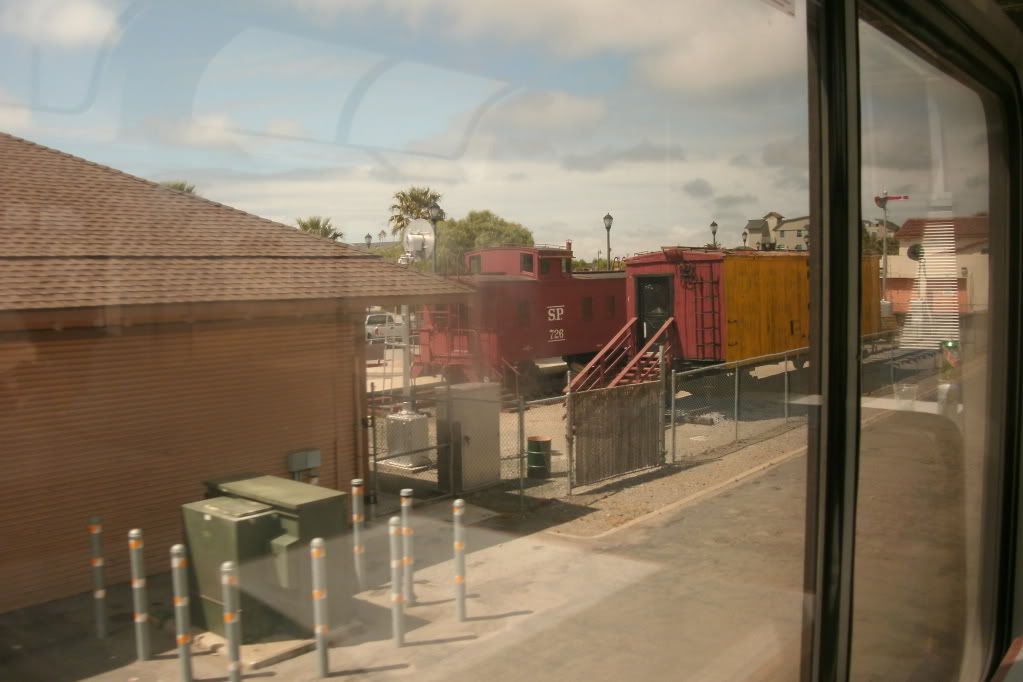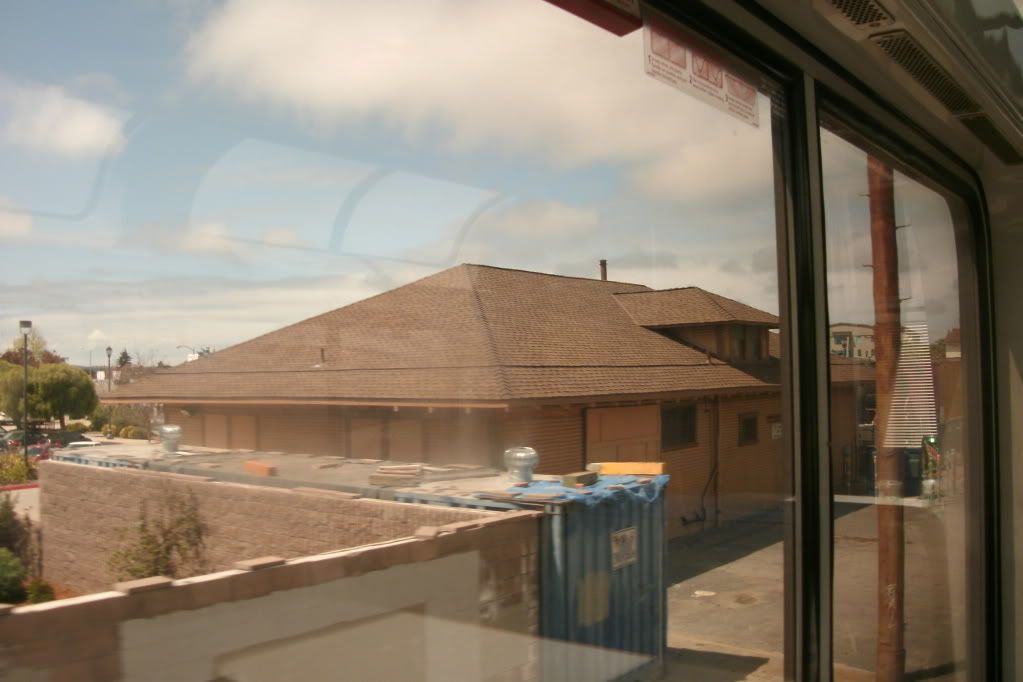 By the time we arrived in Salinas, the sun came out. We got the call to highball at 1154. We passed the detector at MP 123.7, which said we were going 71 MPH. Wow! On this stretch of Single Main Track? This valley reminds me of home though...with looming mountains in either direction, and one lonely mainline. Well, I'm not used to being on a single track, but the ride is still comfortable, albiet a bit of bouncing and rocking. The Salinas Valley is incredibly beautiful! I had lunch around 13
:
00-13
:
45. Bacon cheeseburger and chips and Sierra Mist. All for $13.50(!)
Paso Robles.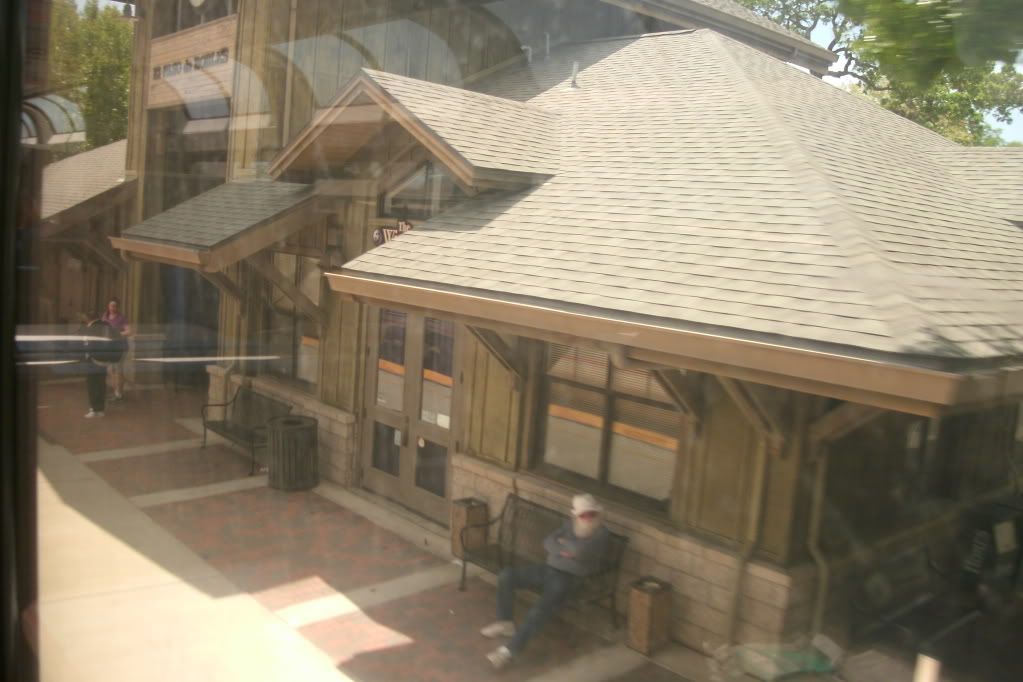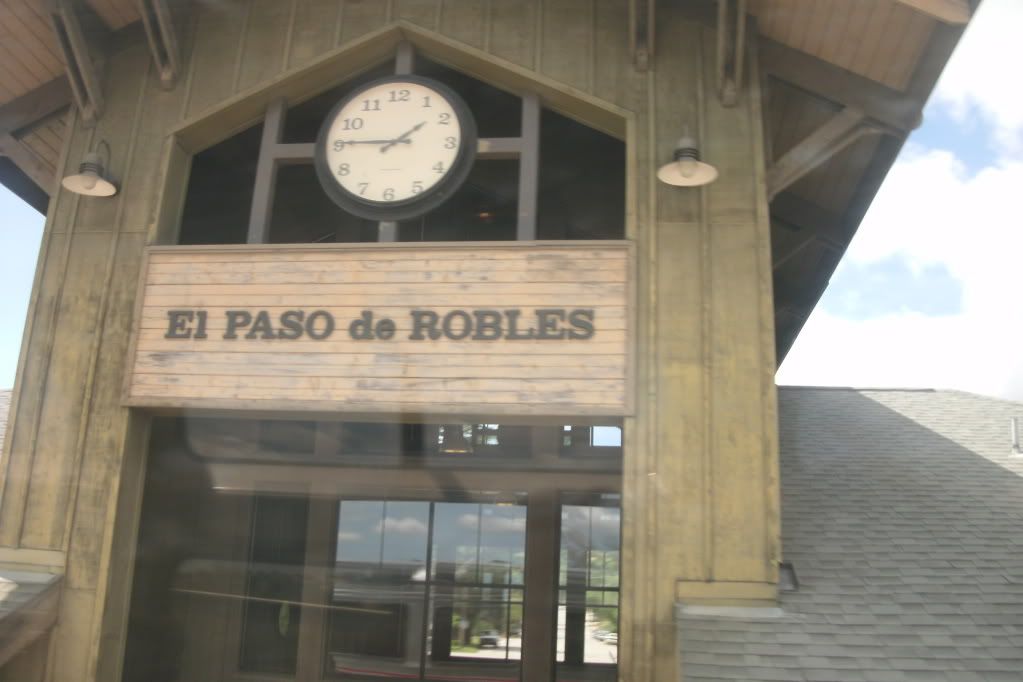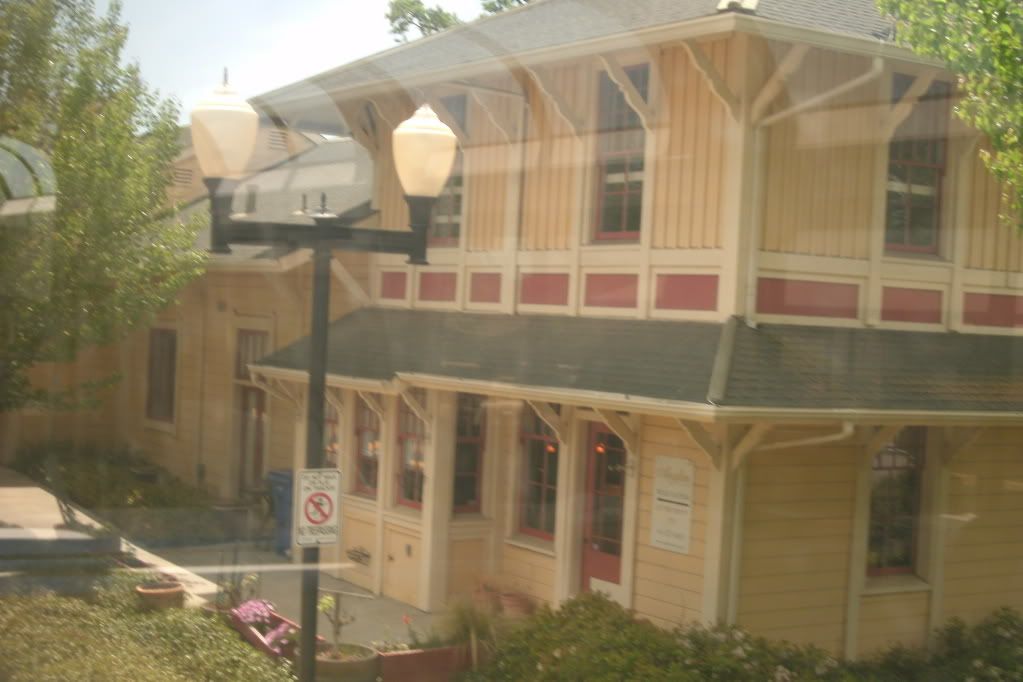 We passed Cuesta and the Cuesta grade at 14
:
16. We got our final Track Warrant from the dispatcher, and proceeded on the way down to San Luis Obispo. We went past a work crew south of Cuesta, through a tunnel, which I think is about 3/4 of a mile to a 1 1/2 miles long, then another tunnel. And another one, shorter this time. Then a fourth tunnel. Then down the Cuesta Grade opposite the 101 freeway. We passed an abandoned tunnel where a fire must have broken out
Former Tunnel
We creeped and crawled our way down to San Luis Obispo, through a daylighted tunnel, down to the coast. Our train slowly creeped down the grade to San Luis Obispo through the Horseshoe Curve between Serrano and Chorro. Old ribbon rail adorned the ROW, as well as Southern California rocky soil, old tie plates and spikes, and miscellaneous riprap. Another tunnel came into view.
Great.
Popped out in no time, but the problem was that every time we went into a tunnel, the wireless would drop...thank god for my Droid, right?
California Mens Colony.
California Polytechnic State University.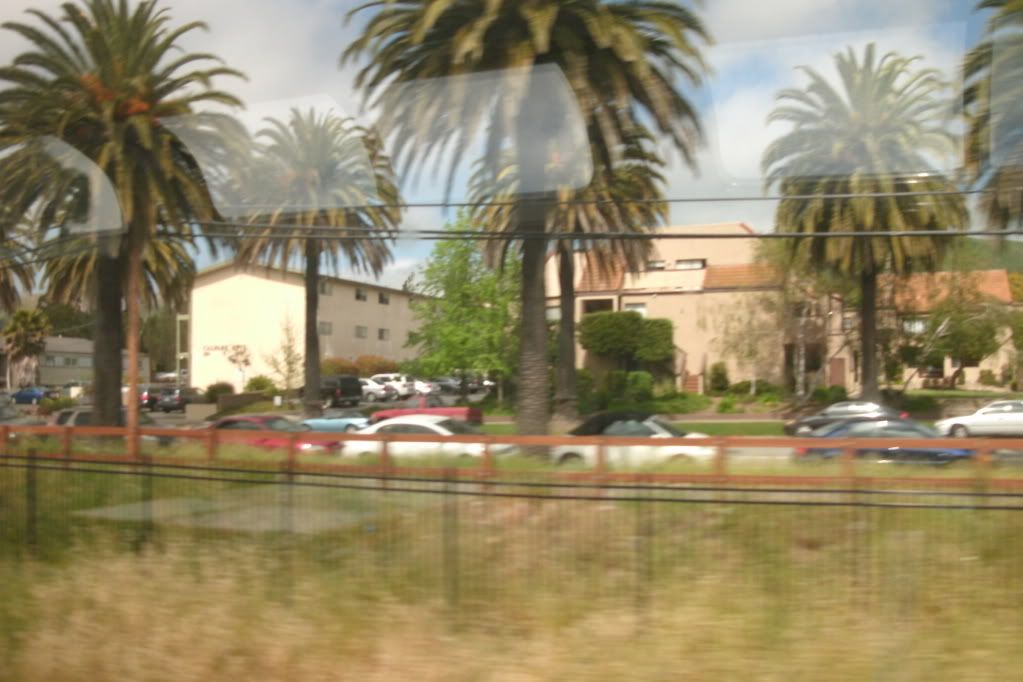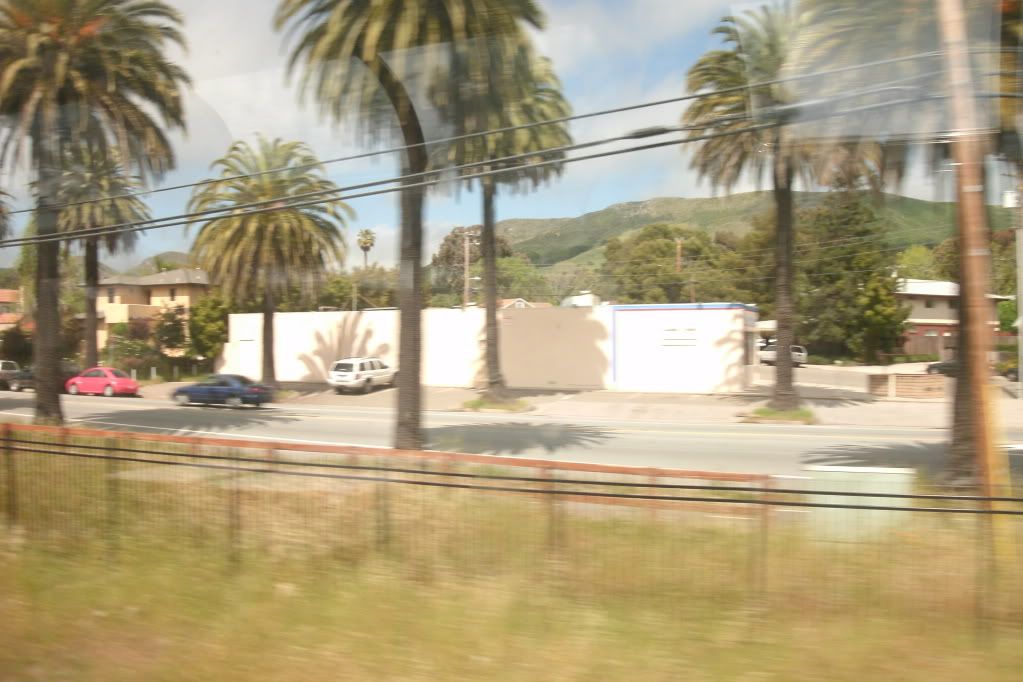 San Luis Obispo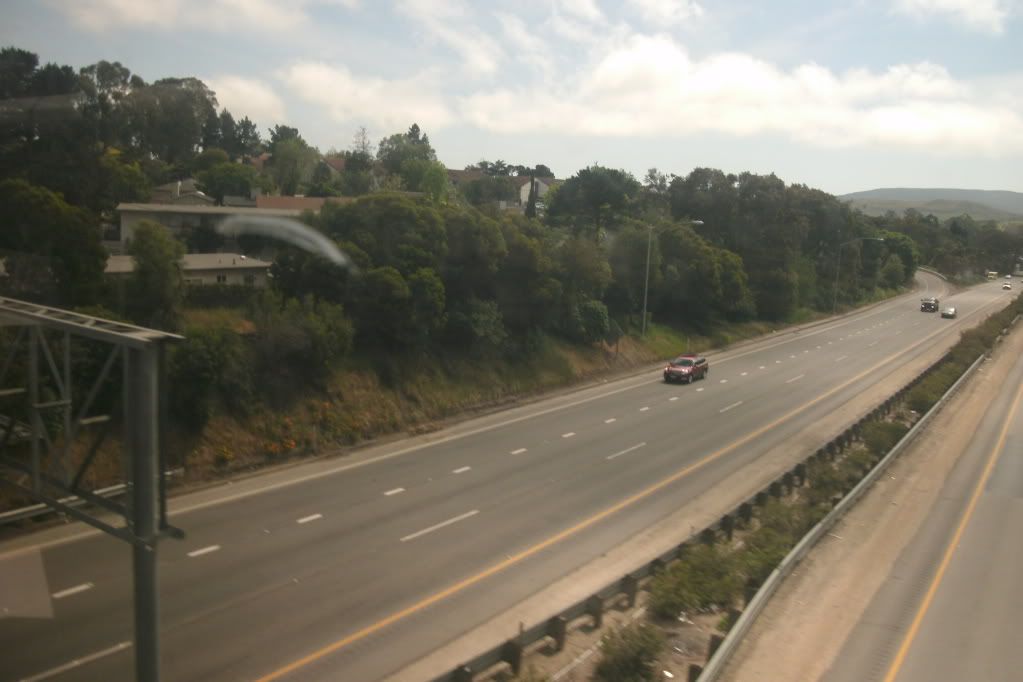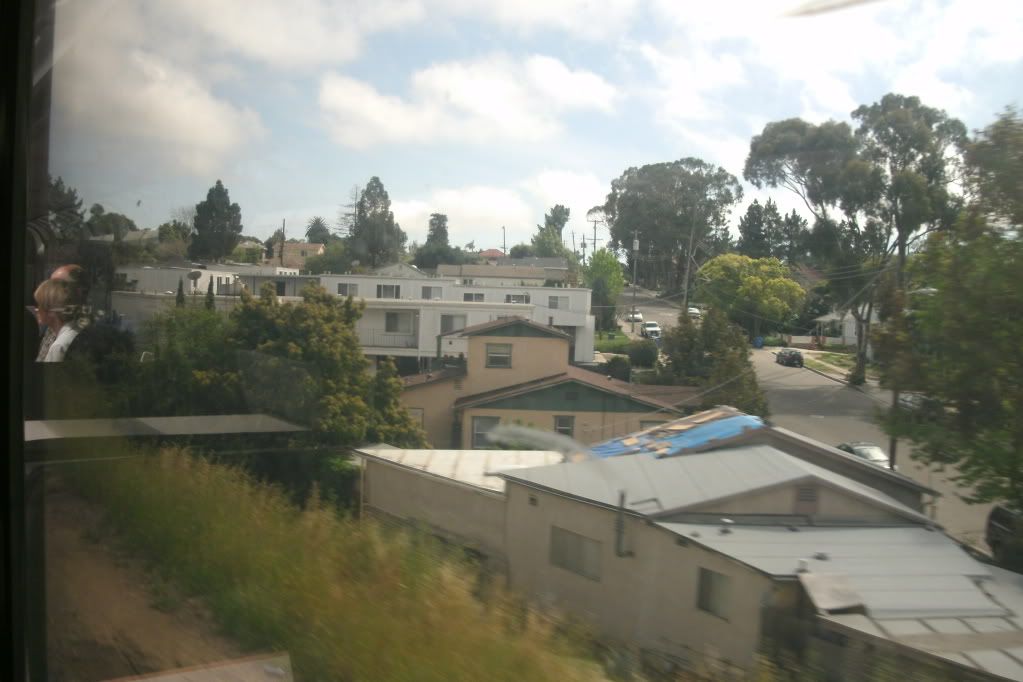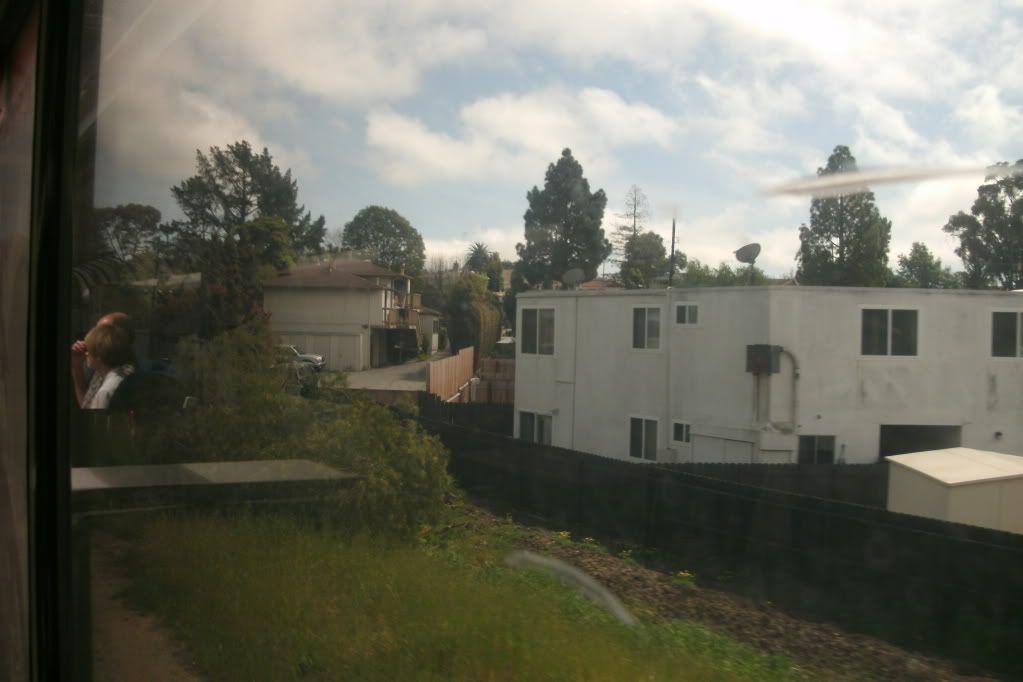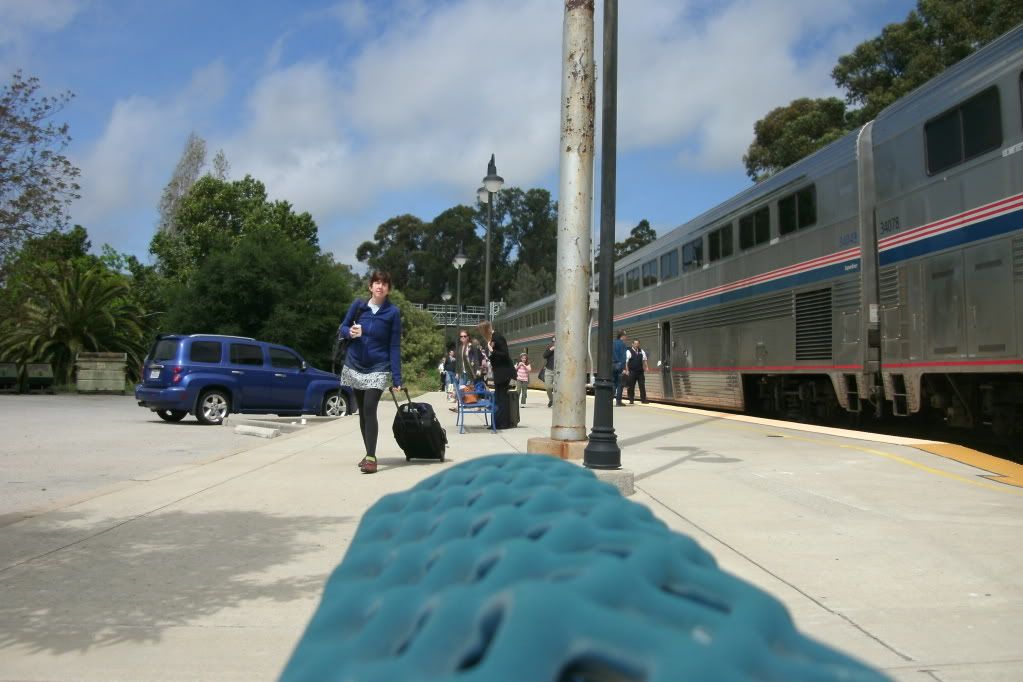 At MP 248.5, we were able to go back to Double tracking, after around 200 miles! San Luis Obispo is a nice station, and by the time we got there, the muggy cloudy skies we saw from Davis to the Bay Area disappeared.
I had to switch my scanner from 160.740 to 161.550.
At SLO, there were thrree loaded bulkhead flatcars with concrete culverts.
Some Cars and the freight shed at SLO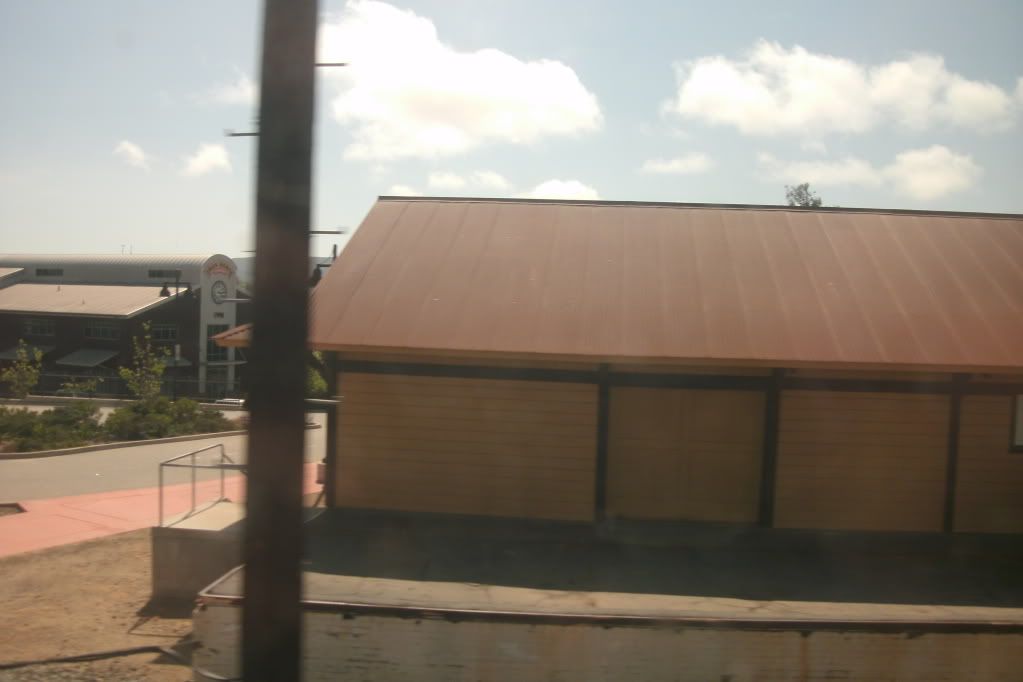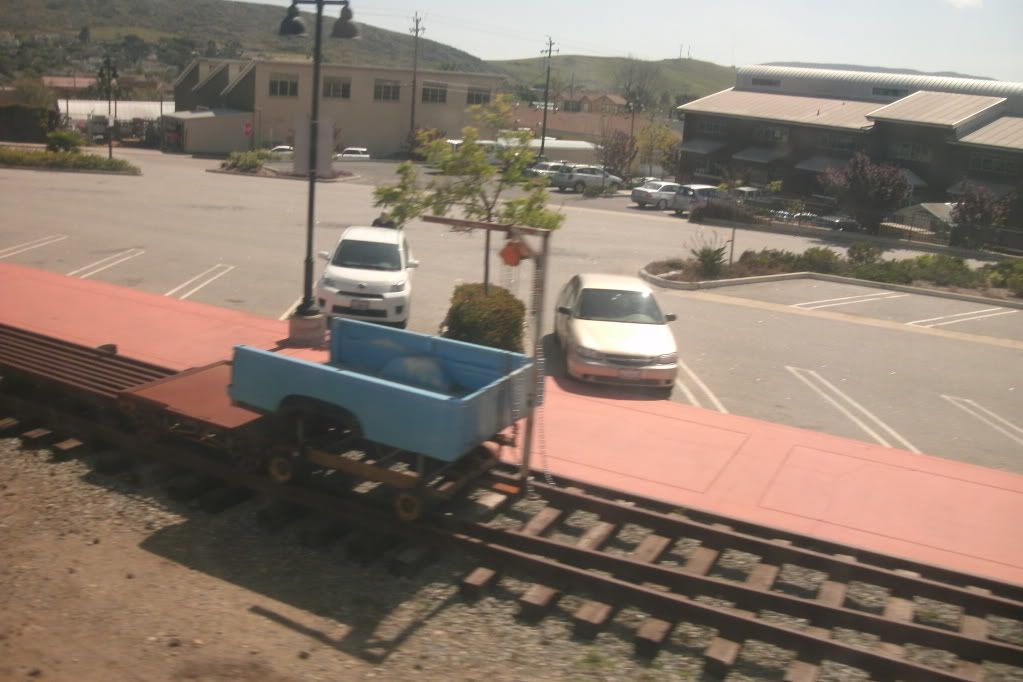 We had to wait for AMTK 14 with AMTK P42 #6 on the point.with three private cars on the tail. I was unable to see everything on the side I was on. Then we went back to track warrant control from South San Luis Obispo to Waldorf. We passed by the Pismo Beach State Park. At Guadalupe, our train passed by a Santa Maria Valley Railroad caboose, along with the interchange for the SMV. We finally saw the ocean at 16
:
17 at MP 286.8, or closer to Narlon.
Pacific Ocean from Narlon.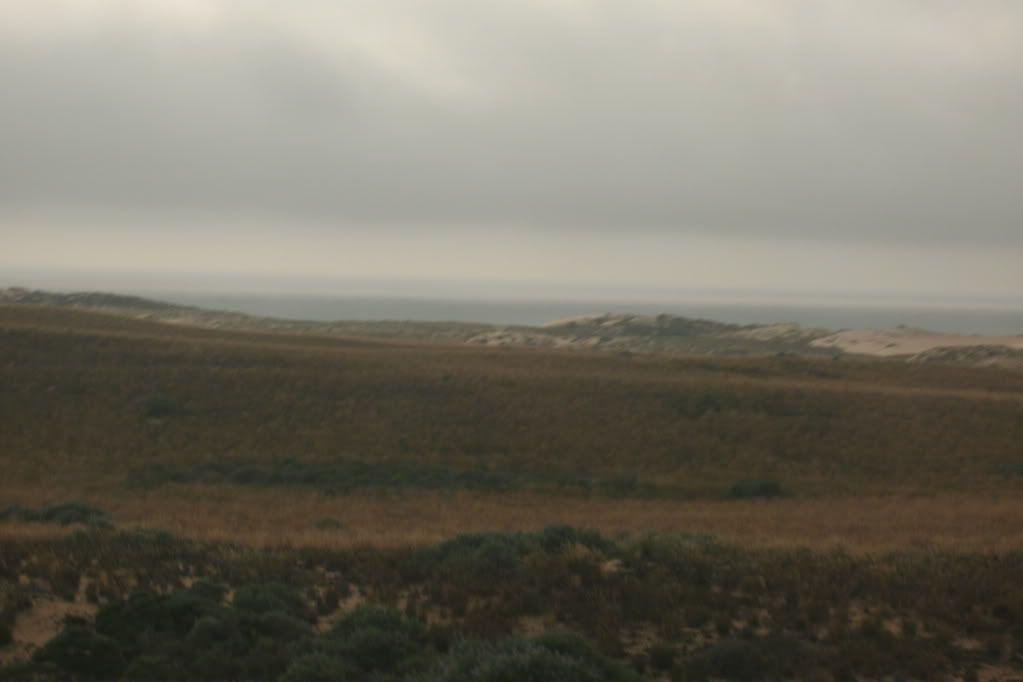 Pacific Ocean near Tangair.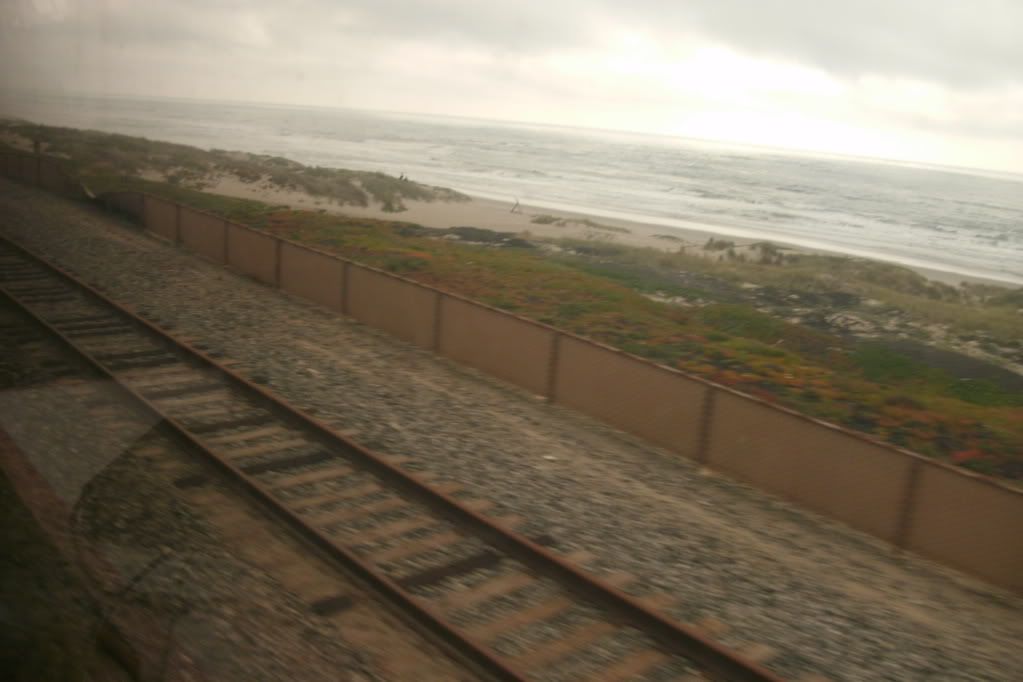 We stopped at Surf on the Coast Line, MP 299.0. We got a track warrant from Surf to Sacate at MP 329.9
Pacific Ocean at Surf
New warrant at Sacate to Capitan MP 346. The view just kept getting better and better. Beaches, palm trees, surf and turf, oil rigs off in the distance. Just perfect. Only thing blocking my way at Gaviota was the telephone pole, but only briefly. Some pretty unnerving moments were when we went over a trestle. I counted four of em, and I'm looking straight down! YIKES! But the water of the ocean looked so inviting. From my seat in the lounge, I could see the Catalina Islands, looming in the distance like giant barracudas waiting for their meals. Once we got past Tajiguas, we started really speeding, upwards of 70 MPH. Flew by Goleta 17
:
44. Then we arrived in Santa Barbara at 17
:
52.
SP Coach Santa Barbara.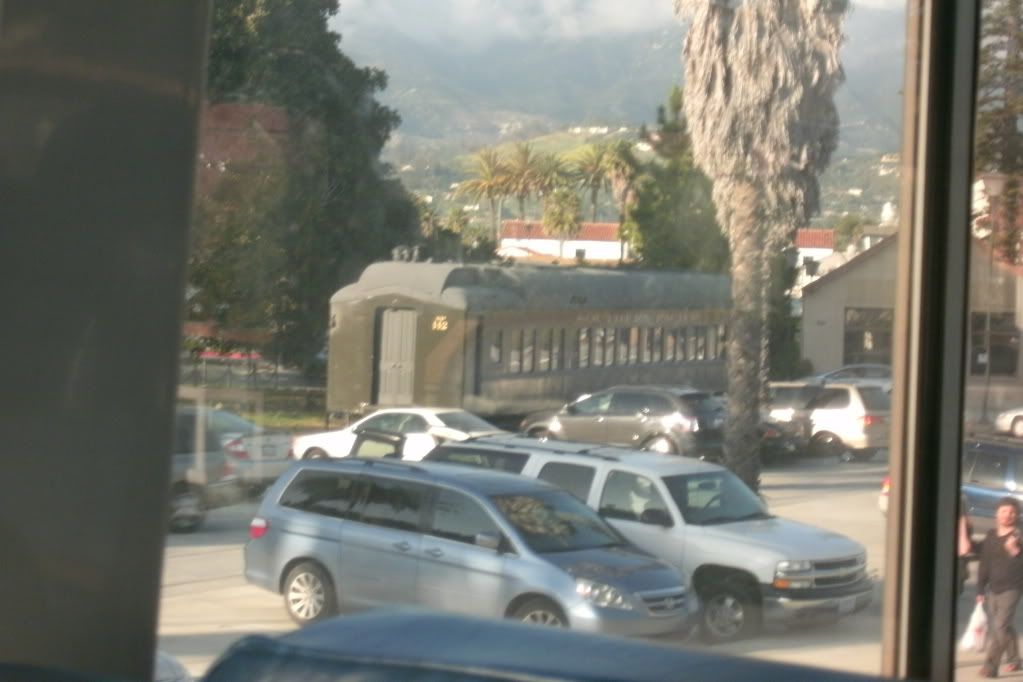 Santa Barbara Depot
Beach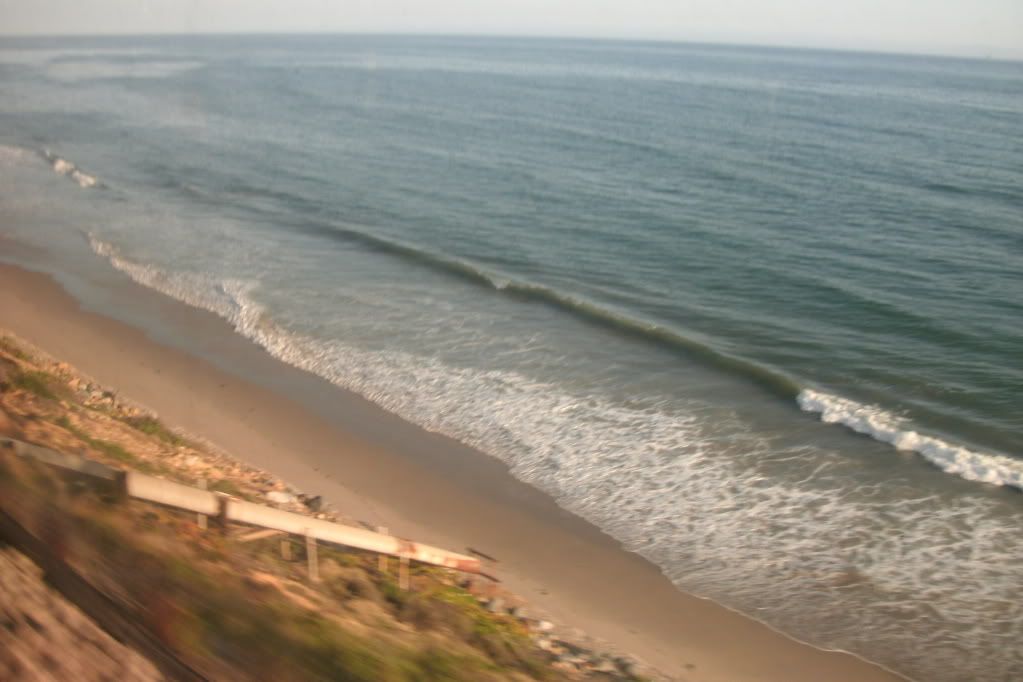 Left Santa Barbara at 18
:
19, due northeast towards Ventura. We finally got down to beach/sand/surf/ocean level. Well, about a 10 foot difference, but let's not go into specifics/details. Then we went back on a grade, between the mountains, and the freeway, which closely followed us from San Jose. We reached the city of Ventura at 18
:
53, and arrived at Oxnard at 19
:
09. Nice red brick building, the Oxnard Transportation Center looks nice in a city roughly 30 miles northwest of Los Angeles, which is saying something.
Well, it was too dark to shoot after 19
:
20, so I decided to digest any information regarding the trip until it was thirty minutes from LAUS.
Readouts:
19
:
27, past UP detector MP 421.1
19
:
30, approached Los Posas UP MP 426.4
19
:
35, stopped Moorpark or CP Madera, couldn't tell which since night was fast approaching. We pulled into the siding to let a Metrolink train pass. It did pass by at 1941 PM.
19
:
43, resumed motion.
19
:
45, announcement for Simi.
19
:
46, SCAX detector MP 434.3
19
:
49 SCAX detector MP 437.3
19
:
50, arrived Simi Valley Station.
19
:
52, highballed to Chatsworth, site of the 2008 incident that called for ZERO CELLULAR PHONE policy.
19
:
53, pulled into siding to wait for AMTK/CDTX train #75?, which will put us down about a 1/2 hour late.
20
:
03, continued on our way to Burbank, then to LA.
20
:
05, went through Chatsworth Tunnel.
20
:
09, we cleared CP Topanga.
20
:
11, passed Chatworth Station
20
:
16, past SCAX detector MP 451.3
20
:
16, announcement Van Nuys, diverging clear.
20
:
41, estimated arrival at LAUS.
20
:
46, actual arrival in LAUS
21
:
30, checked into my hotel, Best Western Dragon Gate Inn.
We actually arrived ahead of schedule. AMTK #14 is scheduled to arrive in Los Angeles at 2100. We arrived at 2046. Not bad, not bad. Coulda been worse, right?
Well, that's it for Day One. Click on Next to see the rest of my trip, including my explorations of LA.
Home
Railfanning