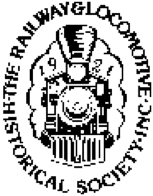 The Golden Spike Chapter is part of the national organization Railway & Locomotive Historical Society. We generally meet every 3rd Saturday - see below for date, time and place. Besides our major project restoring the D&RGW #223, we work closely with the Ogden Union Station Foundation in their efforts to operate and maintain the Utah State Railroad Museum.





Next Chapter Meetings,
May 19, 2018
June 16, 2018

12:00 noon at Two Bit Street Cafe, 25th street across from Union Station.
All are welcome.


Recent Updates:

New Volunteer: David Angle

February 19, 2018: Election of officers for 2018 (see below)

Saturday, Nov. 5, 2017: John Rimmasch, owner of Wasatch Rail Contractors in Cheyenne, Wyoming visited the 223 shop and gave us his assessment of our boiler and options to consider. Photos can be seen here

Saturday July 15, 2017: Major operation on the 223
Driver Wheels separated from the Frame

New Video giving the history of the 223 Project

April 15, 2017

January 2017

Current activities on the 223 project

New Volunteer

Joshua Perry



The Ogden Standard Examiner published an article about the 223 project in their Sept. 10 edition which includes a video. Click here and view the video on YouTube.


To 223 Current Activities and our Facebook page to see the latest episode in our 223 restoration project. Two professional steal locomotive restorers from Colorado spent the day giving us a seminar in dismantling the running gear drive rods.

Information about the Utah State Railroad Museum collection can be found on the Weber State University Virtual Museum.




Subscribe to our new Golden Spike Chapter R&LHS Yahoo group. Click HERE

Check out our YouTube channel

Visit our FaceBook at Rio Grande 223

____________________________________________________

_________________________________________________________



The current major project of the GSR&LHS is the restoration of D&RGW #223
Work sessions are held every Saturday beginning around 9 a.m. Public and volunteer workers are welcome.

Join us on Saturday mornings by walking behind the Ogden Union Station to the north end of the building
to the restoration shop. Just come in and introduce yourself.

Restoring the 223 is a costly venture. So far we have been fortunate to have businesses and interested individuals who have donated funds and services towards our efforts. More is needed as we prepare to finish the tender with interior coating and exterior painting. A major expense will involve the rebuild of the locomotive. The donate button below is provided for anyone who wishes to contribute to the restoration of 223.

____________________________________________________________________________________________________________

A GoFundMe page has been established.

Click here to visit and perhaps make a donation!
_______________________________________________________________________________



Also you can donate using our PayPal account below



Use the menu to the right for various aspects of this project
as well as information about the Golden Spike Chapter
and the Utah State Railroad Museum.



Chapter Officers for 2018 are:

President: Steve Jones 414-828-0166

Vice President: Lee Secrist 801-397-3943

Treas/Membership: Maurice Greeson

Secretary/Newsletter Editor: Lee Witten 801-476-1209

Director: Richard Carroll

Director: John Barrett 385-333-6468

Director: Joshua Perry 740-792-0723


Membership: Go to the national website www.rlhs.org for information on membership.