NEW ROUNDHOUSE AT OBICO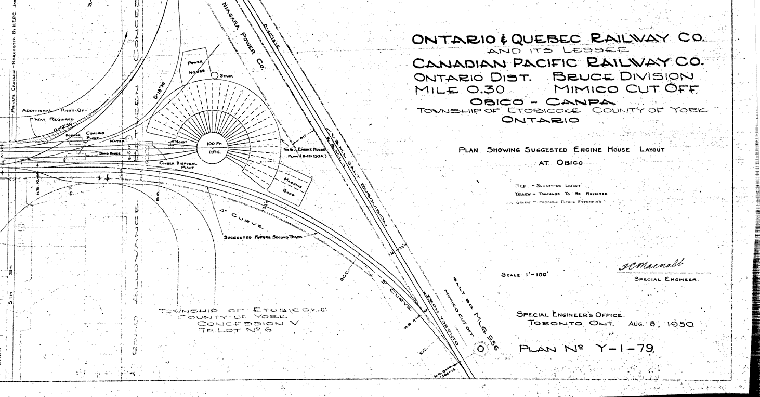 Obico Locomotive Terminal another old 1950 blueprint.
All of the proposals to expand Lambton and West Toronto Yards involved removal of the newest part of Lambton roundhouse, (at least 10 pits), to compensate and to allow for increased traffic an entirely new engine terminal was planned for the wye area of Obico officially M. 0.30 Mimico Cut Off on the site of an OCS coal dump. Lambton likely would still handle yard, way freight and assist engines, all using small power. Diesels might have been transfered from West Toronto roundhouse to close it.
It featured a 29 stall roundhouse with a 100' turntable. Two tracks ran into a built-on machine shop. There was also an attached power house. The four shop tracks had a coaling plant, sand house and cinder plant as well.
By comparison Lambton had a 37 stall roundhouse with a 90' table. John Street was 32 stalls with a 120' turntable. The old roundhouse at West Toronto with its 70' table was still in existance but used only minimally, it did however contain a diesel shop area. The back shop (erecting shop) was still in regular use.