FEZ CITY
by R.L.Kennedy
This is the story about a lost city. Back in October 1989 Canada lost a city, yet almost no one noticed. "Lost City" carries with it a mysterious aura of ancient civilizations, jungles, hidden ruins, etc. "Ghost Town" carries a slightly more modern connotation of abandoned mines, mills, construction camps etc. But railway yards are seldom thought of in such 'terms even when one is abandoned because no one lives there, at least not in the normal sense of living in a residence although many railroaders worked such long hours and seven day weeks that it seemed they lived there even if they didn't have a caboose to stay in. Every railroader in Parkdale yard and elsewhere in Toronto knew where Fez City was located but virtually none know how it got its name.
One place was unique in all of Canada yet it existed as a city for only one week! Known as Fez City it was a temporary city built to accommodate an unprecedented influx of people. It was in fact a city within a city, built by the CPR near downtown Toronto not far from the Canadian National Exhibition where the event was staged in the Coliseum. It was in fact a railway yard, 12 miles of tracks to hold 350 sleeping cars on 21 acres of land. It was reached via the Wharf Lead running from Parkdale which was formerly the very old Toronto, Grey & Bruce Ry. narrow gauge mainline to the Queens Wharf. This line passed by old Fort York just east of Strachan Avenue, the entrance was off Fleet Street, the east boundary was Bathurst Street and Lake Shore Boulevard to the south.
One of three locomotives used to supply heat and air for coaches. (Photo collection of D.More)
Click here to enlarge picture and for complete caption.

June 2000 marked the 70th Anniversary of this major event, the56th Annual Session, Imperial Council, Ancient Arabic Order Nobels of the Mystic Shrine, held June 9-12,1930, oasis of Toronto Canada, hosted by Remeses Temple, founded 1888.
The Masonic Peace Convention of all North American jurisdictions was also part of this event which included the dedication of a monument in the Canadian National Exhibition where events were held. It honoured 100 years of peace between the U.S. and Canada, and remains there to this day. Monument and plaque.
The ornate satin uniforms were designed and made by Sainthill -Levine & Co. Ltd. and included a unique hat known as a "fez". They also made conductor's and trainmen's uniforms!
Known more commonly now as simply the Shriners, these 32nd degree Masons are an old international organization noted for their charitable work with Shriner's Hospitals for Children.
This was the largest gathering of Shriners (or any other group) in Canadian history as 300 "patrols", with 65 massed bands of 2275 marchers with a chorus of 816 "chanters" of an estimated 7,000 "nobels" arrived from all over Canada and the United States. Parades, floats and fireworks were all part of the gathering. So enormous was this that the Royal York, the King Edward and the rest of the hotels in Toronto could not accommodate them. An estimated 100-120,000 people watched all of this take place.
A Canada Steamship Lines ship, the S.S.Kingston carried 350 passengers from the Rochester, New York temple and became a floating hotel at the docks. However, most Shriners arrived by train from all over Canada and the U.S., 44 trains actually! Even more trains were parked in the CNR Spadina Coach Yard, naming it Temple Park, for additional living accommodations.
For days the city's daily newspapers were full of articles and ads welcoming the Shriners including a full page by Mc Coll-Frontenac Oil Company for those needing gasolene!
Incidentally, one thing I noted while reading the newspapers to research this great event was that some things never change. Even back then in 1930 drivers were ignoring wig-wag signals at crossings, and dieing.
Shortly afterwards the C.P.R. embarked on a major expansion of its famous Royal York Hotel, which had only opened on June llth, 1929. making it the largest in the British Empire at the time taking it to 1156 rooms. This was undertaken in the middle of the Great Depression of the "Dirty Thirties" which had begun just before the Shriners Convention with the infamous stock market crash of 1929.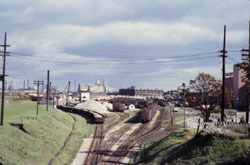 Fez City yard looking east from Garrison Road (which ends in historic Fort York) bridge, grass to the left is Fort land. (Photo 1959: R.L.Kennedy)


Following the convention the "city" was closed as the trains left to take the residents back to their home towns. A large segment later became a facility for Canada Builders Material (CBM) a major provider of ready mix concrete consuming large quantities of sand and gravel brought from the CP Electric Lines at Galt (originating on the Lake Erie & Northern at Paris, Ont.) Other tracks were used for storage of CBM cars and other freight traffic for nearby industries. Subsequently these storage tracks were rebuilt and relocated underneath the elevated section of the Gardiner Expressway which was built through the area in the Fall of 1960, the CBM team tracks remained in the open just to the south, behind Molson's brewery.
The lead which once ran all across the waterfront was shortened from time to time in segments until finally it ended under Bathurst Street. (Access to the East Wharf area remained from the High Level behind Union Station.) Final use of the Fez City yard under the Gardiner was by GE Rail Car, a small freight car contract repair open-air facility, which was relocated to Havelock.
A long-stored cut of old flat cars on the stub-ended lead had been taken over by homeless people and they had to be removed to allow dismantling of the tracks in 1990 including the lead which crossed the CNR mainline at Cabin E leading to Parkdale.
This land had been sold for redevelopment, including the old closed Molsons' brewery but the real estate market drastically declined around that time and nothing has been built to this date. Will the "city" arise again? Will the developer call it "Fez City"? Or will it be "Molsons Heights" or some such developer name? A high rise called West Harbour City began in 2006.
---
Lead looking north west to King Street.
(Photo 1959: R.L.Kennedy)

Click here to enlarge picture and for complete caption

The Rexall Train visit to Fez City