Los Angeles Live Steamers




P.O. Box 2156
Toluca Lake, CA 91610



APPLICATION
FOR MEMBERSHIP

The objective of the Los Angeles Live Steamers is to promote education and public interest in building, maintaining , and operation a railroad. We foster the development of skills, crafts and technology associated with railroading and modeling. Provide enjoyment for the public, our members and their families; preserve the hobby an support the exchange of ideas and techniques in the construction of railroad engines, equipment, signal, trackage and operations.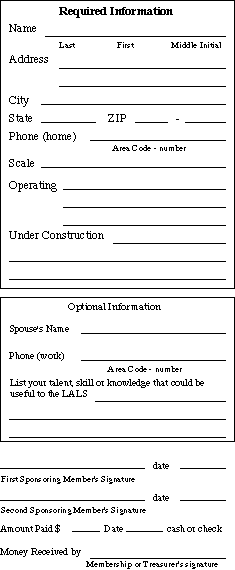 Annual dues for the LALS are payable every January and cover one calendar year. The dues schedule for a new member is:
Resident:

a one time $100 initiation fee and for the first year only
$50 if joining in Jan., Feb., or Mar.
$45 if joining in Apr., May, or Jun.
$40 if joining in Jul., Aug., or Sep.
$35 if joining in Oct., Nov., or Dec.
$50 each calendar your thereafter

Non-Resident

$30 regardless of when joining

Junior

$20 regardless of when joining
Select One

___
A Resident Member is one who resides within 60 miles (as the crow flies) of the LALS facility. This member also has voting rights.
___
A Non-resident member resides more than 60 crow miles from the LALS facility and cannot vote.
___
A Junior member must be 14 years old and less than 18 years old. When the Junior member reaches 18 years of age and wishes to remain as a resident to Non-Resident member, the above initiation fee and dues payment schedule is in effect - except that the current years dues could have already been paid. A Junior Member must be sponsored by a resident member in good standing who is willing to instruct and be responsible for the Junior Member






---

Signature of the sponsoring Resident Member
All members receive and ID badge, and annual ID card, an annual Roster, a book of rules, and a monthly newsletters. All members can enjoy the use of the LALS Facility and when qualified, the LALS equipment.
If accepted, I agree to abide by, and uphold, all rules, regulations and bylaws of the Los Angeles Live Steamers.