Robert played a musical tip to one of his questions from his smart phone. It takes a lot of props and equipment to make a successful Trails & Rails presentation, and the audience appreciated the effort.
The Tabern's book has much more information that just what is mentioned in their presentation. The book is available at the La Plata train station, and proceeds from the book go to the American Rail Passenger Heritage Foundation, based in La Plata, Missouri, or online
Mendota has an excellent railroad display along the tracks.
Our Southwest Chief journey ended in Naperville, Illinois, where our friends from Huntley, Illinois, picked us up and we spent about a week with them. One thing I wanted to do was to visit the Illinois Railway Museum in Union, Illinois, a few miles from their home. There are plans to have an Amtrak train that will go through Union and Huntley in the near future.


---
The Illinois Railway Museum is a great place to visit and photograph. Even though the barns were not open, we arrived and went to all the outside exhibits. Once we were through with them, we realized they had opened the barns and we went through all those that we were interested in. Finally, we photographed some more outside equipment and went into town for a late lunch. I like the photo used on their Facebook page that shows an aerial view showing how large of a facility this really is. For that photo, click
here
.
Most of my photos at the Illinois Railway Museum are HDR format.
1851 depot (from Marengo, Illinois), the oldest continuously operating passenger station west of Pittsburgh.
Photos at the Illinois Railway Museum were all HDR - 3 images at different exposures merged in Photomatix Lite.
There are a multitude of locomotives and cars outside. The descriptions are from the Illinois Railway Museum's Roster of Equipment: http://www.irm.org/roster/index.html
Union Pacific Railroad 18

Builder: General Electric
Year Built: 1960
Model: 8500 GTEL
Horsepower: 8500
Length: 165ft 11in
Width: 10ft
Height: 16ft
Weight: 849248 lbs
Brakes: 26L (Loco) / AB (Fuel Tender)
Engine: Cooper-Bessemer (A unit) / Gas-Turbine (B unit)
Motors: 12 GE 752E4
Trucks: GSC
Description: Diesel-Electric (A unit) / Turbine-Electric (B unit) / Fuel Tender Capacity: 24384 gallons

Chesapeake & Ohio 2707

Builder: American Locomotive Company
Year Built: 1943
Wheel Arrangement: 2-8-4
Length: 105ft 1in
Width: 10ft 10in
Height: 15ft 8in
Weight: 460000 lbs
Brakes: 8ET
Tractive Effort: 69350 lbs
Cylinders: 26x34
Boiler Pressure: 245 psi
Drivers: 69in
Description: Class K4

I am curious as to the purpose of the cab on this tender.
Henry Kisor researched it and found this answer: http://cs.trains.com/trn/f/111/t/14537.aspx
Southern Pacific 975
Builder: American Locomotive Company
Year Built: 1918
Wheel Arrangement: 2-10-2
Length: 94ft 10in
Width: 10ft 5in
Height: 15ft 8in
Weight: 397500 lbs
Brakes: 6ET
Tractive Effort: 63300
Cylinders: 27.5x32
Boiler Pressure: 200 psi
Drivers: 64in
Description: Class F-1
My good friend, Bob Williams, spent the day with me trying for some unique HDR shots.
Grand Trunk Western 8380
Builder: Baldwin Locomotive Works
Year Built: 1929
Wheel Arrangement: 0-8-0
Length: 68ft 3in
Width: 10ft 9in
Height: 15ft 3in
Weight: 215150 lbs
Brakes: 6ET
Tractive Effort: 49691 lbs
Cylinders: 22x28
Boiler Pressure: 220 psi
Drivers: 51in
Description: Switcher / Class P-5-g
Bob Williams got a photo of me as well. Actually a nice size indicator next to these giants.
64 in. Drivers on Southern Pacific 975
In the center:
Union Pacific Railroad 900075
Builder: Lima
Year Built: 1949
Length: 104ft 9in
Width: 12ft 1in
Height: 16ft 5in
Weight: 303000 lbs
Brakes: 6ET
Trucks: General Steel Casting
Description: Rotary Snow Plow & Tender
Formerly Royal American Shows #81 6 Compartment-3 Drawing Room Sleeper, Pullman, 1926, "Glen Alta"
Purchased by Short Line Enterprises, Ltd. from Dick Weiner 7/91
Sold to Illinois Railway Museum 10/91.
Photographer Bob Williams caught a glimpse of me in the Royal American Shows car #81.
The barns held many treasures.
Chicago Burlington & Quincy 3007
Builder: Baldwin Locomotive Works
Year Built: 1930
Wheel Arrangement: 4-6-4
Length: 87ft
Width: 10ft 5in
Height: 16ft
Weight: 717930 lbs
Brakes: 6ET
Tractive Effort: 43000
Cylinders: 20x28
Boiler Pressure: 250 psi
Drivers: 78in
Description: Class S4
Nebraska Zephyr's locomotive was lot attached.
There are 4 Nebraska Zephyr cars in the IRM Roster, and I think the car above is this one:
Chicago Burlington & Quincy Nebraska Zephyr 225
Builder: Budd Mfg. Company
Year Built: 1936
Seats: 34
Length: 75ft 5in
Width: 10ft 6in
Height: 12ft 10in
Weight: 65250 lbs
Brakes: HSC-D22
Trucks: Budd (Articulated)
Description: Parlor Observation Juno
Outside, this rusty relic caught my eye since it is from my first year in college.
Chicago Milwaukee St. Paul & Pacific (Milwaukee Road) 37A
Builder: Electro Motive Division GM
Year Built: 1961
Model: E-9A
Horsepower: 2400
Length: 70ft 3in
Width: 10ft 6in
Height: 14ft
Weight: 340000 lbs
Brakes: 26L
Engine: Two 12-567C
Motors: 4 EMD D37B
Trucks: Blomberg A1A
Description: Diesel-Electric
Chicago Burlington & Quincy 9908
Builder: Electro Motive Division GM
Year Built: 1953
Model: E-9AM
Horsepower: 2400
Length: 70ft 3in
Width: 10ft 6in
Height: 14ft
Weight: 340000 lbs
Brakes: PS-68
Engine: Two 12-645CE
Motors: 4 EMD
Trucks: Blomberg A1A
Description: Diesel-Electric (MARC 92 / ex MARC 68 / ex BN 9908 / ex BN 9976 / nee CB&Q 9976)
Burlington Northern BN-1
Builder: Electro Motive Division GM
Year Built: 1954
Model: F-9A
Horsepower: 2000
Length: 52ft 4in
Width: 10ft 4in
Height: 14ft 9in
Weight: 228000 lbs
Brakes: 26L
Engine: 16-645CE
Motors: 4 EMD D77
Trucks: Blomberg M
Description: Diesel-Electric / Rebuilt to 38-2 specs
Less glamorous, but equally fascinating as a photo subject with the ladders and brake wheel was this wooden boxcar.
Wisconsin Central Railroad 131650
Builder: Pullman/Pullman-Standard
Year Built: 1914
Length: 44ft 10in
Width: 9ft 11in
Height: 13ft 5in
Weight: 45100 lbs
Brakes: AB
Trucks: Bettendorf 54
Description: Wood Box Car
A couple of locomotives without numbers, but they make an interesting photo.
Back One:
Tuskegee Railroad 101
Builder: Baldwin Locomotive Works
Year Built: 1924
Wheel Arrangement: 2-6-2
Length: 58ft
Width: 10ft 3in
Height: 14ft 7in
Weight: 125000 lbs
Brakes: 6ET
Tractive Effort: 20500 lbs
Cylinders: 17x24
Boiler Pressure: 160 psi
Drivers: 46in
Front One is probably a:
Baldwin Locomotive Works
Year Built: 1922 - 26
Switcher
Thus ended my visit to the Illinois Railway Museum, Union, Illinois. Downtown Union, Illinois, is the home of the Pullman Library of drawings of all the Pullman cars. Bob and I had lunch at the popular local restaurant in downtown, Checkers, 6524C, Main St, Union, IL 60180.

---
Back to the Table of Contents
Milwaukee Lighthouses and Depot at Oconomowoc, Wisconsin
, with TrainWeb.com Field Reporters Kandace and Robert Tabern
My real mission on this "TRAINing" trip was to work with Robert and Kandace Tabern at their South Milwaukee home, training them how to do some web authoring for TrainWeb.com. As of this writing, Robert and Kandace have an Index page of all their train-related reports at
http://trainweb.org/outsidetherails/
.
I drove from our friends' Del Webb home in Huntley, Illinois, northwest of Chicago, to the Tabern's home in South Milwaukee. Before reaching their home, I took a little detour to the lighthouses of Milwaukee. I was pleasantly surprised to find that a Model A Ford auto show was taking place on the lawn of the North Point Light Station in Milwaukee.
Something different with this, and following photographs of the lighthouse and Fords with a blue border, if you click the photo, it will become a black and white image. Click the BACK arrow in your browser to return to this page.
The lighthouse was open so I climbed the 70+steps to the light room and could "see forever." Note the bridge below and the beach far below the bluff on which the lighthouse is positioned.
View from the top. I left this photo black and white to remind you that behind the color photos above, with the blue borders, are black and whites, just click the color photo to see the black and white copy.
On the lake, or business side of the Lighthouse is this historical marker.
Four lions guard the bridge across the ravine beside the lighthouse. I have been here before, but later in the year and the lighthouse was not visible from this point because the leaves blocked the view.
Farther down the coast, at the entrance to the Milwaukee Harbor are three harbor lights. This one is easily accessible from the parking area off Polk Street onto Erie into the parking lot where it ends.


Farther out is a breakwater lighthouse, reachable only by telephoto lens or boat.
The third breakwater light at the Milwaukee Harbor.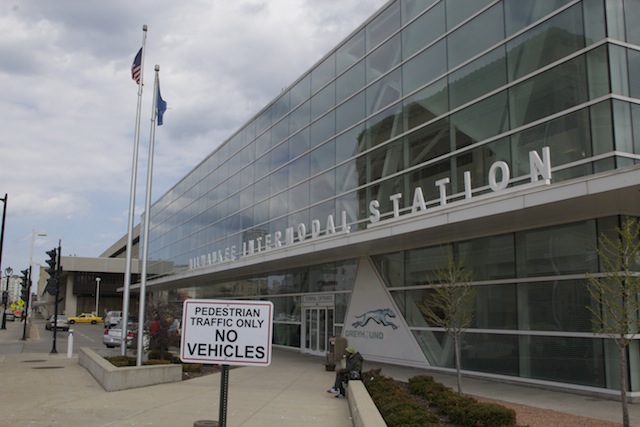 Before heading out of Milwaukee, I drove by the Amtrak Station in time to get a glimpse of the Empire Builder leaving.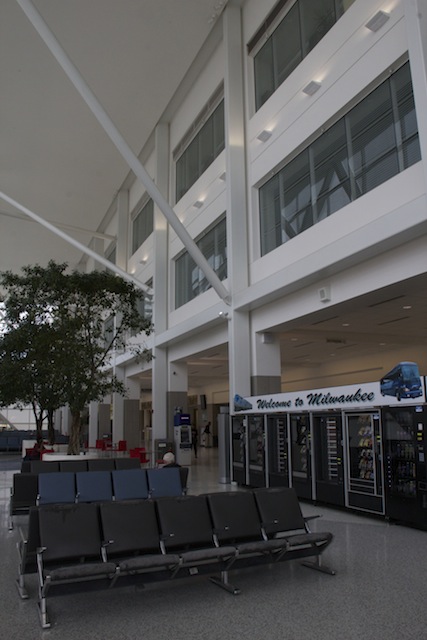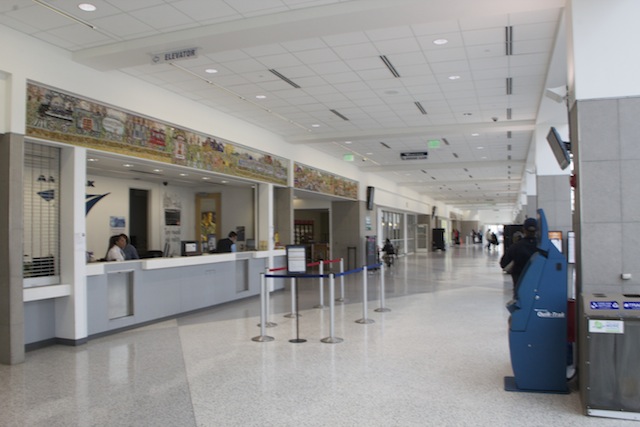 When I arrived at the Tabern's and mentioned that I had just seen the Milwaukee lighthouses, Robert mentioned that Wind Point Lighthouse was just 10 minutes south of their South Milwaukee home, so we drove there for some photos. Lighthouse address: 4725 Lighthouse Dr, Racine, WI 53402
There was a pre-prom party at a nearby lake front home and many of the girls were having their pictures taken with the Lake Michigan background.
We just missed the Amtrak at this former train photography location.
This beautiful station replica is at lakeside in the Village of Pewaukee, Wisconsin.
We drove on to the Oconomowoc Depot for a delicious meal at Maxim's 115 E. Collins St. Oconomowoc, Wisconsin.
Adjacent to the Depot is this vintage railcar which can be rented for parties.
Inside I was surprised to see a nice railroad layout in Maxim's which had a model of the Depot and the railcar. Volunteers were working on the layout and even handed me a "Operating Time Table" showing their schedule for Wednesday through Sunday running of the trains.
Michael Pate was just about to shut down the railroad for the day, but stayed on to chat. He gave me a card that said The Railroad @ Maxim's.
Pete Schmechel, a volunteer, was on hand to point out the station and to move cars for a good photo.
It was amazing that the model station that they had was called "Fullerton" which is my home Amtrak Station in California from which I left on this trip.
A painting of the depot on the wall in the restaurant.
Robert requested a "railfan" table. I caught a passing freight's photo from our table.
We stopped at the Brookfield, Wisconsin historic station which sits between the two current mainline tracks.
---
Table of Contents
Jack Delano's "Railroaders" Photo Exhibit at the Chicago History Museum, with photographer Bob Williams

Back in Illinois, my friend, Bob Williams, took me from the Metra Big Timber Station to downtown Chicago. This photo of a passing Metra commuter train was taken from the cab car's lower back window as we traveled up to 60 mph toward downtown Chicago.
Chicago Skyline
Into Union Station
Union Station: Icon of a Great Age
Setting up for a special event.
Up time-worn steps to street level
We took a bus to the Chicago History Museum
Part of the "Crossroads of America" display
Why we came to the Chicago Museum - Jack Delano's Railroaders Photography
Bob Williams discussing steam railroading
Yours Truly looking eye-to-eye with railroaders in Chicago that were photographed the year after I was born.
Youngsters dress up in 1940s railroad memorabilia
Yours Truly in the 'dress like a railroader' section. Photo Credit: Bob Williams
Delano's camera
"Crossroads of America" Display
Our bus from the Chicago History Museum back to Union Station.
From the bus between The Chicago History Museum and Millennium Park.
Controversially over Donald Trump putting his name on his building as the "T" goes up.
Looking up from inside the bean.
Everyone takes a photo of their reflection in the bean.
The Art Institute has a bridge from which one can get a nice photo of the Metra trains.
Sights from the Nichols Bridgeway
On the way back to Union Station
A bar in Union Station had large photographs of Chicago Sports venues.
---
Silver Rails Country, La Plata, Missouri
, with photographer and American Passenger Rail Heritage Foundation (APRHF) President, Bob Cox
After working with Robert Tabern on Web Authoring, we visited the Illinois Railroad Museum and the Chicago History Museum for the Jack Delano Railroaders Photography display. Robert's rail travelogues and reports appear at
TrainWeb.org/outsidetherails
, with the most recent report at the top.
We took a
Southwest Chief
coach from Naperville, Illinois westward to La Plata, Missouri. There we stayed in the Depot Inn & Suites, in the Pullman Suite, while working with Bob Cox on Web Authoring for TrainWeb.com. His reports will soon appear at TrainWeb.org/bob.
While awaiting the westbound
Southwest Chief
at the Naperville, Illinois Station, I kept watching the progress of the eastbound
Southwest Chief
on the
Amtrak App
. As it turned out, they met before stopping at the Naperville Station and I was there to photograph it! What are the chances of that happening?
Upon boarding in coach in Naperville for the 4+ hour trip to La Plata, we heard the all-train announcement about a Trails & Rails talk taking place in the Sightseer/Lounge car. After having watched Robert and Kandace Tabern give the same presentation eastbound between La Plata and Naperville, I thought I would listen to these guys for a while.
Trails & Rails Interpretors between Naperville and La Plata (above and below).
Since only room accommodations on Amtrak include meals in the diner, on this short trip we decided to get something from the Cafe/Lounge. There is no menus in the coaches that I could find, so I went to the Cafe/Lounge and photographed the menu and took it back to Sue's seat for her to make her section.

This part of the
Southwest Chief
route westward goes through some very productive farmland west of Chicago. The towns include Naperville, IL; Mendota, IL; Princeton, IL; Galesburg, IL; Fort Madison, IA; before we reach out destination, La Plata, Missouri.
Mendota's water tower has rusted a bit since I remember going through town on the train.
Mendota has a sizable rail yard with these two BNSF switchers.
On the station side of the tracks are many nice vintage locomotives and rail cars.
Next to this newly sprouted cornfield is either a round barn, or a silo. the use of bricks to make such a large structure puzzles me.
The Trails & Rails Interpretors pointed out the electric-producing windmills between Princeton and Galesburg, Illinois. I like the size indicator of the 3 silos. The windmills do not looks so large until you see them against something of known size. When you realize that a single propeller takes two rail flat cars to move it, you realize how huge they are. Towers can be up to 300 ft. tall and the blades up to 131 ft. long.
No doubt that we were in Galesburg, Illinois. Why doesn't every station put something like this advertising an annual event on the opposite side of the tracks from the station? It would also be visible to those waiting on the platform.
Silver Rails Country, La Plata, Missouri and surrounding area.

Our destination in La Plata, Missouri was the
Depot Inn & Suites
where we spent 4 nights in the Pullman Suite.
The Exhibition of Amtrak History is located in two formerly mail express cars just behind the Inn.
If walking is your form of daily exercise, walking from the Depot Inn to the La Plata Amtrak Station is an excellent way to satisfy your habit. It is only .83 miles to the station down this road to the spot where you see grass in the roadway.
These signs along the way assure you that you are on the right road.
On this May 24th, the Iris were in perfect bloom in yards along the way to the station.
These control boxes are good to photograph for location indicators for your photos. This one at the crossing at the La Plata Station, of Owensby St. also indicates mile post 312.67. The red-roofed building across the tracks is the home office of TrainParty.com.
The La Plata Amtrak Station is the closest you can legally get to BNSF freights and Amtrak trains on the double-track mainline. If you can get permission to sit in the dispatcher's office in the station, that is the closest you can
sit
next to those speeding trains.
Kind of incongruous to see the Amish who live in this area, driving their horse and buggy to pick someone up who has just ridden from California on a train. This seems to be a winter/enclosed buggy where the one below is open.

Station Agent, Bob Cox, keeps all travelers safely behind the yellow line as eastbound Southwest Chief No. 4 arrives. The Amish, in their summer straw hats on the males and black bonnets on the girls, await their older passengers return from California.
Trains do not look massive until they arrive at the station.
This time the train aligns perfectly with the new handicapped platform and Bob Cox checks the manifest with the conductor.
The elderly Amish couple have their luggage loaded in the buck board, the four girls who came to meet the train take the back seat, and they are off on their trip home. Bob says there are triplets in the group of girls.
Photo title, "Newlyweds head for Hot Springs on their honeymoon."
May 25, 2014 12:14 a.m.

Railfans come from far and wide to photograph here at the La Plata Amtrak Station. On this day both Rob Meyer (left) and Kelby Stroughter were enjoying the day. In fact, a lot of Bob and Amy Cox's photos are taken in this area of Northwest Missouri. Their RailfansFriend.com is based in La Plata at 202 West Benton, La Plata, MO 63549 Daytime phone 6602871714
Bob and Amy Cox of Railfans Friend
www.railfansfriend.com/

You will find few places in America where a structure was built with the express purpose of watching passing trains
An amenity of the Depot Inn & Suites is their Rail Overlook Cabin and Deck. The overlook is part of the
American Passenger Heritage Foundation
(APRHF). This cabin is situated above the BNSF tracks and you can see the La Plata Amtrak Station from the lookout. In addition to birds, you might also spot other small wildlife along the trail to the Overlook.
Sue and I took the Inn's golf cart to the overlook one day about the time the Southwest Chief was to arrive. (We checked the Amtrak App and saw that it was very late, so we did not go to the cabin until it was due.) When the Southwest Chief did finally arrive, we could see why it might have been late. Can you spot the reason?
Long lens shot of the La Plata Amtrak Station from the Lookout.
Bob Cox remarked that perhaps they lost power from the Amtrak Genesis locomotive, and added the BNSF locomotive at Albuquerque. This has further complications of being out of sync with dispatchers across the country. Also, freight trains have a slower top speed than the Amtrak locomotives. In any event, it was a unique photographic opportunity.


The Southwest Chief's locomotive on the eastbound version, No. 4, always spots between the station and the overlook while the Conductor handles passengers in two spots. First the sleepers unload on the short platform, then they pull up and the coaches unload and load passengers. During this spotting routing, those on the deck of the overlook have plenty of time to take photos.
Photo Credit: Sue Morrison
With the engineer having quite a bit of waiting time for the handling of passengers, he can see whether there are any folks on the deck of the overlook. When he high balls out of town, many locomotive engineers will wave and sound a couple of short toots of the horn to say hello.

The Overlook deck is also a nice place to set up a tripod, or use the wide handrail, and make some videos:
Video of Amtrak No. 4 Arriving in La Plata on May 26, 2014, taken from the Depot Inn & Suites Lookout cabin.
http://youtu.be/omJ_5t_Npyo
Video of Amtrak No. 4 Departing La Plata, Missouri, Amtrak Station with Carl Morrison from the Depot Inn & Suites lookout cabin's deck:


While Bob and I had been working on Web Authoring, I mentioned that I always wanted a timed exposure photo of a railroad crossing with the arms coming down and a train passing. He said that we would need a country crossing where there were no street lights to interfere. He suggested the crossing near the Santa Fe Lake, near the Depot Inn & Suites.


Our first step was to set up our tripods and take shots with enough light to perhaps use to sandwich with the timed exposure.
With the tripod in the same spot, we later heard a distant train approaching so when the signals and bell were activated, we started our timed exposures and got this shot. The exposure was over before the train arrived.
Finally, we photographed the passing train with the crossing bars down.
The result was sandwiching the shots together to get all the elements I wanted...the crossing, the lights coming down, and the train passing.
---
Another attraction of the American Passenger Heritage Foundation (APRHF), based in La Plata, Missouri, is the Exhibition of Amtrak History. The exhibition is located just steps behind the Depot Inn & Suites.
Just steps away from the Depot Inn & Suites
Trails & Rails display
---
West of La Plata, through Amish Country, is the town of Marceline, Walt Disney's boyhood home. Sue and I drove out for a look.
It is said that Walt Disney designed Main Street in Disneyland after Main Street in Marceline.
West side of the Marceline Train Station, is a museum today.
East entrance of the Santa Fe Depot now the Walt Disney Hometown Museum
Trains still roar by on the double-mainline BNSF tracks including Amtrak morning and night, but it does not stop here.
The city park has Santa Fe No. 2546 as well as a caboose.
On Hwy 36 east of Marceline, heading back to La Plata, I spotted this vintage looking scene from the highway.
One day we went to Hannibal, Missouri. While Sue was in a quilt shop, I walked two blocks to the waterfront and found this quote by Mark Twain. Luckily, as I was at the sign a tow boat passed headed downriver for a photo moment. The river was high from spring rains, but I have seen it higher in May in the past.
Just to the right of the sign is this statue of Mark Twain. Riverboats still dock here on their trips up and down the Mississippi.
I saw a sign like this in Maui, now here is one in Hannibal, Missouri. That is the Hwy 36 high bridge and a railroad bridge beyond.
Hickory Sticks Quilt Shop in Hannibal
A highlight in Hannibal is always to have a homemade root beer, and maybe a breaded tenderloin, at the Mark Twain Dinette & Drive In 400 N 3rd St. In this case, Sue had a root beer float.
The ghost of Mark Twain awaits tourists upstairs.
All American still life.
Becky Thatcher's Home
Mark Twain's Father's Law Office
The Mark Twain Memorial Lighthouse sits on 10 acres of park atop Cardiff Hill, a favorite play area of Tom Sawyer, Huckleberry Finn, and the gang. Cross streets are E. Rock and E. Cardiff. Parking is available near the top. There is also a rear entrance from Cardiff Hill Drive, offering handicapped accessible parking. There are 244 steps leading uphill to the Lighthouse from the north end of Main Street in historic downtown Hannibal. The Lighthouse offers a panoramic view of Hannibal and the Mississippi River.
From: hannibalparks.org/parks/mark-twain-memorial-lighthouse/

Tom and Huck together in a park below the lighthouse.
Trains northbound through Hannibal can continue up the Mississippi River or turn 90 degrees and cross the river bridge beyond the I-72/Hwy 36 bridge.

The coal train continues northbound along the Mississippi, under the I-72 bridge at Hannibal, Missouri.
The Kim W Nowell towboat pushes a set of covered barges downriver past Hannibal.

Southwest Chief from La Plata, Missouri, to Fullerton, California

After a great session teaching Bob Cox, aka La Plata Bob, Web Authoring, and sightseeing a few days in Silver Rails Country, Sue and I hopped on the Southwest Chief in La Plata and headed home to Fullerton, California.

Because you board the Southwest Chief about 8 pm, and if you are in a room, you have dinner immediately, there is no chance to take anything but night shots outside your train window. Once in Kansas City, Missouri, you can step off the train and take some night shots from the platform as the crews change and the train is serviced.


A familiar sight from the Kansas City Amtrak platform.
While at the KC Station, you might see the Missouri River Runner that Travels Daily between St. Louis and Kansas City, MO.
Just west of the station, still viewable from the platform, is this classic car part of a permanent display at the museum in the station.
The Conductor coming on duty in Kansas City checks with sleeping car attendant, Joe.
Car Attendant, Joe, deep in thought in Kansas City.
I spotted this re purposed former Santa Fe covered grain car as a separator at a feed mill the following morning.
Ready for a few sales to the rush of passengers stretching their legs in La Junta, Colorado.
Time to board the westbound Southwest Chief in La Junta, Colorado.
Helping to recognize their railroad heritage, La Junta has No. 1024 on display in a park on the west side of town.
I am always intrigued by the poles, insulators, and wires along railroads. Some are being removed, yet this line's poles, and wires are well maintained. What are these lines used for?
Fences, poles, and rails lead your eye toward two peaks of the Rocky Mountains in southwest Colorado.
Head for the last car and look out the back window as you approach historic sights such as the Raton Tunnel marking the line between Colorado and New Mexico.
Signal towers and bridges may soon be a thing of the past.
Take a back seat in the last car to see what is approaching for you to photograph. Here is the sign about Dick Wootton's Ranch, with I-25 above our Southwest Chief. When in the back car, you can catch most of the train in a photo as it goes around sharp switchbacks up Raton Pass.
The Santa Fe Trail on the left and the only remaining adobe building of Wootton's Ranch with newer buildings.
You know the tunnel is approaching by the sign.
The NM/CO state line monument from the back window of the westbound Southwest Chief.
This ranch scene indicates that a large volume of water was needed for a cattle herd since it has two water-pumping windmills.
Albuquerque is our next crew change. As we approach the station, we see Route 66 through downtown.
Yellowhorse's relatives still have jewelry on sale on the station platform.
The Albuquerque Rail Runner is having some financial difficulties currently.
As we leave Albuquerque, south of the station, I like this transfer table between two railroad buildings.
A bit farther south is this turntable.
We pass this Indian Church before the NM/AZ border. I like the building of local materials and the southwest style of this ancient place.
Near the NM/AZ border are these beautiful sandstone mountains along the railroad and I-40.
About this area, each trip west, it is time to eat again! This is the last meal followed by a last night's sleep on the Southwest Chief before arriving back home in California.
This has been another worry-free, 5,000+ mile round trip on Amtrak, with good sleeping accommodations and good food. We made new friends and acquaintances at each meal. Those meeting us at the end of each segment of the trip watched the Amtrak app and knew when we would be arriving. Our only off-train accommodations were at the beautiful Depot Inn & Suites in La Plata, Missouri, part of Silver Rails Country.
I have never been one to calculate, at each Amtrak stop, how many minutes early or late we are compared to the printed schedule. The only time that matters is your final destination, which is easily checked on the Amtrak app or Amtrak.com under Status.
Finally, it was a joy to be able to take a long Amtrak trip in a Bedroom with my wife. She tends to keep a more positive attitude than I about train travel in general. Her attitude is, "We are supposed to get there on Wednesday and we
will
get there Wednesday." That sure is better than keeping your eye on your watch and the schedule and stressing for thousands of miles. I guess her attitude is best expressed as, "Don't sweat the small stuff." Perhaps it is best said by the young hotel owner in the movie,
The Best Exotic Marigold Hotel
, "Everything will be alright in the end, so if it is not alright, it is not yet the end."
Another great cross-country Amtrak trip!
---