Idlewild Airport Baggage Destination Tags - IDL


.




.


A brief history of Idlewild Airport:



This airport facility opened in 1948 and was officially known as New York International Airport; however, it was commonly known as Idlewild Airport, so named for the Idlewild Beach Golf Course that occupied the land prior to the construction of the airfield. Idlewild Airport was built to alleviate overcrowding at LaGuardia Airport, which had become overcrowded soon after its 1939 opening.

In late 1941, Mayor Fiorello La Guardia announced that the City of New York had tentatively selected a large area of tidal marshland located at the eastern edge of Jamaica Bay, which included the Idlewild Golf Course as well as a summer hotel and a landing strip called the Jamaica Sea-Airport for a new airfield. Title to the land was conveyed to the city at the end of December 1941.

In 1943, the project was renamed "Major General Alexander E. Anderson Airport", after a Queens resident who had commanded a Federalized National Guard unit in the southern United States and died in late 1942. However, the renaming was vetoed by Mayor La Guardia, but reinstated by the New York City Council; and despite all this; the airport was still called "Idlewild" in common usage.

The International Air Transport Association (better known by its abbreviation "IATA") is a trade association of the world's airlines founded in 1945. IATA is the governing body for airport identification abbreviations, and assigned IDL as the code for Idlewild Airport.

On April 16, 1950 the first jet powered passenger aircraft to land at Idlewild Airport was an Avro Jetliner.

Idlewild Airport opened with six runways and a seventh under construction. Runways 1L and 7L were held in reserve and never came into use as runways. Runway 31R (originally 8,000 ft is still in use; runway 31L (originally 9,500 ft or 2,896 m) opened soon after the rest of the airport and is still in use; runway 1R closed in 1957 and runway 7R closed around 1966. Runway 4 (originally 8,000 ft, now runway 4L) opened June 1949 and runway 4R was added ten years later. A smaller runway 14/32 was built after runway 7R closed and was used until 1990 and is in use by general aviation, STOL, and smaller commuter flights.

By 1954, Idlewild Airport had the highest volume of international air traffic of any airport in the world. The Port of New York Authority, the government agency most directly responsible for the operations of Idlewild, had originally planned a single linear 55-gate terminal, with linear terminals being the standard design up until this point. However, the major airlines did not agree with this plan, arguing that the terminal would be far too small for future traffic.

Wallace Kirkman Harrison, an architect who served as master planner and supervising architect for a number of important Long Island-based projects, which included the World's Fairs of 1939 and 1964 located in Flushing, Queens, as well as LaGuardia and Idlewild Airports.

For Idlewild, Harrison he designed a layout where each major airline at the airport to be given its own space and to design, develop and expand its own terminal as they saw fit and as needed. This design made construction more practical, and made terminals more navigable. It also allowed the individual airlines to hire an architect to design "their" terminal to their own unique design.

This design would come to be known as the "cluster terminal design", as the terminals would be clustered around a central civilian access hub (thoroughfare access and parking) with aircraft accessing the outer circumference of the circle: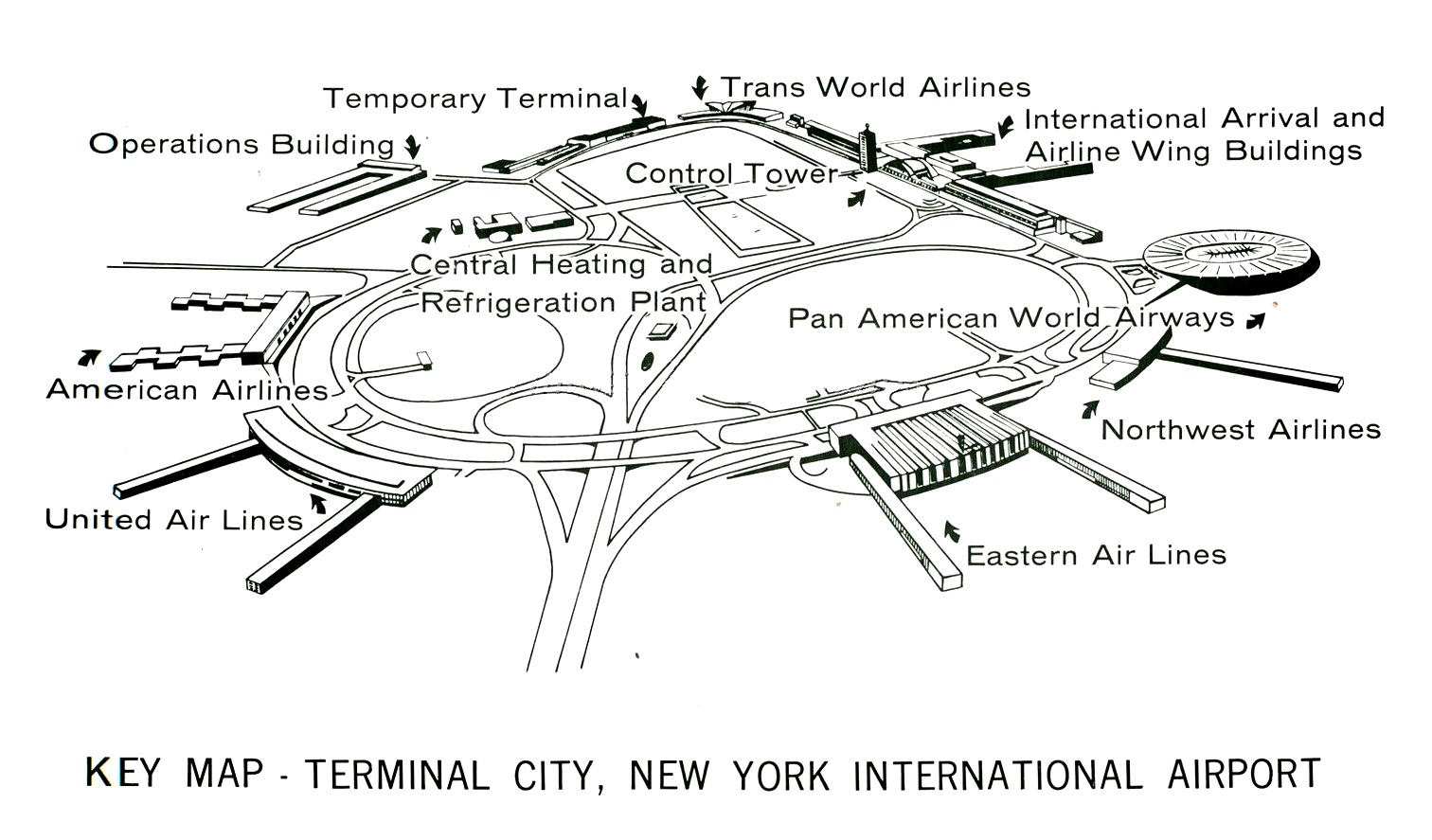 This design is now known as the "Unit Terminal", where each terminal is its own "unit".

This revised plan met with the approval of the various airlines in 1955, with seven terminals initially being planned: five terminals were for individual airlines, one was for three airlines, and one was for international arrivals, which would come be known as the IAB or International Arrivals Building. The International Arrivals Building was the first new terminal at the airport since original construction, opening in December 1957.

Shortly after the assassination of John F. Kennedy on November 22, 1963; the airport would be renamed "John F. Kennedy International Airport" on December 24, 1963 as a tribute to the fallen 35th President of the United States, and has remained as such. This proposal was fielded by New York City Mayor Robert F. Wagner.



---



How I started collected the IDL baggage destination tags:



Throughout my life, I have collected one thing or another; as a child: road maps and toll receipts; foreign coins and currency brought back for me from relatives traveling abroad; US small size silver certificates; baseball cards (Tom Seaver, NY Mets and NY Yankees only); tokens, tickets and transfers from the New York City Transit Authority; USDA Food Coupons (food stamps); even commemorative tokens from the Horn & Hardart Automat cafeteria too. Hell, I even had a collection of Garbage Pail Kids trading cards at one time. Oddly, I did not collect postage stamps or comic books. But, whatever caught my fancy at the moment, I collected it. But I never really "focused" on any one thing in particular.

Until, that is; one day around 1990 or so. I was on my bike heading to my local coin shop: Omega Coin & Stamp, which was located on East 17th and Avenue U. "Mack" (Max Goldman) was the owner, and we had become decent friends overtime. He moved the shop from "the Junction"; Flatbush Avenue and Nostrand Avenue. As he told it to me, the rent was getting too high for the neighborhood, of which was on the border of more sketchy areas. I didn't complain; having a friendly coin shop within biking distance and a proprietor who supplied my collecting habits was a win in my book.

As I was passing an apartment house on East 16th and Avenue T, there was a stack of luggage placed by the curb for sanitation pickup - I figure the janitor was clearing out the basement from abandoned belongings from former tenants. I took notice of something twirling in the wind from one of the luggage grips. I swung my bike around in a big loop and came up along aside. It was a TWA baggage tag marked IDL.

As a history buff even then, I knew immediately IDL stood for Idlewild Airport, and before it was named in recognition after the assassination of JFK. I undid the string (not even cutting it!) put it in my pocket and went on my merry way. To this day, I don't know what made me stop for that tag.

After a few hours, I got home and in the course of our dinner conversation, I brought it up. My fathers eyes lit up, and said, "follow me". We went to his workshop in the basement, and he rooted around for a few minutes under the desk. He pulls out a musty old army duffle bag, and lo & behold, hanging from the canvas strap is an IDL baggage tag from Eastern Airlines!

Well, I put the two of them in my collection of "stuff" and that is where matters rested. I did not encounter another until the advent of eBay. By this time, my collecting interests had progressed through US small size currency, then into military payment certificates, followed by memorabilia of the railroads of the Northern Catskills, into Canadian currency and finally back full circle to transportation exonumia (tokens) and ephemera (paper) from the New York City area, with a strong emphasis on Industrial Railroads and Rail Marine Terminals, and thus began my authoring websites on the subjects.

Late one night, I was talking with my friend and fellow collector Paul Strubeck on the phone, and in the course of conversation I mentioned the IDL baggage tags. Within seconds, he sends me a link to eBay, and wouldn't you know - there were not one but two tags listed at the same time from two different airlines: United & American.

Well, I bid on them and won and added to them to the collection. Since then, I make it a regular duty to check eBay for them and I have been able to add quite a few more to the collection. Collecting these baggage tags is without a doubt, a very unique, specialized niche of transportation ephemera. I only collect those tags marked for Idlewild and New York International / New York City from the Idlewild era (pre-1964). I try to refrain from collecting JFK and LGA (LaGuardia - the other New York City Airport), though I do admit to have a single piece of LGA (LaGuardia Airport) that some seller threw in with my IDL purchase.

I have come to understand there are two types of (and probably a lot of others) baggage destination tags: "blanks", where the destination is hand written in, and the pre-printed type with the airport code. To me, it makes no never mind - I'll collect both.

When you think about it, the name Idlewild hasn't been used since '64, and most of the airlines these baggage destination tags were issued by are defunct now as well. Only American, Delta and United are still around and are known as legacy carriers - they existed before the Airline Deregulation Act of 1978. There are in fact two other legacy carriers still operating in the US, Alaska and Hawaiian, but I do not believe they operated routes to or from Idlewild Airport.

I have yet to uncover definitive lists of airlines that served Idlewild over the years, but considering the airports size and international status, one can conclude the tickets shown below are just a small percentage of what "could" be out there. The following advertisement from 1957 should give a decent idea of the air lines utilizing Idlewild, but I know this is incomplete - as I have seen on eBay an IDL tag for Mohawk Airlines, that I felt the seller was asking too much for: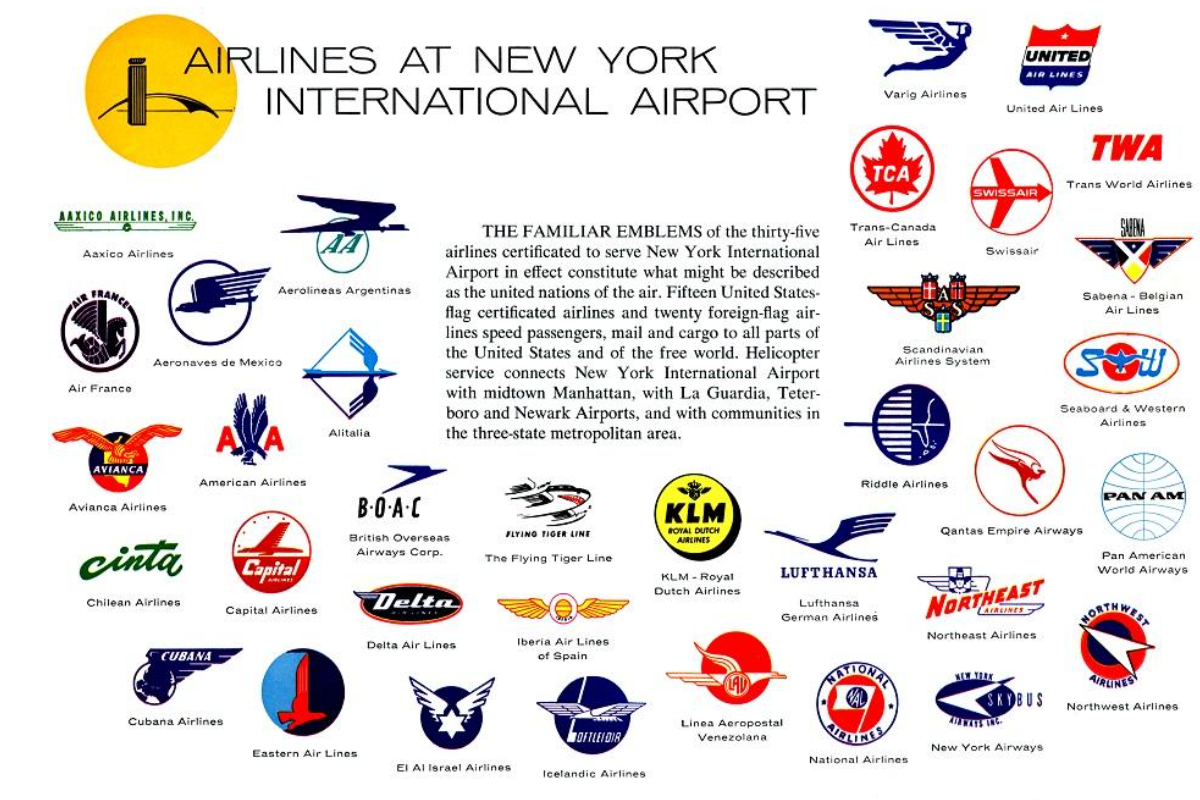 If you have IDL baggage destination tags that you are interested in selling, please feel free to contact me at bedt14@aol.com. In the course of my collecting them, I have only met one other person that collects baggage destination tags, but I know there are others.

Also, it should be known: that the IDL code has been reissued, and is now the code for Indianola Municipal Airport in Mississippi.

As for those in my collection, the tickets shown below are shown at actual size on a 17" screen (16 x 9 aspect ratio / 1920 x 1080p) at 100%; but dimensions are listed for thoroughness.



Air France
Flight 015
tag: 3 3/4" x 2 5/16""
"This stub does not constitute
the baggage check provided for in Article 4 of the
Warsaw Convention."
Guillaud Rouen Printed in France De Juin 1962 01653 0



.


.

American Airlines
Flight 14
(claim tear offs do not match main part, but are shown for continuity.)
tag: 2 5/8" x 3 1/4"
claim tear off: 2 5/8" x 1 3/4"
OK17L 10-62A
.

.

Royal Coachman DC7
Flight 670
1956
3 1/2"" x 4 3/4"
..

.


.
BOAC - British Overseas Airways Corp.
.

.

unissued
(6 1/4" x 3 1/8" complete)
Form 6441F

.

.
Flight 505
(3 1/8" x 4 1/4" claim tag detached)
6441F
.


.


Eastern Air Lines

Flight 554 - May 4, 1961
The tag my father gave me.
14-TT-0238-3-60
(2 5/8" x 3 3/8" claim tag detached)
.


.


KLM - Royal Dutch Airlines

Flight 554
December 7, 1953
2 3/4" x 4 1/8"

.



Mohawk Airlines
September 1, 1961
seen on eBay, ca. 2018
.

.



National Airlines

corporate address
2 1/8" x 3 1/4" (claim tag detached)
886315

.

.
corporate PO Box
Flight 600
2 1/8" x 3 1/4" (claim tag detached)
886315 rev 4-62
.

.
"blank - write in"
NRSA: 'Non-Revenue Space-Available'. How airline employees and their families travel on standby tickets.
February 12, 1950 - Flight 405
2 7/8" x 3 5/8" (claim tag detached)
T-107
.


.


Northeast Airlines
2 5/8" x 3 1/4" (claim tag detached)
emblem used 1948-1960
.

.
Flight 72
2 5/8" x 3 1/4" (claim tag detached)
emblem used 1960 on
.



.


Pan Am

In relation to the varieties seen below, it is not known at this time the meaning of green tags vs white tags. In all likelihood due to the vastness of the Pan Am services, it probably denoted international vs. domestic service, but this is not confirmed.
Pan American World Airways System (original full length name)
white, red edges
6 1/4" x 3 1/8" (complete)
9253-1753
.

.
not marked for IDL
3 1/8" x x 2 5/8"
.

.
(green with red cross, Pan American World Airways spelled out)
3 1/8" x x 2 5/8"
9253-1845
.

.
(white, Pan American World Airways spelled out) - rounded corners on bottom
3 1/8" x 4 1/8"
3/61 9253-1932
.

.
Pan American (custom font) - square corners on bottom
3 1/8" x 4 1/8"
7-63 9253-1845

.


.


TWA
This is the tag that started it all!
Flight 140
2 3/8 x 3 3/8"


.


.

United Air Lines
propeller aircraft with shield logo
"blank - write in type"
Flight 710
UT-38G REV. 1-55
2 7/8 x 4"
.

.
shield logo
Flight 822
UT-38 IDL REV. 1-59
2 5/8 x 3 3/4"
---
Destination Tags marked for NY or NYC during the IDL era
The following destination tags are marked for NYC or New York, but are from the Idlewild Airport Era (1948-1963)